Learn how to increase conversions with examples and tips for creating a high-converting photography landing page. Generate more leads, build relationships, and book clients who are a great fit–all from your optimized landing pages.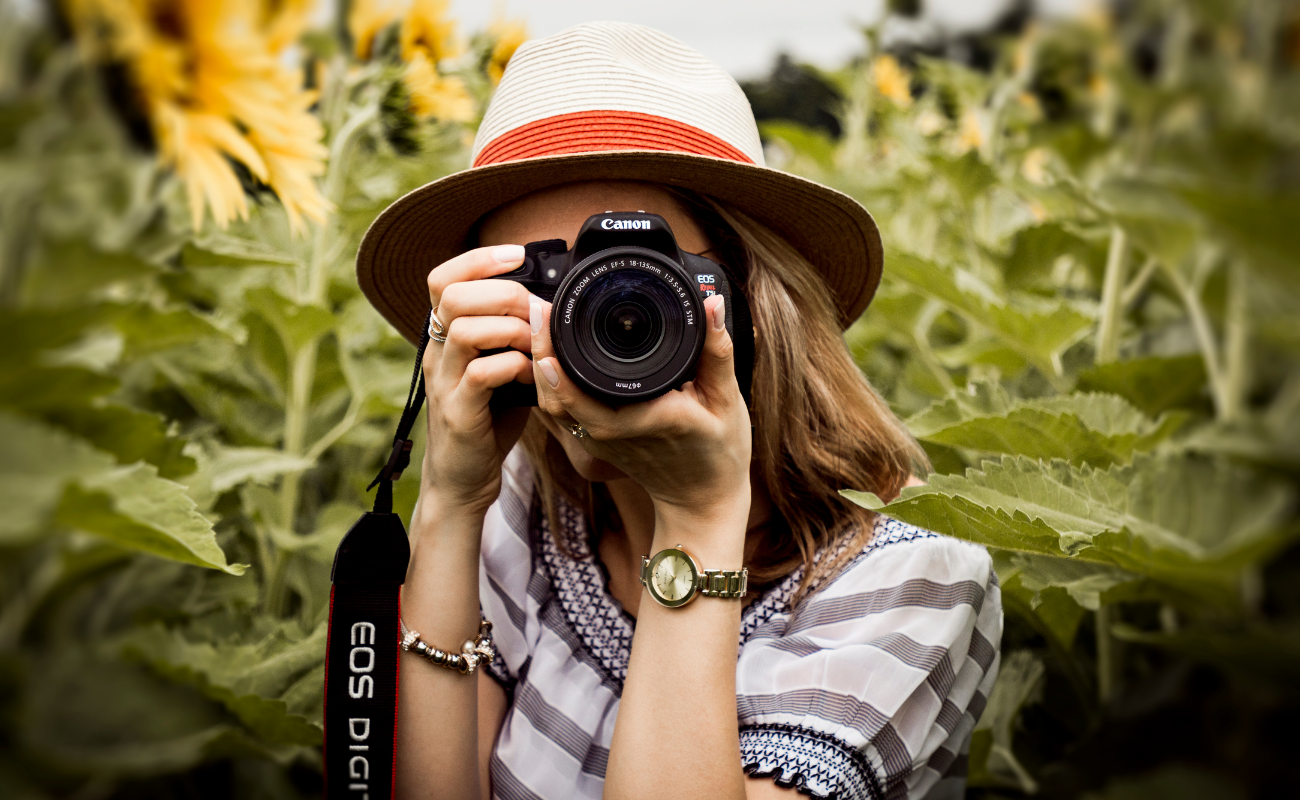 Learning how to create and optimize a photography landing page is key to ensuring your business can be discovered online. Whether you use ads or simply rely on organic traffic, a landing page aligns your services with what your clients are looking for.
The more targeted your pages are, the more likely you are to get more photography clients. Here's everything to know about building your landing pages.
Jump to:
What is a landing page?
A landing page is a page on your site that's created for the specific purposes of marketing and/or advertising. It's the page where a user "lands" after viewing your ad or an organic Google search result.
You should create these pages with a focus on one topic in order to reduce distractions and optimize the page to achieve one goal. That could be to get more inquiries (you can add your HoneyBook photography contact form to collect the info you need and start a new project), to get sign-ups for a lead magnet, or for the purpose of selling a product.
Why use landing pages?
Landing pages are proven to increase conversion rates, which makes your marketing more effective for landing new leads and clients.
They're great for SEO, as they allow you to focus on one particular topic/keyword. You can best present your work around that topic and attract users who are interested to your website.
For example, as a Los Angeles photographer, you may want to talk about wedding photography in Los Angeles, or narrow it down to a specific location in LA to make it hyper-targeted. This way, you will be able to rank for very specific, localized keywords relevant to your business.
Examples of photography landing pages
Now that we know a little more about landing pages, we're going to explore some options for photography landing pages. We'll share examples that can help you generate leads as well as clients who are ready to book.
Landing pages for lead generation
Generating leads is crucial for any business, including photographers. Clients in your space are usually evaluating photographers well in advance of when they're ready to book.
For example, couples might inquire with a handful of photographers months before their wedding to start evaluating budget, availability, style, and more.
When you're readily available to capture this type of audience who's in the research phase, you can work toward nurturing them into a client.
What to include on a photography landing page for lead generation
Your landing pages for lead generation can be less salesy than your other pages might be. Instead, focus on the value behind a client relationship with you.
You might want to focus on education or resources. For instance, you can offer a wedding preparation checklist that's housed on it's own landing page. When someone signs up for their checklist, they're automatically funneled into an email nurture that introduces them to your services.
Your lead generation strategy can also include the general contact form on your website. Clients who fill this form out may not have specifics in mind, but you can continue the conversation with them to determine how you can meet their needs.

Pro Tip: Use HoneyBook to build an email automation for all your leads. You can thank them for inquiring or signing up for a lead magnet, then send your sales brochure a few days later, followed by a link to your scheduler.
Lead magnet ideas for photographers
An effective lead magnet entices website visitors to provide their information in exchange for an offer. Good lead magnets are highly specific in terms of both information and the audience they're targeting.
For example, a photography lead magnet for a wedding photographer could be a downloadable worksheet for planning photoshoots. The target audience has a connection to the content because they're likely already thinking about an upcoming photoshoot and searching for ideas or service providers (like you!)
You can offer paid lead magnets, such as on-demand courses, or free lead magnets such as a free guide or worksheet. Free lead magnets are typically more common if you're trying to capture a larger number of leads.
Whichever option you choose, make sure you deliver the lead magnet professionally and quickly as soon as users offer their information.
Landing pages for conversion
Many of your potential clients might have already done all the research they need to know that you're the right fit for them. If that's the case, you need to make it easy for them to inquire about booking with you.
Landing pages for conversion might include your services pages or a pricing page where you can lead your audience to inquire about booking with you.
What to include on photography landing pages for conversion
Just like other landing pages, you'll want to include a contact form to collect the information you need to get the conversation started.
Keep in mind that form length can decrease conversions, but it can also increase the quality of your inquiries. Take time to make sure you get the maximum amount of value from your form, but don't make that initial contact overwhelming or difficult.
We usually recommend starting with the basics:
Name or names if it's for couple shoots, etc.
Email address (it's easier to get an email than a phone number)
Tell us more about your event/expectations (this is a good open-ended question, they can tell you as much or as little as they like about their event)
If you are getting too many low-quality inquiries, increase the number of questions and tailor them to the type of client you want to target. This way you'll get leads that are a better fit.
Also a quick note on the button. Having a button that stands out, is easy to read, and has compelling copy will always outperform "submit" or just "contact me." Try using some of the following examples to see how it impacts your conversions:
Request your FREE consultation
Contact Me (or us) Today!
Find out more
Optional items for photography landing pages
Now that we've covered the basics, we can take a quick look at some other options that you can include on all of your landing pages to improve them further. Try including the following items to see how they affect your conversion rate:
FAQs – great for answering common questions and objections. A good FAQ section can really improve conversions as it removes certain doubts and barriers.
Links to social media – whilst it might seem counterintuitive to send them away from your page, it can really help persuade a client to book you if they can see more of your work and more about who you are. If you have a strong presence on social media, use that to your advantage and show the clients a little bit more about you. Plus, if they follow you – you're on their radar.
Although the finer details are ironed out further along in the process, sometimes potential clients like to get a sense of what will be included in your photography contract, items such as what happens in the event of a cancellation, how much deposit is needed etc. can all affect whether the potential client reaches out to you and becomes a lead.
12 valuable landing page tips
Now that you know a little bit more about landing page structure for both generating inquiries and promoting your lead magnets, check out these 12 tips that can help you increase conversions and make your photography landing pages more valuable.
Ensure the primary headline of your landing page matches the ad or search result that visitors click on. Remember, message matching is important.
Use strong calls to action on your landing page. Include them both at the top and bottom of your page to encourage the user to take action. Make sure that it stands out – use contrasting colors to do this.
Make sure your landing page serves a single purpose and the messaging is clear. Only include content relevant to the goal/purpose.
Add examples of your product or service. For example, this could be a gallery of real images.
If you can create a video, it can really improve conversion rates. This could be a video overview of your offer, an intro video to who you are, etc.
Use client testimonials; it adds social proof and helps gain trust with your audience.
Include awards. Just like testimonials, awards are social proof and help position you as a professional in the eyes of your potential clients.
A/B test your ideas. This could be trying different copy/messaging, changing images, or updating call-to-action colors and the button's position. When A/B testing, change ONLY ONE THING at a time and then measure your conversion performance. You will want to research A/B testing further for more information.
If you're building a newsletter list (i.e., giving away some free resources), include a bulleted list of the key points as an overview, it will help increase conversions.
Segment your users. Provide different offers and messaging for the different types of clients you want. For example, don't send someone to a page about headshots if they want wedding services.
Don't send all your website traffic to your home page. Use landing pages to test the effectiveness of your marketing efforts.
Use keyword planning such as Google Keyword Planner to find out which keywords you should be ranking for and targeting with ads and SEO.
Connect your landing pages with the rest of your clientflow
You can have the best landing pages in the world, but it won't mean much if you can't take action on the information you get from your visitors.
That's where HoneyBook comes in, the best CRM for photographers. It goes beyond a CRM to let you build custom file templates that double as interactive experiences. On top of that, you can automate emails triggered from your HoneyBook contact forms.
When you put it all together, HoneyBook lets you qualify your leads, nurture them, sell your services, and book clients. And if you want, you can do it all without much oversight.