Recently, we talked about how to double your revenue by using an online invoice. This week, we're sharing how to get paid again and again using a new version of the same tool. Online invoicing helps you get paid fast, and now with HoneyBook, the best CRM for solopreneurs recurring, automatic payments, you can get paid automatically at the same time each month.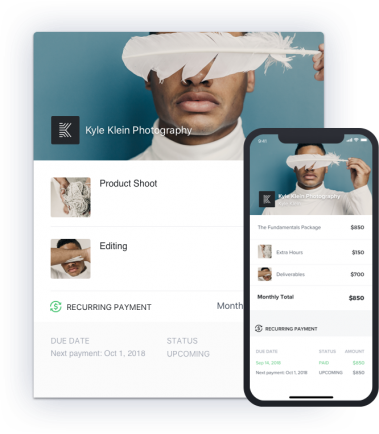 What Are Recurring Payments?
Recurring payments are automatic payments your clients have authorized you to collect from their credit card or bank account. The same amount is automatically deducted on the monthly due date (aka payday for you!)
How Recurring Payments Make Your Life Easier:
Setting up recurring payments is easy, and the benefits are great. You'll get paid faster and your clients will also enjoy the seamless experience. You can count on these benefits to make your life easier:
Save time—

Forget manually re-sending invoices each month. Just enter your payment schedule once and forget it.

Improve cashflow—

Never forget to send that monthly invoice to a client again, and get paid for all your hard work, every time.

Get paid quicker—

Stop wasting time waiting for your clients to repeatedly approve new invoices and tracking down payment status. Get back time to work on what you were actually made for.

Provide a better client experience—

Clients approve the recurring payment schedule once and never have to worry about missing a payment again.

It's less hassle for your clients, less work for you, and a win-win for everyone.

"Slow payments and missing payments are by far the biggest issue for freelancers," said
Caitlin Pearce
, executive director of Freelancers Union in New York City. "Freelancers experiencing non-payment lose an average of $6,000 annually."
Who Are Recurring Payments Made For?
Freelancers—

Bill monthly retainers to your clients in seconds, save hours in back-and-forth paperwork and manual payment tracking.

Entrepreneurs with passive income streams—Bringing in extra income through monthly workshops, downloadable content and/or educational membership subscriptions? Recurring payments make it easy to collect payments month after month.
"10 minutes of set-up in HoneyBook saves me at least 10+ hours a week."
Kylie Morgan Kylie Morgan Photography
Experience the Beauty of Automatic Paydays 
Not only can using online payment software get you paid instantly and double your revenue, there's no need for a payment reminder and it can also streamline the recurring invoice process for you and your clients. 
Plus, three more posts you might like: