This month, we've launched platform updates to help you work faster, use greater editing control, and make the HoneyBook mobile app work even harder for you.
Check out our latest releases!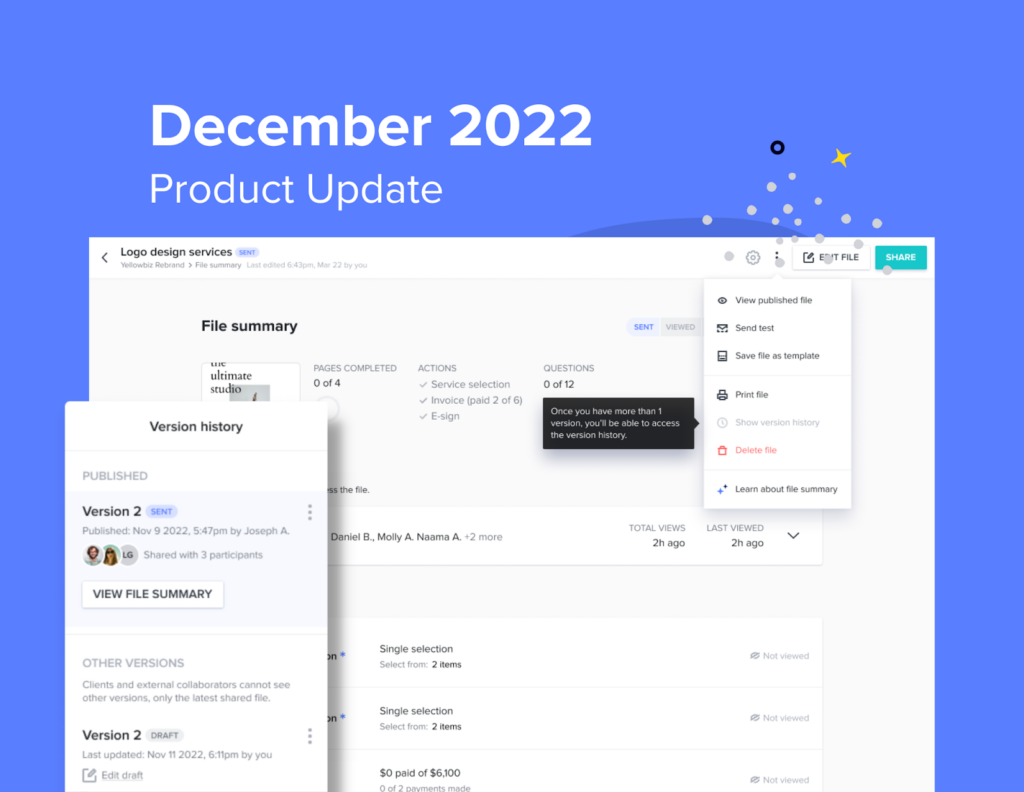 Save time, stay organized, put your best foot forward–these may sound like New Year's resolutions for any independent business owner, but they're also the themes of our product updates this month. Read on to find out how HoneyBook's most recent releases can help you reach your goals, even before the ball drops.
Jump to:
Platform Updates
Version history in smart files
Smart files are customizable, dynamic, and meant to be shared and acted on by both you and your clients. Projects evolve and change as they progress, and so do your smart files. That's why we've added the ability to view the version history of every smart file.
Once you edit and publish the changes to your smart file, HoneyBook gives you the option to view your version history in two different places:
Under the three dots icon within the smart file builder
At the top right-hand corner of the smart file builder, you'll see hyperlinked text that leads you to view as many versions as you have
If you click on either of those links or buttons, you'll be taken to a new view of your file where you can navigate between each version of your file. You are able to view both your sent and draft versions and save any version as a PDF. That means you can easily reference and share previous versions with your clients to make sure you're always on the same page. There's no need to refer back to call notes and no chance of forgetting what updates you've already enacted.
The File Summary for each version will give you even more detail on your file, including what changes were made, by whom, when, and who each version of the file was shared with. So, even if you're not the one editing and republishing your file, the complete history of edits and updates will be there for your records.
You'll also have the complete history of actions taken on each version of the file, so you can easily track when your clients take the next step or need to update an action based on changes you've made to the file. Viewing the complete version history of your smart files in HoneyBook is just another way to streamline your clientflow, cut out back and forth, and keep your projects moving seamlessly from kickoff to completion.
Learn more about how this new feature works.
Set a default project type to organize your work faster
We've made it even easier to stay organized with HoneyBook. Now you can set your most common project type (categories to manage your jobs) as the default. Then, it will be applied every time you manually create a new project. Once the project type is recorded, you can sort by type to review, prioritize, and organize similar jobs.
Updated email editor
There are multiple places within HoneyBook where you can edit an email or an email template that you then send out to your client. Whether you're sending a message along with a smart file or scheduling an automated email, these communications keep your clientflow moving along smoothly. As an independent, these communications are key to representing your business and quality of service, which can make or break your services.
Each email instance is a representation of you, your business, and your brand. That's why we updated each instance of our email editor to offer one cohesive experience that offers the same ability to customize across the board. The editor now offers our most advanced capabilities, whether you're sending a quick note with an invoice or messaging your clients directly in your HoneyBook inbox. You may see new capabilities throughout email editors on the platform and notice some resolved issues and bugs squashed.
There is no action you need to take for this update to make all of your email templates look and work better!
Duplicate sessions in the Scheduler tool
Did you know you can easily book sessions with clients directly in HoneyBook? The Scheduler tool integrates directly with your calendar to keep your availability updated, and allows you to configure all different types of sessions depending on your business needs. There are multiple ways to share with clients, like via a direct link or embedding on your website. Streamlining this step in your clientflow can save hours per project of back-and-forth communication, and it removes the risk of miscommunication or human error when trying to schedule a consultation with a client.
Now, you also have the ability to save time on the setup site when you configure sessions in your scheduler tool. You can simply duplicate a session you've already configured to your liking, and update one or two details. Maybe your availability is the same every week, but you want to offer 30- and 60-minute sessions. Instead of redoing every detail, simply duplicate, update, and publish.
Learn more about how this new feature works in the Help Center.
View your team, all in one place
We're taking steps to improve the way teams manage and view tasks. Starting with a gradual release this month, we're adding a new column for your projects so that you can easily see which team members are associated. If you're an admin user, you'll also be able to select "view all" for any team member in order to see all of their projects in one glance.
Making the mobile app work harder for you
Schedule a send
You can now schedule the send of any smart file and/or email ahead of time from within the app. Maybe you heard from your client yesterday, but are catching up, working late from bed, and don't want them to know you've been burning the midnight oil–schedule the send for first thing in the morning so it's fresh in their inbox.
Take payment actions: mark as paid, mark as refunded, send a payment reminder, and more
On the desktop version of HoneyBook, you've always been able to use multiple payment actions. Now, you can take these actions wherever you are, directly from the mobile app. Mark invoices as paid, mark them as refunded (or undo either action), send a payment reminder to your client, and view your invoice receipts. These functions are available on any project within the HoneyBook app.
Editing a smart file invoice
As we've released smart files for desktop, we've been working hard to make sure you can keep up from the HoneyBook app as well. Now, you can edit any part of your smart file invoice on the go.
Your invoices are broken up into four sections: the header, services, summary, and payment schedule, and each section's settings are available by clicking directly into the canvas or tapping into the gear icon. From there, you can create an entirely new invoice from scratch or a template, make quick edits to an existing invoice, and send it off to your client for review and payment.
Learn more about this update in the Help Center.

Add your bank account
We want it to be as easy as possible for you to get paid. That's why we've made it possible for you to add your bank information to your HoneyBook account directly from the mobile app. There are so many reasons to process payments with HoneyBook (like timely payments and providing the most elevated client experience), and now it's easier than ever to get set up and start getting paid.
Of course, if you've already completed this step in setting up your account, there's no need to do it again!
Take a look back at this year's product updates
We're excited to end this year strong with even more features to empower your clientflow, brand, team, and overall business processes. This year we prioritized some really big changes throughout the HoneyBook platform, all intended to make you and your business as successful as possible.
In case you missed any new releases throughout the year, take a look back at some of the most requested product updates of 2022 in our Year in Review. Streamlining your processes, saving you time, and ultimately helping you grow your business were the name of the game.
We're looking forward to working hard to support you, and watching your continued success in 2023!