A lead generation funnel is a model that helps you visualize prospective clients along their journey to making a purchase. By creating a lead generation funnel, you can increase your lead retention and conversion rate.
Getting clients can be hard, especially for independents who have to compete with larger businesses that have more resources at their disposal. Ads and social media strategies may do a great job boosting your brand, but they aren't enough to close deals. Prospective clients may not actually need your services when they see the ad, or they may need to build a relationship with your brand before they're comfortable making a purchase.
That's why many businesses create a digital marketing lead generation funnel that charts out how you will approach prospective clients as they become more aware of your brand. An effective funnel can maximize lead retention and help you close more sales. Keep reading to understand how you can create your own funnel to start generating leads and closing more sales.
Jump To:
What is a lead generation funnel?
A lead generation funnel models a systematic process to capture interest in a product or service, so you can build a sales pipeline.
Your ads may reach a large number of prospective clients, but most aren't ready to make a purchase at the time. If you don't nurture these leads properly, they'll never convert to a sale — which is why Ruler Analytics found that the average conversion rate across industries is only 3.9%.
Using a lead generation funnel, you can segment your leads according to their funnel stage (top, middle, or bottom) and target them accordingly, walking them through their client journey until they've made a purchase.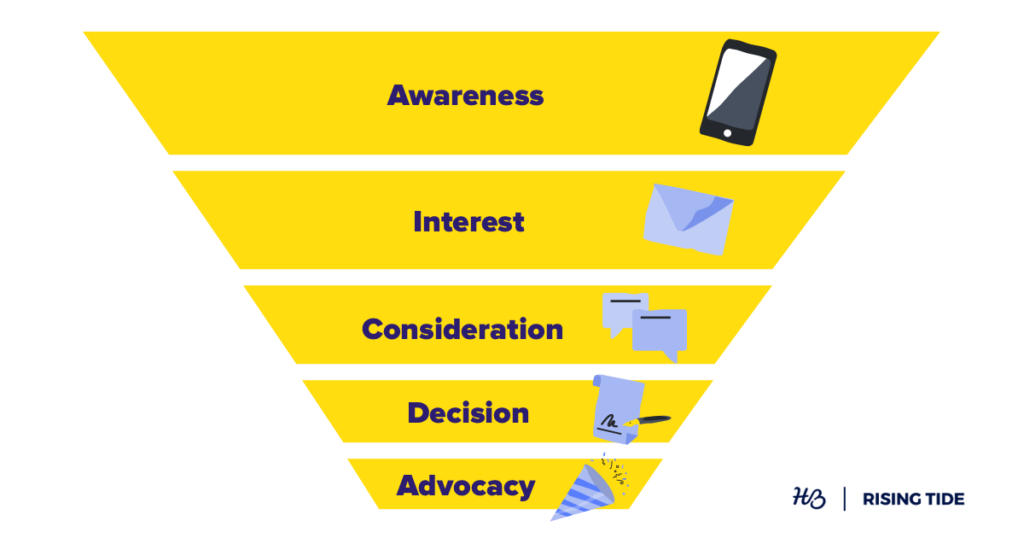 Top-of-funnel marketing (TOFU)
At the top of the funnel, you create brand awareness. Marketing efforts at this stage aim to grab people's attention, with methods like search engine optimization, paid advertising, and content marketing.
In TOFU marketing, it's important to know your client personas. You should understand what they like and what they're looking for, so you can customize your advertising to best capture their interest.

Pro Tip: At this stage, many companies collect client data, like a contact number or email address through a lead magnet. Getting this information is crucial to engaging with these potential leads further along in the funnel.
Middle-of-funnel marketing (MOFU)
In the MOFU stage, you can start nurturing leads, so your business stays at the front of their mind until they're ready to make a purchase. This is when your leads will move into interest and consideration.
To engage with them here, you should offer consistent, useful informational content like ebooks, white papers, and case studies through your email marketing.
This audience has already shown interest in your business and services, but they might just need more information or education. You should also include your scheduling link in your emails so you can speak directly to your leads and potentially move them further into the funnel.
Bottom-of-funnel marketing (BOFU)
The people at this point have become leads who have a strong relationship with you. They trust your company and need one last push to make a purchasing decision.
BOFU marketing makes this final push, with content like:
Trial extensions
Demos
Consultations
Discount offers
From there, you can convert your leads into paying clients, deliver a successful project, and turn them into long-term brand advocates!
How to create a lead funnel
Creating a lead generation funnel will help you attract and retain more interested clients, which leads to more sales. To build and optimize a funnel for your business, follow these five steps:
1. Map out the client journey
Understanding the client journey helps you figure out the problems your clients face and what they like and dislike. This information helps you tailor your efforts to reach your target audience where they are and address their concerns.
You can use tools like Google Analytics to get data on bounce rates, conversion rates, and traffic reports, which will help you identify what to improve. You should also send out surveys to clients and read through support tickets to get qualitative information on their specific pain points.
This is also a good point to identify how you will qualify your leads. Qualified leads are the most likely to make a purchase, so you should prioritize targeting them. You can qualify leads based on their interactions. For instance, did they download something from you or just read a web page? After they gave you their contact information, did they open your emails and answer surveys frequently?
2. Create appealing content
Once you know the client journey, you can start creating content that addresses their pain points. Try to tailor the content to your target audience. For instance, if you're trying to reach creative audiences, a short video on your social media platforms will be more effective than a blog post with the same information.
This step can be difficult, because there is so much content online already. You can try these strategies to make your content more effective:
Research competitors: Check how competitors' content has performed, taking note of what has worked and what hasn't, such as content type, topics, and keywords. If your research reveals topics that your competitors haven't adequately addressed yet, you can also create content that fills these gaps.
Optimize for SEO: The best way to make your content reach more people is by improving its search engine rankings. Elements like header tags, internal links, and organic keywords will help people organically discover your brand while looking for answers to their questions.
Create content for each funnel stage: To ensure leads proceed through your funnel, you need to make content for each of the stages of the funnel. TOFU content should build awareness, MOFU content should give leads valuable information to deepen your relationship, and BOFU content should offer a final push that gets them to make a purchase.
3. Drive traffic
Your next step is driving prospective clients to your content to make them enter your funnel. Here are some ways you can do this:
Organic search: SEO is a great way to drive many organic searches to your content. People who find your content organically have the most interest in the topic of the content piece, so they're most likely to become conversions.
Email marketing: Emailing out new content to your organization's email list is one of the best ways you can promote your company's content, with an ROI of $36 for every dollar spent. If you don't have an email list yet, you should start building one.
Social media: Because social media platforms make it so easy to share content, posting new content on all your company's accounts can help you use social media lead generation to reach a wide net of people who are interested in your brand or what you do.
Paid advertising: On platforms like Google, LinkedIn, and Facebook, you can pay to run ads to reach a customizable target audience. You can use these to show specific ads to different segments of your target audience, so you can optimize each ad for the type of people you want it to reach.
4. Collect prospect information
The next step is collecting information from the prospective clients who have come to your content. This gets them into the funnel, turning them into leads.
To do this, many companies use a lead magnet — something you give away for free in exchange for an email address. You could even offer multiple magnets, each targeting a different segment of your audience.
You can use this contact information to send MOFU content, building a deeper relationship with your client.
5. Close the sale
Your last step is selling your products to your leads. Here, you reach out to leads at the bottom of the funnel, who are close to making a purchase, with a call to action that urges them to try out your product or service.
Remember that closing the sale may look different for everyone. For some, it could start by nurturing leads to sign up, while others may start by sending qualified leads to a sales team member who can close the deal.

Pro Tip:  However effective your funnel is, you can always make it better. Keep reviewing your lead generation funnel to figure out what you can optimize. For instance, you could A/B-test different offers in your BOFU content to increase your qualified lead conversion rate.
Start building your lead generation funnel
If you're an independent business owner, you can start creating your funnel by mapping out your clientflow and thinking through the research phase that your potential clients would use to find you. This can be overwhelming, but HoneyBook is here to help you connect with and assist your clients in every step along their journey.
With HoneyBook, you can easily create contact forms and automated inquiry responses for TOFU content to engage with prospects. Our customizable files can save you time building sales brochures, pricing guides, service guides, and other forms of MOFU content. And, you can create and send out simple questionnaires to gather information from interested, qualified leads at the bottom of the funnel.