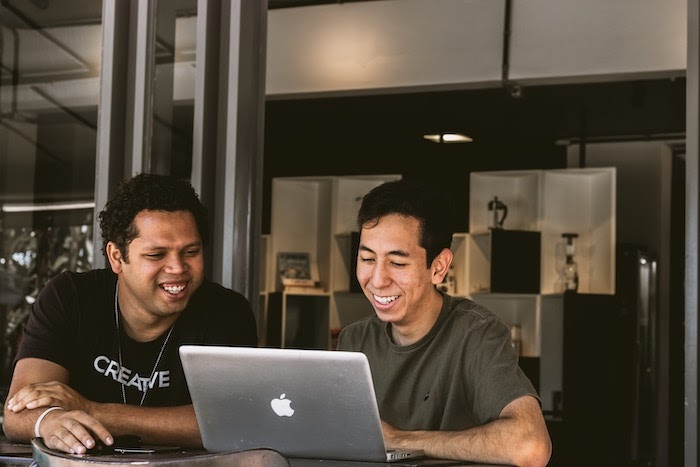 Whether you're just starting out and ready to go full time or focusing on scaling up and hiring team members, it's always a good time to reevaluate your business processes and tools.
It really is a question that all small business owners must ask sooner or later: how can I improve my process? How can I make my business do what it does better?
It seems that you need some sort of small business management platform that not only helps you smooth out your process and become more efficient, but also helps to analyze whether you're staying on track, keeping organized, and meeting your goals.
Good news – there are several ways you can do this.
Below, we'll take a look at 15 small business management tools that are designed to help you turn your business into a well-oiled machine. These small business management tools can help fill the gaps where your business needs them the most. Some can even provide all-in-one solutions depending on your processes.
Jump To:
Team Collaboration Tools
If you're building a team for the first time or adding new members to your existing team, it's highly likely that you'll have communication troubles at some point. We're all human here.
But there are tools that can help smooth out a lot of those communication wrinkles – tools that clarify, streamline and store your messages for your records.
Slack: Is Email Really Necessary?
It seems that Slack has almost caused its own revolution over the past few years, as far as team communication goes. Calling itself a "replacement for email," it truly is a powerful tool that makes many aspects of messaging, file-sharing, and automation a lot easier to get right the first time.
Slack offers options for multiple chats (organized by "channels"), voice and video calls and screen sharing that fit together seamlessly in one app, making it truly dynamic for effective and clear communication.
In addition to communication, Slack does a lot of other things too. From file and document sharing to creating your own tools and bots, to integration with over 1500+ other apps, Slack's possible uses are literally endless.
Chanty: Simplifying It Even Further
Chanty is a program similar to Slack in many ways, but with two key differences – it's less expensive and less complicated.
Sure, this means it can do less, but those extra features may not be as important for your company if you aren't huge yet, and maybe don't need Slack's advanced features like triggering events and automation.
It still has some of the same core features as Slack, including the ability to connect with other apps for more seamless collaboration. For example, you can sync with Google Drive to make document management and the ability to share files a bit easier.
If you want to streamline communication with your team with a simple and intuitive interface, while spending less, Chanty may be a good fit for your business.
Zoom: Let's Hop On A Quick Call
These days, it seems like it's becoming harder not to use Zoom, and that's probably because it's so well-made that everyone's catching on!
Zoom handles a wide range of communications needs, from large-scale video conferencing to one-on-one chats and even group messaging. The cloud-based platform's harmonious integration with your favorite calendar tool (e.g. Calendly or Google Calendar) makes communication with your team easier than it's ever been before!
You'll be in good company if you choose Zoom for your company's communication needs. As more and more businesses adopt the platform, it will be easier to communicate not only with your own team, but with others outside your company as well.
Bonus Points: Zoom integrates seamlessly with some tools for independent business owners like HoneyBook. If you work with clients remotely, you can easily add Zoom to your online meeting scheduler in order to book your meetings more efficiently.
Project Management Software
All entrepreneurs and independent business owners know how easy it is for projects to unravel. You're constantly managing different client requests for multiple projects and different stages of your pipeline. If you have employees, it adds even more to the mix when you're having to manage their time.
This is why project management is crucial, and it's especially important to find the system that meets all your needs.
Trello: See Your Entire Project At Once – Simplified
Less integrated into the business side of things (as with invoicing and contracts and so forth), instead, Trello is one management software tool that provides a simple way for small businesses to see each project at a glance and get a bird's eye view, including everything that needs to get done.
Boards and cards, which make up Trello's now-famous (and often-imitated) Kanban-style organization method, represent tasks and to-dos within your project. When you select individual cards, you see the finer-grained details of the task, possibly set up as a checklist or progress bar.
Trello's team aspect allows you to assign cards to specific team members individually for efficient delegation, meaning it'll always be clear whose task is whose.
Basecamp: Regain Control By Consolidating To Just One App
Basecamp is a bold software tool that all but promises to change your life. Yes, it's that intense.
An all-in-one project management solution, Basecamp helps you to get organized when everything you do to manage your business is scattered and disjointed.
If you're using several different tools to accomplish your goals with emails, spreadsheets, chats, meetings and other variables, Basecamp brings all of that together "under one roof" and provides a central hub for you and your team to efficiently collaborate.
If you manage a lot of people, there is added value in that Basecamp allows you to see what everyone on your team is working on. When you can see all the moving parts of your business at once, from one place, you'll see how easy it is to figure out exactly what needs to be done next.
And when you can do that with ease, you'll achieve an effectiveness in your project management that's out-of-this-world!
HoneyBook: One Management Tool To Rule Them All (for small business owners)
If you want to track both the business side of things, manage projects and book clients — HoneyBook is where you need to be.
It can be a tricky task finding software tools with the features you need that also work well with each other, which is why HoneyBook is the best all-in-one management solution. It manages many different aspects of your business. At once.
This is why HoneyBook may rank at the very top as far as small business management platforms for small, service-based businesses and independent business owners.
HoneyBook allows you to manage invoicing, contracts and payments. But it doesn't stop there. It also provides simplified solutions for file and document sharing, client communication, and work management and automation. There's really almost nothing HoneyBook doesn't do!
What is HoneyBook Used For?
For clients, HoneyBook's unique integration of invoices, contracts and online payment software totally simplifies client communication from beginning to end, making it quite easy to sign new clients.
Throughout the entire process of working with a client, you'll be notified of all your client's activity in real-time, including when your invoices (and other docs) are viewed, signed and read. With all this insight into what's happening at every stage, you'll be able to smoothly take control of all the details that might otherwise have driven you mad.
For managing employees, everyone can see a bird's eye view of project statuses within your pipeline. In the individual workspaces, you can share notes about the client or view the details about the project–including communication, timelines and documents.
HoneyBook also offers some task management capabilities in the form of a time tracking tool. The time tracker can make it easier to bill clients, especially if you have multiple team members working on different tasks.
Bonus Points: HoneyBook offers both an iOS mobile app and Android app that allows you to opt into getting important notifications and status changes on the go, so you know what's going on with your business even when you're away from your computer.
CRM Software
A CRM software is vital, especially for service-based independent business owners. One of the reasons why your clients love you is because of the experience and individual attention you can offer, and a CRM is part of what makes that possible.
The best CRM software depends on your project cadency, amount of clients, number of employees and your different preferences. Some have enhanced capabilities for analytics and reporting, while others excel at automation.
HubSpot: Marketing and Client Relationship, Together
Known for being a very marketing-oriented CRM, HubSpot definitely ranks among the best CRMs out there today, especially if you're trying to build a content marketing machine.
And it's free. (Can you believe that?)
Make no mistake: HubSpot can certainly be used in the more traditional ways CRMs have been used – it's definitely a powerful tool for keeping your leads organized throughout the stages of your pipeline – but its really special value comes from additional marketing tools and packages that HubSpot offers that make it even more powerful. (Though, you will have to pay for these extras…)
If you want a CRM that's focused on marketing and can help you grow your business through lead generation, automation, analytics and conversion optimization, HubSpot is probably your best bet.
HoneyBook: The Most Efficient CRM?
What's that you say? Didn't think of HoneyBook as a CRM?
HoneyBook may not be as well-known (yet) as, say, HubSpot is, but HoneyBook fills an important role for small business owners and their small teams. When it comes to Hubspot vs. HoneyBook, HoneyBook focuses on empowering the independent business owner.
For smaller (especially service-based businesses) HoneyBook is really unmatched when it comes to providing a stripped-down and more efficient process for managing your customer-relationships. (Just ask these reviewers!)
Because HoneyBook puts all of what you need for streamlined client management in one place, your client relationships will thrive as you make life easier for them – not to mention easier for yourself!
From inquiry to payment, every stage in your business processes is made simple and clear, and since you can track every move your client makes, your productivity will increase as your back-and-forth decreases.
Furthermore, the entire integration of invoice, online contract and payment, HoneyBook-style, makes client onboarding as easy as a walk in the park.
If you want ultimate efficiency in managing your client relationships, HoneyBook may just be the solution you've been looking for.
Zendesk Sell: Sell Better, Sell Faster, Sell More
If your business relies on a lot of sales-oriented processes (and especially if you use the phone a lot!), then Zendesk Sell could be a great fit.
You hired your sales reps to sell for you, right? Well, Zendesk Sell is intended to keep them doing just that – at an optimal rate – with tools to increase their productivity, pipelines that are easy to understand at a glance, and all sales interactions turned into insightful data dashboards.
Aside from being one of the most sales-centric CRMs available, this CRM is also known for its very well-developed mobile app. The mobile app, which has uniquely advanced features such as built-in VoIP calling, makes selling and on-the-go a feasible and even desirable option when running your business.
If you want a sales CRM that's tailor-made for a lot of on-the-phone interaction with your clients and prospects, this is a great option that won't disappoint.
Social Media Marketing
A solid social media presence has been the catalyst for many small business owners. Whether your audience is on Facebook, Instagram, LinkedIn or TikTok, you can use your profile to educate, cultivate and convert new leads.
In order to make the most of your social media presence, you need a social media marketing platform that makes it easy to manage multiple channels, campaigns and messages.
Buffer: All The Networks, All At Once
If social media is a part of your marketing strategy – and in this age, it probably should be, to some degree – then you'll gain a lot of time by using Buffer. Probably the most well-known social media marketing software on the market today, Buffer is known for allowing you to manage multiple social profiles with ease from a central platform.
Granting you the ability to schedule content for optimal publishing times, your posts will be more likely to engage your audience and drive the traffic, leads, and conversions that you want for your business.
Now that's power!
Sprout Social: Influence Your Followers – Strategically
For small businesses, Sprout Social can really be a lifesaver when it comes to social media. With this program, you can go from drafting to scheduling to posting for all major social sites like Twitter, Facebook, and LinkedIn – all from one window.
With further benefits such as visuals, reports, and real-time post-level analytics, you'll be able to see what's engaging your audience and what's not, and understand stats like clicks, reach impressions and more.
Meaning, you'll finally be in control of your social media strategy, and you'll know exactly what steps to take to reach your social media goals.
Respondology: Keep Your Reputation Clean
Unlike Buffer and Sprout Social, Respondology doesn't help you manage your social media posts, per se, but rather, helps you with keeping your brand's social media posts untarnished by spam comments.
Respondology monitors and "cleans up" your company's social comments, protecting you from spam and toxic behaviors online which could damage your reputation and the impression you give from your presence online.
The company's team of 1000+ responders is always on 24/7/365, so you're always covered by someone who's got your back, looking out for your reputation!
Email Marketing
Whether you have a list of thousands of leads or just a few hundred, email marketing is another important way to cultivate leads and turn them into clients. A solid email marketing platform helps you understand the type of information your leads want to hear from you and ultimately move them into your booking process.
MailChimp
MailChimp is one of the most well-known email marketing platforms for entrepreneurs, and for good reason. The software offers simple email design with unique templates and tools that make segmentation, automation and lead capture easy for anyone.
MailChimp also goes beyond email marketing to offer everything you could use for your enter client lifecycle. Create landing pages, forms and ads that funnel them into your email lists and then automate based on their segmentation.
FloDesk
FloDesk is great for independent business owners who are looking to wow their clients with beautiful email designs. The platform is designed to turn anyone into a master designer so it's easy to create emails and newsletters that actually engage your leads and clients.
Though FloDesk doesn't offer as many tools as MailChimp, you still have the opportunity to build FloDesk forms that can incorporate your branding and easily funnel new leads into your FloDesk lists.
ConvertKit
ConvertKit is the best option for entrepreneurs with a large following, such as influencers, coaches and content creators. True to its name, it offers more tools necessary to drive conversions, such as digital product pages and referral codes. If email marketing is an essential part of your business rather than a part of your client lifecycle, ConvertKit may be best for you.
Hiring & Human Resources
At one point or another, you'll likely run into outsourcing and growing your team. Whether you hire contractors for temporary projects or full-time employees, you need the tools to set them up for success.
Hiring and human resources tools can help you manage talent equitably and manage the entire onboarding process once they're hired.
Namely: Small Business Talent Made Easy
Tailor-made for small businesses, Namely is an HR and talent management tool designed to be simple and user-friendly, both for the HR department, and the people you hire.
With features ranging from payroll and benefits, time-tracking, performance reviews, and an employee database, if you're looking for an HR tool that pretty much does it all, Namely should definitely be among the tools you're considering.
BambooHR: Growing People & Culture
Calling themselves the "software with heart," BambooHR makes themselves all about your people. If you're growing your team, putting together performance reports, or dealing with time-tracking and paychecks, this multifaceted HR tool will make your life not only simpler but also more beautiful.
Bamboo also puts a unique spin on HR with their additional focus on building culture and driving organizations' growth – you certainly don't see that every day!
Crystal: Have We Met Before?
How would you like to know your new-hire candidates before you even meet them? Wouldn't that make interviewing easier and more enjoyable?
Crystal is an extension for Google Chrome which analyzes the personality of your prospect via their social profiles and posts. Using data and psychological personality models from reputed studies, the app will give you suggestions on how to best communicate with that person in a way best suited to their personality and thinking style.
It doesn't have to be limited to just hiring, though. A better understanding of your clients, and even your existing employees can result in smoother communication and result in better overall personal interaction!
How to Make the Most of Your Small Business Management Software
Before choosing any small business management platform, consider all your needs first. Maybe you don't need something for every category listed above. If you can find one system that combines your needs, you'll always have less to manage than having to move between multiple tools. 
It all depends on the way your business operates and the gaps you see in your current processes. With any software, try it for a few days before you decide if it's right for you. There will usually be a learning curve, but you should at least understand what the software can do for you once you're fully onboarded.
HoneyBook, the best crm for solopreneurs, streamlines everything you need to manage your business into one place. Manage projects, book clients, send an online invoice and get paid through our online payment software. Now peace of mind comes with just one login.