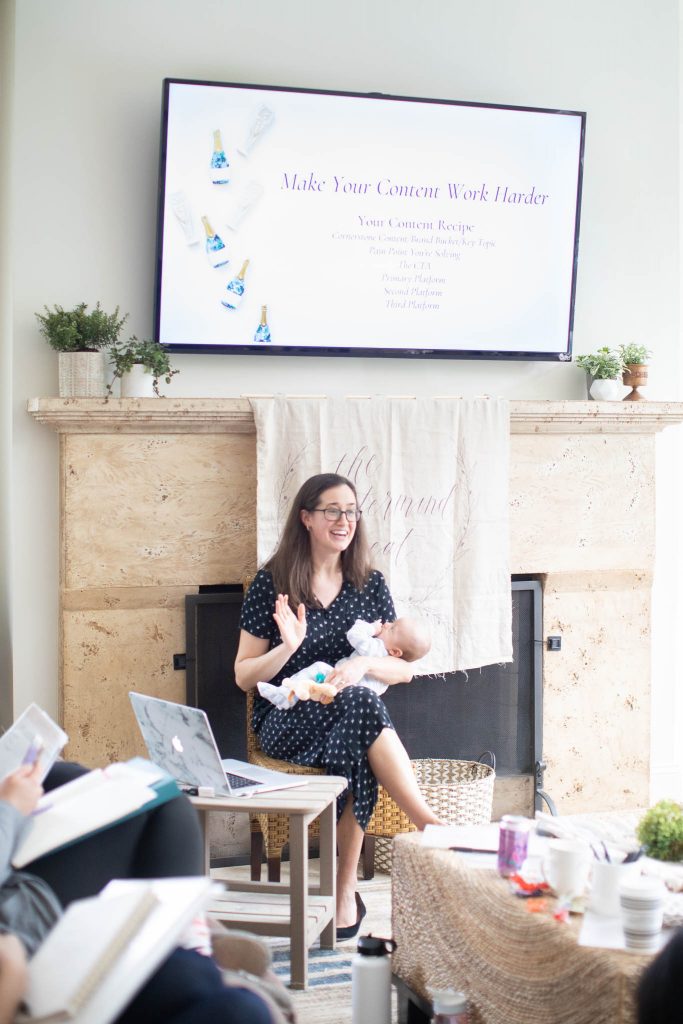 For many of us in the entrepreneurial world, taking time away from business essentially means saying no to income for a chunk of time. There is no "paid time off" as a creative entrepreneur. No boss that allows you extended time away with guarantee your job will be there waiting for you. And in fact, often entrepreneurs don't even have the luxury to take any kind of unpaid leave due to financial needs, how far ahead many people in the wedding industry plan, and other constraints. Of course, there is always the potential for passive income, but not everyone has that element incorporated into their business. All of this to say that taking a maternity or paternity leave, or even taking a sabbatical, can be difficult to plan for and execute.
Everyone is different, but there is one thing that is consistent: taking any length of time out of your business (whether it's a weeklong vacation, a month-long sabbatical, or many months to care for a tiny babe) is tough and requires a hefty dose of preparation. While preparing for welcoming our son into the world last year, I spent a good bit of time coming up with ways to successfully plan a 3+ month maternity leave, and today, I'm here to share a bit with you about how to step out of your business for any length of time.
Before I begin, I want to start these tips with the acknowledgement that everyone's story to growing a family is different. However you welcome a little one into the world, you are so worthy and the absolute perfect mom or dad for that baby. Whether biological, through adoption, surrogacy, fostering, hoping, dreaming, waiting, or serving as a parent-figure to a special kiddo, taking time away from business is hard, but so worth it. I guarantee you'll appreciate that special time together more than you can imagine. Having just come off our maternity leave, I look back fondly at the experience we had, grateful we set aside time, effort, and budget to do so. It wasn't always perfect, but having the margin to be fully present made all the difference. Even if you're reading this not anticipating a little one, but wanting to take some time off from business for yourself, these tips can still apply and help guide your next steps for planning a sabbatical as an entrepreneur.
1. Set your dates
Before we got pregnant, I envisioned planning the perfect time to have a baby. I planned my wedding photography calendar around when we'd hope to be welcoming a little one into the world. Then… after a year of hoping and praying and wrestling with our journey through infertility, I realized that our story and plan may look a bit different than I expected. When we finally discovered we were pregnant, I could hardly believe my eyes… and quickly did the math to determine the expected due date… and how long I could afford to take time off.
However, starting with planning dates can be tough, depending on your situation. If you have the ability, think ahead to what is coming down the pipeline and plan accordingly. Start by assessing what important dates, holidays, or even seasons/launches are happening in your world. Pick your maternity leave start date a bit before your expected due date (as a note: our babe arrived about 1 month early, so I was extra grateful for this buffer time!) If you're unable to predict your expected arrival date due, have a general plan in place for what you'll do when the time comes and begin talking about your journey publically to prepare clients for when you'll be taking some time away.
Analyze Objectively
Reference your budget and bank account to determine how many months you're able to take off while still paying yourself. You know what is best for your work style and family – and when in doubt, plan for more rather than less, as you can always add in work, but it's difficult to take it away once you've already committed.
2. Budget in advance
This one begins far before you plan to step out of the office for any length of time. As early as… now, be intentional about setting aside additional income to pay yourself steadily during your time away. Monthly expenses don't go anywhere when you're not in the office – and so I knew my salary couldn't either. Consider taking on extra work or building a passive income product that can bring in revenue while you're out-of-office. Also, I worked with a financial coach to determine the best way to allocate funds in preparation and during leave. I did a coaching session with Brooke Olsen Consulting at the beginning of pregnancy that was an absolute gamechanger for mindset and financial prep!
3. Talk to other mamas
Reach out to mamapreneurs you trust and get their thoughts on what worked for them, what they'd change, and if they have any recommendations. Talk to other mamas who have been there, done that, and then apply their experiences to you and your life. Know that not everything is going to work for everyone, but gaining insight and wisdom from a select few people is key. Aka: sometimes opinions from the MASS of peanut gallery members is more overwhelming than helpful. As with all content consumption, tailor the voices in your ear.
4. Communicate with current and future clients
Communication is key – early and often! Make a list of any ongoing clients who might be impacted by your time away, as well as any clients whose wedding dates/launch dates/etc. are right around your due date. Depending on your timing, you may have to have conversations to ensure everyone is set up well to eliminate stress in case you can't be present to serve how you anticipated… but solving the problem before it's a problem is key here! Come up with alternatives and present them to your clients who you may need to change plans on.
Additionally, make a list of future wedding clients who you'll want to keep in the know so they don't wonder where you've gone during your months away. More than anything, keep all clients in the know and you'll save yourself extra heartache and headache!
5. Talk about it publicly
Talk about your maternity leave prep and planning on social media. The goal here is to do a couple things: 1. Remind people you won't be so available so it's less of a surprise when the time comes. 2. Move people to action who have been waiting around to sign on for your services or book you. 3. Get people on a wait list for when you return! Plus, it's my goal that talking about maternity leave in my business will help "normalize" it more and give other people permission to take the time off they need!
6. Prep content ahead of time
How many months are you planning on taking off? Begin prepping content that many months in advance. For example, if you plan to take 2 months off from actively being engaged in day-to-day business, begin prepping content 2 months before your out-of-office start date. You can learn more about creating 4 months of content in advance on my blog.
7. Outsource
What are the things that you absolutely must do "live" in your business? Make a list of those items, and then categorize them into what can be prepped ahead of time (then revisit #6) and what must be done live. Then, consider hiring help for those items – outsourcing can be your best friend! Hiring a VA, content writer, or someone else in your business can make all the difference for you to be able to actually "check out" during your time away.
Maintain Momentum with HoneyBook
Setting up your HoneyBook account to automatically take people through a booking and onboarding process can keep you moving forward with clients without stepping foot in the office.
8. Update your e-mail signature
Once you've officially decided your dates, go ahead and update your e-mail signature with your plans to start preparing people. I include a portion in my signature of Upcoming Events and Travel 100% of the time, so this is a perfect spot to add it on in advance.
9. Put up that out-of-office autoresponder
Once your start date is officially here, draft your away message and put that out-of-office autoresponder live! You can find an example of an autoresponder message I used here. And then… remove your business e-mail from your phone if you can't stay out of it!
Also note this: I found that popping into my e-mail every once in a while on maternity leave helped me feel connected to my business and my audience. It's ok, as long as you don't get sucked in! Do what works for you!
10. Give yourself freedom and flexibility TO work
I like working. I always have… and I recognize that sometimes we want to do a bit of work. Instead of overbooking yourself, keep flexibility and freedom to get into business for a couple hours if you're ready for it is key. Take every day one day at a time and know that one benefit of being your own boss is that YOU get to choose if and when you open your computer… even if it's only for a few minutes during nap time.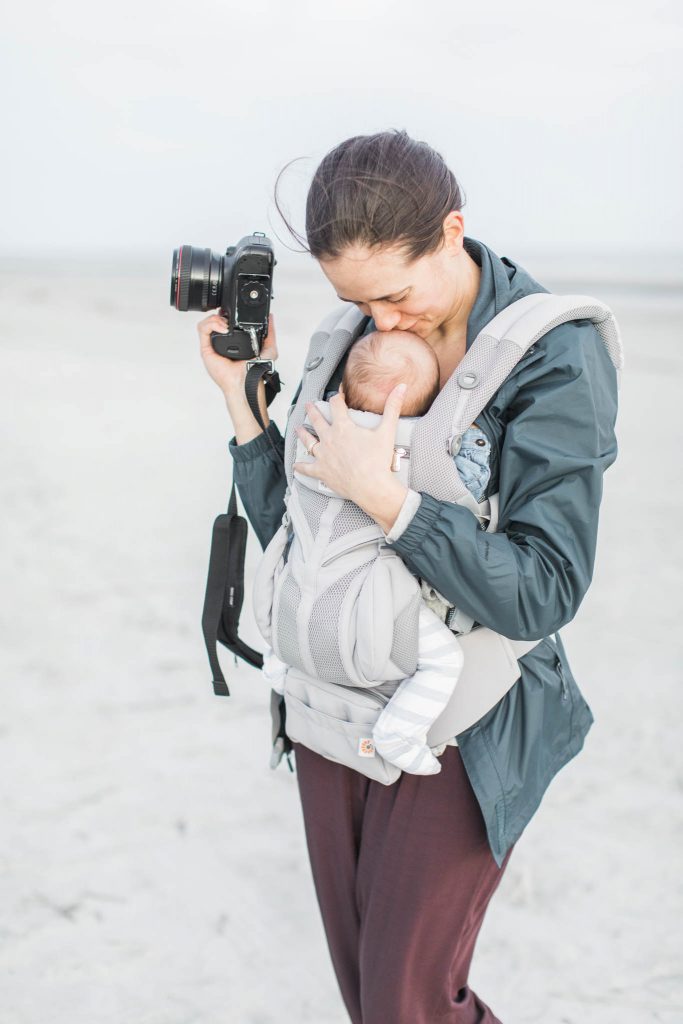 11. Set post-maternity leave goals
Just like you needed to plan content in advance… think about what you'd like to plan for post-maternity leave. Write down some deadlines and plans for after ML. This will help you determine what kind of childcare you'll need to hire or if you should be looking for daycares now (many have wait lists!).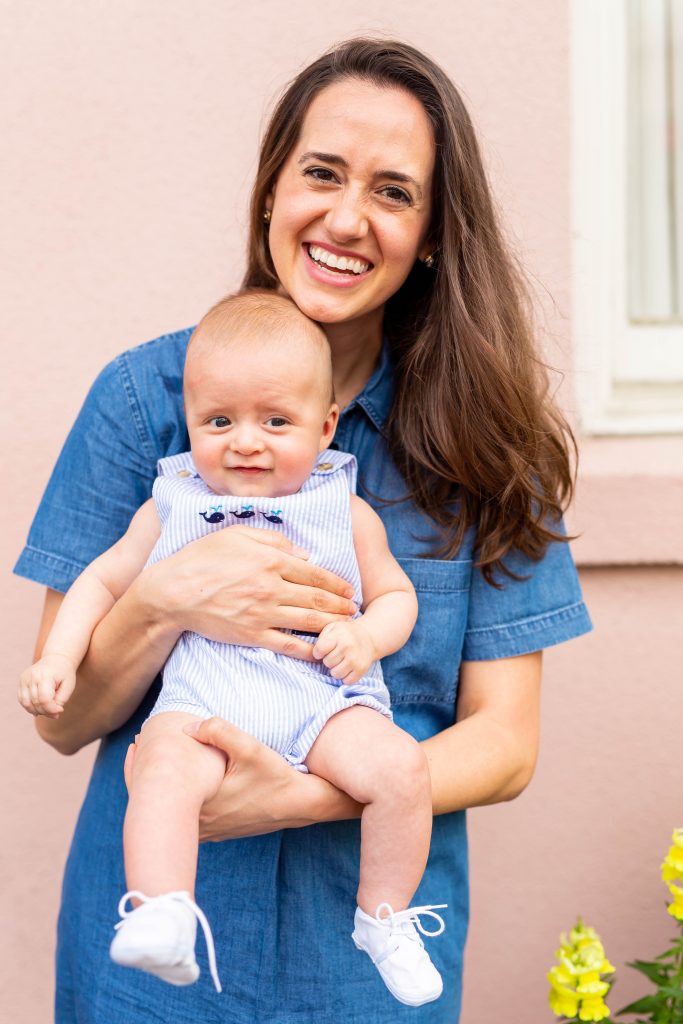 Celebrating you!
Finally, friends, I hope this is so helpful for you as you're preparing for your maternity leave, sabbatical, or extended period of time out of the office. All of those things are so exciting, and I am praying that you'd feel confident and prepared and truly enjoy your time away! And if you're about to become a mama or welcome another little into the world, a giant congrats and all my love to you! I know this is all so thrilling and a bit overwhelming, but know you're doing it all right! 😉 Please don't hesitate to reach out with any questions you have on Instagram!
A version of this post was originally published on Lauren Carnes' blog and has been adapted for our audience.