2019 Freelancer Vacation Habits Data Report
Everyone deserves a vacation and creative entrepreneurs are no exception. In fact, taking time off is good for business as it helps replenish creative energy and boost productivity. 
So why are a whopping 92% of freelancers deciding to work on vacation? That's according to our data report which reveals that the majority of freelancers do not unplug on vacation — a symptom of our "always-on" work culture.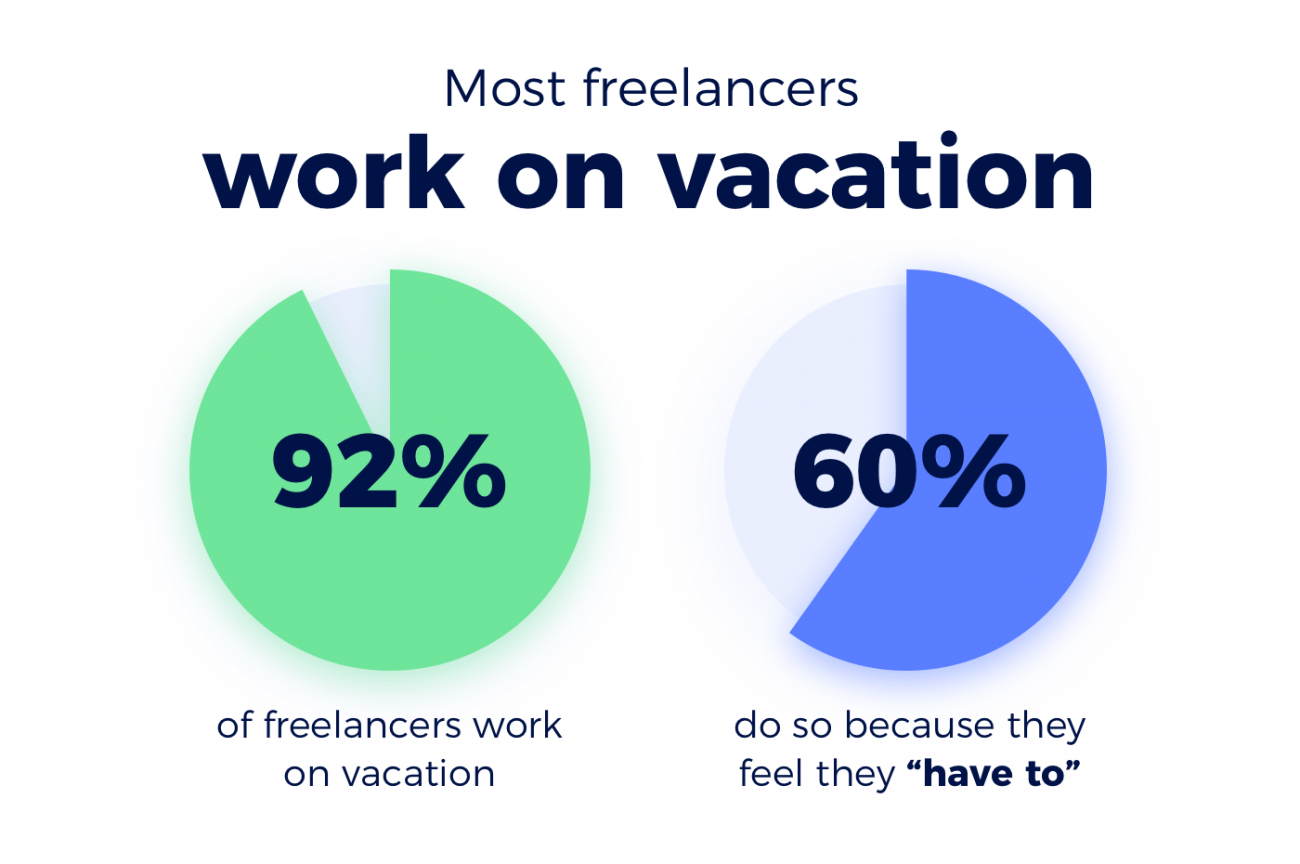 Freelancer's Dilemma
More people are choosing to freelance and start their own businesses today than ever before. That's because solopreneurship offers the independence and flexibility that traditional employment typically does not. 
However, being your own boss has its challenges. Without the support of colleagues or a PTO policy, finding a "good" time to take a vacation can be tough for creative entrepreneurs.   
And while taking time off has proven benefits, the fear of leaving an inquiry unanswered or a client unattended prevents many freelancers from fully unplugging when they go on vacation.  
To empower creatives with the knowledge they need to confidently press "pause" on work, we surveyed over 800 freelance professionals in order to better understand their vacation habits.
Key Findings
We discovered that 60% of freelancers work on vacation because they feel they "have to" and that nearly half, 43%, of freelancers have felt the need to hide their vacation from their clients.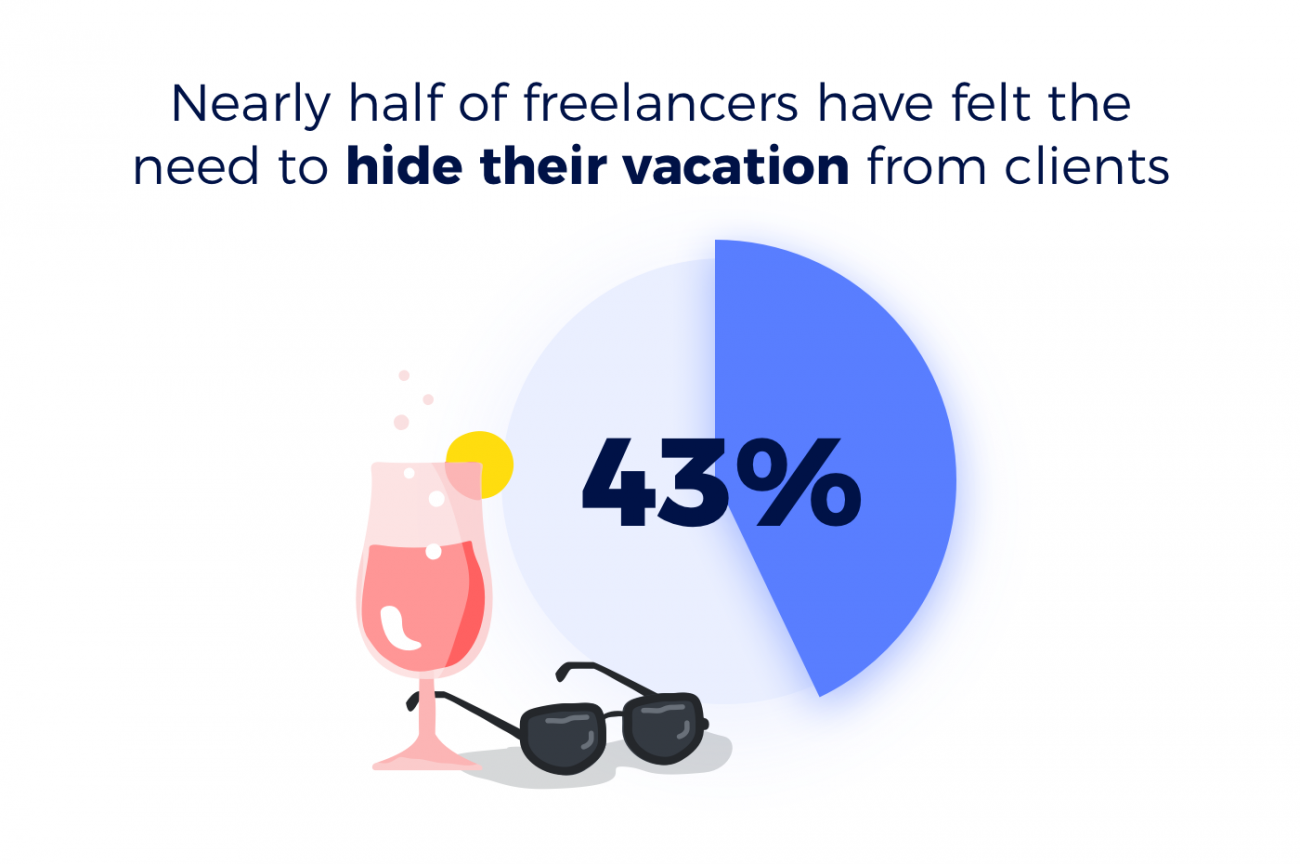 "For a solopreneur, a missed email can be a missed opportunity," says Oz Alon, Co-founder and CEO of HoneyBook. "This makes taking time off work difficult since a simple vacation responder is not enough to run your business in your absence."  
But taking your work with you on vacation isn't the best option either. Our data shows that 65% of women and 41% of men hide their work from loved ones on vacation because they feel they should "be on vacation."
When it comes to taking time off for things other than vacation, women are more likely to spend it caring for a family member, be it a child, parent or relative. While men are most likely to spend time off on a hobby.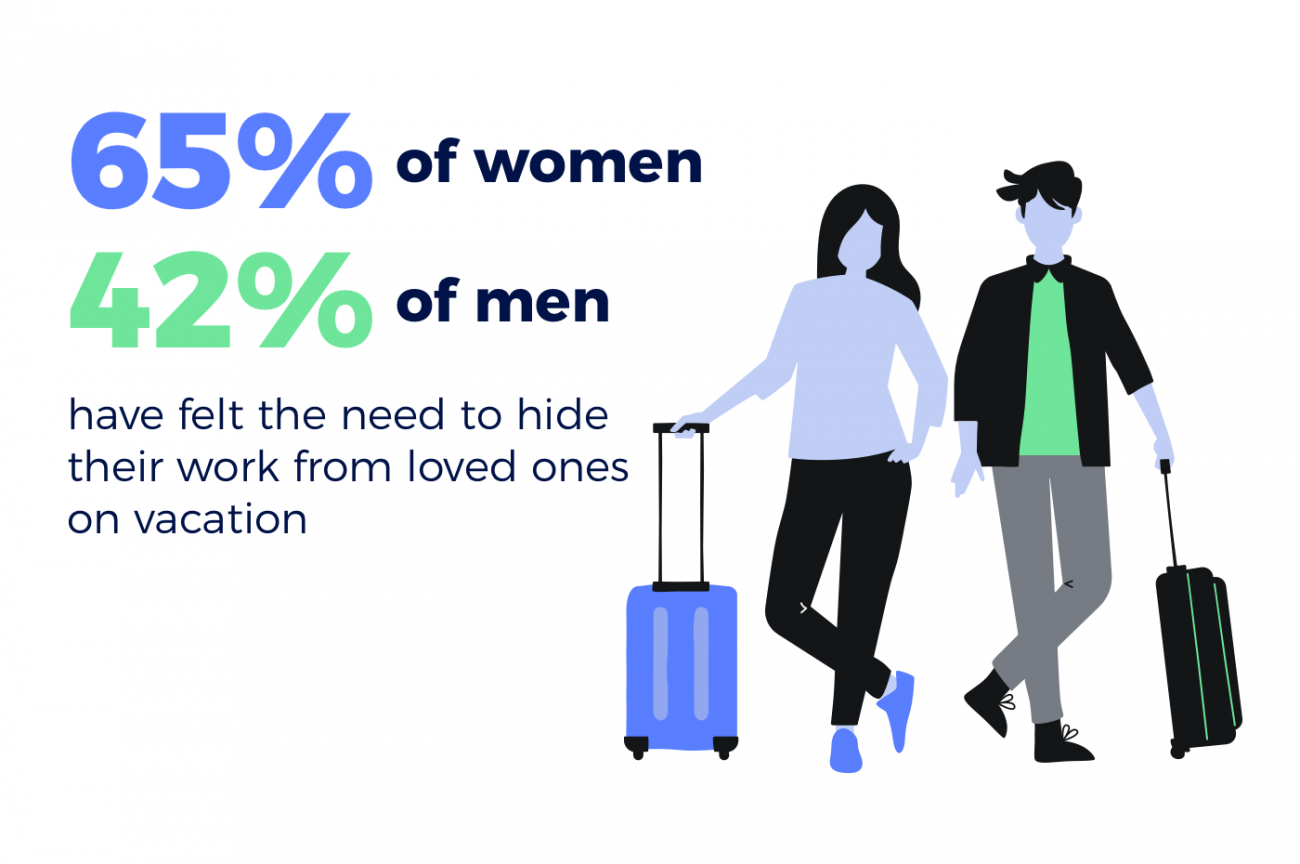 While working from anywhere has become the "new normal" — a trend largely credited to millennials who favor work-life integration — the data reveals that millennials are not the only ones who take work with them on vacation.
Gen X are shown to be less likely to fully unplug on vacation compared to millennials despite being the poster generation for demanding "work-life balance." Only one in four Gen X "usually" or "always" unplug on vacation, compared to almost one in three millennials.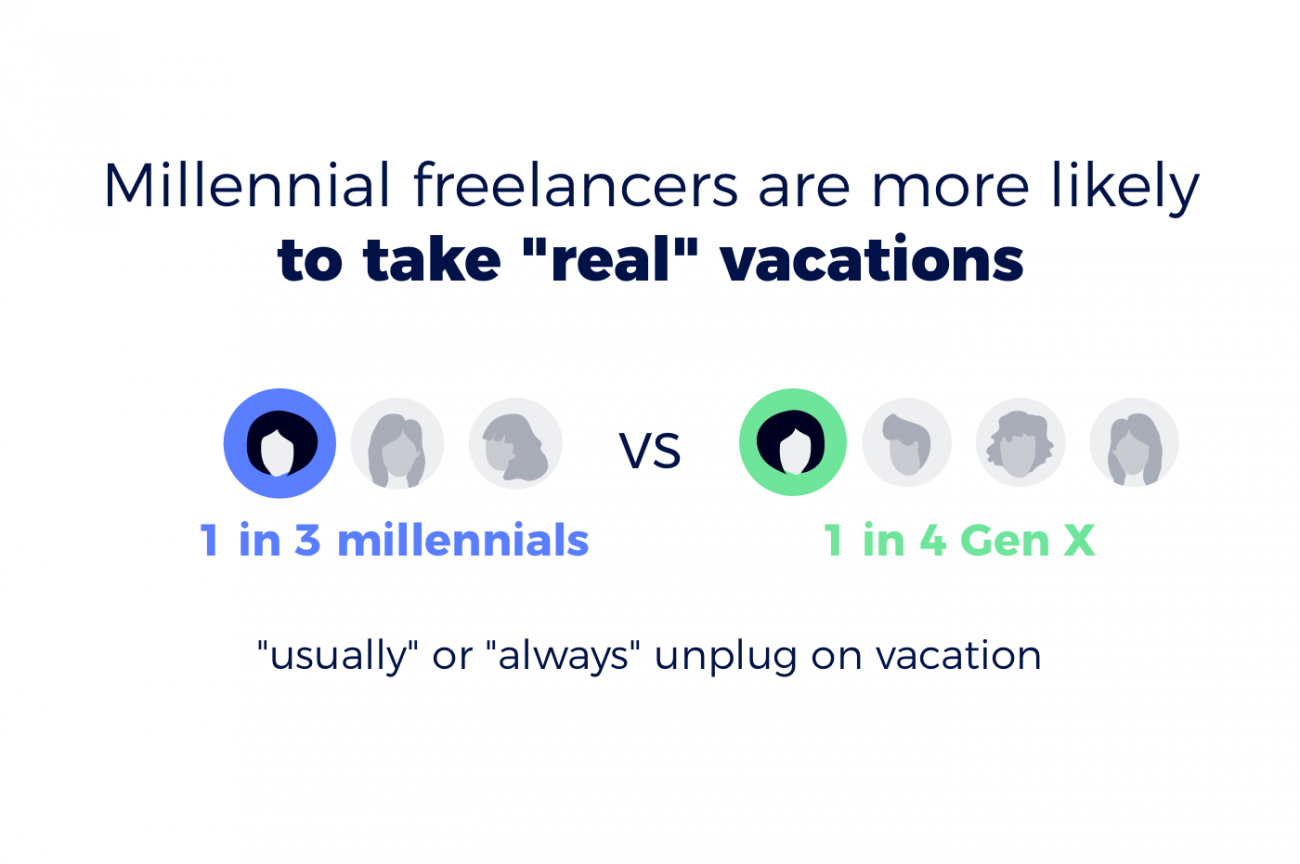 Take Back Vacation Time
Freelancers have chosen to forgo 9-to-5 life to pursue their passion, but that doesn't have to come at the expense of time off. There are still ways that creative entrepreneurs can enjoy a well-deserved vacation. 
Automating many client deliverables, managing projects, sending online invoices and getting paid all while on holiday are made easier with HoneyBook. 
"Honeybook has 100% made it possible for me to step away and not worry so much. Making it so that I am now able to work ON my business rather than IN it," said Marisol Morley of Tiny Kitchen Treats. "That sense of confidence, paired with the fact that my team basically has a personal assistant who works around the clock and never calls out sick, has given me the freedom to finally have weekends and vacations with my little family."
How else can solopreneurs catch a break? Read on for more insights and expert tips.
Get out your piggy bank. The further in advance, you start putting away funds, the less financially daunting going on vacation will be. Set aside a small amount of your income each month to keep your bank account balanced even when you take some well-deserved time off. 
Plan your next staycation today. Your work and quality of life both suffer when you neglect downtime. In fact, in May 2019, the World Health Organization officially added "burnout" to its list of mental disorders. Even if you can only take off for a day or two, you can still plan a rewarding staycation. Schedule an outdoor activity with family and/or friends, book yourself a massage at a nearby spa or simply set aside a whole weekend to stay in with a good book. 
Make time for a digital detox. Yes, you really can power down your devices. Whether you're offline for a long weekend or a couple of weeks, taking time away from all screens – televisions, phones, tablets and computers – has been shown to help reduce stress, improve relationships and promote both mental and physical health. It's a vacation for your brain.
Don't be afraid to ask others for support when family situations arise. Is your little one going on spring break? Does your elder parent have a daylong doctor's appointment? If you answered "yes," you're not alone and don't be afraid to reach out. It is okay to ask family or close friends for help managing personal tasks. They'll feel better knowing that they're taking some stress off your plate.  
Be on vacation when you're on vacation (as much as possible). Time off is time to recharge, so you approach it that way and do your best to leave work at home. But we know that's easier said than done, so if you feel you need to get some work done, create a structure and stick to it. Setting aside small windows of time to check-in will be enough to keep your mind at ease and your clients happy. Above all, be sure to communicate your away time to your clients well in advance so they can adjust their expectations and plan accordingly.  
Take advantage of industry downtime by booking vacations during those periods. Regardless of your vertical, there's probably a natural lull built into the business cycle. Planning trips during those periods make it easier for you to rejuvenate. 
Have other tips and tricks that have worked for you to take time off? We'd love to hear from you in the comment section below! 
Methodology
HoneyBook surveyed 808 creative entrepreneurs and freelancers to better understand the vacation habits of the self-employed in our "always-on" work culture. The survey was administered from May 23 to June 9, 2019.
Learn more and grow your business with HoneyBook's all-in-one client management software for small businesses.