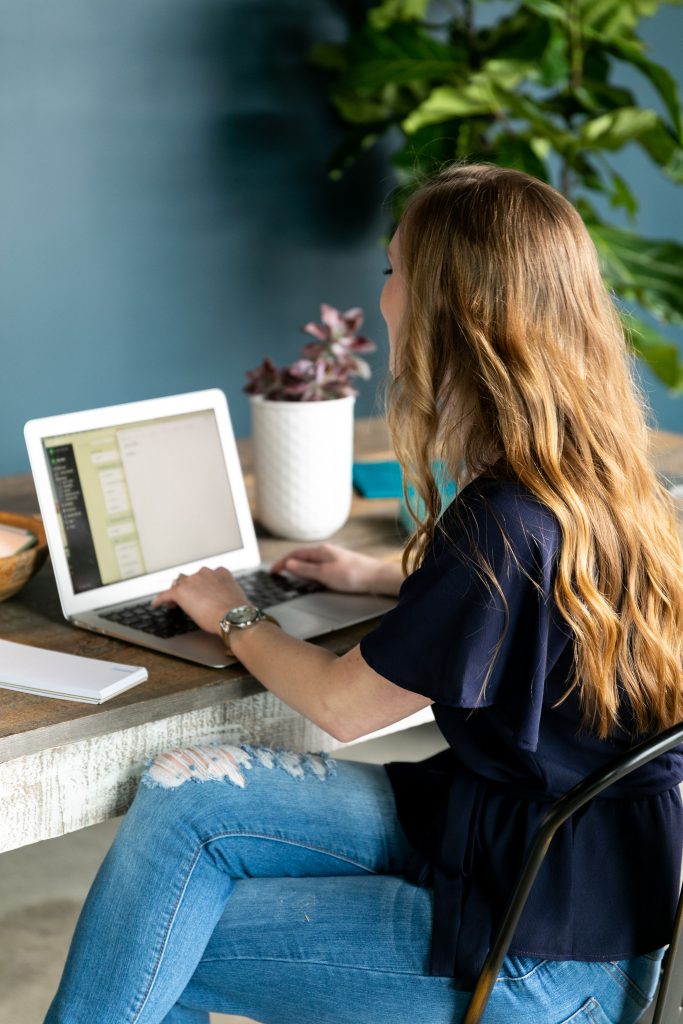 Your website should be one of the most thought-out and strategic parts of your sales process. It's that final decision point before a client goes from browsing your services to booking your services. Of course, you might have a discovery call before the online contract is officially signed, but you need an effective website in order for that discovery call to take place.
So now you're thinking, "How do I write copy that converts, sounds like me and isn't… salesy?"
I've got you. These are the tips I've used in over 50 small business websites.
9 Top Tips for Writing Website Copy that Converts
1. Hone in on your brand voice first before copywriting.
Before you write anything, you need to sharpen your brand voice. This makes the copywriting process just a bit easier.
Here's what I recommend:
Identify your ideal client. Who do you serve? What are they looking for? What pain points do you solve?

How is your brand different from others? What makes you stand out?

What words would you use to describe your brand? Pick three words.

What words would you like clients to describe you with? When they visit your website or work with you, how would they describe the experience? Pick three words and while editing, make sure that they still ring true. Ideas include approachable, experienced and creative.

How do you describe your style, process and results? Create a word bank of adjectives for each of these areas. I love using

wordhippo.com

when building brand glossaries.
2. Use inverted pyramid style copywriting
It's a wise journalism technique that consists of writing from most important to least important. Don't save the good stuff for the end! Unlike a novel, in which you might surprise readers with a plot twist, your website does not need a plot twist. Instead, it needs a juicy headline.
As you go through each page, make sure the most important information is listed first.
My number one tip here is to include a brand statement on your home page. It should be the first paragraph viewers see. Include what you do, who you do it for and how you stand out. Here's a peek at my brand statement, straight from my website.
INSERT BOOK DREAM CLIENTS IMAGE
3. Give it to them straight. Simple and straightforward is better in copywriting.
Similar to writing in order of importance, you also need to keep things simple.
Please, whatever you do, avoid:
Industry lingo. You know, terms that only you and experts in your field understand (unless you're writing content and selling products and services to other experts).

Bulky paragraphs. No one wants to read them, and even people who love reading need short paragraphs and spacing to make reading actually enjoyable. Skimmable text is your best friend here.

Run-on sentences. You know that thing you can do where you keep talking and talking, but you're not actually saying a thing and then people feel a bit lost. Run-on sentences are a sure way to lose your audience and present you as a messy person. Instead, keep things concise. Use those periods and simplify your sentences.

Too much cursive text. It's beautiful but is often illegible. Only use cursive text for small pieces of content like "welcome" or "explore more." If someone didn't or couldn't read it, how would it affect their experience?
4. Organize that content!
Sometimes as a copywriter, I feel like I'm also a content organizer. Copywriting often involves moving around words and paragraphs to places that feel a bit more like home.
You may find that you write impeccable content for your home page while actually writing a section for your portfolio page. I blame the "flow" for this. You get into the groove and produce your best work later on.
Other times, it's just a matter of realizing that one paragraph fits better somewhere else. An outline can help with this. I always start with an overview of the website pages — home, about, portfolio, services, blog, contact — and then get into more specifics from there.
5. Be strategic with your CTAs (calls to action)
Your website is a sales funnel on its own. You need CTAs that strategically guide viewers from your home page to clicking that contact button. Don't be vague, though! If you can guide users to different things depending on their interests, you'll be more successful.
Home page call to actions
Since your home page is essentially a landing page for everything you do, I include paragraphs and call to actions for almost every other page on the website. Again, we're guiding users through your website. This is where the sales funnel usually begins, but many clients will take different steps. Some might scroll all the way down to your footer and then click on your Instagram handle. Some might click the first call to action. Keep this in mind as you write copy for your home page.
CTA Examples:
View details – links to your services page

Learn more – links to your services page

Explore the portfolio – links to your portfolio page

Visit the blog – links to your blog page

Contact me – links to your contact page
According to Hubspot.com, customized calls to action perform 202% better.
Use soft and hard CTAs
Another way to customize the CTA is to have what I call a soft CTA and a hard CTA. The soft CTA should warm up the audience, perhaps inviting them to download your free guide or visit your about page. The hard CTA is outspoken in the best of ways, encouraging users to book now or schedule a consultation.
6. Stop comparing & start branding.
You started your business because you had something unique to offer or a different way of presenting it. Don't forget that when writing your website copy. Although it can be helpful to seek inspiration from other websites, I highly discourage viewing other websites, especially from competitors, while working on your own website.
This can lead to plagiarism and a lack of content that actually sounds like you. If you need inspiration, look at websites that don't do the same thing as you. Explore websites from fellow entrepreneurs who are in different industries.
Take note of what you like in terms of the overall strategy and tone. What are their pages called? Do they call their portfolio page portfolio or do they use another word like projects, samples or galleries? How is the content organized? Do they have a brand statement? Is their writing witty, romantic or professional?
People want to hire you, so don't forget to include your personality and what makes you unique. Copywriting is its own form of branding.
7. Let testimonials do the bragging.
There's no need to worry about sounding salesy when you have testimonials to use. After you've thoroughly introduced yourself and made it clear as to what you do and how it helps, queue the testimonials. I often include testimonials on the home page and after listing packages/pricing on a services page. Use the best testimonials first.
Can you edit testimonials?
No. You should not edit testimonials to sound better or say things your clients never said. But you can reformat them and fix typos. By reformatting, I mean bolding the best parts or cutting out sections that aren't necessary. This makes the testimonials more effective. If you're worried about crossing a line, just ask the client to review it after making any minor changes.
Here is a some swipe copy you can use to ask them for their final approval:
"I'm featuring your review on my website and wanted your final approval before publishing it. I cut out a few sentences and removed a simple spelling error. Thank you so much."
8. Don't publish the first draft when writing website copy.
Rather, sleep, take a few days between drafts and then take another look. After you've polished it a bit, ask a friend or family member to read it through. Be sure to let them know that it's for a website. Organizing the content by the page, and similar to how you'll eventually design it on the website, will make it easier for them to provide helpful feedback.
9. Consider SEO: search engine optimization
Copywriting and SEO go hand in hand on websites. SEO copywriting can improve search engine rankings, making it easier for your business to be found online. I know SEO can be overwhelming, so here are a few beginner tips to guide you as you consider it from a copywriting perspective:
Select one specific keyword phrase per page. Use tools like

Ubersuggest

to select keywords with the most search volume and hopefully, low competition. Don't use the same keyword phrase on multiple pages. For example, if you optimize your home page for "Orlando wedding photographer," your about page might need to be "Orlando photographer." This increases your reach and prevents you from competing with yourself. Consider your location too. See how I used "Orlando photographer" and not just "photographer?" This makes it more likely for a local client to find you.

Use that keyword in your page title, meta description and naturally throughout the content for that page. (Hint: your page title and meta description are SEO settings you can find on the back-end of your website. It's a complicated way of describing the text that Google lists in search engine results. Below is an example.)

Include at least 300 words on your main pages. This helps with SEO too! Otherwise, Google might consider your page "thin" and your website will be less likely to rank well.
Ready to learn more about SEO copywriting?
I can't wait to share even more tips with you. Download a free copywriting do's and don'ts checklist by subscribing here. It's a quick reference guide you can refer to as you write the best copy yet for your site.
Ready to connect and convert your ideal clients? Get our Brand Voice & Copywriting Ultimate Guide.
Plus, 5 more posts you might like: