Businesses that use automated business processes and workflows have greater productivity. Employees are allowed to focus on tasks that push goals forward while reducing error, streamlining work, and eliminating repeatable, manual tasks.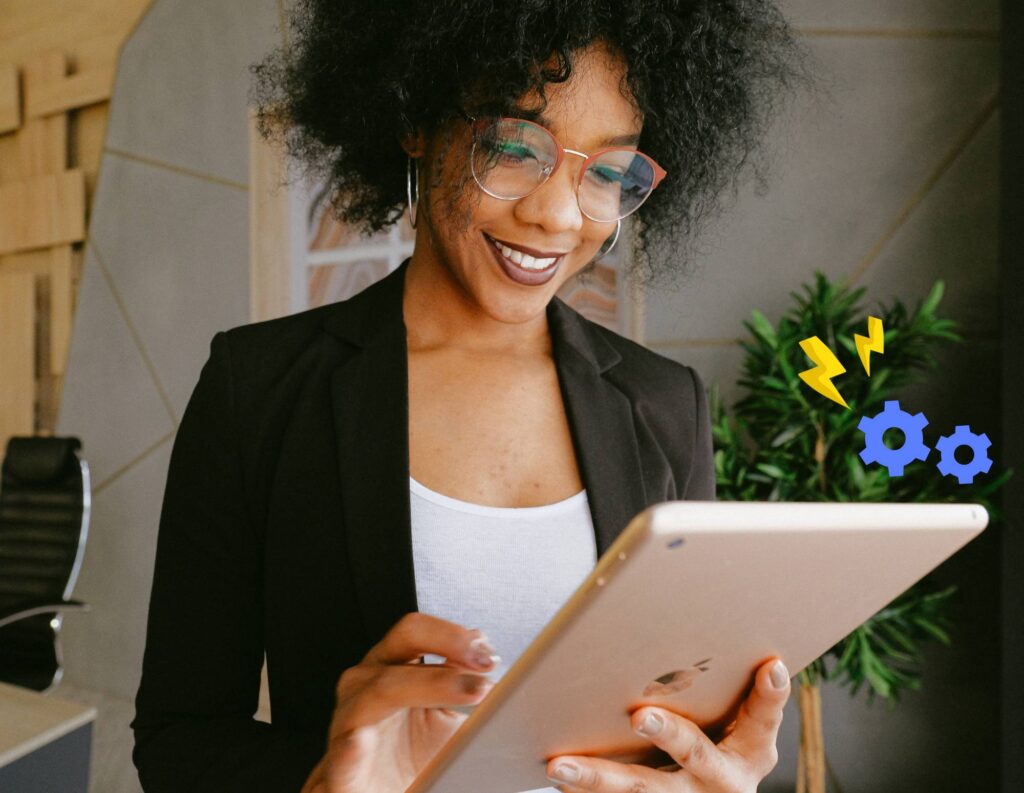 Making work more efficient has never been easier than with automation, which provides business owners with a chance to save time and money.
Scaling your business requires automating repetitive manual tasks to reduce potential errors that may come with growing your company. Take the first step to automate your business processes by identifying areas in your business that would benefit from more efficiency.
Managers often convince their company to invest in business process management systems because they understand that automating specific tasks saves time and helps reduce errors and cut costs. The time you would spend on automated tasks can be invested in other areas and higher-priority tasks to promote company growth.
Ready to learn how to automate? Here's how to take back your time, work faster, and offer a better client experience.
Jump to:
What is business process automation?
Business process automation helps companies automate repeatable tasks. Automating time-consuming, manual tasks like emailing back and forth can help your business save time and money in the long run.
With workflow automation software, your team can organize and prioritize the tasks that need to be accomplished first. By streamlining processes like client or employee onboarding, the way work is carried out is accelerated, leaving little room for error.
What are some benefits of workflow automation?
Implementing automation solutions over more traditional ways of completing tasks can provide businesses with tremendous opportunities for growth. When you think about how much time your team spends manually entering data or arranging appointments with clients, consider how automation can reduce time spent on tasks and minimize communication errors or common misunderstandings.
Some examples of how automation can help include:
Reducing human error
Ensuring more inclusive, standardized processes by reducing bias
Reducing back-and-forth emails with clients
Taking administrative tasks off your and your teams' plates
You can significantly improve communication between team members with workflow automation that can set reminders for tasks, so employees aren't constantly reminding each other when to get something done. Assigning team members to every part of the process also increases accountability and closes the gaps where certain tasks might be falling through.
An automated workflow system can handle manual tasks like data entry, notifications, and email flows more efficiently. Additionally, workflow automation tools allow you and your team to make better decisions by considering data you would otherwise be unable to collect if you continued to perform the tasks manually.
Processes that can be automated
The great thing about automation is that it can apply to a variety of processes, regardless of how many people are involved, how complicated it is, and which part of your business it applies to. Essentially, you can automate nearly any task in your business that's repetitive.
For example, you can automate certain parts of your client communication while also automating your accounting processes.
Consider some of these workflow examples to get started:
Email marketing — Using email automation to schedule messages to your lists of leads, client base, or current clients. You can stop manually sending emails for things like meeting reminders, payment reminders, bookings, and more.
Accounting — Instead of manually recording or analyzing your finances, automating accounting tasks can help you save time and cut down on human error. Anything that is highly repetitive like expense management, payroll, accounts payable, and sales order process.
Onboarding — Automating processes to onboard employees and clients by gathering their information. Delivering a standardized onboarding process will decrease the chances of mistakes being made and allow you to focus on providing the best experience possible for new hires.
Human resources — Automated processes can input information into payroll systems and reduce the chance of error when handling sensitive information.
Customer support — Working through issues quickly is as easy as automating customer support, sending automated messages with links to your most up-to-date schedule, or managing incoming requests during your off-hours with chatbots.
Scheduling — Use a meeting scheduler with time blocks to send to clients and automate your process for booking meetings. Instead of going back and forth to find the right time, clients can schedule immediately.
Administrative tasks – Automate your process for responding to emails, sending invoices, offboarding clients, and more.
How to get started with automation
Before exploring the opportunities automation offers, you should consider your employees' and clients' people's needs and wants. The best thing you can do before implementing automated business processes is to have a conversation with the employees responsible for performing these tasks and ask them what can be changed and improved.
Get everyone together to work through a process map to better understand what you can automate and when.
You should also consider your client or user's experience and find out what might be causing potential clients to turn away from using your services.
Clients can give insight into the parts of your business process that take too much time and effort. Once you gather this information, you can begin to make a list of the procedures you convert into an automated system.
Take control of your workflow by keeping in mind that it should be able to adapt as your business grows. As you consider solutions to common problems, you must also be careful to consider how these solutions will work in the future.
Use process mapping to determine which tasks to automate
Process mapping is a valuable tool to improve current business processes and analyze gaps in your business's performance.
These maps will not only break down your whole process from start to finish, but they will also make clear what's broken down or missing. With a process map, you can outline what happens at each step and define who's responsible for each task. Viewing everything at once effectively ensures every step of your process aligns with your business goals.
Start by creating a simple list of your process steps within the brainstorming phase. After the brainstorming phase, work with your team to identify gaps, areas of confusion, or areas where clients drop off, for instance. Doing this will give you an understanding of what takes the most time and where automating tasks can help improve efficiency.
Gaining clarity on the issues you should be on the lookout for will become clear once you sit down and draw out the process. Creating the initial draft of your process map can be as simple as sketching it out with pen and paper. Once you've completed your first draft, consider navigating to a site like Lucid Chart and adding your ideas into a customizable and easy-to-use online template.
Automate your business processes with HoneyBook
Ready to start using business process automation software? Make it an easy transition by using HoneyBook, the clientflow management platform built for independents. Since it's made for the types of processes you already have, you can get started quickly and begin using automation for multiple business operations.
In addition to automation, HoneyBook lets you combine multiple steps in your process too. The end result? You'll have more streamlined, efficient workflows that let you spend time on the strategic parts of your business. You can count on revenue growth by completing more successful projects, and being able to grow and scale your business.