Last week, we surveyed our Facebook Community and were astounded to hear how many creative entrepreneurs were unhappy with Instagram's shift from a chronological to algorithmic feed. We knew it would be bad… but not this bad.
Of 570 creative entrepreneurs polled, 88% reported hating Instagram's algorithm citing reasons such as an overall decrease in engagement and massive disparities in how different pieces of content performed. Another 11% of members polled were indifferent to the algorithm—explanations ranged from choosing to leverage other platforms to shifting focus that was once spent curating Instagram posts to experiment with native video (Stories and Live) on the platform.
The truth is this—the Instagram algorithm is here and there is no indication that it is going anywhere. So, what are small business owners to do to combat an overwhelming decrease in engagement?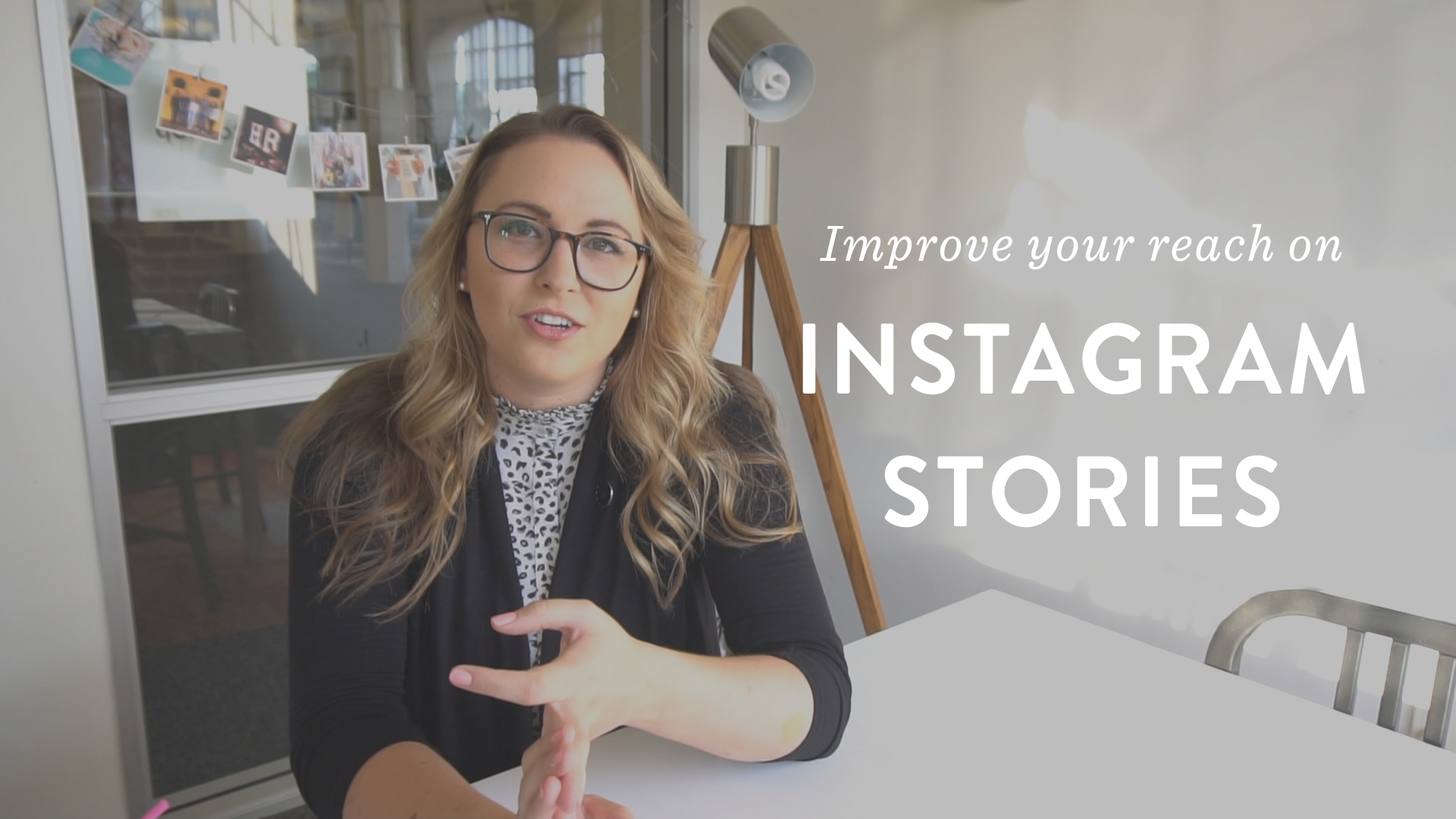 Meet Instagram Stories
Over the past year, platforms like Instagram and Facebook are prioritizing native video content and opening the floodgates for content creators and businesses to expand their reach. It started when Instagram released Stories to directly compete with Snapchat, followed by Instagram Live and a redesign of the feed to give videos optimum placement above all other content.
Why are social media networks favoring video content? Put simply—it increases retention time and keeps users on their platforms longer. According to Hubspot, a third of all the time people spend online is dedicated to watching videos and 51.9% of marketing professionals worldwide name video as the type of content with the best ROI. If you haven't started using Instagram Stories or have tested the waters without a real plan in place, now is the time to begin incorporating Stories into your strategy.
What is Instagram Stories?
Vertical photos and videos that disappear after 24 hours. Followers can watch stories sequentially and they currently live at the top of the Instagram feed.
What type of content performs well on Stories?
Photos that correspond to a recent post on Instagram or that connect to a particular product are commonly shared. Video content that tells a story, offers a peek behind the scenes, or reveals a more personal side to a brand also thrives on Instagram Stories.
Think of it like this—any video content that can be created quickly, with minimum effort, is perfectly aligned with the limited timeframe of 24 hours for viewing. Chronology plays a large role in visibility so the frequency of fresh content being uploaded is critical to staying at the top of the feed. In other words—the more often you post, the more likely your stories are to be seen.
How can I get the swipe up feature? How are people using it?
From our research, it appears that the swipe up feature is currently limited to certain accounts (primarily those with over 10,000 followers and high engagement). It is also available to verified Instagram accounts (users with that covetted little blue check).
Many companies strategically use the Instagram Stories swipe up feature to direct viewers off of Instagram and to their websites. Other strategic ways of using Stories include directing to products with affiliate links, collaborating with other brands, or offering content upgrades (downloadable PDFs) to aid in email acquisition.
Earlier this month, I shared my free Instagram Story Templates on a single story, leveraging the swipe up option and added an additional 530 new email subscribers to my list in 24 hours. It truly opened my eyes to the potential of features like swipe up to change the game for small business owners.
Quick Tips for Using Instagram Stories
Instagram Stories enable your audience to connect with you on a more authentic level. Being able to see into your world, see your brand's human element—is one of the keys to success on this platform.
If you are a solopreneur, allowing your unique voice to shine through Instagram Stories will encourage your audience to connect with you on a deeper level. If you run a team, use stories to highlight the hard work of individual contributors in your company and put a face to the work that you're doing.
Be strategic and optimize each Instagram Stories post by using geotags, hashtags, and username tags. When individual stories are picked up by the explore page, you have the opportunity to expand your reach significantly.
Tips to Optimize Your Stories:
Tag locations for a chance to be added to geographic stories

Use hashtags to be added to that specific explore page

Tagging collaborators + brands with their handle (this also connects you via Direct Message)
Use Instagram stories as a vehicle for conversation and community building. When people respond to your stories consider giving them a shout out or sharing exclusive content through stories that deepens the relationship between you and your audience. This might include giveaways, flash sales on products, or access to personalized advice. If you provide value, it's likely that your audience will return.
Scheduling Stories + Building a Content Calendar:
Being able to create content that ladders up to a larger goal or vision is crucial to seeing the results you want for your business. Most creatives, bloggers, and small business marketers rely on a content calendar to schedule out when posts will go live and being able to include stories in that strategy is a game changer.
The hiccup that many experience is the requirement that content uploaded to stories must be created within the 24 hours prior. Although Instagram has set these strict parameters (to encourage real time documentation), tools like Planoly enable you to schedule this content in advance—giving you increased freedom in your overall strategy.
How does it work? Magic.
Okay, I'm kidding!
When content is ready to go live, Planoly prompts you with the push notification to post your scheduled story. Upon hitting post—you download the prerecorded content to your phone with updated metadata and a fresh timestamp. Viola!  You can watch a video tutorial, here.
There are other apps that allow you to change the timestamp of prerecorded content as well, however we especially love the content calendar framework in Planoly to give us a 30,000 foot view of how stories align with other content we're sharing on the blog.
The Bottom Line
The Instagram algorithm is here to stay—yes, even if you were one of the 300,000 people who signed the petition encouraging Instagram to revert back to it's chronological past. Simultaneously, social media platforms across the board are prioritizing native video content giving anyone with the desire to reach an audience the opportunity to ride the wave.
Jump in. Start leveraging Instagram Stories and experimenting with it's ability to expand your reach and increase affinity with your audience. We've seen incredible results thus far and we're just getting started.