We got to sit down with powerhouse, Becky Mollenkamp, and walk through her decade long journey of kicking self-doubt and depression to the curb, launching multiple successful businesses, rocking the role of being a mom, and empowering an incredible community of entrepreneurial women. Her most recent business venture led her to become a mindset coach where she helps women-identified business owners uncover and push beyond their limited beliefs. We know—she's way cooler than us, too.

Through her experiences of pulling herself up by her boot-straps, she's been able to facilitate others in doing the same. We even got to dive into how her role as CEO and measures of success have changed over the years and what lessons she would pass down to her younger self if she could. So, yes, get your notebooks and gel pens ready people!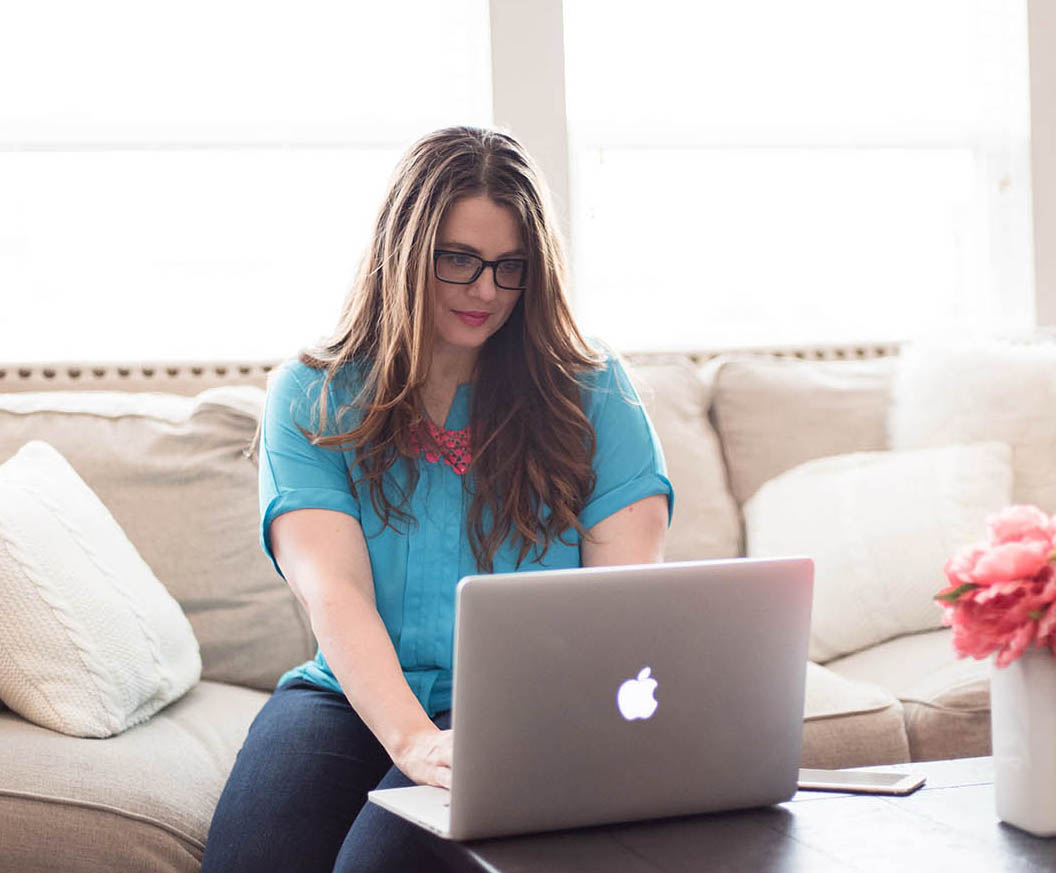 You've talked about going through the process of reinventing your career in 2016 and say you were "called to help other women believe in themselves so they can build successful, sustainable businesses." Can you tell us more about that transition?

Yeah, definitely. In 2016, I had my son (after having had a miscarriage) and I rather suddenly felt called to do more meaningful work than what I had been doing as a content marketing professional. My marriage and his birth came after I did my own personal development work. I had fallen into a deep depression after a divorce, the death of my brother, and the near end of my business following the 2008 recession. That all shook me out of a life I didn't really love and helped me see that life is too short to be doing what you think you should do. I want to help other women make those changes (without having to suffer so much first). So, I shifted from content marketing for corporate clients to business and mindset coaching.

When you were first starting out, what was your measure of success?

When I first became self-employed in 2005, I measured success by being able to replace my 9-to-5 salary. When I started my coaching business, however, I gave a lot more weight to personal satisfaction. I still very much worry about money, as my income is incredibly important in my household, but I've also realized that joy trumps cash every time. This time around, my biggest measure of success for year one was getting even one client and actually enjoying this new line of work.

I think that totally makes sense! Based on that scale, where did you measure up this time around?

I was wildly successful! In my first full year as a coach, I had 17 one-on-one clients, opened a paid membership community, and even launched a few courses. I made as much money as I did from my writing work (I still do some writing work to balance my income needs as I build my newer business), so I basically doubled my income. Most importantly, I freaking loved working with my clients and watching them make major changes to how they feel about themselves and their businesses.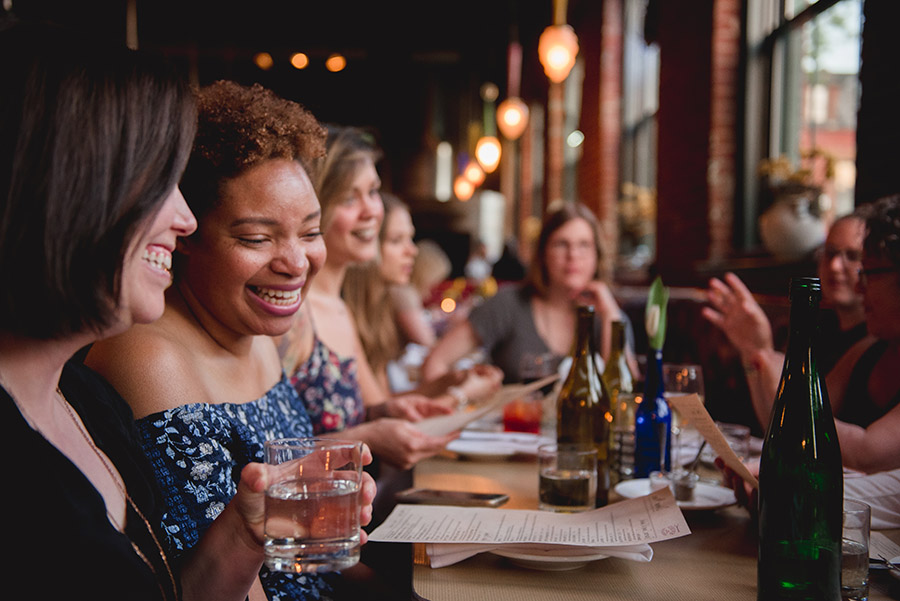 I bet that's such an inspiring position to be in. Do you ever pull from your own experiences of doubt and running a business to help your clients?

I think that "I can't do this" all the time, even in my 15th year of business. Being self-employed is HARD, there's just no way around it. You are responsible for every decision and every outcome feels personal. There are ups and downs with income and no paycheck to count on every two weeks. Over the years, thanks to a lot of mindset work, I've gotten better at handling the negative feelings. They don't last as long anymore because now I can catch them coming on and proactively work through them.

Tip Number One : Community is key!

I reach out for support from members of my mastermind community, take some time off for self-care, and remind myself that these feelings come up over and over again, and I always survive them (this too shall pass).
That's such a great perspective we can all take from! Besides the tough stuff, what are the most fun tasks you've tackled in running this business?

The most fun part of my first year as a coach was that everything was new! I felt so much freedom to experiment and try anything that sounded interesting. As an example, I dabbled in affiliate marketing for the first time and made $2,000 in it that first year. Making money while I slept was definitely cool. I also hosted two business retreats and loved those experiences so much. At this point, what's most fun is the actual work itself. When I get messages from my clients saying they just had a major "a-ha moment," I am on Cloud 9 the whole day.

Let's talk pricing: Where do you personally begin when assigning your services value?

Pricing is as much art as science, and I'm still learning how to do it well.

Tip Number Two: Price Confidently

In the beginning, I let self-doubt get the best of me and I woefully undercharged for my products and services.
Over time, as I've helped more clients and gained more confidence, I've adjusted my prices upward to see what the market will bear.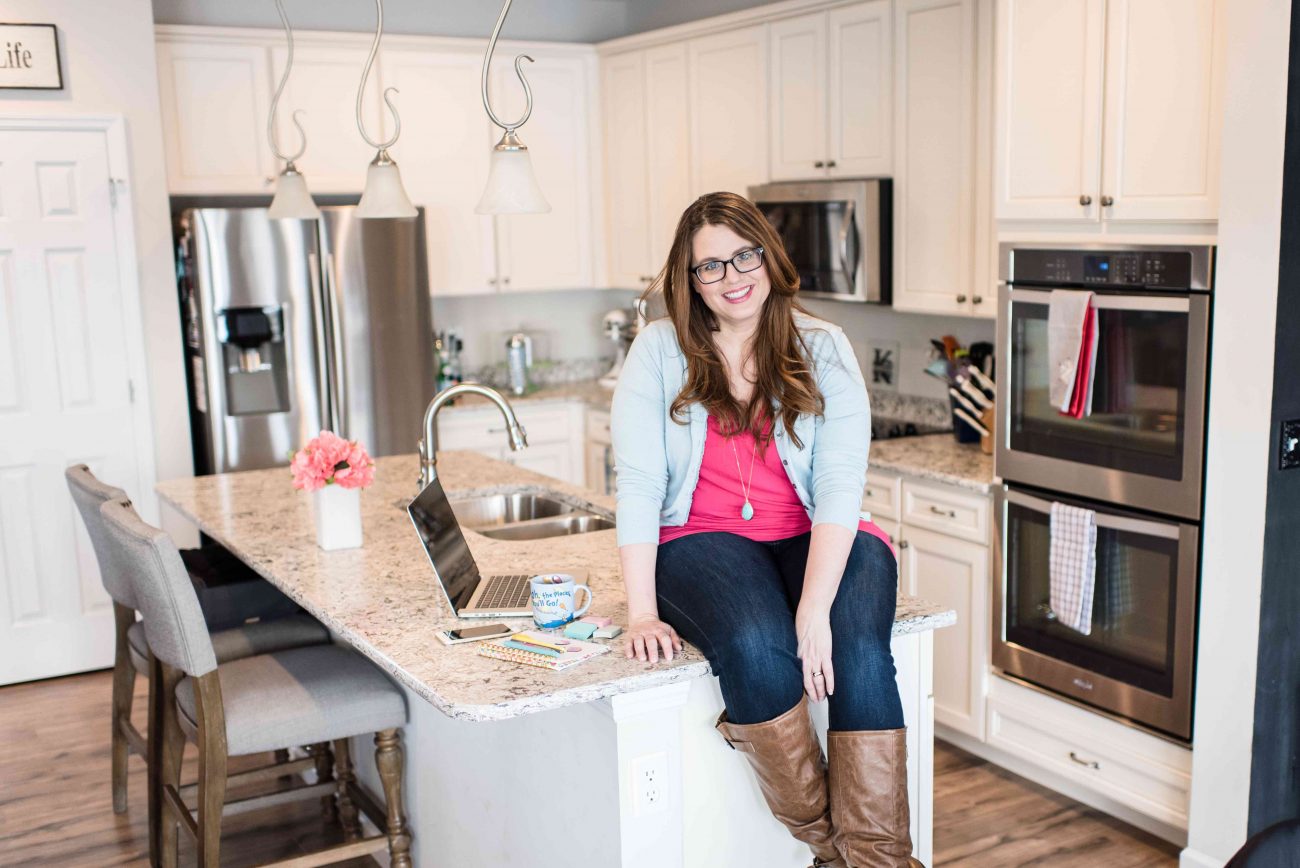 Do you feel like there was a lot to learn when you were first starting out? Where would you turn for help?

I didn't know how to do anything when I started my business in 2005. By the time I launched the coaching business, I had a lot of experience, so I didn't need as much help with business fundamentals. That said, I'm still always trying to learn the best practices for marketing because it's always changing as technology and trends evolve. To learn, I mostly read books and listen to podcasts (a recent favorite includes The Get Paid Podcast from Claire Pelletreau).

Building a brand is a favorite of mine, too! In terms of specific business tools, what were you using when you first started? How has that developed over time?

So much has changed for me over the years! When I first became self-employed in 2005, I called myself a "freelancer" and didn't think of myself as a business owner. I used an Excel spreadsheet for bookkeeping and Word to generate invoices; I didn't even have a business bank account. I didn't really change all of that until I launched this coaching business.

Today, I have a business bank account (actually, I have four because I use the Profit First method). I use HoneyBook for managing my client relations (including invoicing and contracts), Quickbooks for bookkeeping, Podia for hosting my memberships and courses, ConvertKit for my email list, Zoom for hosting video calls, and Tailwind and SmarterQueue for social media scheduling.

You obviously keep yourself incredibly busy. Is there ever time for feelings of isolation or loneliness to creep in? I feel like I hear our members talk about that a lot.

I don't really, but that's because I don't allow it to get to that point. "Connection" is one of my core values, so I am constantly creating community for myself. I have a paid membership community that I run, and I soak up as much from that as my members do. That's my primary place for support and for remembering that I'm not alone in this crazy business world. I also create peer-led masterminds for myself so I always have at least one, sometimes two, of those happening at any given time. Those women provide incredible support to me, and also help me grow my business by acting as a smart sounding board for me.

I love that so much. You built something that you saw a need for, can benefit from yourself, but also share with others. That's really incredible!
So obviously you're a total powerhouse, can you break down how much of your day you spend doing which tasks for us? How does year one compare to now?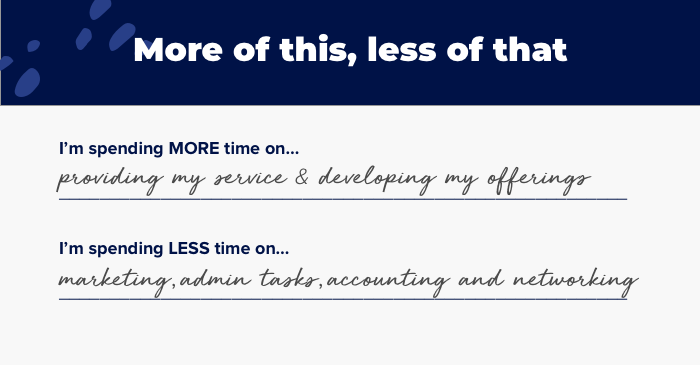 Task
% of an average work day your first year
% of an average work day now
Sales/bookings (i.e., responding to and following up with inquiries, meetings with inquiries/clients)
5
5
Providing my service
20
40
Business strategy + planning
Marketing
30
10
Administrative tasks (e.g., preparing invoices, sending contracts, managing paperwork, general email, etc.)
10
5
Accounting
5
0
Networking/partnerships
10
5
Developing your product/service
20
35
Other (please describe)
Which three of the following do you accredit for your growth?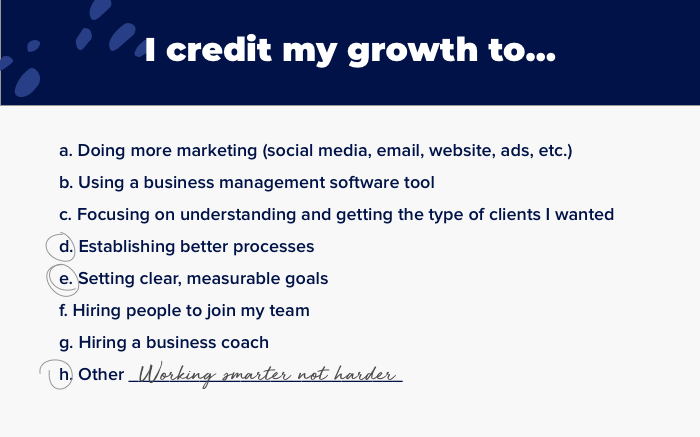 Better processes: Investing in tools has helped me free up so much time by get way more streamlined and consolidated. The time I once used for administrative tasks can now be spent actually doing the client work I love.

Measurable goals (Tip Number Three): Instead of just writing down a random list of big goals each year like I used to, I now use the OKR planning system. My friend Angela Greaser of AllTheOps.com introduced me to the concept and I love it. I now use it with my membership community, too. Now I have just three objectives for the year and a handful of key results I measure for each. It's allowed me to better focus and feel less scattered.

Other: Working Smarter Not Harder: Instead of doing more marketing, I did the right marketing. In the past, I tried to be everywhere all the time. Now, I'm just showing up in the spaces that have the best ROI for my business.
Tips Number Four & Five: Work Smarter Not Harder. Do Less!

I'm doing less, but it has a much higher impact.
I was able to free up time by stopping the things that weren't moving the needle for me, and use that time to create more content for the audiences that really wanted what I was sharing.
Looking back at all that, what advice would you give yourself?

I would tell myself to not do so much. Instead of trying to be everything for everyone and show up everywhere, I wish I had gotten better about niching down and doing less sooner. Now that I'm making that change, I feel so much less stressed.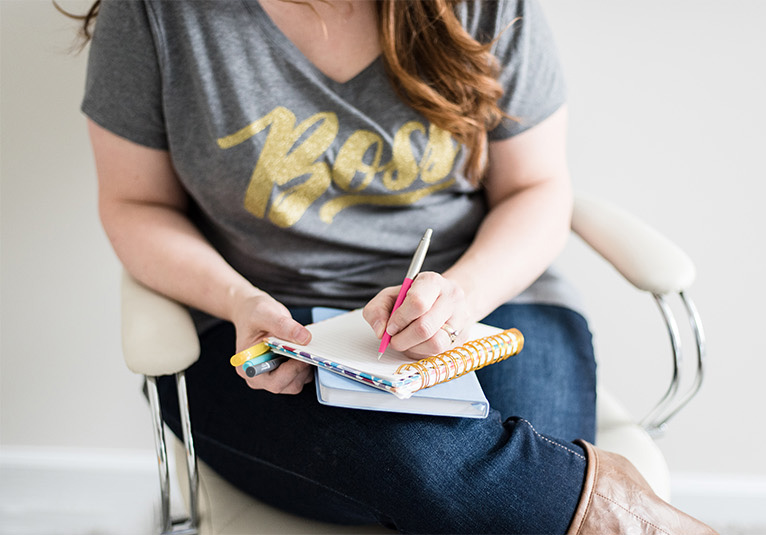 What have you enjoyed most about building your business?

I've loved being my own boss—not having to report to anyone else, not wasting time in useless meetings, not having a set schedule. I have enjoyed the freedom and flexibility of calling my own shots and creating my own future.

Speaking of the future, what's your vision for the next coming years for your business?

My long-range vision is to help thousands (if not tens of thousands) of women break through their limiting beliefs to build the businesses and lives of their dreams. I want to do this with a months-long group program run once a year, and through in-person, high-end, retreats.

Sign me up! How do you plan to scale yourself to that?

I plan to build my dream business slowly and surely. I'll launch a beta version of my group program this fall to test it out and make any changes I see. Then I'll start annual lanches next year. I am also working on a book about fear that I hope to release next year and use to build my audience. In the meantime, I continue to grow my email list using an opt-in on my website, with traffic coming primarily from organic search and Pinterest.

We're so honored that HoneyBook is a part of your journey. What's your favorite feature?

I love the templates for my invoices and contracts. Having them in one place and being able to just automatically send those out has saved me so much time.

Tip Number Six: Get Organized

I can't believe now how much time I wasted recreating invoices and contracts!
Our members are always asking how other professionals are using HoneyBook. Are there any tips you want to share to help others unlock the full potential?

I use it to keep all of my coaching client information in one space and to make the process seamless for my clients. I hear from my clients all the time that they love how professional and simple the process is and looks. I use it for everything from inquiry, application, in take questionnaire, contract, invoice/payment, and communication. It's a one-stop portal for all of my coaching business administrative tasks.

To recap, here are Becky's top hacks that have helped her grow. 6 Tips on Crushing Self Doubt in the World of Being Your Own Boss
Community – surround yourself with other powerhouse entrepreneurs
Set Clear Actionable Goals for Yourself – be realistic but challenge yourself!
Kick stress to the curb – get organized
Pricing – compensate yourself appropriately and showcase your worth to clients
Slow Down – you don't have to be everything for everyone all the time
Work Smarter not Harder – do more of the right kinds of things for you
Thanks so much, Becky!
To learn how other entrepreneurs navigate through it all, including their wins, struggles, and the lessons that helped them grow, check out more posts from our series Growth Lessons.