Brand photographers are not just for people that sell products—they're for independents that sell services, too!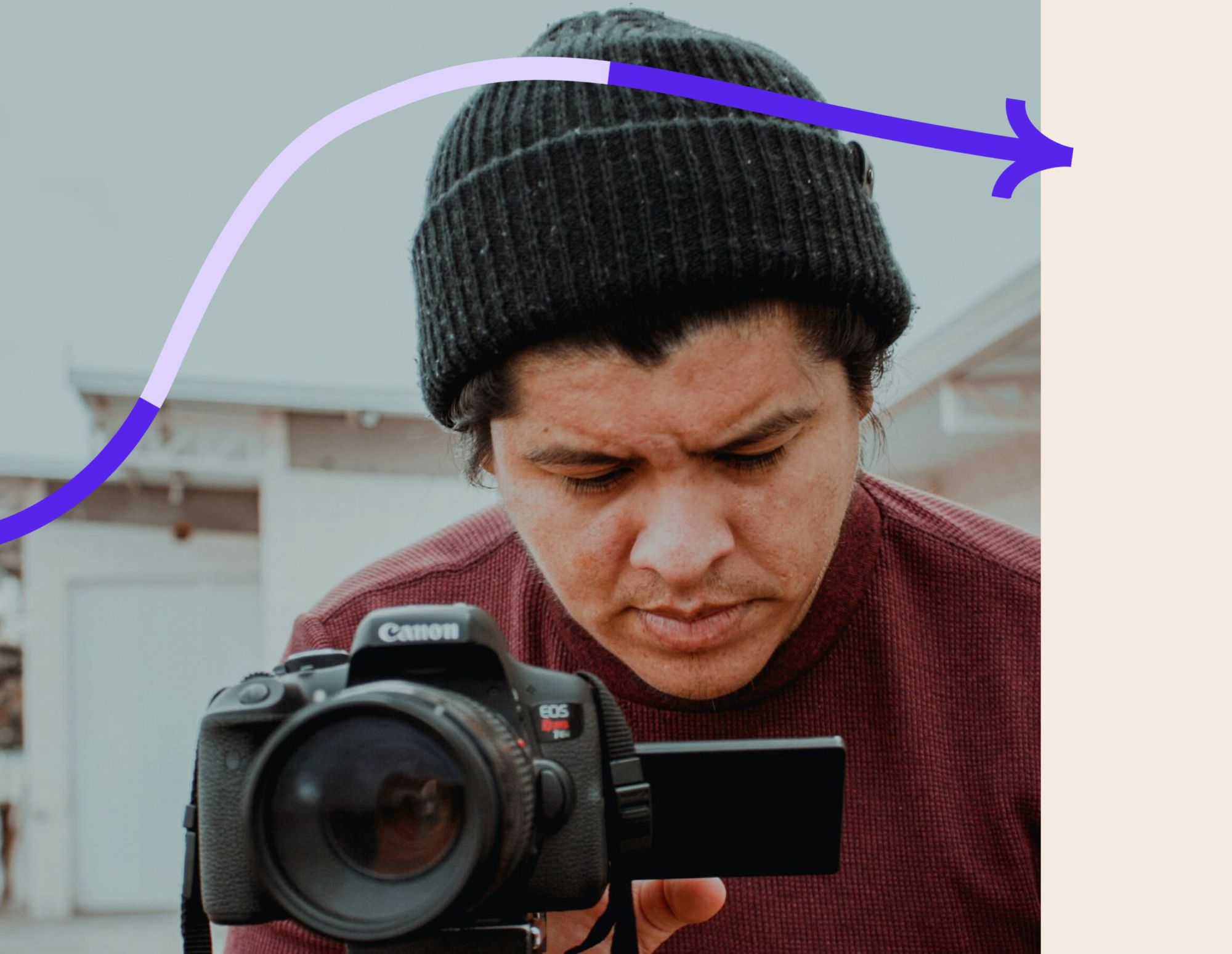 There are a lot of stock photography websites out there. Outfitting your website with decent visual content seems pretty straightforward for that reason. The issue with this mentality? Finding great brand photos isn't that straightforward.
There are more than a few issues with stock photography. Issue one: it's pretty obvious when photography is stock—and that's distracting for prospective clients. Issue two: you are an individual with a unique brand, and stock photography isn't unique; it's broad and all-encompassing. These are just two reasons why you should invest in personal branding photography. You want to stand out from the crowd!
Jump to:
Why hire a personal brand photographer?
Personal branding photography isn't just for small business owners selling products. It's for independents that sell services, too. Brand photographers offer a range of skills and expertise that support their photography skills. You're not just paying for pictures! You're paying for direction that can help solidify your brand as well.
Brand photographers are experts at narrative positioning. If you're a copywriter, you might believe your work speaks for itself and that pictures are a waste of time, but that's not the case. Your clients want a sense of who you are as a person, and who better to capture that than a brand photographer?
A brand photographer can incorporate elements personal to you to give prospective clients a sense of who you are. That direction can capture who you will be to your clients, making it easier for clients to envision working with you, and by extension, choose you.
Photographers can capture your brand narrative
Imagine you're hiring a wedding photographer because you're getting married soon. You want the photographer to capture the story of your wedding. You'll have engagement photos, photos where your wedding party is getting ready, and of course, the coveted aisle pictures. You'll have pictures of your friends and family laughing, smiling, and dancing. Then, you'll leave, and you'll have photos of that too: two people driving away under the banner of "just married," the clang of cans tied to the limousine alerting the world that a new chapter in your life has begun.
A wedding photographer captures all of this—they offer the entire narrative arch. So should your brand photography. A brand photographer will capture your team's working dynamic and flow by capturing you in action.
Say you're a small design team handed a rebrand project for a mid-sized company. A personal branding photographer will sit in on meetings, capturing each person's personality and dynamic way of contributing to the greater project. They'll highlight that you work in Adobe photoshop at a clean desk and your obvious camaraderie with your deskmate. They can capture the entire story of working with you, from your kickoff call to project closure and deliverable. You want a narrative arch that's attractive, relatable, and that adds cohesion to your brand.
Pro tip
Always have an attorney review and approve your contracts before sending them to your clients.
Personal branding photography increases engagement
Visual content is always more engaging, especially when people are involved. According to VWO, an A/B testing product company, viewers have more trust when they see images of people on a website. In an A/B test comparing the effectiveness of random images versus photos of people, photos of people's faces increased email conversion rates by 95%. Is there a solid explanation for this? Not yet, but we have some strong hypotheses:
Images of human faces improve trust for the brand
Unique photos increase feelings of closeness because they're personable
Human faces improve first impressions
Faces on your website, specifically, your face on your website, can improve conversion from intrigue to interest.
Professional photos add to your credibility
First impressions are made within 3 seconds, and if someone has seen your stock photo somewhere else, they'll question your investment in your brand, and by extension, the project they want to hire you for.
If you're willing to spend time on your brand, people are more likely to take you seriously. Combine professional brand photos and great copy with a contact form that qualifies leads, and boom—the prospect is in your scheduler.
A cohesive brand is a part of your clientflow and can shape the client's experience. Why would someone hire you if you don't look like a professional?
Brand photographers are assets! Here's how to book one.
Earlier we detailed the skills personal branding photographers offer clients. Here's what you can expect from working with a top-notch brand photographer, and how to find one.
Be sure they respond to your emails and answer questions quickly and efficiently
Great brand photographers should have phase one of their clientflow down pat. They know that prospective clients make decisions in a split second and they make that second count. You can expect an excellent brand photographer to be aware that closing the deal and getting all the details about the project upfront is a business best practice.
Confirm they offer hands-on technical and artistic expertise
Read through what you can expect when working with a brand photographer on their website. Brand photographers offer more than pictures of you and service models in action. They're familiar with lighting, scene, visually compelling imagery, and editing the photos once they're taken. They'll guide you in how to move your body in a scene. After taking photos, the post-production skills brand photographers offer to make you look extra professional and on-brand.
Inquire about marketing knowledge and ensure they can support you in how to use your photos
It's unlikely that a professional brand photographer will say "do whatever you want with the photos." Good brand photographers won't be apathetic about how their work is portrayed because you're representing their work, too. They'll likely offer advice about which photo supports which part of your brand narrative.
For a florist, photos of them trimming and arranging flowers might fit well at the top of the "services" page, whereas a picture of them standing and smiling with a bouquet would fit well on "about me." A great brand photographer will arrange the photos they've taken and recommend relative positioning on your website or Instagram to tell a story to audiences, whether they're aware of the story or not.
Find someone who can accomplish your target aesthetic
If someone feels like the kind of person that would pick out the same outfit as you at a department, or you can see examples of their work that have a similar vibe to yours, there's a strong chance the brand photographer can replicate that success on your site.
Alternatives to hiring a brand photographer
It's still possible to use free sites like Unsplash, Pixabay, and Canva for brand photography, but it's tricky to curate photos that scream "you" from photos taken by photographers inspired by something other than your amazing brand. These are, however, free options, and ones people have used for website photography for years.
Paid stock photography is also an option. The benefit of paying for stock photography is that it decreases the likelihood that visitors to your website have seen the photo elsewhere. Stock photography can be expensive, however; sites like iStock and Shutterstock charge a flat rate for a set number of images a month. Typically this is at least $100 a month. Considering the cost, it might work out to cost the same as a brand photographer but lack personalization.
AI tools offer support for everything from drafting content and copy, and there are now also AI photo generation tools you can use. We recommend using these with caution. Some AI photo generators do a poor job of generating photos of people. Programs like Canva can generate believable room and nature scenes, but as soon as you ask for an image with a face, the outcome can be unrealistic.
While these alternatives to a brand photographer are options, they don't offer the same quality, personable interaction, or marketing assistance as one could expect from a brand photographer.
Pair your photography with more brand expertise
You don't have to stop at your brand photography. A cohesive brand is crucial for first impressions but extends to every phase of your clientflow. From your website to the files you send your clients once they've booked, HoneyBook has the tools and templates to make sure every single document you send to a prospect or a client is on brand.
With a clientflow management platform, you can ensure you're showing up professionally throughout your process from first hello to final payment.
You can also explore HoneyBook Pros, a group of HoneyBook-vetted service providers that are experts in helping you—the independent business owner—sell your services. The marketing and branding pros can help you solidify other areas of your brand, like custom branding your files and documents.