As part of our business preparedness webinar series "Prepare Now, Thrive Later," Terry Rice shares how to refine your brand positioning to attract more ideal customers.
In this webinar recap, Terry Rice, a business development consultant and Entrepreneur Magazine Expert-in-Residence, shares how to pitch your services in a competitive environment and establish yourself as a business partner. You'll learn how to:
Get clarity on your brand positioning, including the services you offer, who you offer them to and why you're their obvious choice
Showcase your value with brochures
Do passive prospecting by understanding how to position yourself and providing value to your audience
Master permission-based pitching with a simple five-step process
Better brand positioning? Get clarity on what you offer, to whom and why
Two of the most common questions I get are:
How do I get more clients?
How much should I charge?
Before we can get to those questions, it actually starts here:
How are you reflecting an understanding of your audience's challenges or aspirations?
One of my favorite quotes is this, people don't care how much you know until they know how much you care.
People don't care how much you know until they know how much you care.
So if you can't reflect that you actually care about them and understand them, they're not going to care about your rates or how you're packaging it. However, once you have demonstrated that you care about your client's needs, it makes the conversation about your services and rates much easier. One way to reflect that understanding is this three-step storytelling process.
Create a story that connects with this 3-step process
By finishing three sentences, you can tell a story about who you are in a way that will make your clients/audience want to learn more about your services. Remember, it's about showing them that you care.
You know how…: This states your audience's current situation.
Well, what I do is…: This explains how you solve the problem or meet a desire.
In fact…: Provide proof of your expertise here.
Here's how it looks for me:
You know how it can be challenging to figure out the best way to launch and scale your consulting business? You want to help people, but the overall process can be extremely confusing and frustrating.
Well, what I do is I help you focus on impact by discovering and implementing the critical steps aligned with your desired revenue and lifestyle.
In fact, I've helped hundreds of consultants launch their careers and have helped establish consultants increase their revenue by $50,000 in just one year.
This is all you need to do to show people that you understand them and you're in a position to help them solve their problem. You're going to have different variations, including how you put it on your website, how you communicate it in social media, or how you talk in real life. But you have to have this nailed down.
If you're struggling to complete this exercise, that means you need to do more research on your audience and how you're going to help them. You should be able to rattle this off relatively quickly.
Create a brand positioning statement
Another thing you want to do to increase your clarity is create a brand positioning statement. This is not an elevator pitch. This is a very succinct statement. You want to get to the point quickly, to the point where people say, "Oh, tell me more about this."
To create a brand positioning statement, fill in the blanks below:
I am a (title), I help (specific audience) achieve (specific outcome).
Here's what my brand positioning looks like:
"I am a business development consultant and I help entrepreneurs and consultants monetize their knowledge so they can grow their business without sacrificing their health, family, or personal interests."
I want to show you how to do these things as efficiently as possible. I'm really big on focusing on impact and believe there's no reason why you can't be happy with your business life and fulfilled in your personal life as well.
You want to declare your brand positioning statement on your website, and include a picture of yourself. Don't just hide behind a logo because no matter what you do, whether you're a digital marketer or a wedding planner, this is your personal brand, and this is how you're going to make that first initial connection.
Showcase your value with brochures
One way to showcase your value and brand positioning to clients early in your process is to send a HoneyBook brochure. Brochures present your business story, your bio, and your services so people know what they're getting. You can also customize it with imagery, text, colors, and whatever else matches your brand.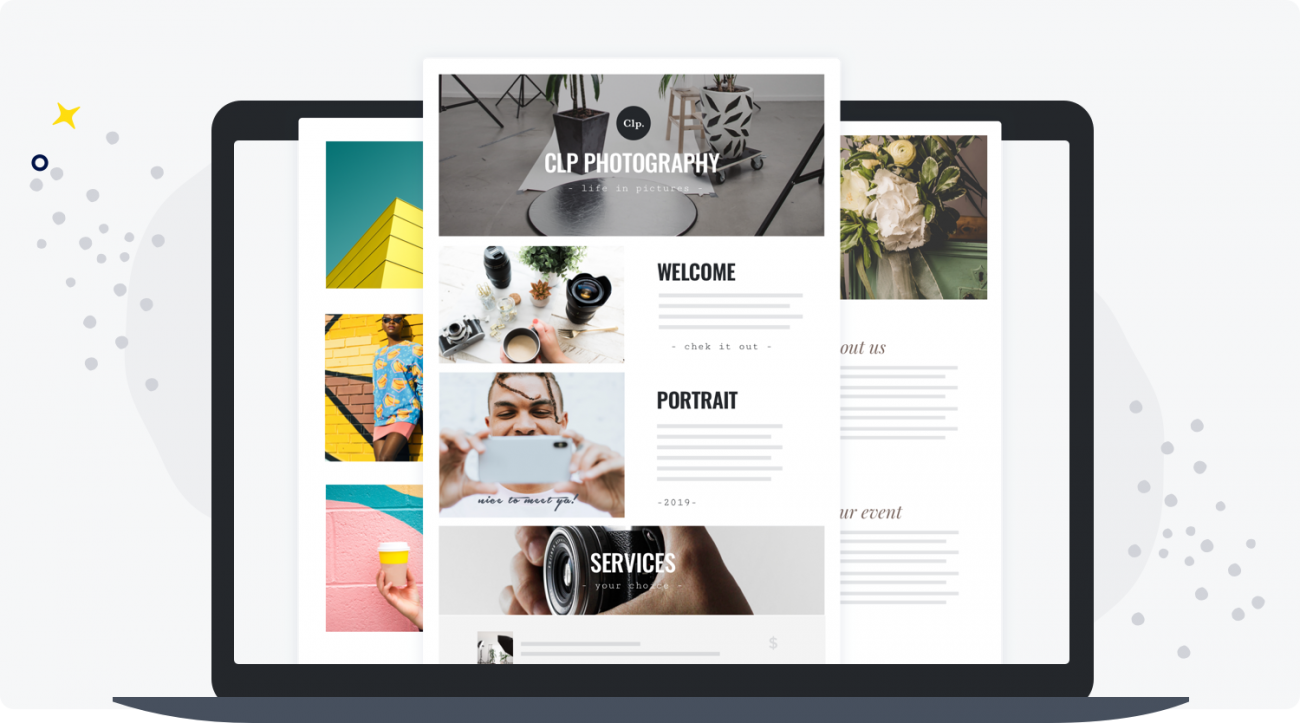 Potential clients can select services they're interested in directly in the brochure. Your brochure allows you to showcase your value and provide your clients with everything they need, so you don't need to work as hard to sell yourself. And then once your clients submit the brochure selections they're interested in, HoneyBook automatically creates a proposal file for you.
Honeybook's proposal software is a little bit different than what you think of when you think of a normal proposal. In HoneyBook, a proposal is actually a combination of online invoices and an online contract wrapped up into one file. It can get sent to them automatically. Or you can always come in, review, and change anything if you need to before you send it.
How to send brochures automatically
HoneyBook can automatically send brochures to your inquiries with no additional work required from you. To do that, you can add a HoneyBook contact form to your website, or share the form link on your social media, which allows people to submit an inquiry. You can set up an automated workflow to automatically send your brochure out to anyone who submits the contact form.
Attracting clients through passive prospecting
Passive prospecting is how I prefer to attract clients. And by passive prospecting, I mean putting yourself in a position where people are exposed to you, recognize your expertise and then reach out to you. Like a lot of you, I don't like doing cold calls. It's just not my thing and it never has been. So what I do is I put myself in a position to attract people to me who want to learn more about my services through the content I've put out there. So let's go into what this actually looks like.
Answer questions with content
Attracting the right kinds of clients can be as simple as answering questions they have with content on social media, blog posts, or through video. People are going to reach out to you and say, "Hey, I saw you did this post about ways that consultants could price their services. Can you talk to me about this some more? Because I've been struggling with that a lot."
You're showing yourself as an authority figure on these things and establishing who you are.
Speak at conferences or on podcasts
Another way to attract clients is to speak at conferences, relevant organizations or on podcasts. But before you do that, you have to document your signature speaking topics. What are topics that you can get on stage or on webinars to talk about that are relevant to your target audience, while also expressing your point of view?
For me, I talk a lot about mindset training, and how that's the unique differentiator between entrepreneurs that are successful and ones that maybe aren't as successful as they could be. I also talk about my personal philosophy, which is to be purpose-driven, prepared and patient. When you have this content and these topics ready, all of a sudden people are saying, Hey, can you tell me more about that? Or can you speak on our webinar about this? And then you're attracting people to you.
Teach or do guest lectures
When I first started consulting, I taught, and still do teach, at a school called General Assembly, which teaches the skills of tomorrow. I'm in front of people for three hours teaching them about starting or scaling a business and then from there they would ask if I could help them individually.
So you think about how you could put yourself in a position to do something similar. Maybe just reach out to a local college and say, "Hey, I see you're teaching this course on photography. Do you ever have guests/instructors come in? I have a unique way of using filters to change the way reflections show up."
So then you're in front of these adult learners who may eventually want to work with you and pay for your services. Or at least you're getting the social proof to post on your website and on your social channels that you guest lectured somewhere.
The simplest content strategy ever
If you're wondering what to talk about in your content, here's all you have to do to get started:
Think of 10 questions your audience has and then answer them with content.
Let's pretend you're a sleep consultant. Some questions your audience might have are: what's the best pillow to use to go to sleep? What should be the temperature of the room when you're trying to go to sleep? Should I have a drink before I go to sleep?
Do the research to find the answers and then answer your audience's questions with content. That's it.
And make sure to repurpose your content. For example, I wrote an article for Entrepreneur magazine about how to figure out your rates as a consultant, and I turned it into a social media post. So get in the habit of writing content and then repurposing on social media. If you have 10 pieces of content, you now have two and a half months worth of content already done.
Now here's the thing. You might say, "Well, someone already wrote about that." And you don't want to feel like you're just repeating what they've already said.
But you know what? Someone has probably already created the content that you want to put out there. That's totally fine because your personality is the unique differentiator. It's not necessarily the information you're delivering, it's your twist on it. What are your thoughts on it and how do you express that in your own way?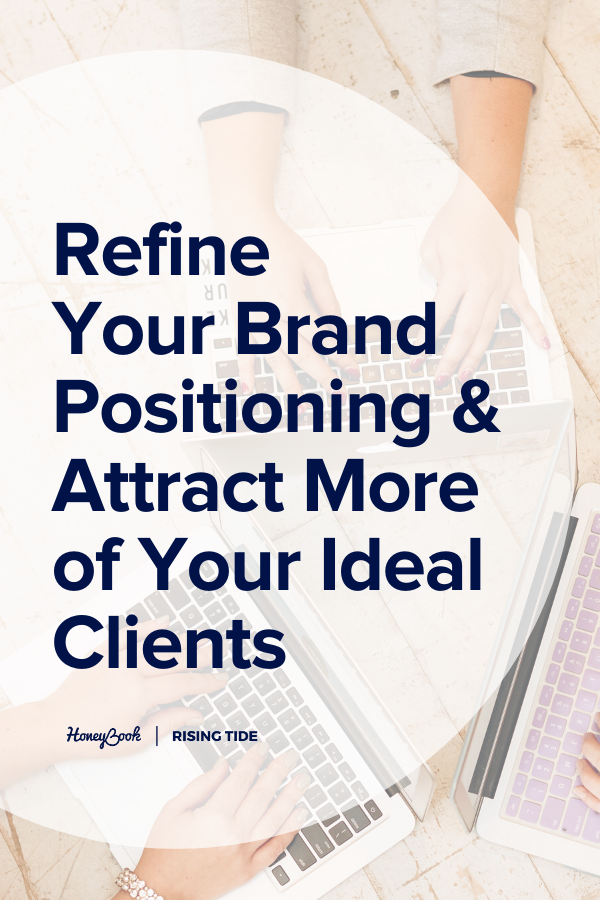 So don't feel like you have to sit around twiddling your thumbs trying to come up with something unique. Focus on something relevant. That's how you develop your personal brand.
Also consider what kind of content you put out there. You can have what are called content buckets. This is the content you're gonna talk about consistently on your website, through your social media. And it's going to have this theme that you keep on repeating over and over again to reinforce who your brand is. You're not someone one day and a different person the other day.
My content bucket themes are business development (because that's my job), mental and physical fitness (because I feel like that's the path to success), mindset, and then my personality, which is mostly dad jokes.
Develop these buckets in a way that makes sense for you. One of them has to be specific to what you do, but then you should also show some personality as well. What are your hobbies? What are your interests?
A 5-step process to master pitch calls
So you're doing all this cool stuff to grow your brand and to provide value. People are going to reach out to you to ask how you can help them. I want you to be prepared for that with my five-step process for how to have these calls. Ask them:
What challenges are you facing, and how does it impact your business/lifestyle? (The more you learn about your audience's problems, the better you can position yourself afterwards.)
What have you already done to try to solve for this problem? (No use repeating things they've already tried unless you can improve on the approach.)
What are some resources you may not be using? (Part of your job may be helping them understand how they can help themselves.)
What would need to happen for you to feel good about the results I delivered? (They'll tell you everything you need to know to win the business if you're a good fit.)
Would you like my help?
How to use a proposal to seal the deal after a pitch call
"Would you like my help?" is the last question you ask on a pitch call (if you want to help). Always ask on the call. Don't say, "well, I can send you some stuff." Nope. Just ask. They'll either say yes, they'll say no, or they'll say, well, I have some more questions, but don't leave any kind of ambiguity there. And then if they say yes, boom, you push that button in HoneyBook and you can get a proposal over to them.
'Would you like my help?' is the last question you ask on a pitch call
It's taken me less than two minutes to go into HoneyBook and send a proposal. That's because I'm not worried about the content; I've already read and edited all the content in my template in advance. So you make sure to spend a couple hours setting up your proposal templates because it will take even less time for you to actually execute.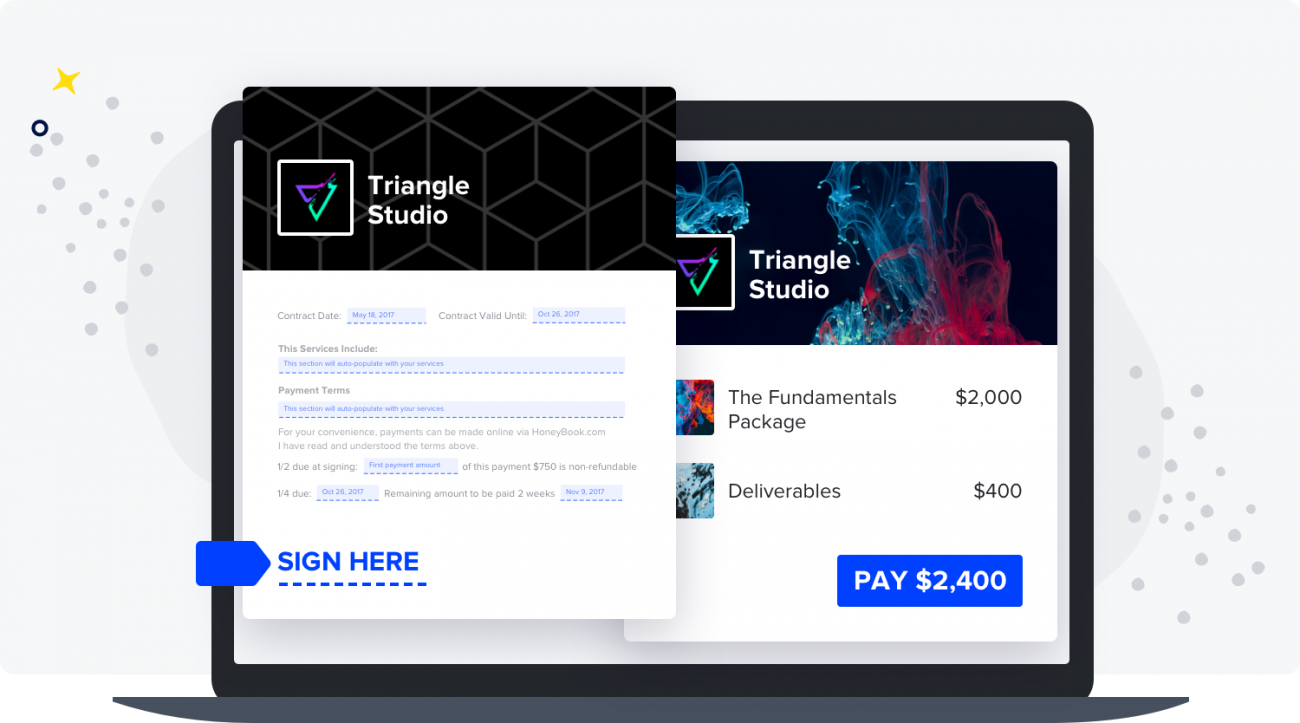 Proposals are a combination of an invoice and a contract in one file. It shows your client exactly what they're paying for and lets them pay right through this file from any device, wherever they are, and sign the contract. Having this type of file in place helps you stand out because it showcases your professionalism. It lets you leave that whole mess of documents behind. You don't need a whole bunch of different platforms to get paid and to get signatures in a bunch of different places.
And then once they actually make that payment and sign, everything will be tracked in HoneyBook, making it super easy to follow up.
Pitch and Propose Like a Pro
By taking the time to revisit your brand story and brand positioning, you'll gain greater clarity on the value you provide to your clients. A great way to share this out is in your HoneyBook brochures and in your content strategy. And once you've attracted more of your ideal clients, don't forget to use the five-step process along with a HoneyBook proposal to seal the deal and turn inquiries into clients.
For more information, visit my website, download a copy of my deck here and find me on Instagram here.
Learn more and grow your business with HoneyBook's all-in-one crm for consultants.
HoneyBook, the best crm for solopreneurs, streamlines everything you need to manage your business into one place. Manage projects, book clients, send an online invoice and get paid through our online payment software. Now peace of mind comes with just one login.