Learn how to convert leads through email marketing by sending the right information at the right time. Combine automation, personalization and your unique business value!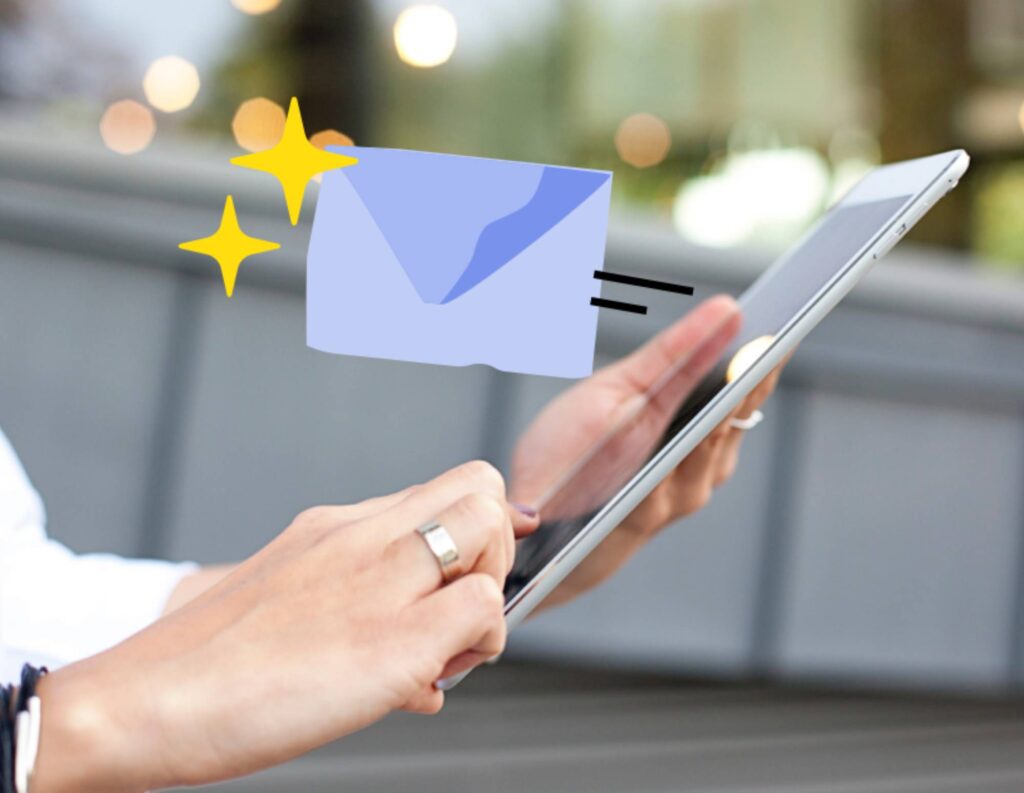 Are you maximizing your list of sales leads? If you send the same emails to everyone or rarely set up automated emails, it's time to develop a better strategy. After all, email marketing is a great way to keep growing your business! At least 31% of B2B businesses use email to nurture leads, and the rate is even higher for B2C. Your leads likely use email already to form relationships and learn new information, so don't overlook this powerful marketing channel in your booking process.
To convert your leads through email, you need a balance of education, marketing, timeliness and personalization. With the right resources, you can set up automation that runs in the background and sends the right information at the right time. That's right – converting your leads through email doesn't have to mean more work on your plate.
Learn how to communicate with leads via email and set up processes that move them to book with you faster.
Make a Strong Introduction
Let's be honest – first impressions really do matter. It's true in person, and it's true in the email world. When you reach out to a business, it can be a bit of a turn-off if they take too long to respond. To nurture your leads properly, start off on the right foot with a good introduction. Keep in mind that about 8 out of 10 will open a welcome email, making it a great way to start a potential client relationship.
The key to this step is setting up an automated intro email. Let's say you generate most of your leads through a contact form on your website. This means they've found you online and they're already interested in the information you had on your website. When they reach out, they're likely looking for more information.
HoneyBook's client workflow automation software let you trigger emails to send immediately after an action, letting you thank them for reaching out.
With an automated email, you can send out a thank you that includes next steps and begins to answer some of their questions. Perhaps you have a frequently asked questions page on your website that you can link to – this shows that you're ready to anticipate their needs. You can also send an intake questionnaire to find more about them before scheduling a meeting or call.
Bottom line, make sure your intro email sends as soon as leads inquire and includes an action or next steps. They should know when you'll respond as well as what to do while they're waiting (reading your resources or filling out a questionnaire, for example).
Segment and Nurture Leads With Your Expertise
Once your leads are in your pipeline, it's time to start showing off (at least a little)! Many leads might not want to jump into business immediately, and that's ok. Like any relationship, you both need to decide if it's a good fit. To do so, you can focus on sending information they're interested in as well as moving them to take more action with your business.
Before you focus on what content to send, determine your segmentation. Not everyone needs the same services, so having the same conversations won't make sense. When leads fill out a contact form, be sure to ask what kind of project type or services they're looking for. With HoneyBook, you can easily add that question in your contact form and then sync it to HoneyBook Automations.
HoneyBook will let you create different automations for each project type, segmenting your leads by services needed. Once your leads are segmented, build a cadence of emails that focus mostly on education and resources.
For example, someone interested in web design services might be interested in a tutorial about web best practices. Delivering the right information will show that they can trust you as a service provider.
Show Off Your Brand and Services
Once you've established your authority through information and resources, it's time to start promoting your services. The more specific information you can offer, the better.
Use HoneyBook to create a branded service brochure for each project type you offer. Once someone inquires through your contact form and answers your "project type" question, you can include a specific brochure in their segmented email sequence.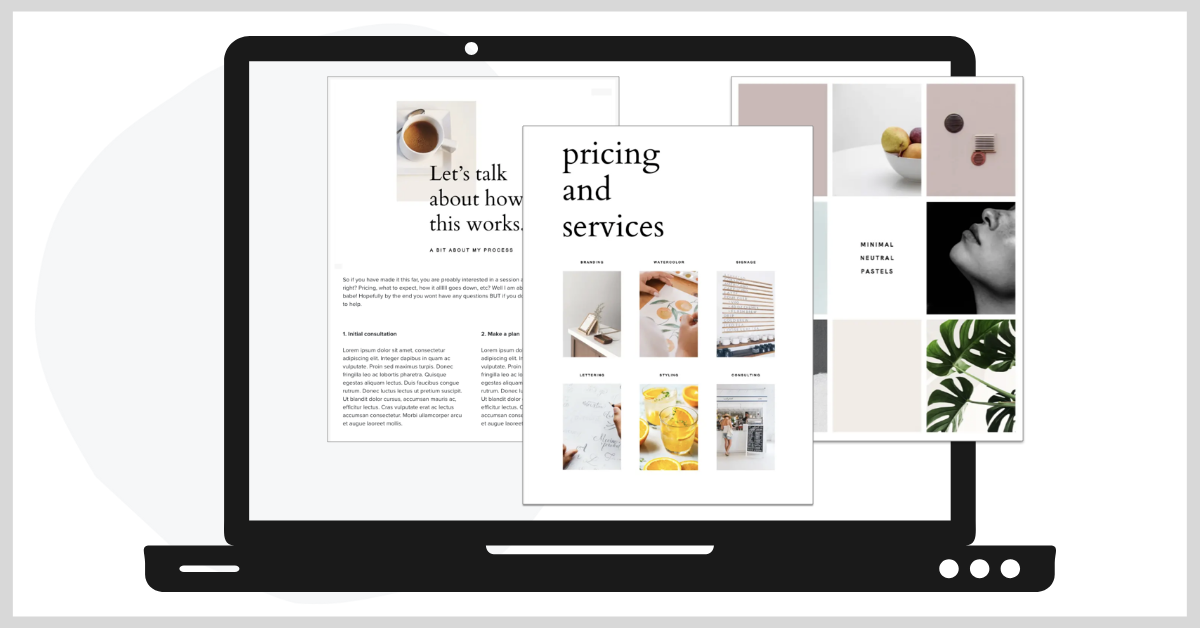 If a client inquires about web design services, your brochure for them should include specific examples, case studies and pricing. If you send the same brochure to all leads, they may feel overwhelmed with the options. Instead, a project-specific brochure shows them everything they've already inquired about.
Create a brochure with multiple pages so you can include an introduction about yourself and your company as well as frequently asked questions about each project. You can even include a services block so leads can choose services directly from the brochure. If they need more clarification, you can also include a link to your online meeting scheduler to set up a call.
Make It Easy to Move Forward With Next Steps
Are your leads ready to become clients? Congratulations! Create the best transition into your projects by sending out a comprehensive online contract, invoice and payment schedule. With HoneyBook, you can prepare a proposal file that includes your contract and invoice in one.
The HoneyBook Proposal software will automatically pull in information about your clients, such as the services they already selected from your brochure file. By combining the contract and invoice in one, the proposal ensures that your clients agree to all your terms before providing any payment.
Once a proposal is signed and paid, you're ready to wow them with your services!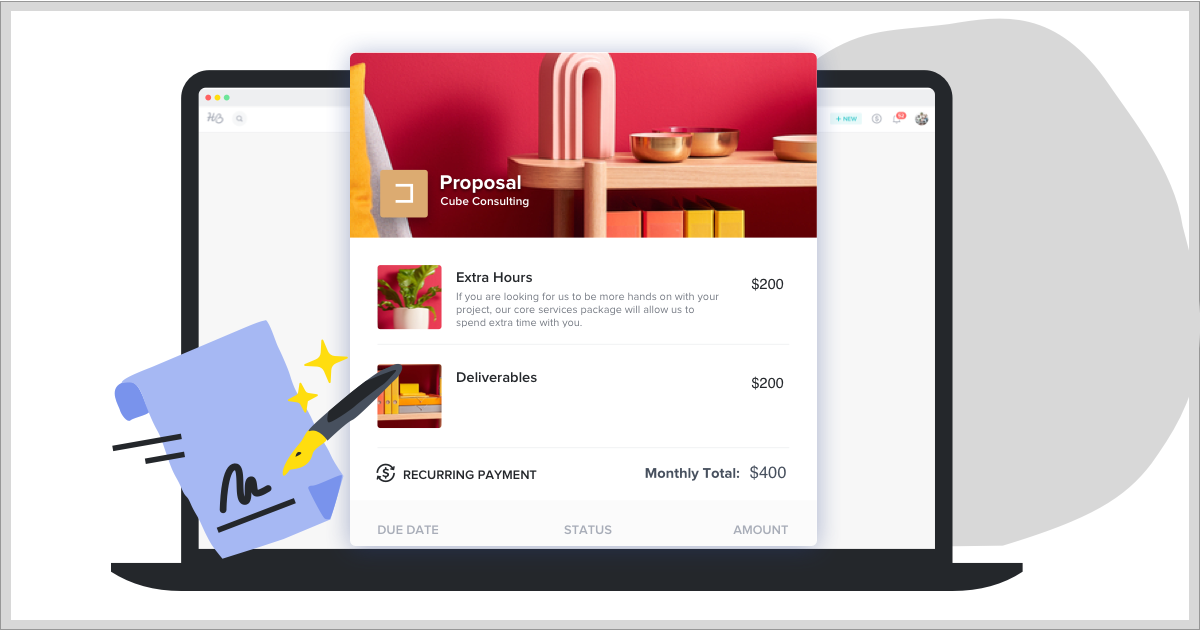 Automate Your Email Marketing to Convert More Leads
Ready to convert more leads through email marketing? Automation is the key to making it all happen. Without it, it's up to you to remember to respond to inquiries, reach out to those you haven't heard back from and remember where they are in your nurture pipeline. Automation lets you move all of that work off your plate and keep a line of ongoing communication open.
To use email automation, all you need to do is map out your current lead nurture process so you can translate it into an automated workflow. Once that's ready, translate each step into an automation tool like HoneyBook.
Once your email automation is set up, continue to review and refine each step. Perhaps you need to include more information or even reduce the number of emails you're sending. By understanding your leads' responses and engagement, you can optimize your way to greater conversions!
HoneyBook, the best crm for solopreneurs, streamlines everything you need to manage your business into one place. Manage projects, book clients, send an online invoice and get paid through our online payment software. Now peace of mind comes with just one login.