Get the inside scoop on email best practices from HoneyBook senior lifecycle marketing manager (and bona fide email deliverability expert) Meli Musson.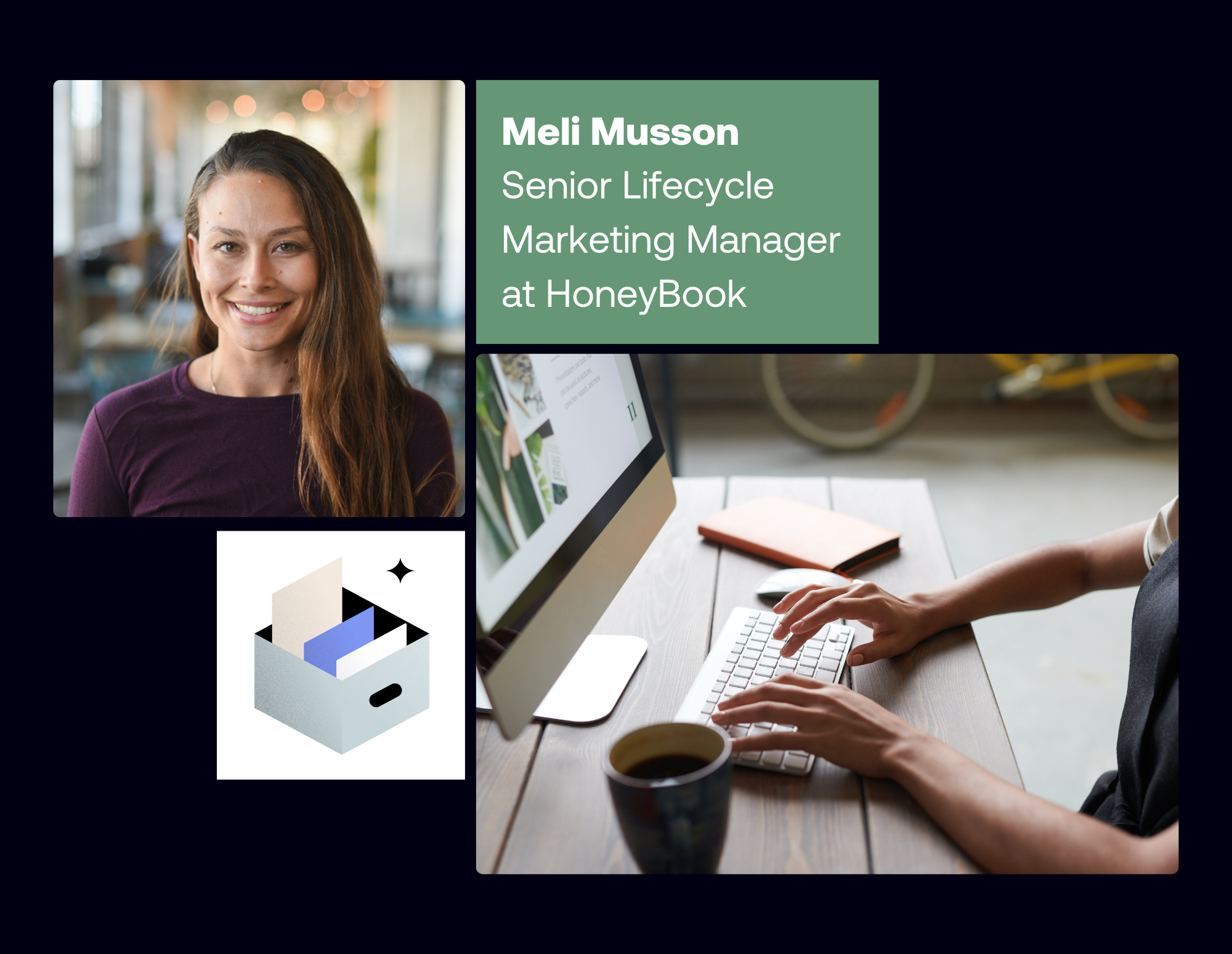 If you use email to communicate with clients, whether through email marketing efforts or transactional emails, email deliverability can make or break your client communication.
Email deliverability is complicated, shrouded in mystery, and frankly, it can be boring! But like many things that are less than exciting to talk about, email deliverability is incredibly important for client communication, and ultimately, the health of your business.
Because email is so important, we want you to have a front-row seat to how the experts manage email deliverability—so we talked to our in-house email deliverability expert Meli Musson. Meli is the Senior Lifecycle Marketing Manager at HoneyBook and has guided our email marketing efforts for the past four years.
Here, she breaks down email deliverability best practices and explains the basics of how to monitor your email deliverability like a professional.
Interview with Meli Musson, Senior Lifecycle Manager
Why is email deliverability so important to your job?
In my professional role, email deliverability is an ever-present part of our email marketing efforts. If users don't get our emails, we can't meet our email nurture goals to deliver helpful, relevant content to our engaged subscribers.
This means that monitoring email deliverability and domain health is always part of my day-to-day as an email marketer. In a professional capacity, some of my biggest deliverability undertakings have been establishing sender reputation, which is our trustworthiness rating in the eyes of internet service providers (or ISPs). We do this by IP warming, or gradually sending more emails to different segments of subscribers.
What does HoneyBook do in its email nurture sequences to improve deliverability?
We always want to be sure that our authentication records (DKIM, DMARC, and SPF) are configured properly when setting up a new email service provider, or ESP. This is important because these records verify that emails coming from you are legitimate. Together these records protect your account from spoofing (when someone hacks your email to conduct fraudulent activity, e.g. send phishing emails) and help prevent your emails from landing in the spam folder. You'll configure these protocols through your domain provider, like Google or GoDaddy.
There are two kinds of business emails in general: transactional emails and marketing emails. Transactional emails are emails sent directly to clients about your services (e.g., when you send a contract or invoice to your client). Marketing emails are sent to recipients to nurture them into becoming clients (e.g., you advertising a promotional offer).
At HoneyBook, we send transactional emails and marketing emails from two different IP addresses. This helps mitigate the risk of our marketing emails getting flagged as spam and affecting the deliverability of our transactional emails..
What are some email design best practices? What have we stopped doing in our email design?
Being thoughtful about our audience and the type of content they'll engage with is generally the first thing we think about when building out our email content. In fact, your email design best practices will often depend on your audience and the type of email you're sending. For a newsletter, a lot of text (think multiple paragraphs) can be great. For a promotional marketing email, most audiences prefer you get right to the point so they can easily access your offer.
Here's how we think about email design at HoneyBook:
Set (and meet) your reader's expectations: No readers like a bait and switch. We're thoughtful about the expectations we set with our subject lines and preheaders (the brief line of text that comes after the subject line when viewing an email from the inbox). The first thing your reader sees when they open the email should support the expectation set with the subject line.
Think mobile first (including dark mode!): We make sure content looks good and is legible even when squished on a mobile screen, and we make sure the background and button colors render nicely in dark mode.
Keep images light and content short: Using few images and concise content is important to strengthen deliverability. This also reduces the chances of your message being clipped, which is when only part of your content is displayed in the body of the email and the rest is replaced with three dots "…".
Use short, clear calls-to-action (CTAs): We always want to avoid content and CTA overwhelm. This means we're not asking users to do things that stray from our ultimate goal, or that don't align with the rest of the email. Aim for no more than two CTAs per email and ensure your CTA buttons use no more than four words (e.g. Learn more, Submit an inquiry, Start for free). These are best practices that will ensure your emails look great and communicate clearly.
Have a clear goal: We always think about the goal we are trying to achieve. Do we want our emails to educate? Sell? Inform? Once that's understood, we make sure all copy, content, and CTAs (or the directional buttons that say things like "download," "subscribe," etc.) support that ultimate goal.
Put important information at the top: Most people don't spend more than a few seconds reading an email, so ensuring they understand what you're emailing them about (e.g. overdue invoice or seasonal promotion) right away is key.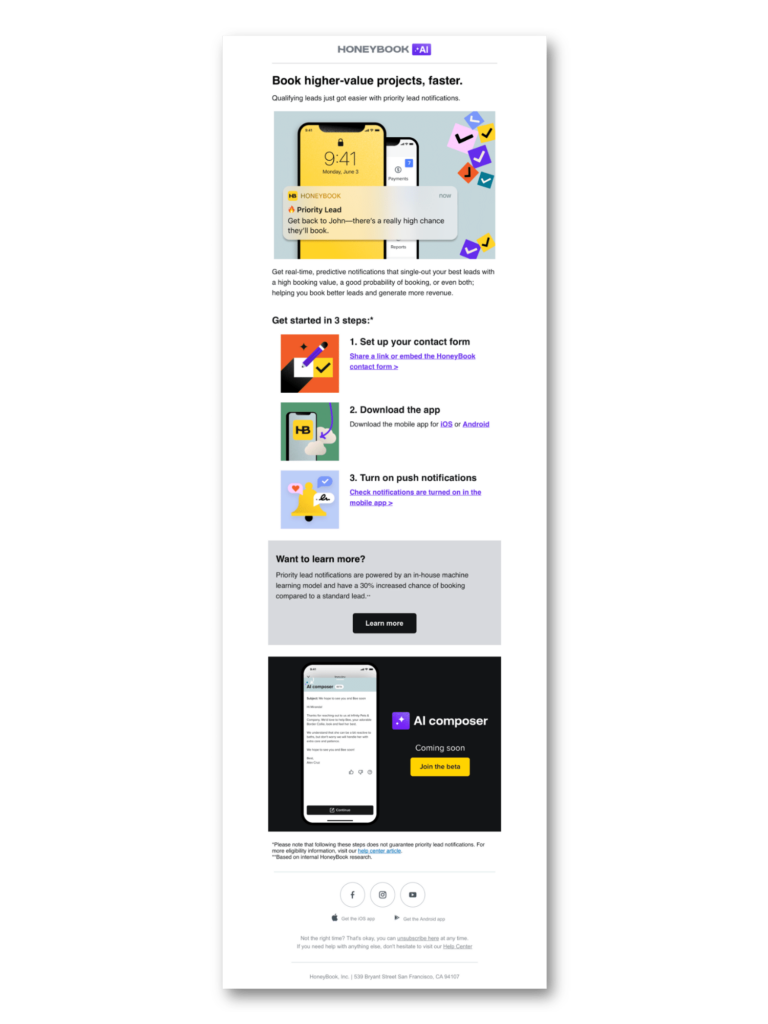 How much of your email deliverability success can be attributed to your email marketing habits?
There are a few marketing habits that directly impact email deliverability.
The rules we abide by:
Don't email people who haven't signed up to receive your content. This means behaviors like list purchasing are a no-go; they pose a much higher risk to your deliverability than benefit and can affect all of your subscribers receiving emails in the future.
Always include an unsubscribe link in marketing content (it's legally required and email isn't for everyone!)
What are your favorite email deliverability tools for monitoring domain/sender reputation and authority?
Google's Postmaster Tool is a must-have. It can be used to monitor user-reported spam rates as well as IP and domain reputations over time.
MxToolBox also has a suite of free deliverability tools including monitoring systems to flag if your emails ever land in a spam trap.
If you could distill email deliverability down into three action-based recommendations, what would they be?
Be thoughtful about who you're emailing
Send content that is clear and meaningful
Be sure you follow design best practices
What's the number one thing you need to watch to keep your email deliverability rates high?
There isn't a single thing that determines your deliverability, but monitoring spam and bounce rates is a good place to start. When an email "bounces," it cannot be delivered to the intended person.
Making sure your email engagement is consistent (opens and clicks) is also important for maintaining a strong reputation. And if you're able, I recommend monitoring your domain and IP reputations on a regular basis using the tools mentioned above.
What are some HoneyBook tools that can help independent business owners maintain good email sender habits?
HoneyBook offers a free domain testing tool for members using custom domains and our Gmail integration. HoneyBook is committed to your success as an independent business owner and also has a lot of great content on the blog (like this perspective from our own email deliverability expert) and in our help center to help independent business owners navigate this tricky topic.
Friction-free client communication, every time
Communicating effectively with clients is key to the success of every independent business. By using a clientflow management platform like HoneyBook, you can easily stay on top of all client communication from one centralized place.
Capture and nurture new inquiries, create and send important files, manage email client communication, and keep your business organized with HoneyBook. The platform also integrates with other tools you already use such as Quickbooks, Google, and more.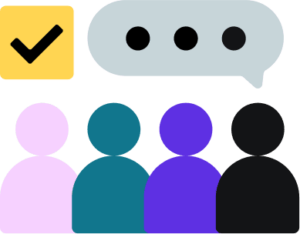 Simplify communication and maintain better relationships by centralizing all client interactions with HoneyBook.