Last week, we heard the news that Instagram will be moving away from the chronological feed that we have all known and will begin using an algorithm to select and arrange the content that users will see. We've named this change… The Insta-pocalypse.
We decided to be a bit cheekier than usual with this post because the truth of the matter is… a strong business should never rely on any single marketing channel for success. The upcoming changes in Instagram's algorithm should be a wake up call to all of us as creative entrepreneurs.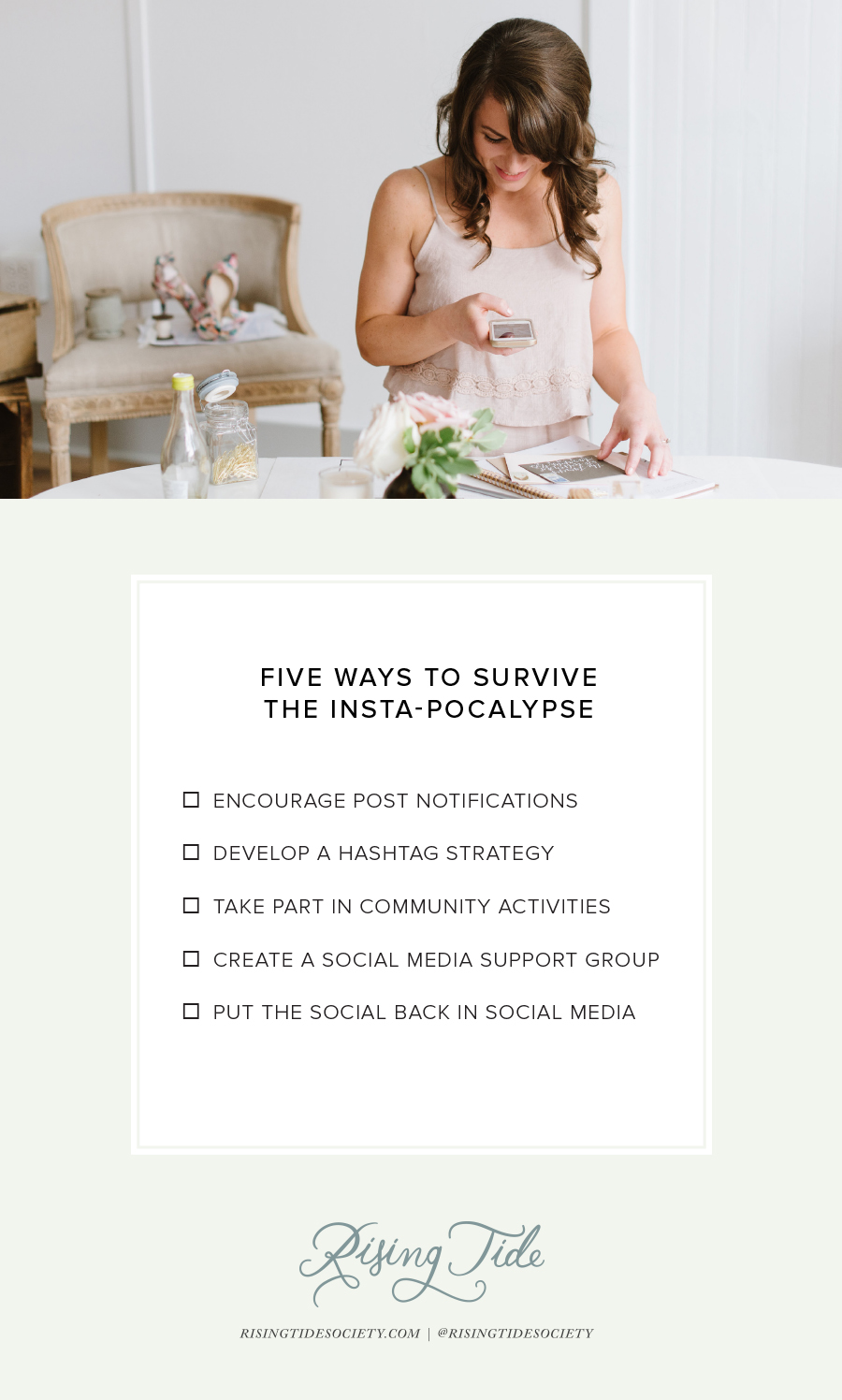 Now, if you're like us and still have a love affair with Instagram that you simply cannot overcome… We've created The Insta-pocalypse Survival Guide that will save you from social media struggles to come.
Once you've downloaded the guide, continue reading. Today's post will walk you step by step through how we plan to fight back against the upcoming algorithmic changes.
One:  Put the Social Back in Social Media
According to TechCrunch, once Instagram stops abiding by chronological order, individual posts will be ranked "based on the likelihood you'll be interested in the content, your relationship with the person posting and the timeliness of the post."
The first two metrics are incredibly interesting because they involve a theoretical social contract that we often fail to pay much attention to on a platform like Instagram. Often relevance is correlated with: social connections (do you have friends in common), recency and frequency of previous interactions (when is the last time they engaged with your content), and the amount of interaction a particular post generates proportional to the amount of time it has been live.
By intentionally approaching Instagram as the social platform it was designed to be you can greatly increase the likelihood of your content being deemed 'relevant' and making its way up the ranks of the algorithmic hierarchy.
Some quick tips:
Comment on at least 10 posts for every one post you share

Comment on relevant brands, businesses and people you want to work with

Engage with your commenters and follow them back if you like their feed
Two:  Encourage Post Notifications
One of the most overlooked features of Instagram is the Post Notifications option. If you select, "Turn on Post Notifications" for any given account, you will receive specific updates whenever that person shares new content.
Steps to Turn on Notifications
Go to the Instagram Account's Profile Page.

Click on the three dots in the right hand corner.

Choose Turn on Post Notifications from the menu.
You can find ways to strategically encourage your audience to 'Turn on Post Notifications' whenever you are releasing an upcoming product, launching a new website, revealing an exciting offer, or starting a giveaway.
Example:  Be sure to Turn on Post Notifications to get alerted when our product launches in the shop!
You can also be straightforward with your audience and ask them to turn on Post Notifications to be sure that they don't miss any of your new content once the new Instagram algorithm takes effect.
Three:  Develop A Hashtag Strategy
With the upcoming algorithm changes, it may be harder for your current followers to see your content. Using hashtags allows you to connect with other users who are searching for or engaging with particular categories of content. It also begins to identify your content as relevant to specific groups of people, depending on which hashtags you use.
Currently, Instagram only allows a maximum of thirty hashtags per post and we have yet to see whether the algorithms will penalize users for including as many hashtags as possible on a given piece of content. Our suggestion? Be intentional about the hashtags that you're using. Choose hashtags that resonate with your audience or allow your images to be discovered by your ideal client.
Be Strategic With The Placement of Hashtags
Be intentional about the location of where you're placing your hashtags and how many you choose to use.Whenever there is a hashtag that you want your audience to see, place it in the Image Caption right below the introductory text. This hashtag is called the "Overt Hashtag" because it will always remain visible above the latest likes and comments that follow. Hashtags placed in the Image Caption are often relevant to current conversation or intended to direct the audience to an online portfolio. This is incredibly useful to photographers who want to group together their professional images or bloggers who want to highlight a body of content.
For Strategic Categorical and Searchable Hashtags or "Covert Hashtags" as they have come to be known, be sure to post these hashtags directly into the first comment below the caption. Why, you may be wondering? When comments follow in the minutes and hours after the post, Instagram will hide the original comments and only displays the three to four most recent comments on any particular image.
This means that once subsequent comments are posted on that particular image, the long list of hashtags you shared in the first comment disappears discreetly!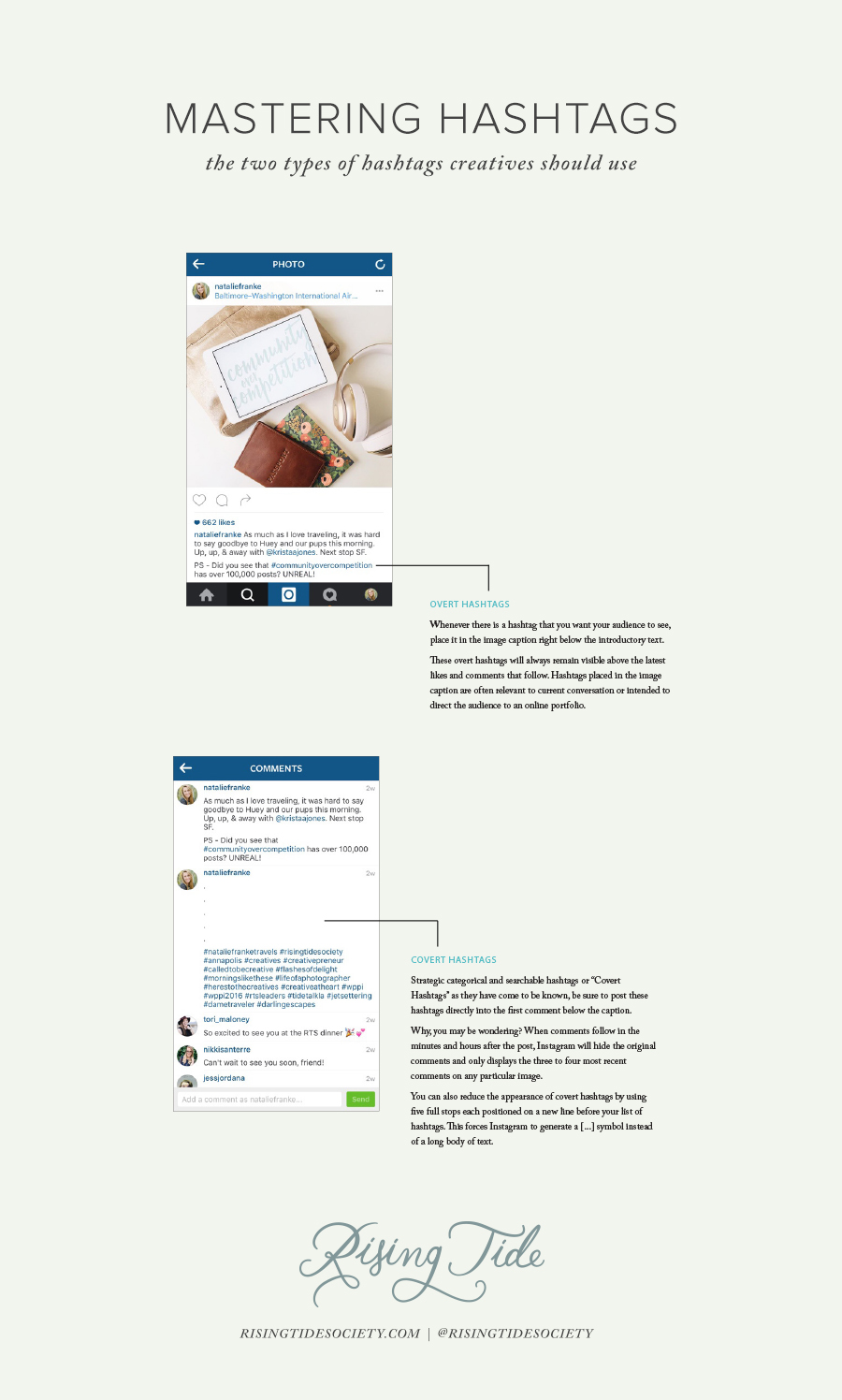 Four:  Create a Social Media Support Group
According to The Social Times, these new algorithm changes will increase the need for engagement and diminish the relevance of striving for large quantities of followers.
"Currently, a post to 100,000 followers reaches 100,000 feeds. In the new model, it won't be so simple. At this stage, it's difficult to tell just how restrictive the algorithm will be, but if Facebook is anything to go by, we can expect organic reach to become far more difficult."
Ouch. Sound familiar? For those of us who have survived the restrictive reach of Facebook Business Pages over the past few years this feels like history repeating itself. Although we can't magically trick Instagram into sharing your content with all of your followers once the algorithm takes effect, we can increase the likelihood of the platform identifying your content as "relevant" through increasing the amount of engagement on your posts.
Within your TuesdaysTogether group or within a close group of friends, consider starting a Social Media Support Group. Every day, post a link to your newest content and support one another by leaving thoughtful comments and sharing relevant posts.
Most algorithms, such as the ones used by Instagram's parent company: Facebook, identify certain content to be more "relevant" based on the amount of attention it receives in the form of likes and comments. By spreading the love and intentionally 'boosting' other creatives images, you can create a support group that lifts one another up in the spirit of community over competition.
Five:  Take Part in Community Activities
A simple and strategic way to increase engagement and get more eyes on your content is to take part in community activities such as #MakeWavesMonday or the RTS Instagram Challenge.
Events such as these generate a large amount of attention, interaction, and traffic on specific days of the week. By taking part in these community activities, your content will naturally get more attention. It's also important to pay it forward and comment on other posts taking part in the activity. As with anything in business: the more you put into it, the more you'll get out of it.
A Quick Recap: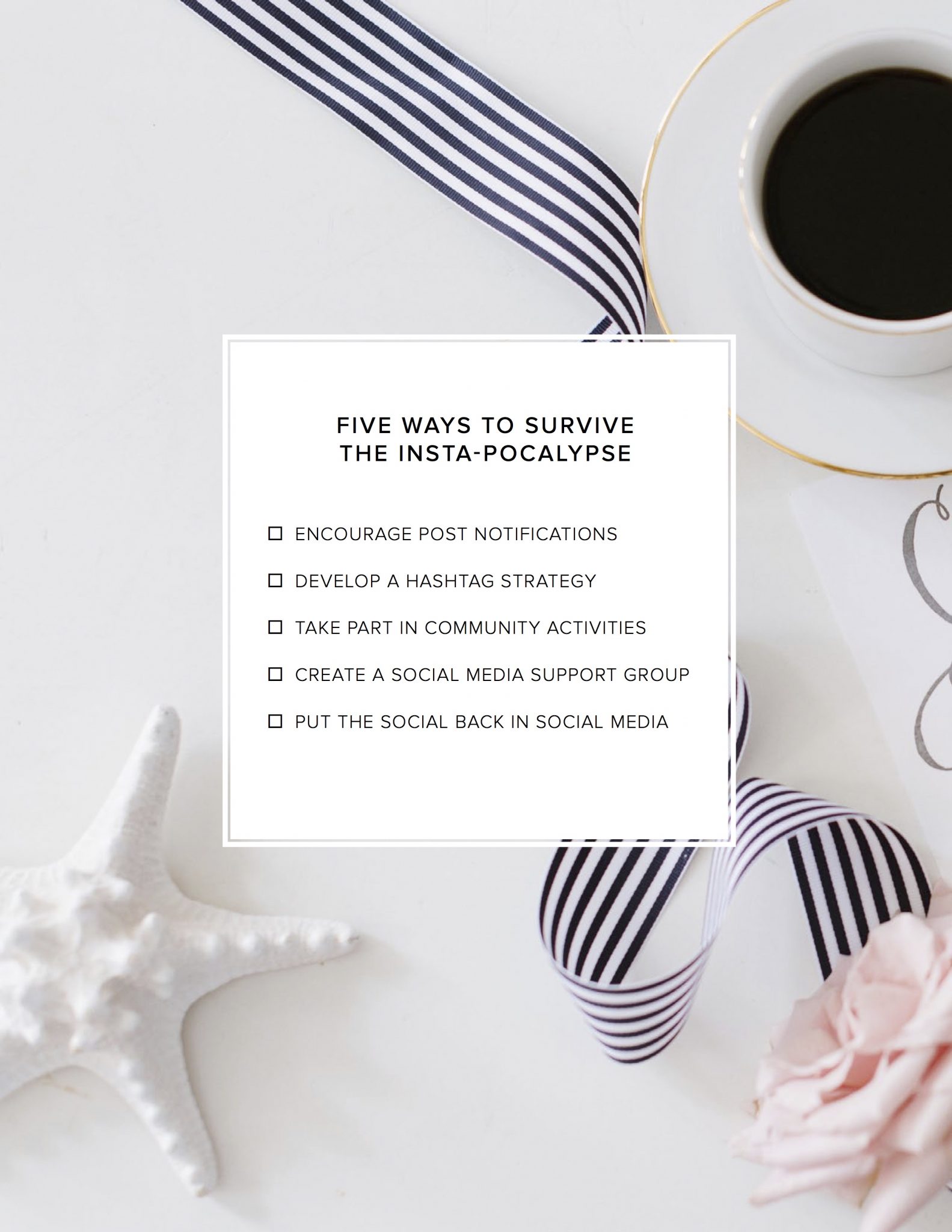 Ready to learn even more? We've bundled these tips, added a few more secret strategies, and included our Hashtag Glossary in our FREE Guide:
Now, before we're through,we just wanted to remind you that social media channels will constantly come and go. There was a time before Instagram and we truly believe that there could be a time when we no longer find it relevant as an online marketing tool. The key to social media success lies in adapting your strategies to align with your audience and to remain authentic to your brand.
Don't panic about the new algorithm. We'll be sure to keep you ahead of the game and charging forward!