Brochures are a great way to showcase the best of what you do and impress your clients. Learn five of the most common types of business brochures you can use for your small business. Also, get our free, professionally designed brochure templates.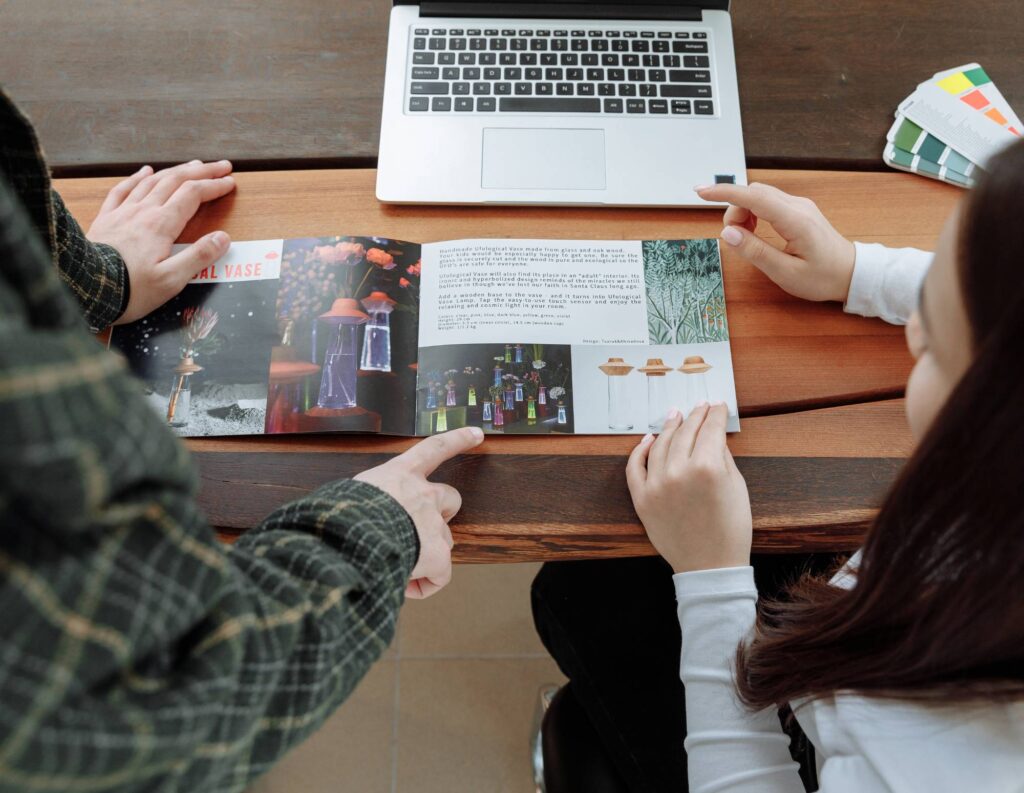 For independent business owners, business brochures can be a great way to showcase the best of what you do for your clients. A brochure is simply promotional content packaged in the form of an attractive leaflet or digital document that highlights key selling points such as:
Why your clients should hire you or use your business
Services you provide
Client testimonials
Pricing guide
Done right, a sales brochure can be a great way to capture your client's attention, highlight why you're the best person for the job, and share all the important information customers need to know without overwhelming them. They can also serve as the bridge between your sales and booking process, allowing you to convert leads seamlessly into clients.
Jump to:
5 Common business brochure examples
The most frequent questions that independents will encounter with potential clients are general inquiries into the business (about you, how you work, and what you offer), pricing requests, and client testimonial requests. You want to have ready-made brochures that you can send to clients in response to these inquiries.
Sometimes, you may also want to be prepared with more specific ways to showcase your brand or provide details about the technical aspects of your products or services.
While some of your clients may come through referrals, others may find you through social media or SEO. Regardless of how they find you, most clients would want to get to know you better before they choose to work with you. That's where brochures come in handy. They're your ready-made sales pitch!
Here are five common business brochure examples, plus free professionally designed brochure templates that you can easily download and customize.
1. Initial inquiry brochure
Your initial inquiry brochure sums up your business for a prospective client. Use your initial inquiry brochure to give a new client a sense of what you do, how you work, and what your products and services are.
Your best approach when dealing with the initial inquiry is to send your brochure with a personalized email or, even better, a personalized (but short) sales video.
Greet your prospect, answer their specific questions, and direct them to the brochure for more information. Also, include any next steps. For example, you can ask your client to either email you for more information or click your meeting scheduler link to set up a discovery call.
It's a great way to connect with your clients and make them feel valued.
Your initial inquiry brochure can include the following sections:
Let's get started (intro section)
My process
Core values and mission statement
Testimonial quotes
Pricing and services (or just a list of services if you don't want to introduce pricing at this stage)
Add-ons you an also provide, such as digital products
2. Pricing guide brochure
What goes into a pricing guide can vary from business to business, but in general, you should explain your services, what they include, and how much they cost.
If you're running a small content writing agency or you're a freelance writer, for example, you can offer pricing per word or per hour, or you can include bulk pricing, through which the prices are more attractive for an increased volume of work. You can even do a sliding scale of bundled offers in which you charge monthly for a set number of blog or social media posts.
The pricing guide is your opportunity to set your pricing strategy and introduce it in an appealing way for potential customers.
Inside your pricing guide, showcase the value you bring instead of just listing your services or packages. If you're a writer providing per-hour pricing, you could include the following deliverables:
In-depth research, links, and citations for the most authoritative content
One free image for every 500 words of content
Targeting one keyword per article (include a brief explanation of what that means)
Search engine optimization (SEO) to increase the visibility of your content online (offer brief, non-jargony explanations to help clients understand the benefits)
Grammar proofing and editing so your content is ready to be published
Unlimited revisions until the client is 100% satisfied
You can also include add-ons or provide the option of custom pricing based on the client's needs.
3. Testimonial brochure
Testimonial brochures are your secret marketing weapon. Nothing convinces a prospective client quite like testimonials. That's because a whopping 92% of your clients will trust peer recommendations (i.e., reviews from people just like them) over any direct brand marketing.
You don't want to add generic testimonials—the ones that simply say you're great, you're super-professional, and you're consistently delivering on time. Yada, yada, yada. They're a great way to have previous clients toot their horns for you, but they do little to win new clients over.
Instead, source and showcase testimonials that do the following:
Talk about specific features of the product or service that helped them do X
Describe how you, your product, or your service helped them improve Y or resolve Z
Explain the benefits that clients got from working with you or how their lives changed for the better
The more specific the testimonial is about how you or your product helped them achieve a specific goal, the more convincing it looks.

Pro Tip: With a digital brochure like the one you can create through HoneyBook, you can embed sales video testimonials to make the content more engaging. Ask your previous clients to record a quick clip of themselves talking about the work you did together, and you'll have a trustworthy testimonial ready to embed in your brochure.
4. Technical brochure
As the name suggests, a technical brochure is a deep dive into the technical aspects of a unique product or service you're selling.
The key to writing an effective technical brochure is to make sure you're writing for your audience. If your audience is also an independent business owner, you don't want to overwhelm them with too much technical jargon. You want to explain your services in a way that's easy to understand.
Present your information from the point of view of your client. How does it benefit them? For example, if you offer marketing services, you can include the metrics and analytics that align with your services. Show them if they can expect a lift in impressions, reach, engagement, or more.
Link to a product demo (if applicable) so clients can see the product in action. Talk about the available support so clients know they'll have someone to guide them through any questions or challenges they may have.
5. Brand awareness brochure
A brand awareness brochure is similar to an initial inquiry brochure, except that it's more geared toward showcasing your brand and enticing readers to learn more.
You don't have to get into the nitty-gritty of your process or your pricing at this stage. You're drumming up awareness so potential clients will want to learn more about you.
While the brand awareness brochure is for highlighting your brand's best features most attractively, remember that it's not about you. With any type of marketing brochure, you want to hook prospective clients by talking about how your brand benefits them.
Talk about your story, which is why your business exists. If you're a small business marketing coach, you could talk about:
Your business mission and vision statement
The challenges you faced when you first started your business
Your story and background
How you started your business and achieved success
Your goal in working with clients, and what you want them to achieve
Offering information like this from the client's perspective makes you relatable. Plus, clients feel like you get them. Your personal story and connection with your clients can encourage them to work with you and learn more.
Provide a general idea of how you can help your clients with your products and services, and include a clear call to action. With a brand awareness brochure, you should direct your potential clients where to find more information about your services or schedule a consultation call with you.
Deliver your brochure like a pro with interactive experiences
What if we were to tell you that emailing these business brochure examples to your potential clients just isn't that effective anymore? That's simply because everyone else is doing the same thing, and it isn't as warm or personalized.
You can have the most perfectly designed marketing brochures, but how you deliver them to your clients can make a huge difference in how they perceive you. What can you do to stand out and differentiate yourself?
By creating an interactive brochure, your clients can get a real feel for what it's like to work with you. Creating an experience instead of just sending a file can help you wow your clients and set you apart from other entrepreneurs in the same space.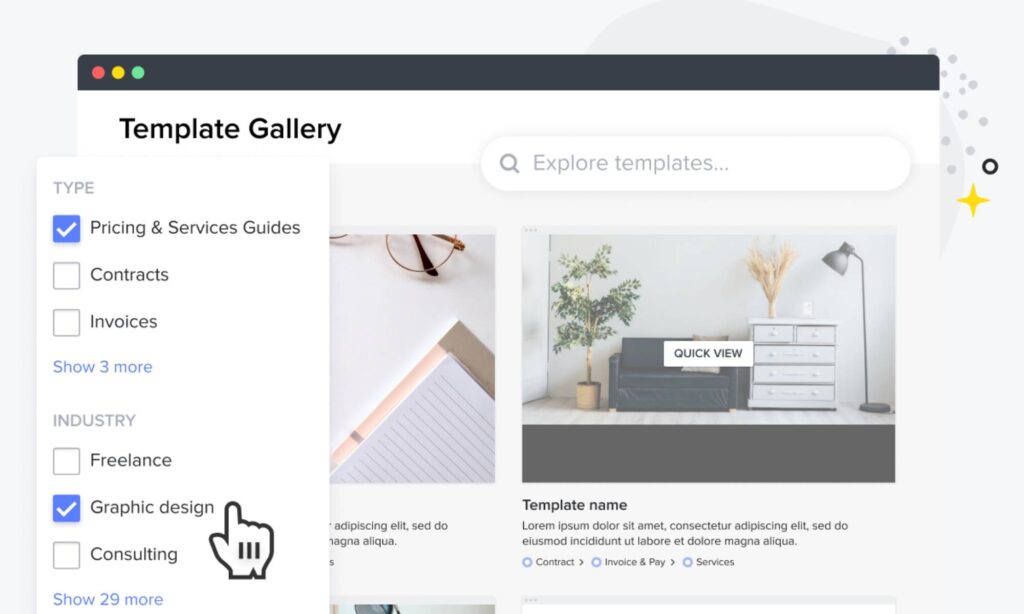 With HoneyBook's clientflow management platform, for example, you can create and send digital brochures to your clients. But you can go even further by creating interactive experiences with the same brochures. 
You can list your services on your brochure, and your client can select a service, proceed to sign an online contract, and then pay for the service on the following pages. Aside from making you look good, a system like this combines your sales strategy with a seamless booking process for your client.
Clients won't have to wade through different applications or hunt down contracts from inside a mountain of emails. They'll have everything they need to learn more about you and book your service in one place.
HoneyBook: Making it about the client
The interactive brochure is just one example of how you can use HoneyBook to impress your clients while making things easier at the back end. Use HoneyBook to manage your projects, create stunning brochure designs, book clients, send online invoices, and get paid. With every step in your clientflow, you'll deliver experiences that clients will enjoy from the get-go.