Connect with potential clients by learning how to create a brochure that effectively promotes your services. These 5 tips will ensure you have an engaging piece of sales collateral to use over and over again.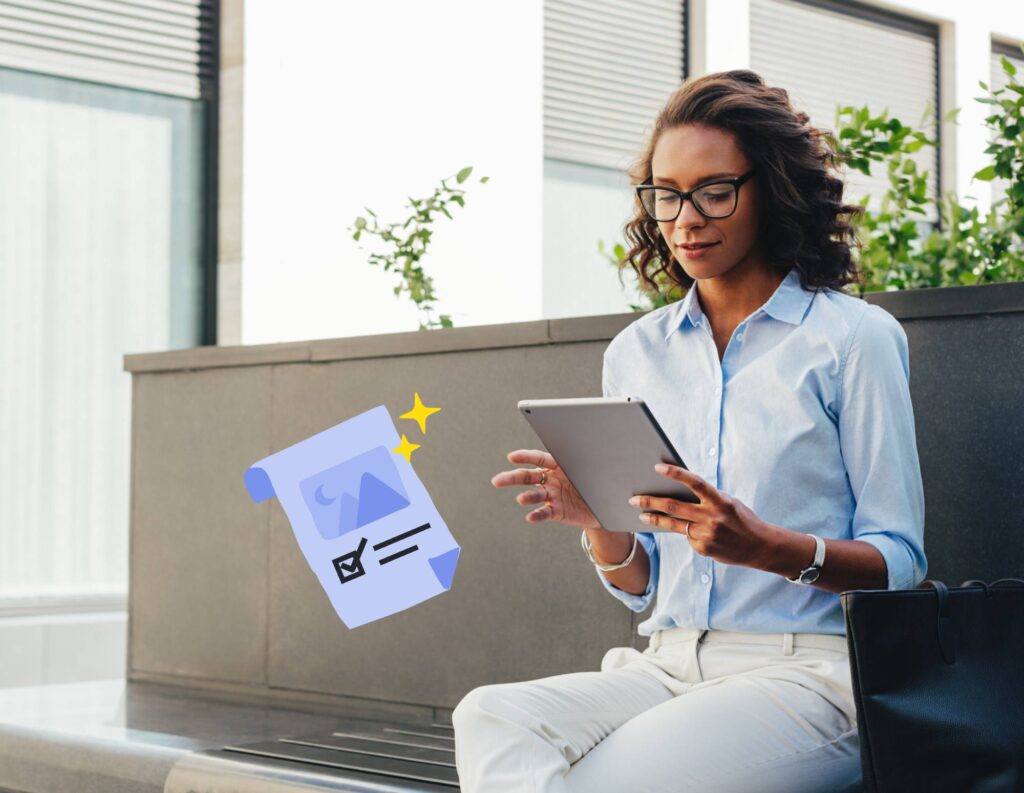 Using brochures to connect with clients is a powerful marketing tool that can grab their attention and help you make your next sale. You can write and design them once, then use them for years as templates that are easy to personalize and update.
When you're selling your services, the right brochure design and sales strategy can help potential clients connect with your brand, understand your services, and buy into the value behind your business.
Move your leads to take action by forging an emotional bond through compelling storytelling, using the right visual designs, and keeping text concise and readable. Use these 5 tips to learn how to create a brochure that wins more clients.
Jump to:
Tips for creating an effective brochure
Before we dive into our tips, we want to offer the biggest best practice for independent businesses: using digital brochures. Print brochures still have their place, especially if you spend a lot of time on event marketing or networking. But a well-designed digital brochure with the right features can effectively grab your audience's attention, promote your business, and streamline your sales and booking process.
With an online brochure, you have the opportunity to make it more interactive. You can showcase why your company offers the best services, list the services you offer, then give your leads the opportunity to select services right then and there.
Most of these tips for creating a brochure apply to print and digital options, but we recommend creating a digital brochure if you haven't already.
1. Understand your client's needs
Before brainstorming your brochure design, ask yourself how well you know your ideal clients. You want to design a brochure that connects with them and makes potential clients want to buy your product or service; it isn't just about delivering information.
Does your service help clients overcome a problem? Highlight these value props in your brochure while keeping in mind what's most important to your target audience.
For example, if you're a photographer, you provide photos of special moments or events. But the value prop is that you help your clients keep and save their memories. You want to make sure you're highlighting that value prop throughout the brochure to create a compelling story.
If you're having difficulty figuring out how to appeal to your audience and address your client's needs more effectively, you can gather client feedback through your current projects.
2. Use images that have meaning to your clients
You might be proud of your company and the way it's grown, but prominently displaying a picture of the front of your building or your team on a sales brochure isn't the most effective marketing strategy.
Clients want to know about your services, so use appealing images that showcase the superiority of what you're offering. Using actual images of your services or results is intriguing and will elicit more of a response than a photo that doesn't mean anything to them.
Here are some examples you can include, depending on your industry:
Photographer – Include samples of your best photos
Web or graphic designer – Include some screenshots of your work online
Consultant – Include photos of you working one-on-one with clients
Business coach – Show yourself speaking to a coaching cohort or class
Event planner – Showcase some photos of events you've planned
3. Include catchy headlines your audience cares about
Before brainstorming engaging headline titles, take some time to create a list of the benefits you believe your clients will achieve using your product or service. When looking at the cover of a brochure, imagine the type of headline that would catch your eye. You can reel your audience in with a compelling question or get creative with clever alliteration.
You want to make your headlines short enough to garner attention but long enough to ensure you're getting your marketing message across. Including action words in your headlines or asking a question can pique a potential client's interest.
4. Connect your brochure to your booking process
One of the main benefits of designing an interactive brochure is that you can seamlessly connect your sales and booking processes. Clients can read information about your business and services, then conveniently select the services they want and see the online invoice and contract on the following pages. 
With HoneyBook, you can choose from professionally designed brochure templates or start from scratch to create your own. Interactive brochure templates also help showcase your brand more effectively to leads and new clients. If you have more context you'd like to add, include a sales video at the top of your brochure. You can walk your clients through how to use the brochure and provide additional information about your services.
5. Incorporate design best practices
You want your brochure to be easily digestible so potential clients can get everything they need in just a few short minutes of scanning and reading. Using bullet points is a great way to do this since it helps consumers focus on what you're offering. It can also prompt them to take further action.
You can also increase the readability of your brochure with color contrast and white space. Be sure to avoid light text on a light background or crowded chunks of text. When you incorporate enough spacing and paragraphs along with a balance of images, your brochure is much more appealing than a wall of copy.
Breaking up blocks of text with headlines and white space makes it easier for your reader to take in the information. As you're designing headlines, keep font sizes and styles in mind, as well as colors. Your content should be easy to read for accessibility, but also to make the brochure easier to engage with. There also should be some consistency in the layouts, fonts, and colors on all pages.
Before you start designing, consider some brochure examples that align with your services and needs. You can gain some design inspiration to better create your brochure layout and structure.
Win more clients with HoneyBook
After reading your brochure, your reader should be prompted to act. Interest the reader in taking the next step by including a call to action. A statement encouraging clients to contact you or move forward with booking should be prominent throughout the brochure. You want to give clients every chance to move forward, or you risk losing a potential customer.
The best way to encourage action through your brochures and win more clients is to use an all-in-one client flow platform like HoneyBook. With HoneyBook, you can build interactive sales files that allow clients to select services, view an invoice, sign an online contract, and pay within a few pages. You can eliminate back and forth to create a more seamless, interactive sales process.