Learn how to use HoneyBook contracts to protect your business, book clients faster, and provide a great client experience.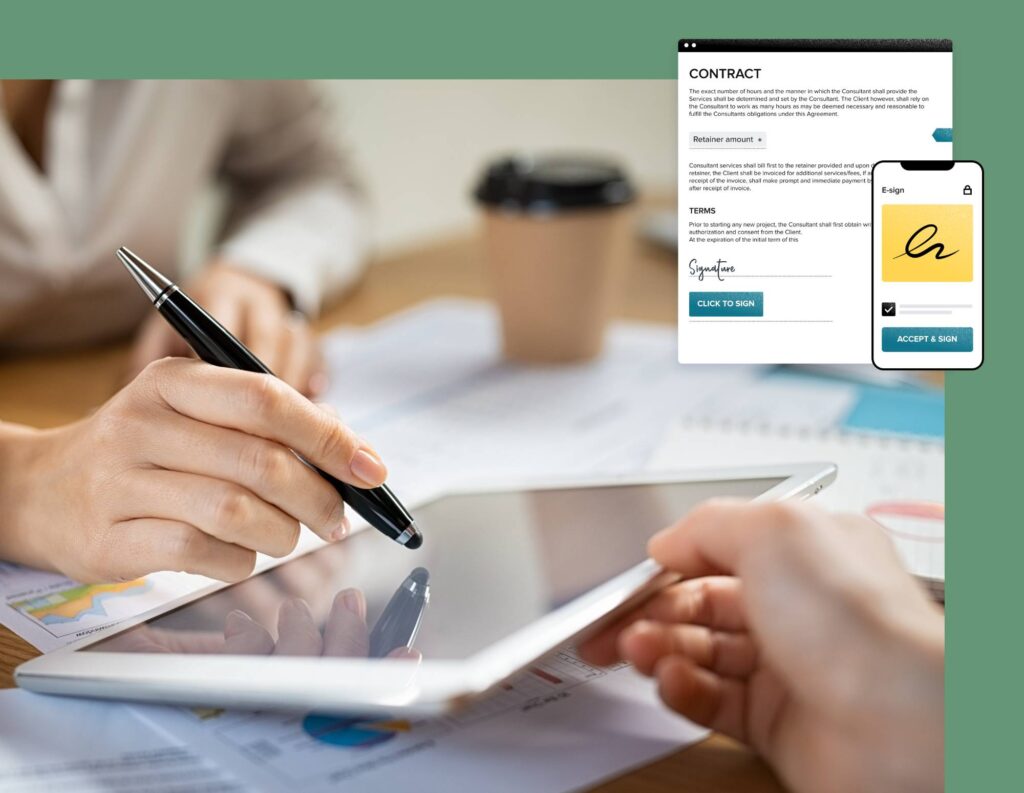 What's a major source of headaches in your business? For many independent business owners, difficult clients can be a big one. We hope that the majority of clients are delightful and easy to work with. But, there will always be those moments when your clients are hard to get a hold of, trying to go out of scope, not making payments on time, and more.
The best way to ensure smooth relationships and projects is through effective business contracts. Your contracts will help you set expectations, avoid disputes, protect your business, and ensure a great client experience.
If you're not using contracts yet or don't feel confident with your existing ones, you can get started easily with HoneyBook's online contracts. HoneyBook is an all-in-one platform and contracts are part of a robust set of tools to manage your entire clientflow from client intake to project closure and beyond.
By using HoneyBook's professional contracts, you can protect yourself and your clients while making your work process much more efficient.
How to use HoneyBook contracts:
1. Start with lawyer-written contract templates
You can't just put down the bare minimum contract terms on a document and call it a day. It's crucial that your contracts are legally sound so you can actually use them to get back on track with clients or handle disputes.
Using HoneyBook, you have access to lawyer-written contract templates created for a variety of business types and service offerings. We also always recommend consulting with a business lawyer to determine the specific contract clauses and details relevant to your business. But, HoneyBook contract templates are a great place to start.
Each template is easy to update with your own language and branding so, together with your other business materials, they create a cohesive client experience. Whether you're looking for a contractor agreement or a simple contract for services, you can find a template or build your own. If you have your own contracts you can easily import them into HoneyBook or use our free file transformation service as well. Either way, HoneyBook makes it easy to create and edit your contracts, save them as templates, and send them to clients in minutes.
2. Combine contract signing with service selection and payment
We know signing a contract is just one part of your booking process and broader clientflow. That's why HoneyBook contracts can connect with other important steps, like service selection and payment.
It all depends on your unique workflow. You always have the option to send your contracts separately, but it can help streamline your booking process to combine them with other actions as well.
For example, if you usually send an invoice right after your clients sign a contract, why not combine them into one file? Doing so can give you peace of mind by creating a more simple and faster booking experience. You can also create a single file that allows new clients to select their services first before moving on to the contract signing and invoice stage, thereby offering instant booking.
By combining actions, your clients have the opportunity to review all your terms before paying. They can always return to you with questions, but requiring the contract signature before payment means they're more likely to review everything, rather than just skimming through.
Pro tip
HoneyBook automations let you book clients even faster, without sacrificing professionalism. If you have services that can be booked instantly, use automations to send an all-in-one booking file (service selection, invoice, and contract) as soon as someone inquires.
3. Leverage smart fields to pull in client and project information
Contracts can take hours to pull together manually–not only if you're starting from scratch, but even customizing them for each client and project.
With HoneyBook, the process is much faster. Using smart fields, you can dynamically pull client and project information into your contracts.
When using HoneyBook smart files to create a contract, simply insert a smart field and choose from the drop-down list of options. You can pull in information about your client using what they provided in your contact form, such as their name, project name, project location, project date, and more. Or, pull in information from questions you asked earlier in the file.
You can also control permissions to allow clients to edit, prohibit editing, or make it so that certain smart fields are required to be filled out before moving on.
4. Dynamically include payment or services recaps
With every new contract, you'll have a new set of services and payment terms. Instead of manually including them for each client, let HoneyBook dynamically add them to your contracts.
If you've included an invoice and/or services in the same file, you can include payment and services recaps. These dynamic content blocks pull from the details that are already in the file, so you don't have to worry about re-typing everything and wasting precious time getting your contract ready.
By easily adding payment and services recaps, your client will have the full scope and payment terms before signing and moving forward. It will help avoid scope creep or nonpayment by enhancing transparency and clarity for both parties.
5. Enable your clients to eSign for added security and convenience
When your clients are ready to sign the contract and move forward, they can eSign from anywhere. You can send your HoneyBook contracts as a file via email or a direct link, and your clients can also open them on mobile.
For added security, HoneyBook also includes two-step verification via access codes for any files with contracts or invoices. Though we highly recommend using vertification, you can also turn this setting off if you prefer.
Your clients will expect a secure, simple contract signing process, and HoneyBook enables you to meet their needs. With electronic signatures, you can move forward with projects faster and make it easy to include additional participants in the process.
If you or your clients want a physical copy of their contract, you can always print files from HoneyBook.
6. Edit and resend contracts even while you're on the go
It's always good to review your contract terms with your clients and enter a negotiation period before signing. During this step, it gives your clients the opportunity to ask any clarifying questions about terms and clauses. Ensuring they're clear on the agreement before signing is critical to mutual understanding and great client relationships.
It may also mean your client wants to make small tweaks before the final signature and payment. If so, HoneyBook makes it easy to edit and resend contracts. With the HoneyBook mobile app, you can even view all your clients' contracts and edit them while you're away from your computer.
Once you've made an edit, you can resend it to your client for their review and signature, while saving all of your file's version history.
7. Stay organized with contract management and activity tracking
Your contracts are a single source of truth for all of your projects and clients, so it's important to keep them organized and up-to-date. Inside HoneyBook, you can save all of your contract templates in your account and organize them into folders.
Once they've been sent to a client, you'll also be able to find and view them within their respective projects. Plus, you can view all contract revisions and history. Since the contract is such an important piece of your clientflow, it's always easy to find and update inside HoneyBook.
Since you're probably juggling multiple clients and projects at the same time, it helps to know who's received their contract and who's waiting to sign. To keep track easily, each contract shows whether it's been sent, viewed by the client, signed, and paid (if it included an invoice).
By managing and tracking all your contracts in HoneyBook, you'll feel more confident knowing where everything is and where your projects stand.
Use HoneyBook contracts for a more streamlined booking process
HoneyBook contracts enable you to protect your business and book clients quickly, efficiently, and securely.
Not only will you successfully set expectations with clients, but you can do so in a way that connects contract signing with other key parts of your clientflow. With everything connected, your clients will enjoy a great experience, and you'll avoid miscommunication or unmet expectations.
Get started with a variety of online contract templates.
Disclaimer: For specific legal and professional advice, please consult an authorized professional.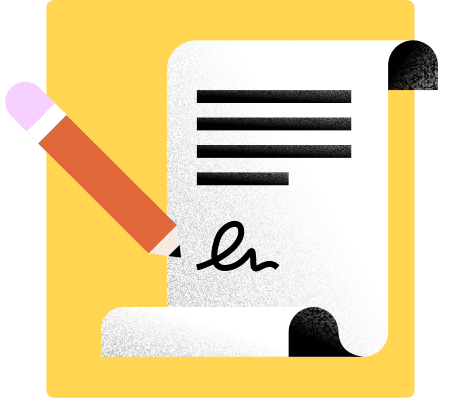 Send professional online contracts
Use ready-made attorney-review contract templates on HoneyBook.