Contracts are legally binding agreements between you and your clients. Every business owner should know what to include in contracts, how to write them, and how to make the contract signing process easy for everyone. Use this checklist to make your job easier.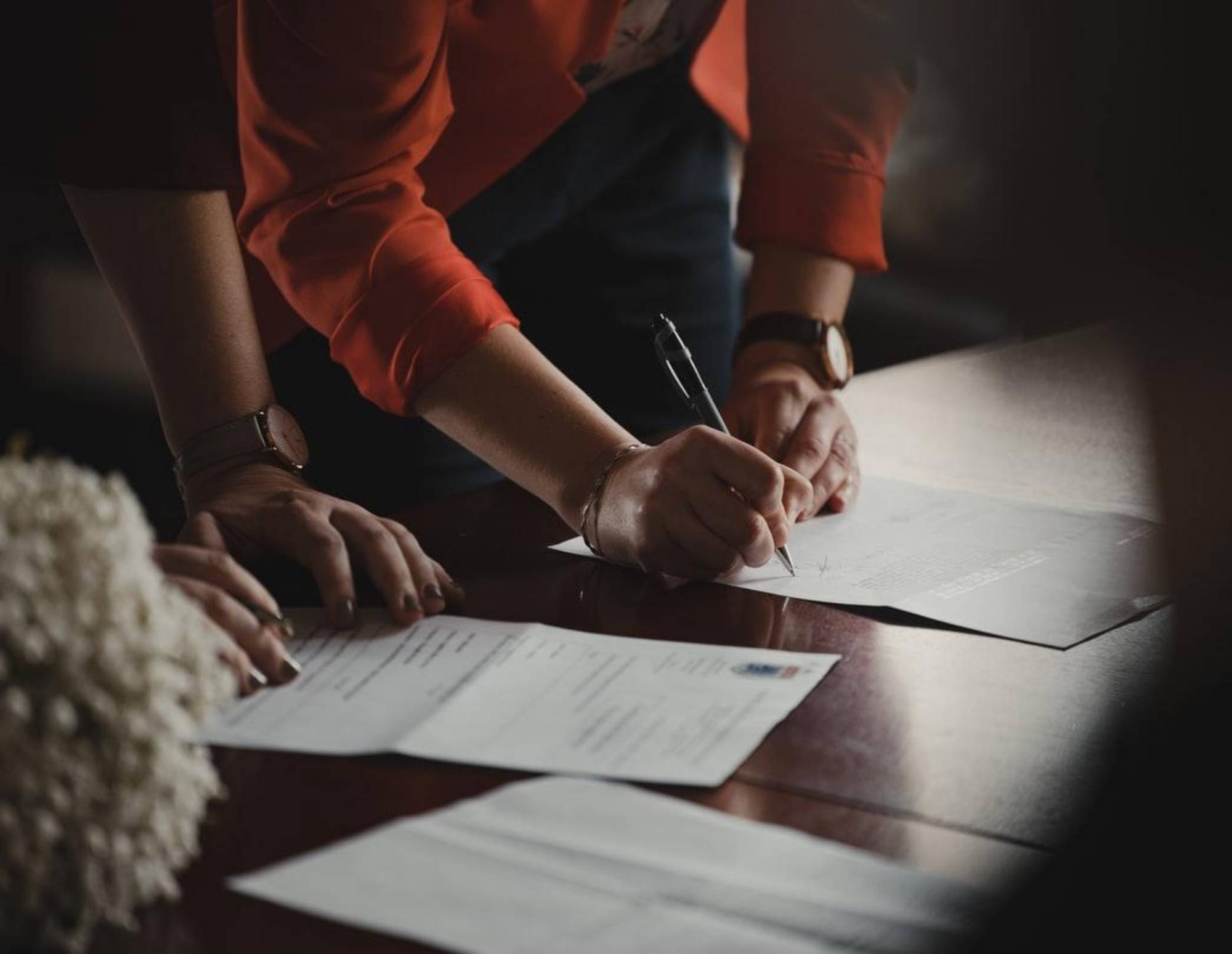 Business contracts are legally binding agreements between two or more parties that are enforceable by law. The agreement sets up the terms and conditions of a relationship and outlines the duties and obligations of each party.
As an independent business owner, contracts are crucial to protecting you and your clients. You can ensure you're paid on time and exercise your rights to charge late fees or cancel your contracts if your clients aren't meeting your terms. They also set a good experience for your clients since they lay out everything they can expect from you.
You should know what makes a strong contract and how to make sure it protects your business. Learn how to do just that with this contract signing checklist for independent business owners.
Jump to:
The importance of contracts for independent business owners
Independent business owners are constantly forming relationships with clients, customers, partners, subcontractors, freelancers, employees, landlords, tenants, licensees, or any other parties that may have a financial interest in interacting with the business. Written agreements can give you a layer of protection when interacting with these parties.
Having a contract with any entity can protect your company from disputes or lawsuits. If there is a dispute on the terms of the contract, having the details in textual form and readily available to all parties can help resolve disputes before resorting to court or arbitration.
Each party in a contract will be protected with clauses such as a termination clause that specifies when a party can end the contract or if it ends automatically.
What makes a good contract?
There are a few basic elements of a legally enforceable contract. For a contract to be valid and enforceable in most jurisdictions, it needs to have, at a minimum:
Valid offer. An offer is made and accepted by the other party
Consideration. The parties exchange something of value
Capacity. The parties are capable of exchanging the consideration
Legality. All the elements of the contract are legally compliant
A legal contract may not even be in writing. It is, however, highly advisable for any independent business owner to get contracts or any promise in writing. A good contract is clear, thorough, and, most importantly, legally compliant and enforceable. Each party may wish to add or amend clauses in the contract to make sure they are covered. Everything in contracts is negotiable by any party.
As an independent business owner, you want any contract you enter to be favorable to you and your business. That's one reason to have an attorney look over any contract before you sign to ensure you are protected, there are no omissions, and there are no clauses or items unfavorable to your interests. It's also a reason to use legally compliant and customizable contract templates like the contract templates offered by HoneyBook.
Pro tip: Always have an attorney review your contracts before signing.
Contract signing checklist
1. Decide which elements to put in the contract
Start with basic information. Every contract should list the names and contact information of each party. Then you can decide which elements you want to include, including the project budget, timeline, and scope, as well as your clauses. Consider the following items to ensure you are protected.
Total price
Include specific dollar figures in the contract. This could include the total cost of the services rendered, the transaction price, lease, salary, or any other remuneration information relevant to the specific interaction.
Dates and duration
The contract should have the start date and end date, if relevant. Some terms may be continuous. For example, the contract may be active until the work is complete or if employment is terminated. All deadlines and delivery dates should be included here as well.
Scope
The scope of the work or the nature of the relationship should be spelled out. What will be done, and by whom? The scope should be clear and specific. If your company is performing a service for a client, describe the service in detail. Each part of the service should be explicit.
Rights and obligations
Spell out the obligations and promises of each party in this section. For example, if you are performing a service for a client, this could be where you state that you are obliged to complete the service in full (and that the client is obliged to pay) by a certain date. Add certain rights, such as the right of either party to sue or terminate the contract early.
Termination clause
There may be instances where you can end a contract early. Every instance where a party can terminate the clause before the contractual end date should be put in the termination clause.
Indemnity clause
An indemnity or "hold harmless" clause shifts risk from one party to the other. They are agreements that one party cannot be held liable for damages the other party suffers, including attorney fees. There may be a clause that states that your company is not liable or only liable to a certain extent if the client gets sued.
Dispute resolution
No matter how careful you try to be, disputes can happen. A dispute resolution clause can stipulate the process of resolving disputes through arbitration, mediation, or courts. You can also specify the jurisdiction where court cases can be tried.
Confidentiality
Privacy and confidentiality are going to be important to your clients. At the same time, your business may also want to keep your trade secrets and intellectual property private. A confidentiality clause is essentially a promise not to disclose private information about the relationship or transaction. You may want to include details of how your business will keep online data private and secure.
Other clauses
The elements mentioned in this section are the basic elements of a typical contract. Each situation is unique, and parties may add additional clauses to protect themselves. For independent businesses in the events industry, for example, you'll likely want to include a force majeure clause.
2. Have your attorney review your contract
If you're writing a client contract for the first time, always have an attorney review the language. You want to make sure you're properly protecting yourself and your clients, and not putting anyone at risk for liability.
Pro tip: If you don't have a business attorney yet, don't worry. You can start with HoneyBook's free contract templates that are reviewed by attorneys, so they're ironclad and airtight. Download the contracts as PDFs or use them inside your HoneyBook account where you can save them as templates and easily customize them for each new client.
3. Review and negotiate the contract
Once you have a set contract, it's time to send it to your clients. At this point, take the time to go over the contract with them and see if they have any questions. They may go back and forth with you to clarify some items or change some details. For example, you may want to clarify payment terms, and whether you're entering a retainer agreement or other type of payment schedule.
Negotiating the contract doesn't mean you need to change it drastically for your clients, but you want to make sure it accurately represents what you've already discussed verbally.
If you have to make big changes to your contract, ask your attorney to review it one last time before it's ready for signing.
4. Sign the contract
Finally, you and your client will need to sign the contract. I recommend using an online contract software that lets your clients esign and makes the process much easier. Without online contracts, they may need to print your contract, sign, then scan and send it to you, which can take much longer.
Instead, use a system like HoneyBook to send the contract along with a due date so your clients know when they need to sign. Once they do, you'll receive a notification so you can countersign.
After each party signs the documents, the agreement becomes a legally binding contract. The parties must uphold their end of the agreement, or they could be sued for damages. Be sure to follow the terms and conditions you've signed in the agreement.
Tools for contract signing
Make sure you keep a copy of the contract to refer to in the future. This can be easier if you've used an online contract platform to review and sign the documents. On a platform such as HoneyBook, signing documents online is easy.
Signatories can all have downloadable copies of the contracts.
You can be alerted when clients sign an agreement.
Documents can be automatically filled in with relevant details, such as the party's name, and can be sent automatically.
Documents can be viewed and signed on any device, including Android and iOS devices.
Signatures and initials added to documents in the platform are legally binding.
Contracts can be saved as templates to use whenever a similar contract is needed.
Protecting your business with contracts
The tips above are a basic introduction to contracts for small business owners so you can protect yourself and provide the best experience for your clients. By following a checklist for contract signing, you can avoid contract cancellations and disagreements.
But, keep in mind that contract law can be a complex topic. Be sure to seek competent legal counsel before entering contractual relationships and signing contracts.