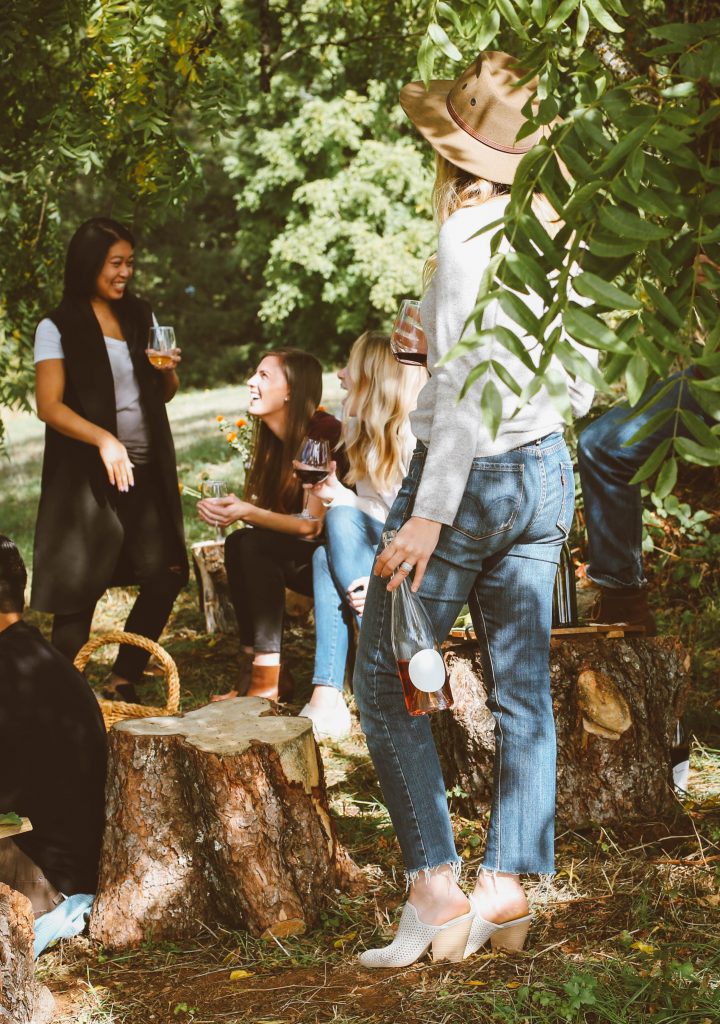 Over the course of the last year and a half, I've spent a significant amount of time pouring back into my business. In 2018 I celebrated my 5th anniversary and three years since I said "see ya!" to my cubicle and a steady income desk job.
In those five years, I learned a lot, but not intentionally. As a result, instead of celebrating the milestone for the accomplishment that it was, I found myself feeling lost and overwhelmed about where I was and what I was doing.
I felt that after five years I should be doing, achieving, and experiencing more and realized I didn't have a clear vision for the future of my business. I was so busy being in the weeds of my day-to-day work that I never stopped to think about what I wanted in six months or a year, let alone another five years from now.
After coming to this realization, I spent time digging around trying to figure out how all these other people seemed to be whizzing by me with such intention, drive, and focus.
In my digging, I managed to unearth tons of information about coaching, mastermind groups, creative communities, and the like. I got to work looking for ways to plug into those resources and find ways to get my business where I wanted it to go.
All of these experiences seemed uniquely valuable. They would offer me the opportunity to collaborate with others to push my business to the next level. Over the last 18 months, I have invested in almost all of these activities to find the right fit and benefits for my business.
Here's what I learned about business coaching, paid mastermind groups, monthly mastermind groups, and mentor experience.
Business Coaching
I am an accountability person. I knew that having a "person" to call me out on my missteps and force me to answer the hard questions would be crucial in pushing my business forward. So I invested in coaching. These coaching sessions helped me develop a real vision for what my business could be.
My coach forced me to look at what I was doing, what things were working, and what things weren't. We identified holes in my processes and ways to streamline them. Most importantly, we defined a clear path forward with actionable next steps. It was an approach that I always knew I thrived with, but never took the time to flesh out on my own.
Through that coach, I learned about The Mastermind Retreat, a paid experience that would combine the things I loved about coaching with a collaborative group of other business owners looking to push their businesses to the next level.
Business coaching is right for you if…
You are looking for focused one-on-one attention in a series of a few meetings and can make a moderate investment ($1,000-$2,500+) depending on your coach and your expressed needs.
Paid Mastermind Experience
The Mastermind Retreat was a 3-day business retreat designed to push entrepreneurs towards a "bigger and better" future for their businesses.
This retreat offered me the opportunity to come together with an intimate group of about 15 other business owners and a group of leaders, each with a specialty focus designed to challenge us in various areas of our businesses. We focused on strengths, self-care, communications, finances, growth and scaling, all topics that, after working with my coach to develop a vision and set long-term goals, I was able to apply to various areas of my business.
As for the other attendees, we spent time diving into each other's struggles, speaking our goals out loud, and brainstorming ways to push each other's businesses forward.
The Mastermind Retreat was truly a pivotal experience for me. It was the first time in my business that I'd felt surrounded by people who "got it." Friends and family have lovingly encouraged and supported me from the infancy of my business, but most of them don't truly grasp the inner workings of my day-to-day operations or the work that goes into creating the few snapshots of my business that I share online.
Sitting in a room full of people who were nodding in understanding and sharing similar experiences allowed us to create a bond from a place of complete understanding and empathy. From that experience, we created a tribe of supporters – a benefit that I wasn't even considering when I signed up.
We celebrate each other's launches, ask for help, encourage each other, cheer for each other, and slide into each other's DMs on the reg. It's been so empowering to feel like I have this safety net of people for my business who can genuinely walk this journey with me.
A paid mastermind experience is right for you if…
You need to spend a focused chunk of time making BIG moves in your business, in a collaborative environment away from the call of your inbox and to-do list. This experience is a larger investment ($2,500+) depending on the format of your retreat, travel expenses, etc.
Monthly Mastermind Group
After getting back home, I had what I would refer to as "retreat hangover." You know what I mean. You have the highest of highs, and you want it to last forever. From the retreat, we also learned how to develop our own smaller, more localized masterminds. An intimate group (3-4 people) that meet regularly, and collaborate on ways to push each other forward.
My monthly mastermind group is still in its infancy, but our format allows each of us an opportunity, a few times a year, to present projects, ideas, or struggles for our business for group discussion. Sometimes you need that outside perspective or a new point of view.
As a solopreneur, I never realized how much collaboration and ideating was missing in my business. My new mastermind group will give me that outlet. I am so excited for the ways it can push my business forward and to have the opportunity to get a front row seat in watching others grow and succeed!
Our group will meet every month, and we have carefully selected members with a particular focus. Each of us applies the focus to our business in different ways, but having a common understanding of that focus will allow us to bring a pointed but unique perspective into our monthly chats.
A monthly mastermind is right for you if…
You are looking for on-going collaborative opportunities to spend time with other business owners in a more intimate group setting. Our monthly mastermind doesn't have a cost, but does require a 12 month commitment for a 2-hour meeting, monthly.
My Business Mentor
For the most part, the first three of these were all a chain reaction. Coaching led me to the retreat, which sparked a desire to create an on-going mastermind.
My business mentorship came out of an introduction through a friend. The businesswoman who would eventually become my mentor received my contact information when she was on the hunt for an experienced designer for an upcoming project.
During our first meeting, I couldn't stop drawing parallels to the business she had created and the goals I had set for my company six months before in my coaching sessions. After a few follow-up meetings on the project and a lunch date with the mutual friend who introduced us, I finally got up the courage to pitch a mentor relationship to her.
We now meet monthly to talk about some of my goals and how I am progressing on them. She challenges me to make specific tweaks based on her own experiences. She's been an excellent resource for providing seasoned insight on some of the opportunities I've been presented with this year.
I am so excited to keep up our monthly coffee dates and learn as much as I can from her successes and challenges, and feel so grateful to have connected with someone so willing to open up their experiences as a learning opportunity for a younger business person!
A mentor is right for you if…
You are looking to build a one-on-one relationship with a person already established in your space. The unique benefit: You are able to select someone who embodies the business person you want to become. Then you can work with them to really dive into making your business sustainable and successful in your industry space. Again, I do not have a paid mentor partnership, but this may vary depending on your industry and expectations.
But which is best?
I'm certainly of the opinion that EACH of these formats has provided specific and valuable insights for various facets of my business. There isn't one specific format that I would pinpoint as "the solution" for helping me gain renewed clarity and focus in my business.
Coaching forced me to realize some of my immediate needs, including the need for community and collaboration and a plan.
The Mastermind Retreat helped me formulate that plan through collaboration.
My monthly mastermind group will continue to push my action plan forward with every meeting.
As for my mentor relationship, I know that the real value of that experience depends on my willingness to maintain a high-level focus on how my business is operating and whether or not the steps I am taking each day push me towards my long term goals. It will also require me to allow myself space to stop, listen, and learn from someone who has been there before. That's something I think we can all use a little of in this crazy business life.
I navigated my way through each of these experiences over the course of 18 months. I can genuinely say, each one had a profound impact on me based on my specific needs at the time.
Wherever you are in your business journey, I encourage you to find the solution that fits best your current situation and your most immediate needs.
For a long time, I was afraid to ask for help and to pull back the veil on my business to show people what I was doing.
I was scared they would say it was wrong or I was failing. Instead, they said, "this is amazing, and you're already successful, and making these small adjustments can make it better!"
As the proverbs say, "If you want to go fast, go alone. If you want to go far, go together."
---
Want to learn all the secrets to choosing the best mentorship or mastermind groups to move your business forward? Get our Ultimate Guide to Mentorships and Mastermind Groups here.
Plus, 5 more posts you might like: