Goodbye cobbled-together client system, hello all-in-one business management.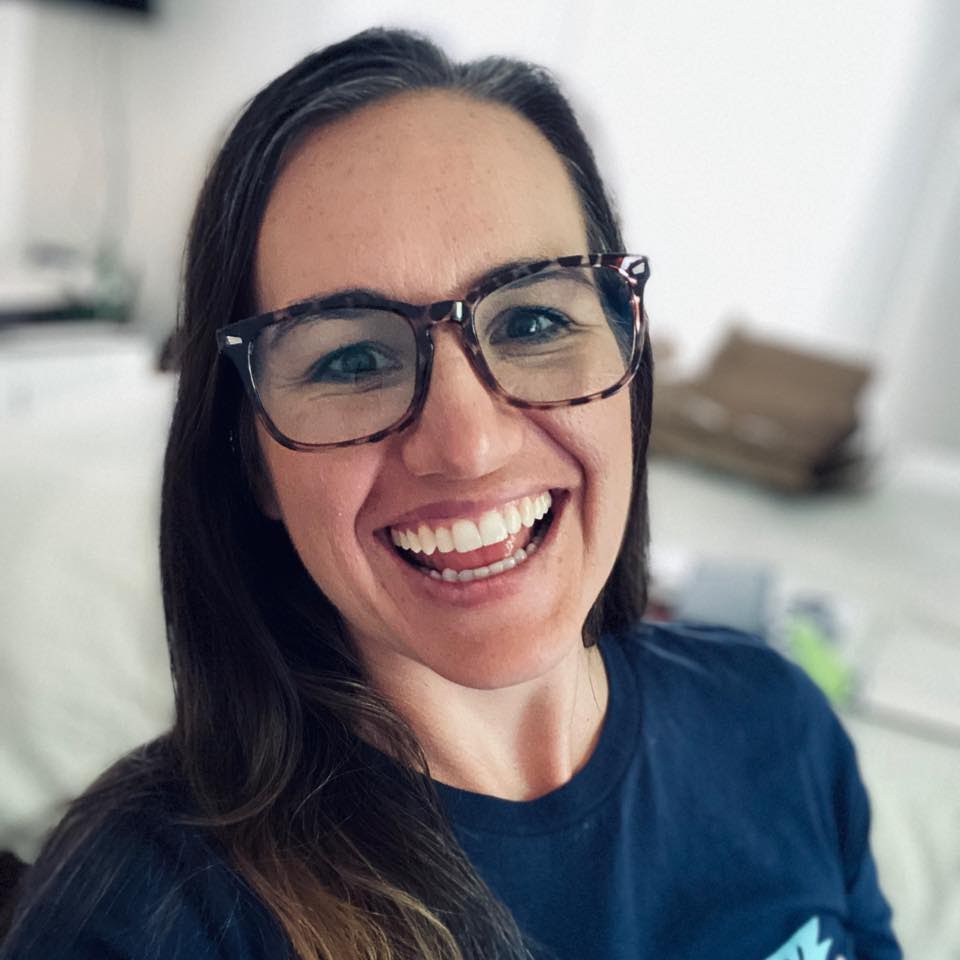 The situation
Jess of Blue+Pine Creative, Inc. is a graphic, print and website designer who was using a cobbled-together solution for emails, invoices, timelines, contracts, artwork proofing, and more.
"I found it difficult to keep track of everything well. That's when I went looking for a CRM that could do it all," Jess says. "I am a very organized person, but even with impeccable organization, I still had trouble finding all the elements that go into a design 100% of the time."
The challenge
Jess was looking for an all-in-one solution to replace the many tools she was using, including:
Gmail for client communication
QuickBooks for invoicing
Google Docs for contracts and timelines
Google Sheets for project organization and subscribers
The solution
"HoneyBook fit 85% of my needs when I started with them, and over the years they have exceeded expectations by listening to their clients to create a superior product," Jess says. In fact, HoneyBook helped her ditch four of the tools she was using to simplify her client experience.
With HoneyBook, Jess uses:
Project workspaces instead of Gmail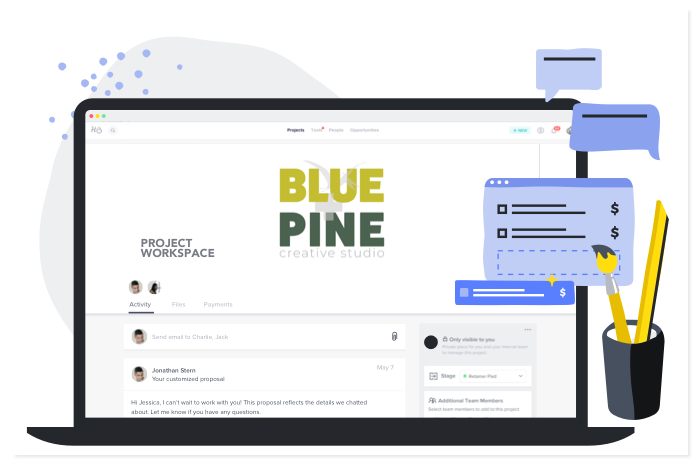 "When a client first inquires about my services I immediately add them into my HoneyBook pipeline. They are given a project workspace where all of our future communications, files, contracts, invoices and more are housed. This makes it easy for both my team and our clients to easily track where we are in the project, next steps, and ensure smooth completion," Jess says.
"I love that all email communication is stored within the project space. This has been a lifesaver for moments when there have been disputes. It is nice to scroll back through the activity log to see if clients have read emails, opened contracts, invoices, proposals, etc… On more than one occasion I have been able to gently redirect a client to a resolve by pointing out what happened when. It keeps us all accountable and moving forward. As such, I have had less conflicts and my clients are happier and stick around for years!"
HoneyBook invoices and contracts instead of QuickBooks & Google Docs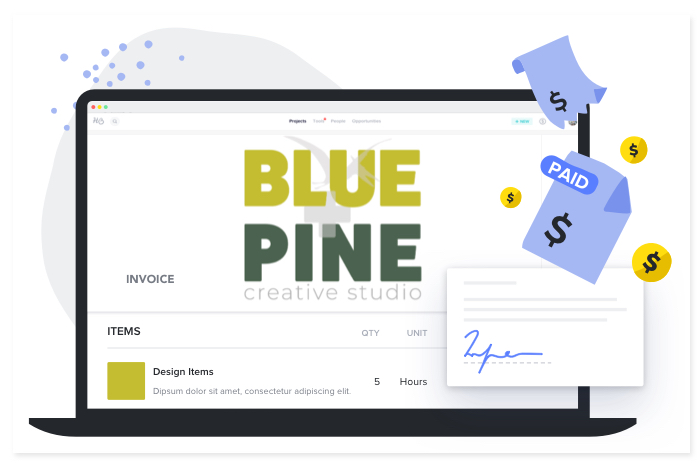 "Contracts and invoices are not my favorite part of my business, but they are so very important. Before HoneyBook, I would send a PDF contract to a client to physically sign and it would take a long time, if ever, to get the signed copy back. Especially for clients that I worked with remotely. With HoneyBook, contracts are signed digitally the day the deposits are paid. It really couldn't be simpler," Jess says.
She uses HoneyBook contracts to easily secure artwork approval as well. "When it is time to proof a design, I can easily upload images for my clients to see, send edits on and, when ready, sign a contract for artwork approval. This has saved me hundreds of dollars when typos are missed or mistakes were made by a client."
Just like contracts, HoneyBook invoices help Jess save time and money. "The invoices are beautiful! They look nice and work even better. I enjoy that payment reminders are sent automatically. This has saved me at least 3 hours each month, and missed or delayed payments are rare. My income has stabilized and I know it is a direct result of an organized invoicing system."
And the fact that she no longer has to use QuickBooks is a major plus. "My current accountant uses the desktop Quickbooks, and not QuickBooks Online. So I use the downloadable CSV files in my HoneyBook reports to get my accountant the info she needs. It has been working beautifully! I no longer have to use QuickBooks… a program made for accountants not creatives! (I hate it…but HoneyBook makes accounting so much easier for me)."
[HoneyBook invoices] saved me at least 3 hours each month, and missed or delayed payments are rare. My income has stabilized and I know it is a direct result of an organized invoicing system.
HoneyBook pipeline instead of Google Sheets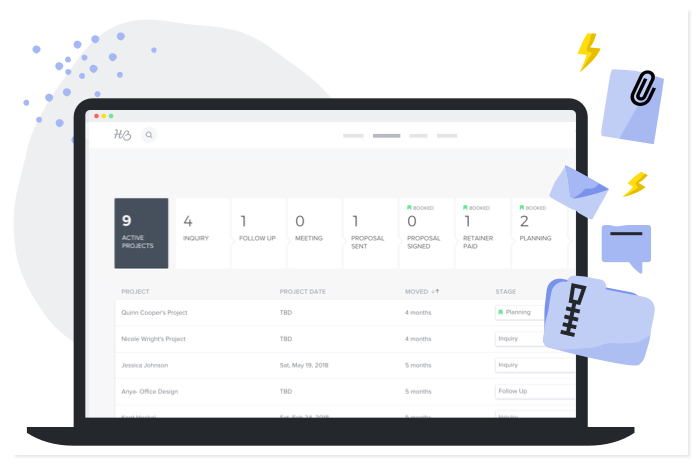 HoneyBook gives Jess a bird's eye view of her business at any point in time.
"I love that with one look at my pipeline I can see how many clients are in each area. I can see who needs to be followed up with, who I am currently designing for, who I am awaiting edits from and who has paid or completed their projects. This saves me several hours a week and makes working from home or anywhere so easy. I have been able to ditch spreadsheets and checklists strewn between my office and home," Jess says.
Getting Next-Level Organized
HoneyBook helped Jess ditch her cobbled-together system, cutting down on all the tools she needed to manage her business. It helps her stay more organized; save time and money; and improve other parts of her business, too. Here's how Jess optimized her business even more with the following features:
Having her invoicing all in one place not only helped Jess get organized, but it also helps her clients, too.
"I work with several organizations and non-profits. At the end of the year they require a report of all payments made to my business. In the past I would need to find all of their past invoices, download them, compile them and send to the client at tax time. With HoneyBook, I simply send them a client portal log-in and educate them on how to find all their projects and invoices in their project space. It has saved me several hours per client each year! I LOVE IT and so do they."
Questionnaires to manage design edits and requests
"I have found the questionnaire feature incredibly helpful with design edits or requests. I can ask follow-up questions and gather input easily! This has been better than the follow-up email I used to send, as it forces the client to answer all the questions. Previously, questions or content would be missed which slowed down work times."
Time tracker to better price services
"I've been using the time tracker on projects to keep an honest record of actual time spent on every project. This is often not shared with my clients, but used internally to be sure we are pricing our work correctly. I have been able to lower the price on some items allowing us to be competitive and have been able to justify higher prices on other services due to their time intensiveness, with hard data to support the price."
"I have saved at least 30 minutes each time I need to schedule a meeting. I am working to add these links into my automated emails, too. Already I am getting more booked meetings which convert to booked clients! I LOVE IT!"
"HoneyBook added the Chrome extension that makes my Gmail and HoneyBook work together seamlessly. If a client contacts me through email I can connect their email to an existing project space or create a new one right from my inbox. Believe me when I say it's a game changer!"
Results
Jess' organization skills are amplified with HoneyBook. She says, "I no longer lose important project files, invoices, contracts or timelines. Projects are completed quicker; we enjoy less 'please resend that item because it is lost in the mail' emails; and we spend more time actually working on the project."
Thanks, Jess!
Get ready to simplify & scale
HoneyBook takes the heavy lifting out of running—and growing—a services-based business off your plate. From managing inquiries to helping you get paid to streamlining your projects, HoneyBook can be customized to fit your process, whether you're a web and graphic designer like Jess, a business coach, an interior designer or a doula, just to name a few.
Learn More: