"Self-care" is officially a household word. When we think of self-care, most people picture a face mask, hot tea, cozying up on the couch with a book, and relaxing. We definitely don't think of the fact that it could be the missing link in learning to master your mind.
Some will think, "Who has time for that!?" and others may feel guilt or shame for taking time away from work, school, or family to make time for themselves.
The good news is, self-care comes in many forms! Think of self-care as something you deliberately do to slow down, calm your spirit, and master your mind.
What it looks like to master your mind through self-care
Self-care is a physical action or task we do on purpose to calm stress and anxiety to realign our mood. Self-care is best implemented as part of your daily routine.
Taking care of yourself to master your mind can look like:
Getting enough sleep

Cooking a nutritious meal

Saying "no" to things you no longer wish to do (responding to email or social media DMs immediately, checking your phone after 10 PM, etc.)

Doing something just for the joy of it

Schedule time in your day for you to do whatever you like

Exercise

Meditate or deep breathing exercises
These are simple tasks that don't need to take up a ton of time on your calendar that raise self-awareness and can affect your mental health.
Bring awareness to your mental health
"Mental Health" and "Mental Wellness" are interchangeable and are considered a state of well-being where the individual realizes their own abilities and can cope with the normal stresses of life (WHO). It's important to note that mental health is not just the absence of mental illness.
Consequently, everyone has the potential to develop a mental health disorder. 1 in 5 people will experience a mental health problem and anxiety, panic, and depression are the most common.
Taking a few minutes each day to bring awareness to how you're feeling is a great tool to check in with your mind and body. The mind-body connection can be witnessed in daily life.
When we are stressed, our cortisol levels elevate, suppressing the immune system, increasing the chance of getting sick.
As a result, many of us, entrepreneurs included, live and function at elevated levels of stress as a norm. One way to combat this heightened stress is to schedule a time to check-in with yourself – aka self-care.
Master your mind by checking in with what's going on inside of it on a daily basis.
The key truth to master your mind?
Thoughts cause your feelings
Feeling frazzled? Here's an exercise you can do right now to manage your mind and get back on track.
Set a timer for 5-10 minutes and write (or type) out all of your thoughts you are experiencing at this moment. Get it all out.
Re-read what you wrote and asterisk or highlight the prominent thoughts that light up your brain or send a sensation through your body.
This sensation is also what we would call a "feeling."
For example, I highlighted these thoughts that carried weight for me:
I have to send my proposal out today.

I can't believe I had a typo in that email to my client.

I'm so stressed out right now.

I can't get all of this work done.
Re-read each thought one at a time. How does each thought make you feel? Identify the sensation in your body and write the sensations next to each thought.
I have to send my proposal out today:

shortness of breath, elevated heart rate, lightheaded

I can't believe I had a typo in that email to my client:

shoulders rounded over/hunched over, heavy

I'm so stressed out right now:

tension, sweating, elevated heart rate, shallow breathing

I can't get all of this work done:

slumped shoulders, frowning, deflated
Now that you've identified the sensations in your body that those thoughts cause, label each thought with a single feeling: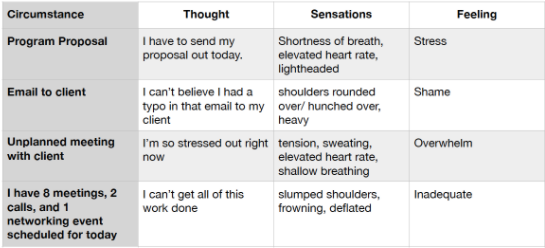 Takeaways to master your mind today
As we've seen, our thoughts cause how we feel. The work we are doing and the circumstances in our life do not cause our feelings, and they do not hold moral value. It's our thoughts about our circumstances that determine how we feel.
So, once you highlight the thoughts you have playing in your brain and their associated sensations (or feelings) you get to decide how you want to feel. You get to change our thoughts. Any time, anywhere.
How can you change your thoughts so you can feel calm, cool, and collected? You get to pick a new thought, just like you would try on a new shirt or a new pair of shoes.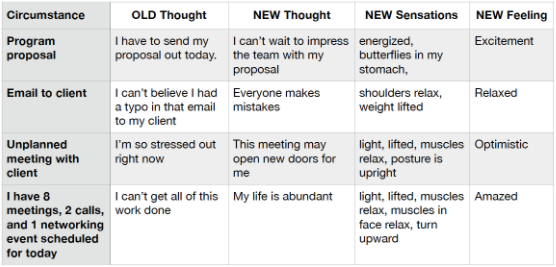 When you start to recognize sensations in your body, like tension in your jaw or shoulders, or you begin to sweat in a meeting, stop and take inventory of what you are thinking at the moment.
Additionally, this is a great exercise to add to your mental health and self-care routine. Keep a journal or an on-going spreadsheet for yourself so you can see what thoughts are creating the feelings you are experiencing. So next time you feel stress, ask yourself, why? Get it down on paper and see what thoughts are racing through your brain. Master your mind instead of being mastered by your thoughts and feelings, and watch how it changes how you go about your day.
---
Ready focus on your mental health as an entrepreneur? Get our Mental Wellness Ultimate Guide here.