A request for proposal (RFP) might be your chance to win a big new client and grow your business. Learn how to write the best possible RFP response and stand out from the crowd.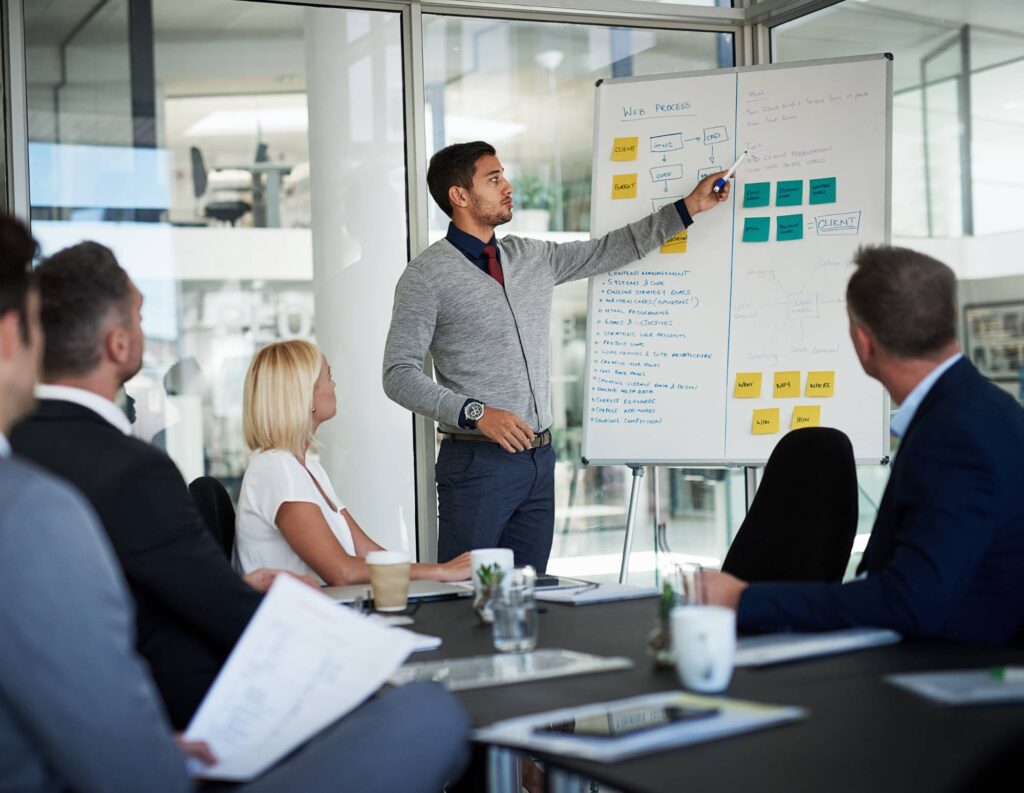 When you're an independent business owner, every business proposal matters. Formal requests for proposals (RFPs) can feel like an even bigger deal, mainly because they're notoriously detailed and, well…formal. Don't worry, though—like any other potential business deal, this type of proposal is just another chance to show that you know your stuff. 
Today, we're looking at the best ways to navigate the RFP response process. Learn how to use an RFP document as an instruction manual for creating your unique proposal and what you need to include to make the best possible impression.
Jump to:
What is an RFP?
An RFP is a document that announces a project and requests bids from contractors who want the job. A standard RFP usually includes the following:
Statement of work/statement of requirements, which describes the necessary tasks involved in the project
Contract terms for the described project
A bidding process description, including timeline and submission instructions
Response requirements, including preferred formatting and instructions on what to include
Evaluation criteria for each proposal response
You're most likely to encounter an RFP when working with a government agency or large enterprise, but any size organization is free to create one. Many companies use them to expand their contractor networks or find partners with new skill sets. Your response will be similar to sales proposal, but it should be highly targeted to the needs described in the RFP.
The RFP response process in 7 steps
When an organization issues an RFP, it expects some bidders to have questions about the request, so don't hesitate to reach out if necessary, but keep an eye on the submission deadline. As soon as you understand expectations, get started crafting your RFP response.
A proposal management plan will help you stay on track. Here's a sample workflow to get you started:
Create an intake document: Include the important information from the RFP, including the client name, request type, and proposal due date.
Review the RFP: Before you invest time in a proposal, ensure that the project is a good fit on both sides. Only start a proposal if you're confident you can meet or exceed the client's expectations. The project should also be good for your business and align with your long-term goals.
Research the project and client: Read the RFP in detail and determine what the potential client wants to see. Look at the client's website and get to know their goals, value, and target market. Consider how the project will move the company toward its goals and how you can make that happen better than anyone else. This step will include some competitor research.
Develop a plan: Identify the key elements of your proposal, including deliverables and your "why choose us" messaging. If you have any reusable existing content, such as an "about us" paragraph from your website, gather it and add it to a content folder for easy access.
Create a draft: It helps to work with one or two team members on this step if possible, but if you're a solo business, it's still completely doable.
Solicit feedback: Ask knowledgeable colleagues and subject matter experts you trust to look over what you've written. Ask if anything is unclear.
Edit your draft: Repeat the editing process one or two more times until you're proud to turn your proposal in.
Once you've submitted your business proposal, the requesting organization will evaluate it based on the rubric included in the RFP. A representative may contact you to ask clarifying questions. These questions help the requester create a shortlist of proposals for the negotiation process.
Many organizations conduct "best and final offer" (BAFO) negotiations with one or more potential contractors. If you decide to adjust your offer, consider whether you need to adjust any elements of your proposal to make the new offer workable.
The requesting organization will formally let you know if they've chosen your proposal. Only start the project when you have a signed contract in hand.
What to include in an RFP response
Although requested formatting is part of the standard RFP, most proposals also include the same types of content. Here's what you should plan to include in most cases:
A cover letter: Even if the RFP doesn't request one, a cover letter is standard practice. It introduces your business and summarizes how your bid will solve the client's problem. When written well, it sparks the client's interest.
An executive summary: This section introduces your company and explains how you will help the client achieve its goals. It includes a brief description of your relevant background, including anything you offer that your competitors may not. The executive summary should also mention what your work will achieve for the company, such as "more consistent branding" or "access to new markets."
A breakdown of each deliverable: This will be the most substantial section of your RFP response. It includes a summary of your project strategy and a description of deliverables. Many RFP responses include timelines and the names of staff members involved in each step.
Itemized pricing: If you'd like to offer any optional add-ons, mention them and their pricing here.
An "about us" section: To help the client distinguish your company from the many others applying, offer a brief description of what you do and what makes you unique. 
References (optional unless requested): If you've completed similar projects with measurable results, list those here. Include contact information for each past client so the requester can contact them if necessary.
Ultimately, of course, the requesting organization has the right to decide what you present and how. Check out page 7 of this sample RFP from Chesapeake Bay Trust for an example of a client-required format, which lays out which information the client wants to see and how they want to see it presented.
Best practices for a winning RFP response
Every RFP reaches multiple potential contractors, so it's crucial to put your best foot forward.
Don't rush: It's tempting to demonstrate enthusiasm by being the first one to submit a proposal, but speed is rarely a consideration. 
Do your research: Think of the RFP response as a job interview. Learn as much about the potential client as possible so you can highlight why you're the best choice to help the business achieve its goals.
Be specific: Numbers are more convincing than generalities. Provide details about what you've accomplished for past clients and what you expect this project to look like. Anyone can say they're "committed to completing projects on time and within budget." Only a few, though, can state that, for example, "we have a 98% track record for on-time completion, and our last five projects came under budget by an average of 10%."
Tell stories: Research shows that relatable stories catch people's interest and build trust between listener and teller. Take advantage of his method with a two- or three-sentence story about how you solved a related problem for another client.
Proofread and edit: Spelling and usage errors distract the reader and make the RFP response look less professional. 
Your sample RFP response outline
Using an outline helps you avoid writer's block and get started faster. This outline will provide you with a starting point, but remember that each potential client may have their own preferred format. Always check the original RFP for formatting and content requests before you get started.
Part 1: Cover letter
Date
Decision-Maker Name (may require some research)
Organization Name and Address
Dear [Decision-Maker]:
Describe the potential client's need as you understand it.
Introduce your company. Include one to two sentences about why you're the best choice for this project.
Provide a picture of what the successful partnership will look like, e.g., a revamp of the client's social media strategy resulting in increased web traffic and sales.
Add your signature or the signature of the project lead.
Part 2: Executive summary
Introduce your business and detail your related expertise.
List the results you hope to achieve with the project using bullet points.
Explain why you believe you can achieve these goals.
Part 3: Implementation plan
Introduce your overall plan for the project and direct the client to the list of deliverables below.
Identify each deliverable and describe your approach. If necessary, name the individuals who will be involved and how long each task will take to complete.
Part 4: Partnership summary
Identify the project's primary point of contact
Create a list or table with each deliverable and the associated cost. Group deliverables by service if one cost item includes multiple deliverables.
Part 5: Company description and references
Summarize your business and its background in one paragraph.
Describe similar projects you've completed for other organizations.
If the RFP allows it, consider also adding a contract the potential client can sign and send back to you.
The benefits of proposal software
Now that you understand the basics of RFPs and proposal management, you're ready to respond to any RFP that comes your way. It's even easier to submit an RFP response with online proposal templates in HoneyBook. 
HoneyBook consolidates your proposal documentation with your contract, invoice, and payment so that everything in the project is in one place. Learn more about HoneyBook's proposal software today and get ready for the easiest RFP process possible.