Laura is HoneyBook Pro and helps independent business owners just like you create workflows that convert. Start working with Laura now to get your business organized with workflows and systems.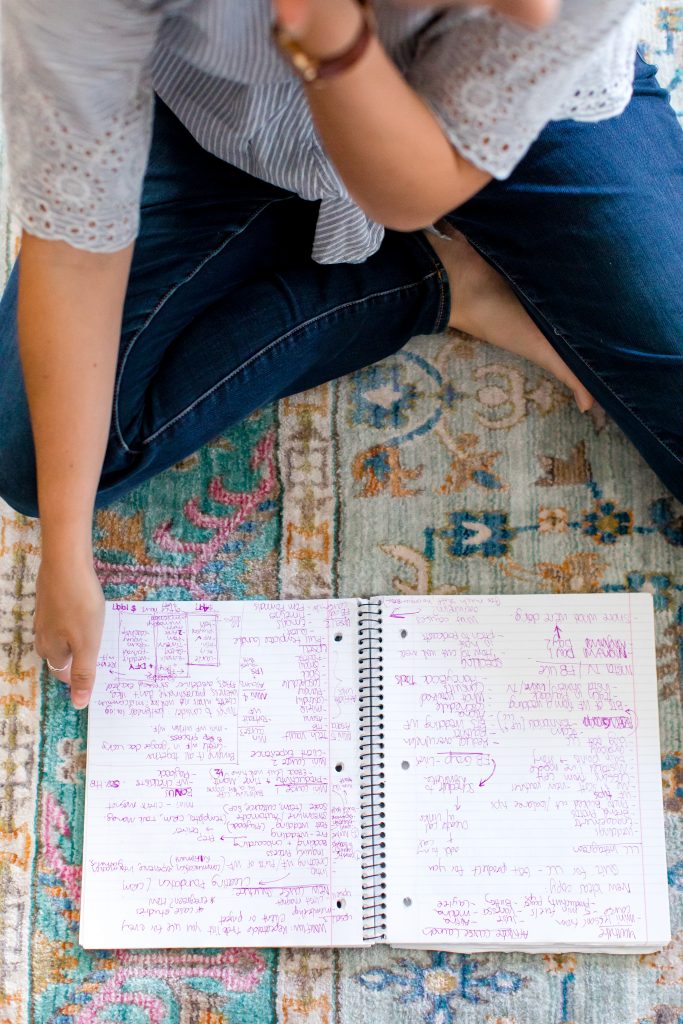 I am so excited to share with you today a bit more about creating workflows for your service based business. I've been teaching workflows and systems to creative entrepreneurs for YEARS now – and this is my absolute JAM.
But first, I want to walk you through an analogy of how (and why) you need to create workflows.
I want you to imagine you're going on vacation. (YAY!)
And you have all these different phases of making that happen. There's the planning phase, the packing phase, the travel day, the vacation itself, the travel home, and the unpacking phase (laundry – BLEH!).
In each phase of your vacation planning (and doing) – you have things that need to get done. Travel that needs to be booked, itineraries and plans to be made, decisions to be made, and more.
Every phase has its own set of things that need to get done (tasks). You need to decide travel dates and when you're going to book by (due dates). You need to decide who's going with you and who's responsible to book things (assignees). You need to figure out how you're getting there (and what the most efficient method of travel is) and you need to figure out what fun things you're going to do to make your trip memorable (adding value to your client experience).
Then – let's assume you come home from the BEST VACATION EVER and your best friend asks you EXACTLY what you did. Where did you eat? Where did you stay? What airline did you take? How many days did you go? What season?
She has so many questions and you don't want her to miss anything important so you write her an itinerary and plan to essentially, replicate your vacation: you give her the packing list, the itinerary, restaurants, travel tips, and more and then SHE goes and has the best vacation ever cause she followed your advice and plan to a T.
This is JUST like creating a workflow for your business. For most businesses, we can create a repeatable system and workflow that we follow for literally every single client. (You'll have different workflows for each service you offer!) but I want you to think of this as your A-Z step-by-step plan for completing a project or service for a client.
You'll have phases of your workflow (the inquiry phase, booking phase, onboarding phase, planning phase, etc.) and you'll have tasks, due dates, assignees, client experience, and more in each phase. Just like you would if you were planning a vacation!
Make sense?? Good!
So if you're new to the concept of workflows, buckle up because they WILL 10000% change your life when done right. So, now that that analogy is out of the way… let's discuss what you need.
The Top Things Every Business Workflow Needs
Let's dive into what makes a GREAT workflow:
It's repeatable across all clients

It's easy to follow for you or someone on your team

It's automated in a client workflow automation software

CRM like

HoneyBook

Which means… based on the due dates you set, it can do almost all the "thinking" for you of what needs to get done for every single project

It allows you to stay consistent with your client experience across every project

It's set up so detailed that it's easy to train someone on + no steps are missed or forgotten

It makes you more efficient (like 10x more efficient)

It's valuable for both you AND your client

It has due dates (that are automated) for every task, email, subtask, questionnaire, and more so you never ever have to think about what to do for a client project ever again
What every workflow needs to include:
Tasks

Subtasks

Due Dates

Assignees (if delegating to others)

Client Education Emails

General (Proactive!) Email Communication

Client Documents (questionnaires, pricing guides, etc.)

Client Gift Reminders

Client Meetings
What Kind of Workflows Should Every Business Have?
Once we know those two basic things, we can talk about the questions I get so often:
"How do I organize my client workflow?"
"Where do I even begin?
So today, I want to tell you exactly how I organize my client workflows!
First, it's important to note that all my client workflows are inside HoneyBook. I have a workflow setup for each different service I offer, and each service has an inquiry workflow, and a booked workflow.
My photography business has the following:
Wedding & Engagement Workflows
Wedding Inquiry

Wedding Workflow (Booked)

Wedding Album Workflow

Engagement Session (No Wedding)

Engagement Session (With Wedding)
Other Photography Workflows
Brand Inquiry

Brand Photography Workflow (Booked)

Portrait Session General (Family, Maternity, Newborn)
Once you know what workflows you need to create, start writing down everything you do from beginning to end of your client journey for EACH ONE. EVERY client touchpoint – from emails to client education to questionnaires to phone calls to meetings to internal tasks to complete your service from A-Z.
I always recommend that you start this off on a Google Doc, and then move into your CRM because you have to first figure out the automation due date on every single email, task, questionnaire, etc. And then you need to create every email, questionnaire, and document. (And thennnnn) you can put it into your CRM.
How to Input Your Workflow into a CRM
Once our Google Doc workflow is created, we can dive into a bit of the workflow creation inside your CRM:
Within a workflow there are four MAIN action items you can do:
(At least, there are 4 in the HoneyBook tool! Every CRM is slightly different.)
Create Tasks

Send Emails

Send Questionnaire

Send Brochures
Each action item has a "trigger."
This is an approval setting and a date of when something should be activated.
These triggers are:
After activating the workflow

Before Project Date

After Project Date

After the previous step is complete
This step is all about actually putting your workflow into your CRM and applying the proper workflow to every single client. Then, you can use the Task Management tool which allows you to do daily check-ins and complete what is due for each and every project in your business.
At a glance, and within minutes, you can send emails that are activated in your task management, send questionnaires with their proper email template, complete tasks outside of HoneyBook, and send Brochures to book your inquiring clients!
It's SO EASY to manage dozens of clients at a time, and I absolutely love the interface and simplicity of it all.
My workflow students have claimed to get more done in ONE DAY than they previously did in THREE WEEKS once they got their workflows set up and automated! HUZZAH!
Workflows are a beast – I literally have an 11 module course teaching workflows so it's more than I could ever write in a blog post, but I hope that this overview has been helpful as you navigate strengthening the foundation of your business to understand a bit of the why AND the how of creating and automating your workflow
For a free workflow workbook, click here! To check out my blog for a lot more workflow magic, visit me here!
---
Ready to automate your business and get quicker wins? Get our Systems, Automations, & Workflows Ultimate Guide.
Plus, 5 more posts you might like: