Using a shared calendar is important for independent businesses with small teams. With the right tool, you can ensure everyone has visibility into your schedule, including your clients.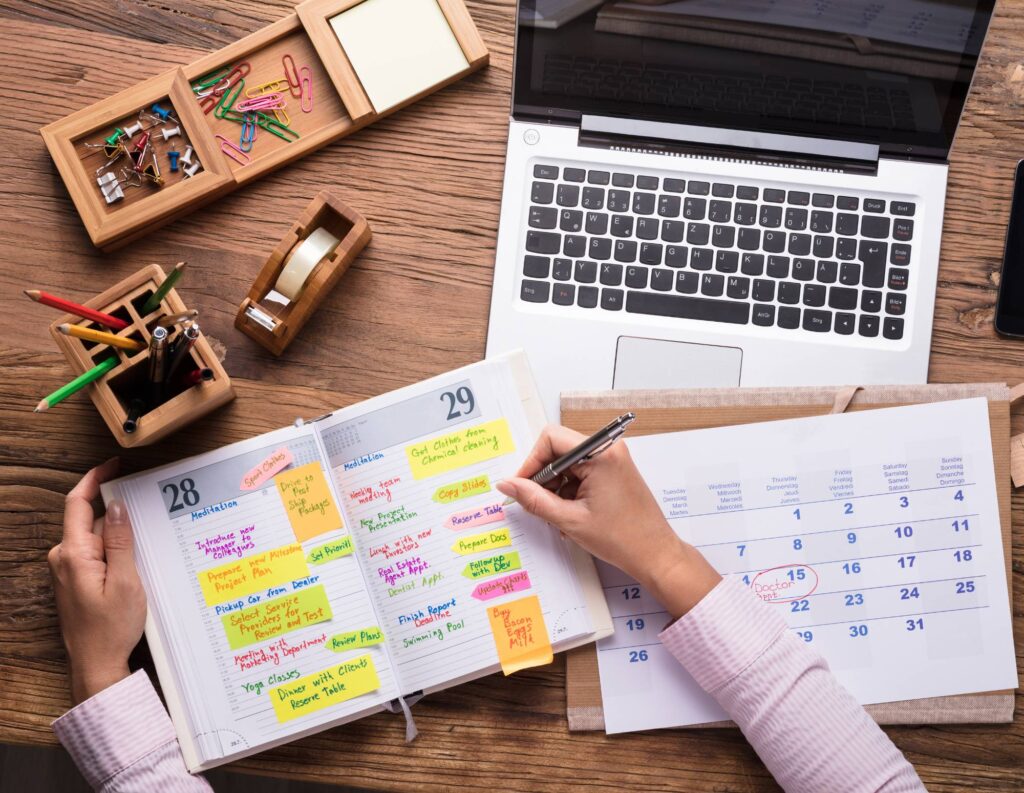 Scheduling is essential, whether your business is a one-person, independent business, or a multinational conglomerate with tens of thousands of employees. It's how you keep track of meetings, events, projects, billing, and much more.
The introduction of innovative technology has produced more ways to manage business scheduling than ever before. One of the most intuitive innovations in the space is the shared calendar app. These tools not only make it easy to manage your schedule, but they also make it possible to share your calendar across your organization and with vendors and clients.
Read on below to learn more about shared calendar apps, why you should use them for your business, and the five best options to choose from.
Jump to:
What are shared calendar apps?
Shared calendar apps are online applications you can access from your computer, smartphone, or another smart device that come with intuitive scheduling features. Unlike traditional calendars, you're able to share these with employees, vendors, and others inside your organization as well as clients, prospects, and others outside of your organization.
Scheduling software makes it easy to show your calendar to anyone and allow them to schedule time with you, whether you offer paid appointments or free client meetings. 
For example, say you're an attorney who needs your clients to be able to book appointments online. A shared calendar app can make that possible by showing your clients when you're already booked and giving them an opportunity to choose an open time slot that works for you and them without having to speak to your receptionist.
Why you should use shared calendar apps
There are several benefits to using shared calendar apps. Some of the most important include:
Manage multiple calendars: Most shared calendar apps give you the ability to create and manage multiple calendars in one place. For instance, you could create individual calendars like project calendars, client meeting calendars, and billing calendars, giving each separate permissions.
Simple sharing: Shared calendar apps are all about sharing your calendars with those who need to see them to avoid problems associated with traditional scheduling. That means you can show your clients when you're in meetings and when you're available, you can show your accounting department when bills are due, and you can show your employees project scheduling, all with the click of a mouse.
Accessibility: Unlike a traditional calendar that lives on your desk in the office, shared calendars are digital. That means you'll be able to access your calendar when you need to, no matter where in the world you might be.
The top 5 shared calendar apps to compare
There are countless shared calendar apps to choose from online, but they're not all equal. Some apps are more expensive than others, while some are completely free to use. Moreover, you may fall in love with a feature available on one shared calendar app and find that it's not available on another app.
Thus, it's important that you compare the different options based on what you need for your business. Below, we've reviewed five of the most popular shared calendar apps online to help with your comparison.
HoneyBook
HoneyBook is a complete clientflow management platform, and with effective client management comes effective scheduling. Naturally, HoneyBook offers one of the most intuitive shared calendar options available online today.
With HoneyBook, much of the scheduling is done automatically for you if you have projects set up on the platform. As soon as you open your calendar, you'll see everything that's going on in your account. That means your calendar is already populated with:
Booked projects: See a calendar showing you important event dates surrounding projects you've got on the books.
Scheduled meetings: See when you have scheduled meetings regardless of whether those meetings are associated with booked projects.
Shared calendars: Share your calendars with your team to ensure everyone is on the same page with scheduling. You can also utilize round-robin scheduling to share the workload easily.
Tentative projects: Keep track of projects that aren't quite on the books yet.
Team projects: These are projects specifically associated with your team within your organization.
Upcoming payments: See when you can expect to receive payments from your current customers.
Beyond automatic population, you can update events, add events, and even share individual calendars with those who need to be able to see them. Moreover, you can give others access to your calendars so they can book time with you, updated project information, and more. If you offer paid sessions or consultations, HoneyBook also lets you accept payment before someone books a session with you.
Beyond its intuitive calendar and scheduling features, HoneyBook offers a wide range of ways to attract, interact, and manage clients. You can even send proposals, accept online payments, and incorporate automation, all from one platform.
Calendly
Calendly is a perfect solution if you're worried about scheduling efficiency within your business. The company's claim to fame is its shared calendar that allows your customers and team members to schedule time slots, avoiding the annoyance of back-and-forth emails to try and find the perfect time to meet.
According to the company's website, its scheduling automation tools have the potential to increase your scheduled meetings with potential clients by more than 200%. Of course, more meetings mean you have the opportunity to produce more revenue.
The platform also integrates with popular business technologies like Zapier, Salesforce, PayPal, and Stripe, making it easy to incorporate Calendly into your day-to-day workflow. The best part is that you'll likely be able to access everything you need for free if you're a sole proprietor, and pricing is fair for larger companies.
Google Calendar
Google Calendar was one of the first shared calendars available online and currently controls more than 27% of the market. The platform makes it easy for you to create multiple calendars, send email invites to others involved in specific events, and share your calendar so your customers, team members, and vendors can book time with you and be confident that you'll be available.
Google Calendar is also 100% free, but there's a catch.
The platform doesn't feature the integrations with outside technologies you'll enjoy with services like HoneyBook and Calendly. Nonetheless, it's a perfect option for small businesses that need an easy, low-cost way to manage bookings, appointments, project deadlines, and billing dates in one place.
Microsoft Outlook
Microsoft Outlook was once the most popular email management system available. Though its popularity has fallen, it's still the first choice among about 4.33% of email users. However, Outlook isn't just an email management system; the platform comes with calendar features as well.
The shared calendar at Microsoft Outlook is comparable to the offering from Google Calendar. You can easily create multiple calendars, share your calendars with people who need to see them, and send invites to schedule meetings as you add them to your calendar.
Unfortunately, it's also similar to Google Calendar in the fact that it doesn't feature much by way of integrations with technologies not related to Microsoft.
Teamup
Teamup is an all-in-one calendar powerhouse. The platform makes it easy to create and share calendars across your organization and outside of it with nine levels of permissions available. It also integrates with popular technologies like Zapier, Slack, and more.
When you create a calendar, it automatically comes with a shareable events page to promote. It also makes scheduling events, meetings, appointments, and projects simple by giving you the ability to schedule each input to multiple individual calendars if necessary.
There is one major drawback to the service. The free option is significantly limited and paid options are expensive. You pay on a per month, per calendar basis. That means if you manage 10 individual calendars, you'll pay between $10 and $105 per month per calendar, which works out to between $100 and $1,005 per month. So, it's a great option if you only manage one or two calendars, but if you manage several, you should consider one of the competitors above.
It's time to upgrade your scheduling & sharing capabilities
It's time to bring your company's scheduling and sharing capabilities to the next level. Compare the options above to find the shared calendar app that fits your business best and see what it can do to help you grow.
If you're looking to connect your scheduling process with the rest of your clientflow, you need an all-in-one clientflow platform. With a system like HoneyBook, you'll have access to even more tools like invoicing, contracts, payment processing, and project management. Accept payment for your sessions or convert leads faster with capabilities that connect with scheduling.