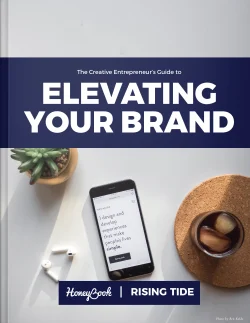 What does elevating your brand mean to you? Maybe you picture a new logo and refreshed brand visuals that set you apart. Maybe you dream of your brand reaching (and booking!) your ideal clients. Or maybe you aren't even sure what you could do to elevate your brand as it stands today. If you're ready to take your small business branding to the next level, this guide can help you get there.
This month's guide shares:
How can I elevate my brand as a small business owner?
Remember: small business branding is more than just a logo.
It's common that we think a new logo is the be-all-end-all for branding. However, a logo is just one tiny element of an entire brand. In fact, a logo is just one tiny element of the visual portion of branding. Beyond that there is how you present yourself in person and online, messaging, copywriting, social media, the list goes on and on. It can feel overwhelming to tackle every element right away, so take each one step by step with the goal of ensuring long term that each element aligns. Learn more about that with the worksheet's from Emilie in the guide! 
Build a brand for your ideal client:
You may remember those early days of starting a business… where you throw anything at the wall to see what might stick. You likely landed at something that resembled the brand you'd been dreaming of. But did you evaluate your goals and your definition of success and align them with your ideal client's goals and needs.
When elevating your brand to the next level, focus on your ideal client. Assess their needs, wants, desires, and pain points. By building a brand around your ideal client, you'll take the original version of your business and elevate it to fit exactly the person you're hoping to connect with and serve. Every touchpoint should speak to that ideal client. From the elevated client experience (learn more from Jasmine in the guide) to the power of print materials (learn more from AnnaKate in the guide), you have endless potential to uplevel your brand in a way that connects and books consistently.
Revisit your brand often:
Finally, branding is ever-changing. Make the goal to revisit your brand, messaging, and visuals and determine if they aligns with your goals and ideal client at least twice per year, or every time you add a new product or service. Consistency is key, so ensure that all elements communicate well and elevate the experience.
Disclaimer: The advice featured in this guide and on the blog was sourced from our community members for sharing general information and knowledge. For specific legal, financial, tax, mental health and professional advice, please consult an authorized professional.