You've cleaned out your car, donated your out-of-date duds, and washed your windows. Before you check off spring cleaning from your list, have you thought about cleaning up your business? It's one place many don't think to check for clutter. As we all know, clutter can grow quietly and quickly, taking on a life of its own. For some, it can be everywhere, from our office to our mental space. And it's not as harmless as you might think.
The problem with clutter
Clutter can:
Prevent you from taking action. A recent study published in Current Psychology found a substantial link between clutter problems and procrastination across all ages.
Give you a case of the blahs. In the same study, clutter problems among older adults were associated with life dissatisfaction.
Lead to weight gain. Clutter can increase our bodies' levels of cortisol, a stress hormone, that leads to a "higher appetite for junk food."
The findings, according to the New York Times, add to a growing body of evidence that clutter can negatively impact mental well-being, particularly among women.
Mental clutter
Similarly, research by University of Toronto's Lynn Hasher proposes that "mental clutter," a state of mind in which our brains are clogged up with too much irrelevant information, leads us to be slower and less efficient in processing information.
Not sure if you have mental clutter? Ask yourself the following questions:
Do you have a running to-do list in your head?
Do you often forget one of the 10 different logins you have for your myriad business systems?
Do you spend too much time searching through your email for a document you know your client sent but you can never find?
If you answered yes to any of the above, it's time to streamline.
Ready to de-clutter?
Clearly, cutting through the clutter can benefit your physical health, cognitive abilities and mental health. Using a small business management platform like HoneyBook can help you manage your business in one place with to-do lists for every project. Online proposals, brochures and online invoices keep your operations running smoothly. HoneyBook takes all the information you carry around in your head and organizes it, freeing up your mental space so you can do other things.
As event planner Marley Majcher says, "The opposite of joy is nagging loose ends that tie you up in knots, keeping you from doing what you love. UGH. I LOVE creating magical events, I do NOT love unnecessary admin work and sales steps. Thanks to HoneyBook's new brochure features, we're fine tuning our sales engine so it can run as seamlessly as possible!"
10 ways to clean up your business clutter
If you need more ideas on how to clean up this spring, check out our community's spring cleaning plans for inspiration.
Organize your business with HoneyBook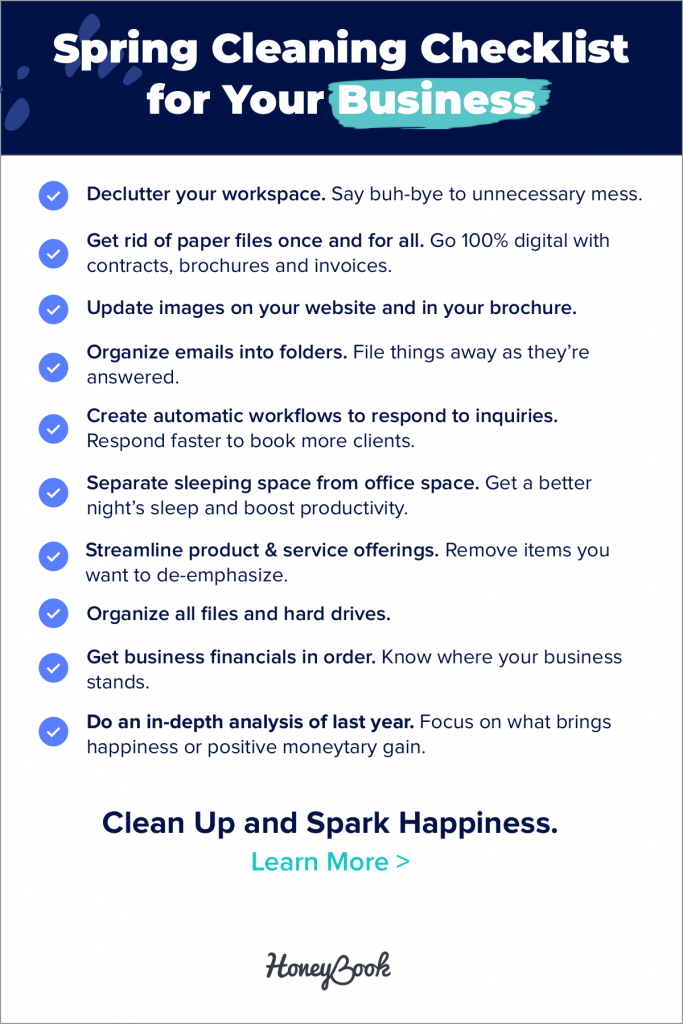 Clean up, spark happiness
Physical and mental clutter take more of a toll on your health, business and productivity than you might think. Clean up by identifying specific areas in your life to organize and make an action plan. And streamline your business with business management tools like HoneyBook to free up precious mental space.