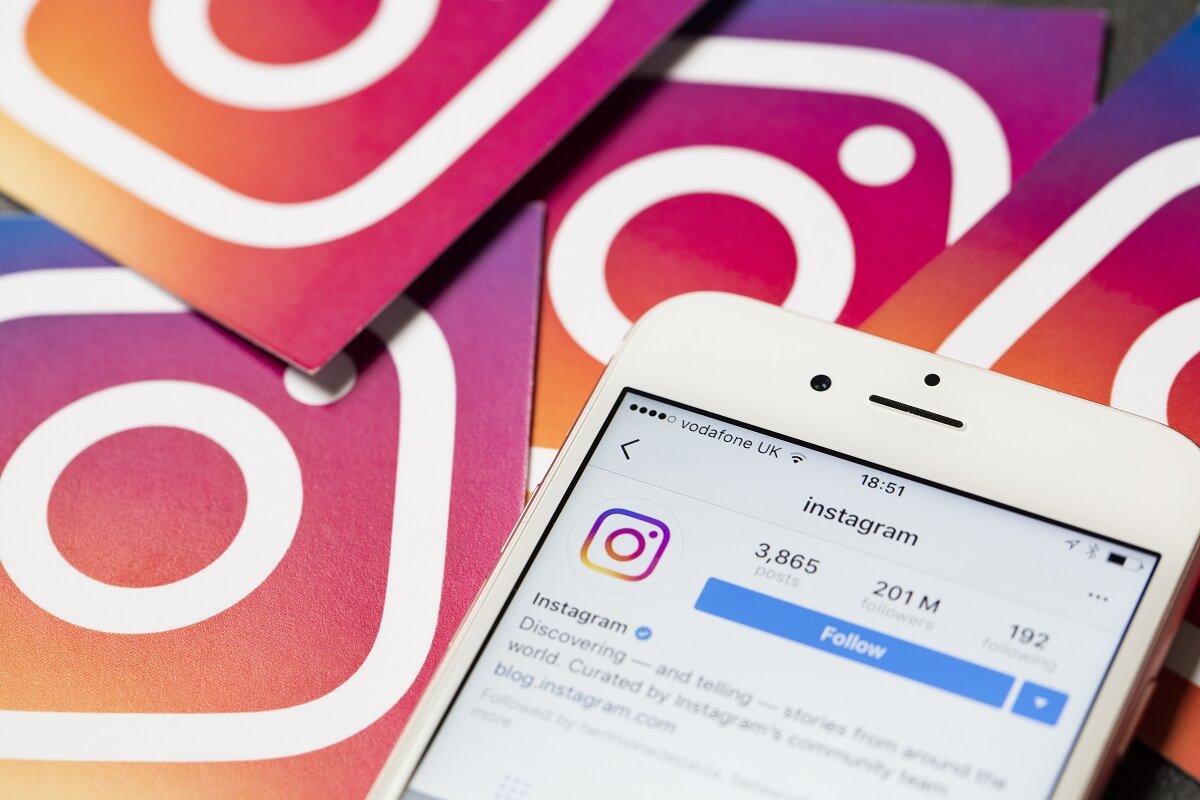 By now, you know that Instagram is an incredible tool for marketing your creative business.
Creatives have the ability to showcase their work, define their aesthetic, build an audience,  network with colleagues, generate leads, and develop unique marketing strategies to meet their business objectives.
Any strong Instagram strategy requires daily posts and Stories that showcase the best of what you have to offer.
But it can be tough to post great Insta content on a daily basis—especially if you're successful at keeping busy with your work. Nobody wants to be using their lunch break to try to crank out a few posts.
One way to keep your Instagram content fresh on a daily basis is to pre-schedule your posts. By scheduling your posts in bulk a week or two at a time, you can make sure your content pipeline stays full without having to dedicate time to Instagram every single day.
Of course, running an Instagram account requires daily check-ins as well when it comes to engagement with your audience, but scheduling your posts can help you start conversations without having to sit there editing posts all day.
In addition to Facebook's Creator Studio (Facebook's native scheduling tool that connects to Instagram), there are tons of apps out there to make it super easy to schedule Instagram content.
Here's an overview of the best five Instagram scheduling apps to help you choose the platform that's right for you. In this post, we'll review:
Facebook Creator Studio
Later
Sendible
Buffer
Sprout Social
Do you use any of the apps or tools below? Did we miss any great apps? Let us know your thoughts in the comments section below.
1. Facebook/Instagram Creator Studio
Facebook Creator Studio is Facebook and Instagram's native scheduling program for desktop and mobile. It allows you to manage and schedule your Facebook and Instagram content in one place. It was originally launched in 2017 for Facebook and was expanded to include Instagram in 2020.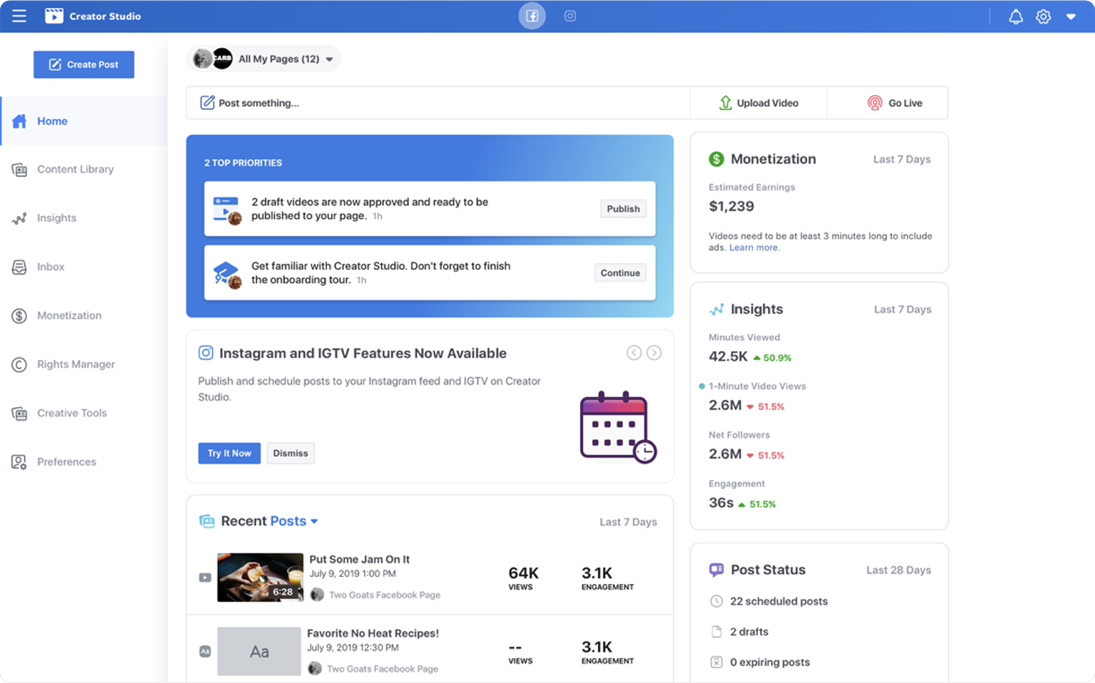 What makes Facebook Creator Studio different from other schedulers?
Because Facebook Creator Studio is Facebook's native platform, it's easy to connect to your Instagram and Facebook pages. However, it's limited in that sense, as it doesn't allow you to schedule content to your other social media profiles as well.
What makes Creator Studio stand out from other scheduling platforms is its monetization features. The majority of small businesses don't need to worry about monetization, but if you get lots of video views, you can consider monetizing through in-stream ads, brand collaborations, or fan subscriptions.
Why do we love Facebook Creator Studio?
The Creator Studio app for Android and iOS is a step up from the Facebook and Instagram apps, as they allow you to schedule posts from your phone. However, the features of the app are limited beyond that.
How much does Facebook Creator Studio cost?
Because it's part of Facebook's platform itself, Facebook Creator Studio is free! This makes it an attractive option if you don't need any advanced features and you're just looking to schedule the occasional post.
2. Later
Later is branded as "the world's favorite Instagram marketing platform". Later was founded in Vancouver, Canada as Latergramme in 2014 and rebranded to Later in 2019. It's an all-in-one social media marketing platform that allows you to plan, analyze, and publish Instagram content in one place.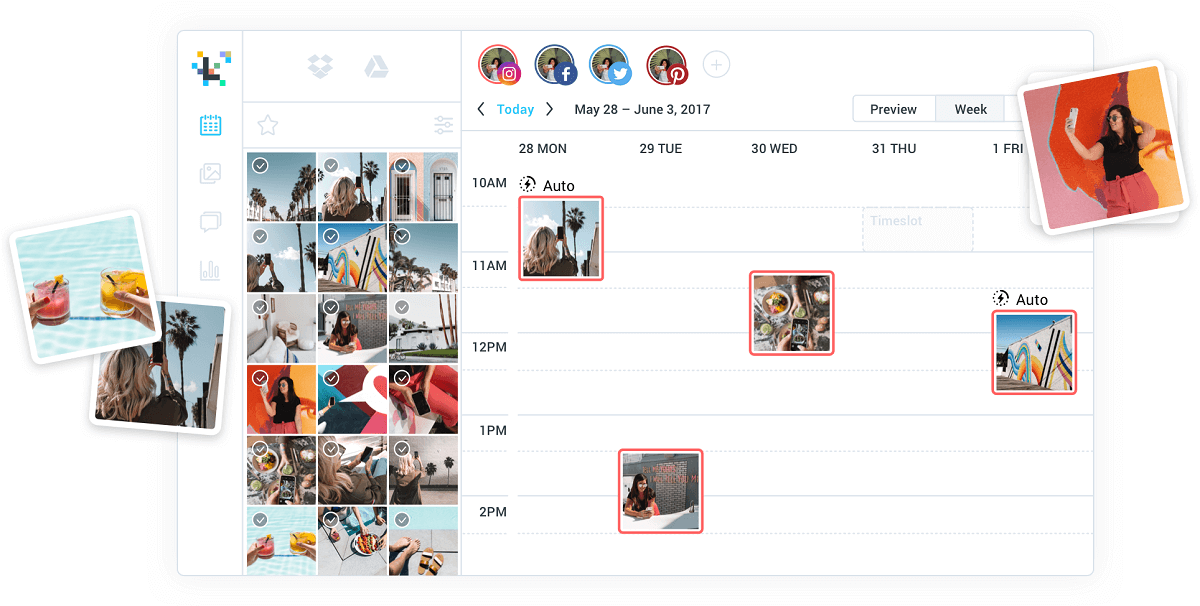 What makes Later different from other schedulers?
Because Later has been around for so long, it has gained the trust and loyalty of many social media savvy folks. As a result, they're able to keep investing back into their tool to give it amazing features that keep it one step ahead of other tools.
Why do we love Later?
Later has an amazing drag-and-drop planner that gives you a super visual preview of all your scheduled posts, including a preview of your post grid and visual indicators of the best time to post.
Later also offers hashtag suggestions based on other hashtags you've used previously. The Linkin.bio add-on is a nice touch, which allows you to automate the updating of your bio link.
How much does Later cost?
As of 2021, Later's free plan comes with 30 photo posts per social profile per month, including one profile on Instagram, Facebook, Twitter, Pinterest, TikTok, and LinkedIn. The free plan also includes access to Linkin.bio, unlimited media uploads, Instagram Analytics, and more. If you need more than 30 posts per profile per month, or you need multiple user logins, plans start at $12.50/mo.
3. Sendible
Sendible is another Instagram scheduling tool that allows you to manage all your social media accounts in one place. It's more aimed at marketing agencies than some of the other tools on this list, but it does have features that make it a great time-saving tool for individual creators too.
What makes Sendible different from other schedulers?
Sendible has tons of options when it comes to choosing how to schedule posts on Instagram, Facebook, Twitter, LinkedIn, Google My Business, YouTube, and Pinterest. You can schedule posts individually, in a queue, in bulk, or from a calendar view.
Sendible also has lots of integrations with other third-party platforms, including Canva, Google Drive, YouTube, and Dropbox, which makes it really easy to pull in content from other sources.
Why do we love Sendible?
The coolest Sendible feature is an integration with Canva that allows you to design post graphics right from within Sendible. The designs you create are pulled directly into your post schedule, so you don't have to hop around from browser tab to browser tab, saving and exporting files.
Also, data is everything when it comes to social media. Sendible includes convenient one-click reports that are connected to your website's Google Analytics profile so that you can easily track the success of your social campaigns.
How much does Sendible cost?
Because Sendible is more aimed at marketing agencies, it doesn't have a free plan outside of a free 14-day trial. Sendible's most basic "Creator" plan costs $29/mo and includes 6 social profiles for 1 user. Their other plans are $89/mo and up.
4. Buffer
Buffer is another mainstay on the social media scheduling tool market. It has publishing, analytics, and engagement tools that make it easy to manage your Instagram and other social accounts in one place.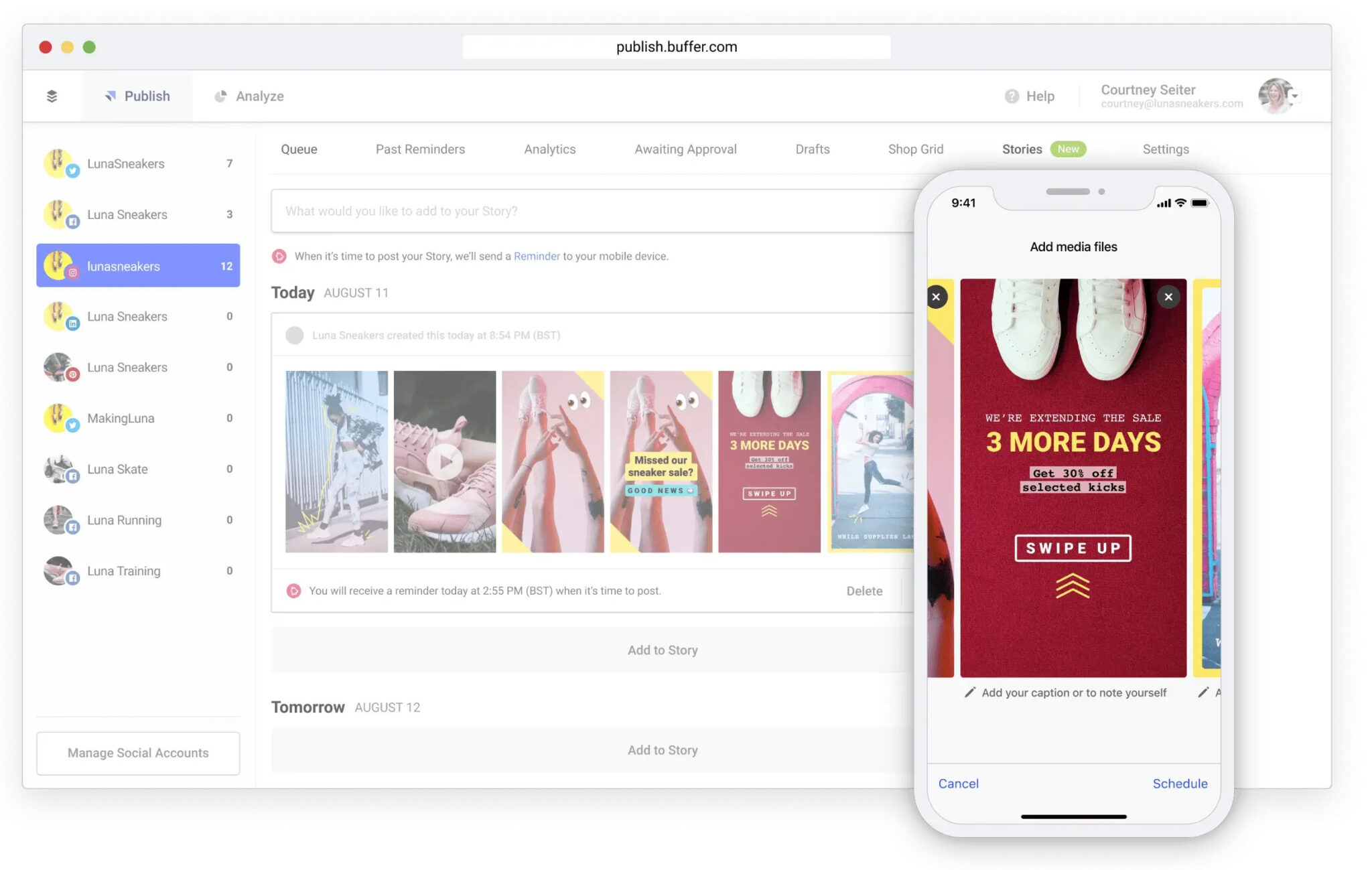 What makes Buffer different from other schedulers?
Buffer has lots of specific features for Instagram, including scheduling for Stories on both web or mobile. This includes a "Shop Grid" feature that allows you to use your bio link to send your customers to a shoppable grid with multiple links. This is great if you have an ecommerce shop.
They also have a "first comment" feature that allows you schedule a first comment on each of your posts. This allows you to bury hashtags in the first comment rather than in the body of the post.
Buffer also has a hashtag manager that allows you to insert premade groups of hashtags into posts. This is another huge time saver.
Why do we love Buffer?
Buffer has a mobile app for iOS and Android, which is awesome if you want to schedule your content more easily from your phone. This is great because it stops you from having to first upload pictures from your phone to your computer.
How much does Buffer cost?
Buffer's most basic publishing tools are free, giving you 10 scheduled posts per month on up to 3 channels. Their Pro plan allows you to schedule up to 100 posts per month on 8 channels for $15/mo (including a 14-day free trial). Their multi-user plans start at $65/mo.
5. Sprout Social
Sprout Social is the last Instagram scheduling tool on our list. Sprout Social is a robust publishing, engagement, analytics, and social listening tool that works across Instagram, Facebook, LinkedIn, Pinterest, Twitter, and YouTube.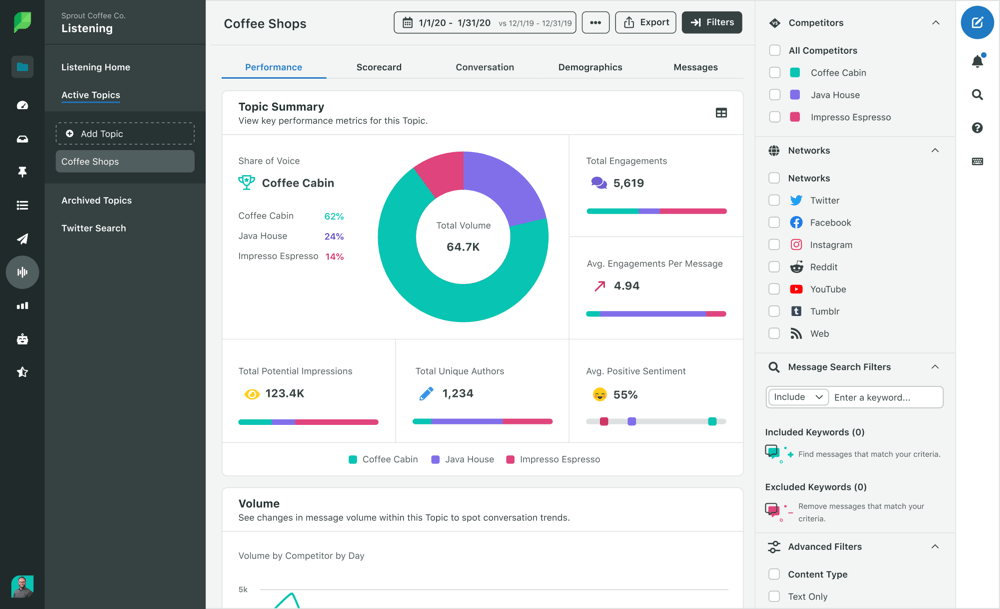 What makes Sprout Social different from other schedulers?
On top of having all the core scheduling features, such as a visual calendar, Sprout Social also has really robust social listening capabilities. These can help you monitor hashtags and conversations about your industry on various platforms like Reddit or popular blogs. This can also help you track the performance of your competitors and unlock insights from their marketing campaigns.
Why do we love Sprout Social?
Sprout Social allows you to store, edit, and publish images from a centralized library. This makes it incredibly easy to manage your visual assets and pop them into your social schedule.
Sprout Social also has a mobile app that allows you to publish Instagram content from any device, making it a pretty robust tool for any situation.
Their engagement tools also make it easy to reply to social media comments and reviews from one dashboard.
How much does Sprout Social cost?
Sprout Social is on the pricier side, starting at $99/mo for a single user. It's pricier than other tools on this list because it has many features beyond scheduling. If you're just looking for a simple scheduling tool, this isn't the tool for you.
Supercharge Your Instagram Strategy
Want more Instagram tips like this? Get our ultimate guide on how to use Instagram for business. Learn more and grow your business with HoneyBook's all-in-one marketing consultant software.