In light of the pandemic, many members have pivoted so successfully that their new services will become a permanent part of their businesses. In our Business Pivot series, they share how they did it so others can also build more diversified businesses to better sustain volatility.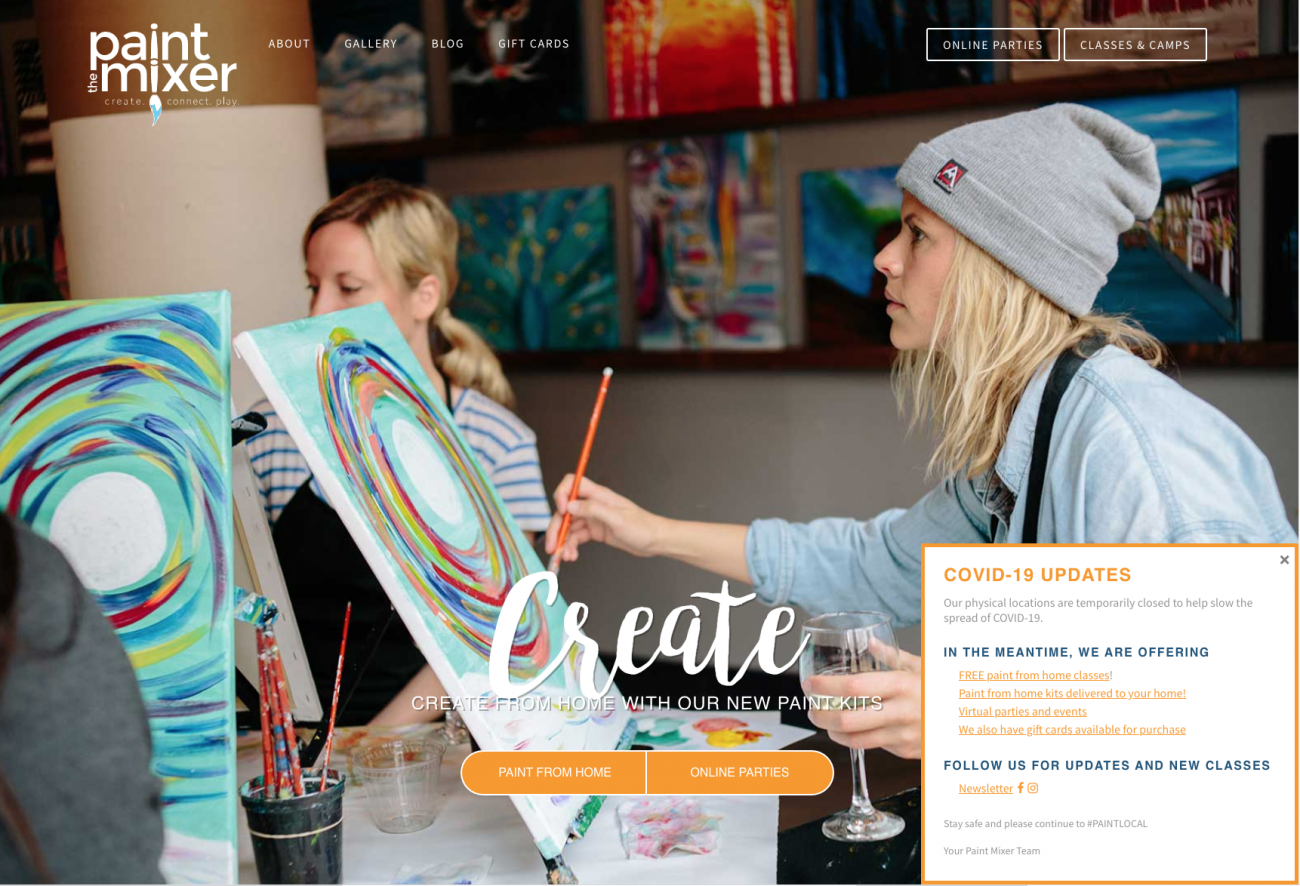 Next up in our Business Pivots series is Jill Johnson, owner of The Paint Mixer that offers painting parties and creative adventures.
How did you pivot your business in light of coronavirus?
Our pivot happened pretty quickly. I knew as soon as our surrounding counties started to mandate closure that the business would be in trouble if I didn't try something. After a good cry (and a glass of whiskey), I met with my team to talk ideas and short-term solutions.
I looked around the studio and decided to use what we had. We offer painting parties and creative adventures. With the stock in our studios I took photos of what could be a potential "create at home kit," We did a soft roll out with our mailing list to see if there was any interest, and there was!
How are you monetizing it?
We created a few to-go-kit options. The kits are available for purchase on our website. We provide free content to help drive kit sales and also support our guests that have been supportive for years. In addition, we have private parties via Zoom for team building, social hours, and birthday parties, which allow for more purchases.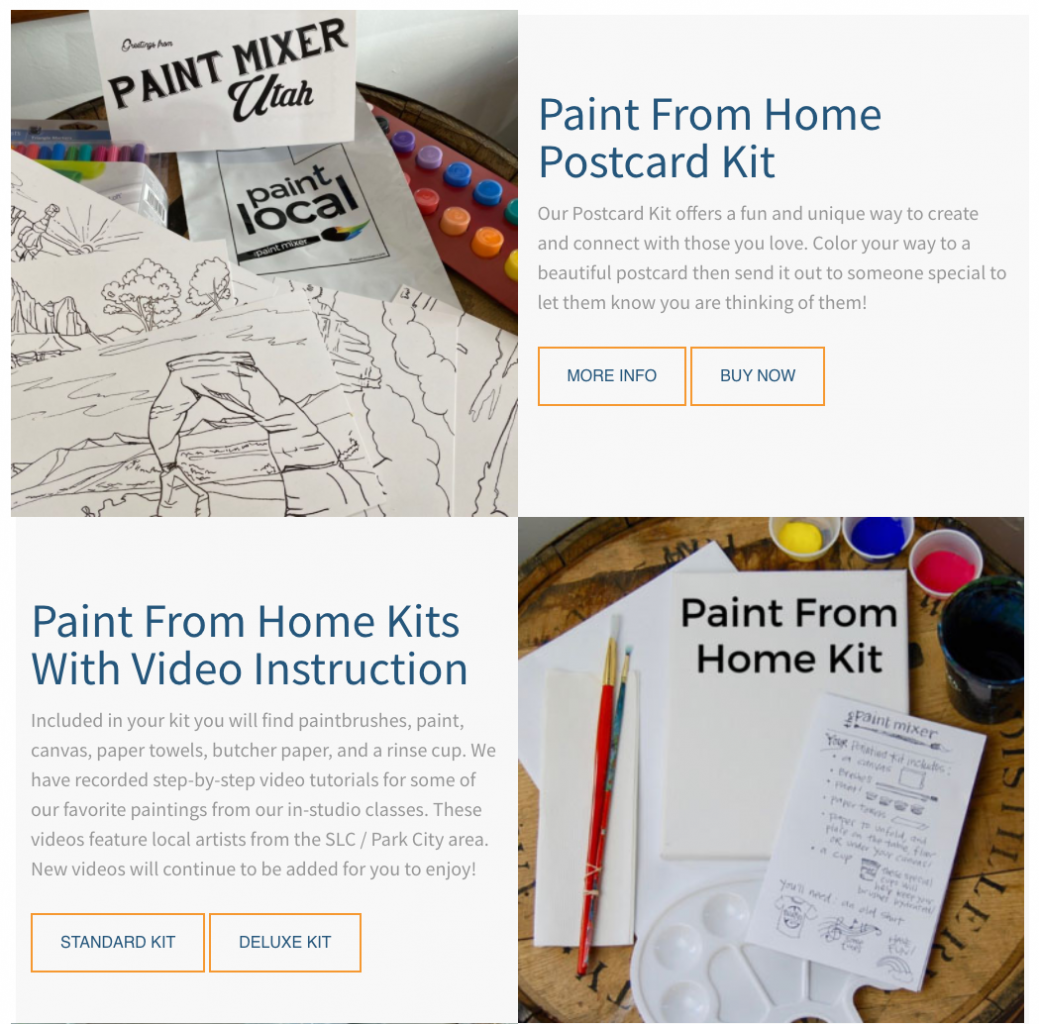 We created a few to-go-kit options. In addition, we have private parties via Zoom for team building, social hours and birthday parties.
How and where are you marketing it?
We began with our newsletter list on Mailchimp, and posted on our social media channels, Facebook and Instagram. Our message is to bring the studio to our guests homes. Our kits are a glimpse of our in-studio experience and include all that would be needed to be successful, have fun and allow for easy clean-up.
This is our messaging:
The​ spread of COVID-19 has taken a toll on our community and, for the time being, many of us are spending our time at home. This doesn't mean the creative fun has to stop! We have put together some brand new artistic experiences that can be delivered straight to your front door.
Our brand new Paint From Home Kits are designed to ease your stress and bring creative joy back into you and your loved ones' lives (even while stuck at home!). These kits are perfect for all ages and abilities and provide everything you need to create something special!
How are you managing that business logistically?
We have two channels:
Online orders direct from our website.
Private parties and specialized events that are planned and booked on HoneyBook.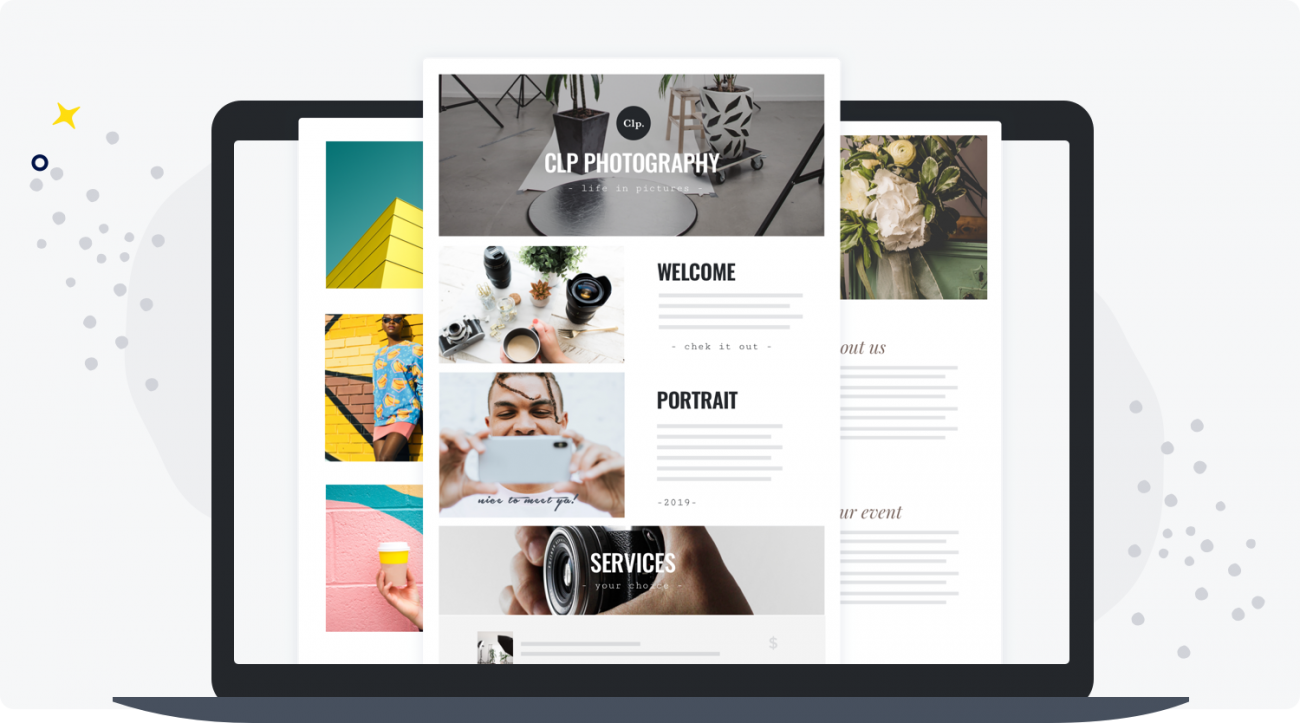 HoneyBook always provides the platform for our more hands-on events that require special features. HoneyBook also allowed us to pivot quickly with the customizable brochures and the ability to access our customer data to contact them with new creative options.
What has the response been like?
Very positive. As a business, we still have a big hill to climb with our store fronts closed and our events on hold. However, there is cash flow, which had ceased in mid-March. Our clients are loving the experience and are very grateful. I receive emails and texts, as well as social media posts daily, and it is inspiring.
How did you decide to keep this offering in your business permanently?
We absolutely will continue this offering. I think our business is forever changed. This will allow us to reach people beyond our zip codes. It will also allow us to create more classes that people can join virtually. I don't think this is a short-term solution at all, but an entirely new direction that we have to take.
I don't think this is a short-term solution at all, but an entirely new direction that we have to take.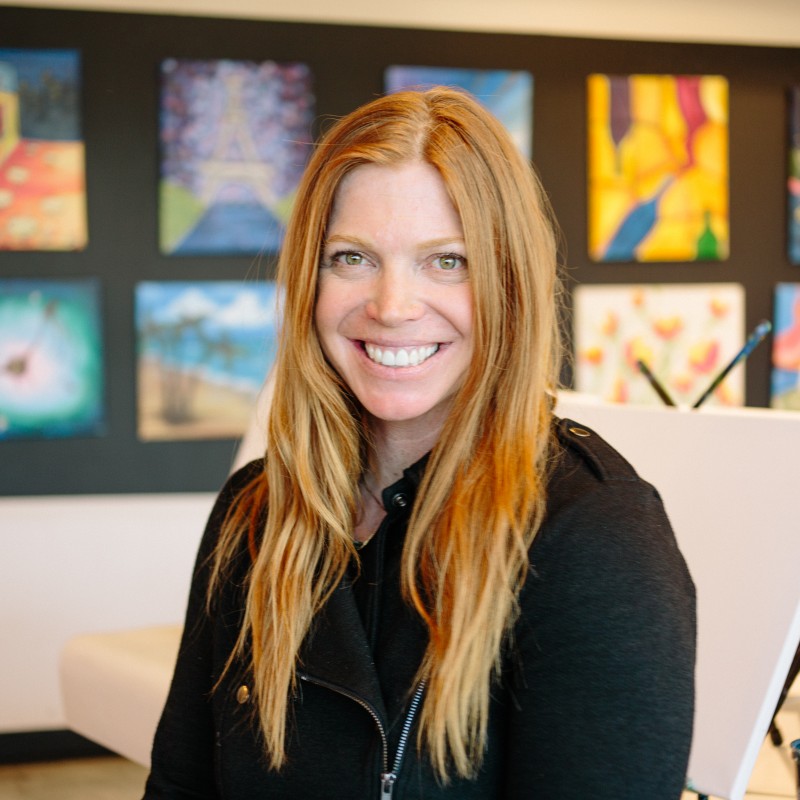 Is there anything you plan to change about your business once the pandemic is over?
Yes. I will most likely move to a predominantly mobile business. Our store front in one location will not be necessary and will help reduce overhead, which is very important for the longevity of the business. I will continue to refine our mobile options, our delivery system, kit creation and online offerings.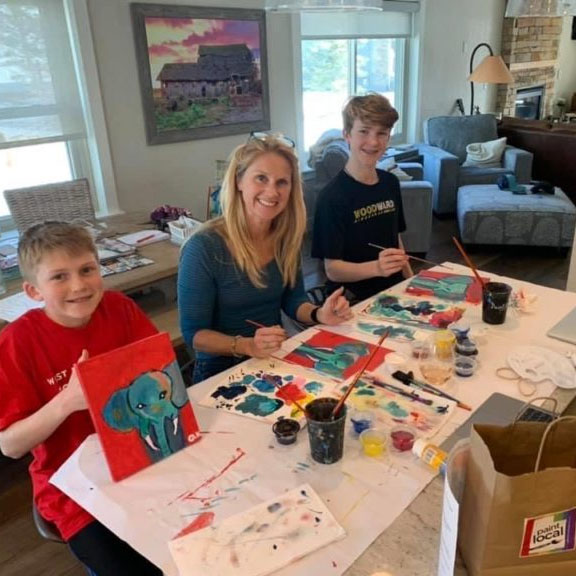 How can people replicate your success?
Look around at what you have, and start there. I began with all the product on hand. The first round was "vintage" kits, that included our brushes and cups that we use in the studio. I took stock of what we had and created from there. No overhead.
What experience do you offer? What makes you different? For us, we bring creativity to all ages and abilities. We create fun, accessible experiences with fun and approachable teachers and methods. We host creative adventures and we love sharing creativity and play.
Package it! Take out the guesswork for your guests. We created an insert that included all the kits' contents, what they would need, tips and tricks and inspiration.
Monetize – don't be afraid to charge. Figure out what your costs are… and don't forget to factor in your time.
Do a soft trial. Don't spend energy building it. Create one, take a photo and try it with your current list. Then, when demand is apparent, build like crazy.
Market – use all your channels. Make it fun, make it accessible and make it easy for your clients to buy. Keep it simple.
Refine. With each round, each experience, we refine. We exhausted our in-studio resources and are now purchasing new materials. With each round, I learn about pricing, packaging and what our clients like and don't like.
Ask for feedback. The first 6 weeks I hand delivered every package in the neighboring areas. I would text when I dropped off from my cell and let them know it was outside and that I would love feedback. This touch allowed direct contact with every consumer.
Know that you will mess up. That mistakes happen. That it will not be perfect. But, that is okay! Roll with it and be gentle on yourself. One task at a time. It is crazy overwhelming to pivot and have a list that seems to grow by the second. There is tomorrow and it will not get done in one day. (This is what I tell myself on minute by minute basis.)
It will be a solo show at the beginning, but keep your team in the loop. If you have employees, let them know what you are doing. Communicate, survey, share and most importantly, listen. Collaboration is key. And when the cash flow allows, bring them back and finally delegate!
Thanks, Jill!
More Resources
HoneyBook, the best crm for solopreneurs, streamlines everything you need to manage your business into one place. Manage projects, book clients, send an online invoice and get paid through our online payment software. Now peace of mind comes with just one login.