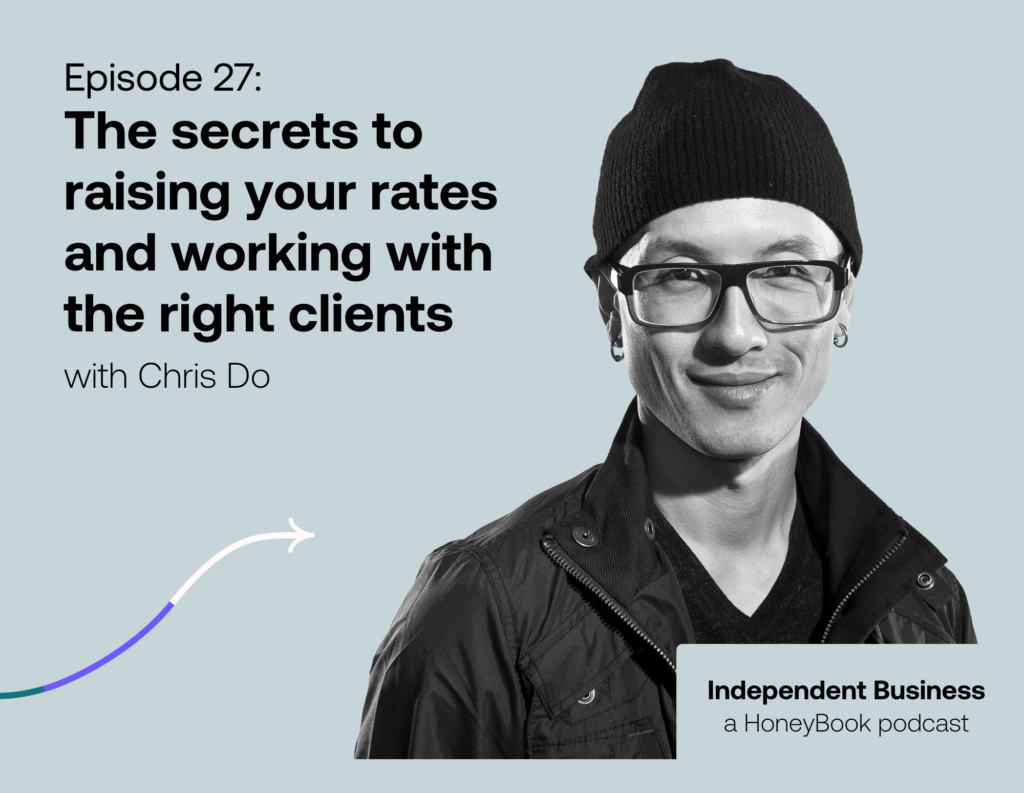 One of the most critical components of running a successful independent business is sales. You're constantly trying to determine how to book your next client and do it strategically so that you're only working with the right clients.
Today's guest, Chris Do, is an Emmy award-winning designer, director, CEO, and the founder of The Futur, an online education platform set to support one billion entrepreneurs in the pursuit of doing what they love. In today's episode, we explore how to determine your rates, select the right clients to work with, and cultivate community.
The Independent Business podcast is powered by HoneyBook, the all-in-one platform for anyone with clients. Book clients, manage projects, get paid faster, and have business flow your way with HoneyBook. Use the code PODCAST to get 20% off your first year as a new member.
Follow the Independent Business podcast
Asking better questions to determine your rates
Creative entrepreneurs often struggle with an internal conflict when it comes to how much they should charge for their products and services. The truth is that what you should charge should vary by project and client, and how you determine your rate starts with asking better questions.
You need to get curious about your client's problems and the solutions you can provide for them. Start by asking them about their goals, objectives, and the pain points that are keeping them from achieving them. Asking the right questions will help you uncover how you can meet this client's needs, what it will require of you, and whether or not you are the right fit for the job.
What to do when a client isn't right for you
It can be scary to turn away a client, but it is a scarcity mindset that leads you to believe you won't get another client if you turn this one away. It's better to be honest with them when you think you are not right for the job and cannot solve their problems.
You can still gain their trust by referring them to someone else. That trust will encourage them to come back to you when they have a job that's a better fit for you.
Referring clients to other independent business owners will also build a community of colleagues who support each other instead of treating each other like competition. When you let go of the scarcity mindset and lean into the joy of service, you will build better long-term relationships with clients and colleagues.
How to cultivate community
If you want to be in a community of generous and gracious entrepreneurs, it starts with you becoming generous and gracious. It's easy to look sideways at your "competition" or look up at the people who are more successful than you, but it's uncommon to look down at the people coming behind you.
Lending a hand to the independent business owners who are a few steps behind you will cultivate a community that emphasizes the joy of service. The energy that you radiate out will come back to you, and you will start to attract others who will want to help you out as well.
How to know when it's time to raise your rates
Did you know that women entrepreneurs often charge less than their male counterparts for the same work and experience level? Many people, both men and women, struggle to put numbers behind their work and stand by those numbers.
If clients instantly agree to your rates without any friction or pushback, your rates are too low. If you get three "yeses," it's time to raise your rates.
The goal is to work with clients who value their time and the fact that you can give them their time back by doing the work for them. Do not assume that they aren't willing to pay good money to buy back their time.
There are different types of rates you can charge, including:
An hourly rate
Flat fixed fee
Value-based pricing
Performance-based percentage
The best way to guarantee a stable income is to diversify the type of rate you charge instead of only relying on one method.
The biggest mistakes business owners are making in 2023
Chasing new clients instead of better servicing the clients you already have
Not being clear on what you do, which leads you to offer too many services and confusing your clients
Not marketing your services well and expecting clients to come to you
The biggest challenges business owners will face in 2024
Competition will get tougher, which means you have to specialize in something and position yourself as different and unique from others doing the same thing
Overcoming fear of AI tools and incorporating them into your business
The biggest differentiator between the businesses that succeed and the ones that fail
Chris believes that the business owners who succeed are focused and do not give into shiny object syndrome. They are committed to finding joy in the difficult moments, being kind to themselves when they fail, and using failures are opportunities for growth.
Important sections of the conversation:
[2:13] How to determine what to charge for your services
[9:53] What to do when you aren't the right fit for a client
[14:58] How to cultivate community
[19:27] How to know when it's time to raise your rates
[30:24] Common mistakes business owners are making in 2023
[35:30] The biggest challenges business owners will face in 2024
[43:21] The biggest differentiator between the businesses that succeed and the ones that fail
Mentioned in this episode:
Pricing Study by Honeybook
Connect with the guest