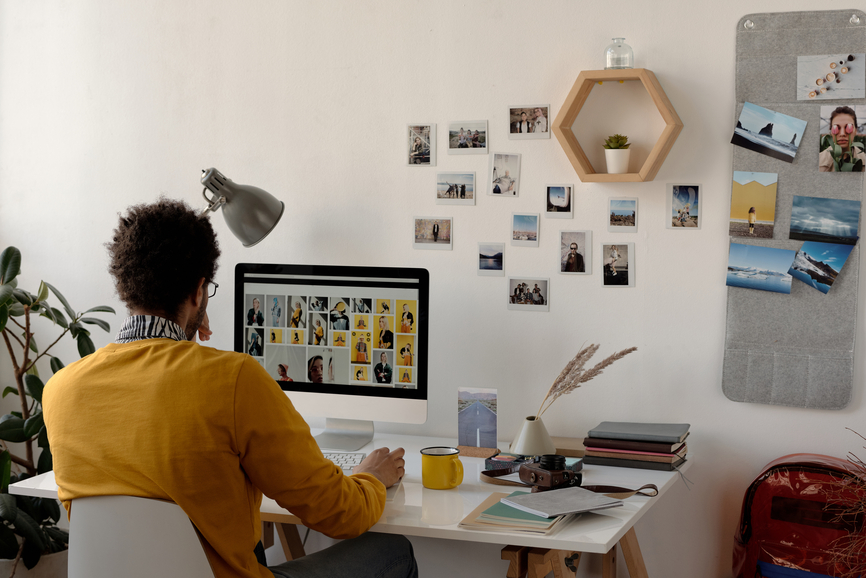 As creative entrepreneurs, it's important to find ways to help you thrive when you work from home. Your career depends on it. And I've learned over the years about the importance of making working-from-home work for you.
Years ago, for five years, I led a team of creatives on an in-house team. It was a very demanding and fun job, often working 50-60 hours AND weekends. Finding myself again and balance was the goal when I left that job. I wanted to start a business on my own, but I took a new job opportunity that fell into my lap. Leading an agency design team remotely and often traveling to meet clients was next. It once again ended up being LONG work-weeks, but I was working from home!
My Work from Home Experience
I had to find a new normal. I still worked many hours, stopped working out, had a terrible desk set-up and realized the health of my back was dwindling. It was the kind of job where I felt that as soon as I would wake up, I had to immediately check my emails and log onto Slack. I was working well into the night. I never found the balance that I was dreaming of.
My back got worse and after a year, I chose to put myself first. I took a slow year, at my own pace to rehabilitate my back and figure out what I wanted for my business. Now, I haven't looked back. I found the balance I've wanted, I am my own boss and I've been able to curate my clientele. Plus, I even have the freedom to take breaks!
AS A RESULT, I'VE CREATED A FEW TIPS BELOW BASED ON WHAT I'VE LEARNED FROM MY TRANSITION FROM WORKING IN-HOUSE TO WORKING IN THE HOUSE.
HA, SEE WHAT I DID THERE?! #DADJOKE
How to Thrive when You Work from Home
1. It's a mindset.
CREATE A MORNING ROUTINE
Take time to enjoy your morning. There's nothing worse than the feeling of waking up to your phone blowing up with emails and texts. Start your day with peace and clarity. Whether it's going for a walk, meditating, working out, or simply just eating cereal in silence. As a result, you'll start your workday much more refreshed.
CHANGE OUT OF YOUR PAJAMAS
People always joke with me that I have the luxury of working from home in my PJs. Well, surprise… I've learned that the days I would stay in my PJs were days I felt lazier and unproductive. I'd talk myself into taking a nap or working in bed. The mind is powerful! However, it's a mindset; trick yourself that you are getting ready for work. As a woman, putting a bra on is a game-changer! Suddenly you're out of comfort and into day-mode. Get a pair of jeans on and a Tshirt, it's way better than working in sweats.
IF YOU CAN, SEPARATE YOUR DESK FROM THE BEDROOM
I know this may be difficult for some people, but if you can, I recommend separating your desk from the bedroom. A great modification would be to work on a dining or kitchen table. Or, get a small desk and put it in your living room. Anything will be better than sitting in your bedroom! I am a big believer in shifting your mindset. Your bedroom should be reserved for a place of rest and relaxation, not work.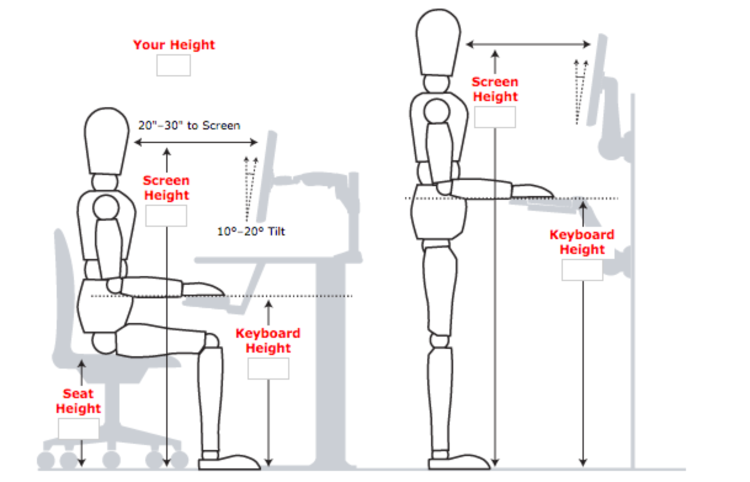 OPTIMIZE YOUR DESK SET-UP
Well friends, I'm marrying a Physical Therapist. So, here's the PT wife talking here: Your posture will get neglected when you work from home! It's so easy to sit on the couch or bed and slouch, slouch, slouch. Remember that back injury I had? If I could go back in time, I wish I took the measures I do now. It's better to be proactive rather than reactive to the back problems you'll have later. Make sure you take ample breaks, and check your posture while you're working.
Proper Desk Setup for Work From Home
For reference, here's a good diagram of what proper desk set up should look like. On top of that, a standing desk is a GREAT idea. Sitting is the new smoking, folks! Another thing that has helped me is an UPRIGHT GO – it's a little gadget that sticks on your back and vibrates to alert me every time I slouch! (Have you adjusted your posture yet while reading this post ?)
2. Combat Loneliness to Excel when You Work from Home
PODCASTS/AUDIOBOOKS FOR LONELINESS AND FOCUS
I've found myself feeling down and un-creative when I've been lonely at home. For me, sometimes music just doesn't cut it and listening to someone speak helps. Especially if they're funny; it's like having a friend in the room! Look into podcasts, audiobooks, Live videos, etc. to combat loneliness.
This sounds like an easy one, but so many of us don't prioritize our health when we're overworked. Make sure you are taking time for yourself and your body. Because, if you don't take care of your health, you're not taking care of your business.
TAKE BREAKS AND GO FOR A WALK
Taking breaks will help clear your head and is also great for your spinal health. Also, got a furry office manager? He/she could use a walk too!
4. Stay Focused when You Work from Home
GET A PLANNER
Plan your week ahead of time and write things down. There's something special about writing tasks down and being able to cross them off. It'll show you how much progress you were able to make throughout the day. You could even give yourself an incentive if youget everything completed.
TAKE A POMODORO & BLOCK YOUR FAVE SITES
If you are having trouble focusing, work in 25-minute increments with a 5-minute break. These are called Pomodoros! I use a Chrome extension called "Block Site" to block all websites other than my business-related websites. Then, for 5 minutes I can take a break and look at memes. If you have a Mac, turning on the "Do Not Disturb" feature on the top right corner does WONDERS for me throughout the day. If I have a lot to do, I'll turn it on, and put my phone in the other room. It keeps me focused and I don't have to see the 36 texts from my girlfriends' group chat coming through.
Streamline your processes with CRM tools like HoneyBook. I have a form set up on my site that sends leads straight to my HoneyBook platform – and from there, I can send them online contract templates and online invoices – just with a few clicks. It saves so much time since I'm working with a skeleton crew, ME! The return on investment will be all the time you save and… TIME IS MONEY! Use this link to get 50% off your first year! Cha-ching!
I hope this post has helped you incorporate healthier habits into your day-to- day when working from home. If you have any tips that make your work-life a breeze, leave them in the comments and let's chat!