From our Ottawa leader, Brittany:
"The Ottawa Tuesdays Together group is an amazing collection of diverse and talented creatives. We tend to be a little heavy on the wedding-industry side, but we wanted to make sure our collaborative styled shoot reflected everyone's unique talents. When a brunch theme was pitched to the group it was instantly loved (who doesn't love brunch!). From there we watched it evolve into a picturesque Southern Bridal Brunch at Tranquil Acres, a beautiful horse farm outside of Ottawa. A southern brunch is not exactly the most Canadian theme, but it was fun and uniquely challenging for everyone to take on the fun concept. There is a diverse wealth of talent in our Tuesdays Together group and we wanted to ensure that was captured. In the true spirit of collaboration, our entire Tuesdays Together group was encouraged to participate in a way that showcased their unique talents. A few weeks of planning brought us to a gloomy, cool day in June. Despite the cold and rain, there was a smile on everyone's face. There was no shortage of hard work as the day unfolded and everyone watched our vision come to life.
After a handful of meetings and plenty of messages, the planning and coordination was orchestrated flawlessly. Having three planners coordinating the lead up and day of was magical. Everyone came together and truly embodied the #CommunityOverCompetition.
There is a wealth of talented photographers in Ottawa and there was no shortage of details waiting to be captured. Our photographers all divided themselves up between primary and behind-the-scenes to ensure that everything was beautifully captured. The documenting team was rounded out by our talented stop-motion video and emotive film creators. By combining photo and video we were able to capture every detail from the stationary objects to the movement of the dress, to the florals dancing in the wind, to the echoing laughter. Working together we were able to profile every detail from getting ready to the final 'cheers!'
Our horse farm venue was a huge component to the day. The beautiful landscape and horses provided the perfect scene to watch our vision come to life. Our models were draped in beautifully crafted Canada designer dresses, custom hair pieces, and handmade jewellery pieces perfectly showcasing the coordinated colour palette. Our hair and makeup team helped each lady look (and feel) completely glamorous.
The sweet treats were a focal point when designing the scenes. The beautiful watercolour cakes, delicious cupcakes and floral decal macarons brought the sweets table to life. The greenery cascading off the table setting and the dresser drawers bursting with hues of peach and pink tied everything together.
From the antique door for a table to the turquoise iron chairs, every detail of the decor was carefully curated to help our vision come to life. The rosette backdrop behind the table setting was handmade along with the delicate floral hoops hanging from the tree above the picnic scene. And what's a party without a few keepsakes? Confetti poppers, champagne gifts, and a fabulous bridal gift box all fit in perfectly with the custom calligraphy and stationery.
It was heart-warming to see so many local creatives working together and cheering each other on! We are all so proud of the results of our own hard work, but even more so, we are proud of the work of our fellow Ottawa artists and makers!"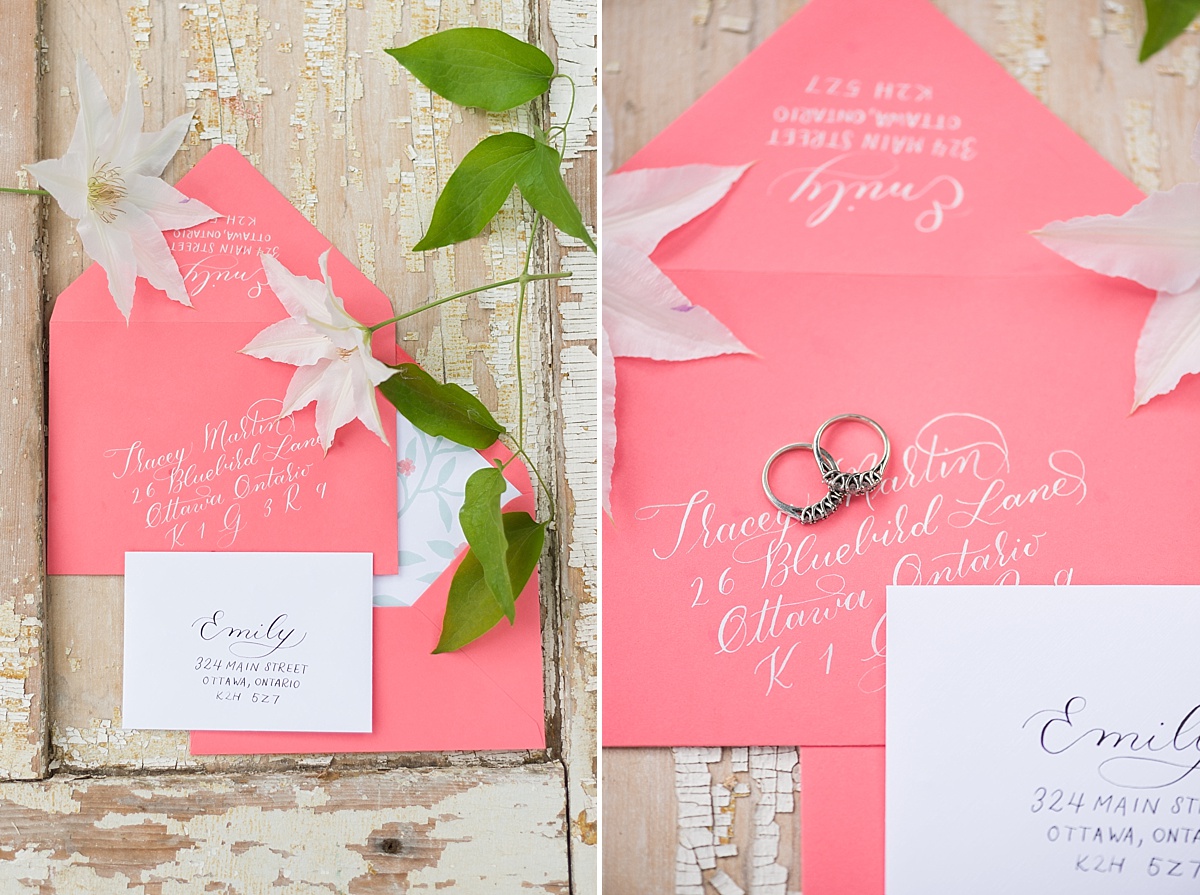 Contributors:
Venue:
Tranquil Acres Inc.
Models:
What Emily Said
Dear Emilie G.
Tracey Jazmin Photography
Wedding Planners:
Love is Love weddings & events
Heirloom Events and Decor
What Emily Said
Photographers:
Brittany Lee Photography
Nicole Amanda Photography
Lace & Luce
Tiara Brouse Photography
Charlie Barnett Photography
Photography by Emma
Amy Sturgeon Photography
Stop Motion Videography:
Charlotte Northrope Photography
Videography:
The Salt and Light Studio
Bridal Attire:
The Handmade Bride
Hair:
Liana Lacroix Beauty
Headpieces:
Lola Rose Accessories
MUA:
Dazzling Faces Make-Up Artistry
Jewelery:
Goldart Jewellery Studio
Cakes:
Sugar House Cakes
Cupcakes:
Kupcake
Macarons:
BUU Macarons
Floral Design:
Satin & Snow
Décor:
Heirloom Events and Decor
Rosette Backdrop:
Pretty Papier
Floral Hoops:
Odie Boodie
Confetti Poppers and champagne gifts:
Stephanie White
Chalkboard Calligraphy:
The Happy Ever Crafter
Stationery:
Simply Steph Ko
Ivy Stripe
Gift Boxes:
LaFabère