Here at HoneyBook, it's our mission to empower the creative economy to rise together doing what they love. We want to help you run your business efficiently, so our team is constantly hard at work, building new features and updating tools. Moving forward, we want to keep you in the loop on what we've released, so you can easily find updates and new features, so be on the lookout each month!
February in particular was a busy month for the HoneyBook team. We released a bunch of new updates, including three major new features: the ability to add multiple companies under one account, a revamped brochure and a new Android app. Here's what's new…
Manage clients on-the-go with the Android app
As a HoneyBook creative, we know that your business runs while you're on the go. And now you can manage your business from anywhere.
The much awaited HoneyBook app for Android has finally arrived! Access some of your favorite HoneyBook features, right from the palm of your hand.
With the app, you can respond to new inquiries faster, create projects, communicate with your clients, manage tasks, receive instant payment notifications, and more. Be the first to get back to your inquiries and book the clients you want.
Using an iPhone? We've got you too.
Multiple companies, one single HoneyBook account
Many HoneyBook members have more than one revenue stream from their different companies. We love the hustle and want to make it easy for you to manage them all. With the release of this feature, you won't be slowed down by switching between programs to access what you need.
Now you can manage separate project pipelines, branding, templates and bank accounts for each of your companies under one HoneyBook login. With this new feature you can look professional, stay organized and book more clients for each and all of your companies with one single HoneyBook account.
The new brochure: bookable, professional and easy-to-use
In case you missed it, HoneyBook's brochures got a serious refresh. With this redesign we had one thing in mind: to get you booked. By showcasing your brand, sharing your story and introducing yourself and your business, it will be a no-brainer for a potential client to book you.
A brochure in HoneyBook is a beautifully designed file that allows you to showcase your brand, share your story and introduce yourself and your business. Among other things, you can list items or services that you offer, descriptions of the services, and price estimates for clients to review. Based on what you've shared, your client can interact with the brochure and let you know if they're interested or select specific services that they want. HoneyBook brochures give your clients the ability to book directly from the file, helping you stand out and book more.
So, what exactly has changed?
For you, the refresh means:
More flexibility in formatting and content. Our new brochure templates are great for building out and sharing all kinds of important information with your clients at any point during the booking process. You can send welcome kits, guides to working with you, proposals, service catalogs, your portfolio and more.
More flexibility when selecting how your client interacts with the file.
An overall simpler experience when building the file with pre-made layouts to guide you and ensure your brand always looks its best.
When your client receives your new brochure, they can now:
Select services and a la carte quantities.
Select multiple packages/items from the pricing list (instead of just one).
Simply select "I'm Interested" if you haven't included specific services in your brochure.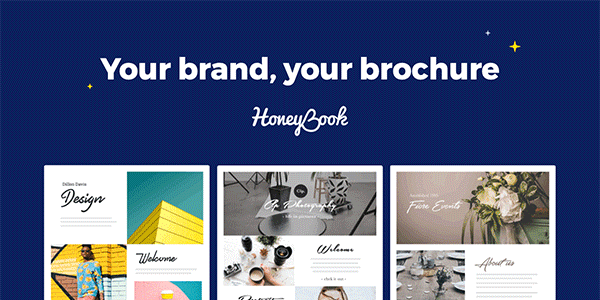 Ready to dive in?
A more organized "Contacts" tab
Based on your feedback, we've updated the "Contacts" tab (previously called the "People" tab) to make it even easier for you to organize your clients' contact information. Whether you work with individual persons, business-based clients, or both, the new "Contacts" tab helps you manage it all.
Updates include the ability to:
Find all your clients under one tab, independently of whether they are a business or a person.
Filter contacts and take action directly from a record by surfacing any ongoing projects you may have with them.
Search businesses by their company information, so you can spend time working with clients, not looking for their contact info.
Have total control over your relationships. When you add a client with business information, we no longer send them a connection request.
Until next month…
We hope you're as excited as we are about our new features and updates. You can find out what's new in our monthly release notes on the blog and in our monthly member newsletter. And please keep giving us feedback at [email protected]. We build HoneyBook for you and we wouldn't be where we are without your help.
Any questions about the current releases?  Head to our Help Center to learn more.
We're excited to continue to grow with you!