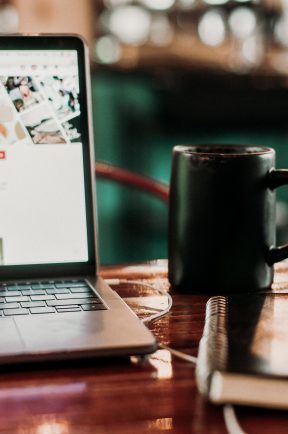 I worked in the media business for more than two decades, and during my time as production director at Vogue and managing editor at Harper's Bazaar, I gained a reputation as a "workflow guru." I was brought in to create systems for new magazines, to consult on workflows at historic titles, and to find inefficiencies in budget and staffing across the board.
In my more recent journey as a creative entrepreneur, I have often found that those hard-won workflow lessons are still helpful to me now—and they sometimes go against conventional wisdom.
1. That shiny new business app might not be the best choice for you and your work efficiency.
I have tried a handful of times to ditch my old-fashioned to-do lists for tech-based lists. Each time it seems like a no-brainer—download an app and have my to-do lists on all my devices anywhere I go. Friends swear by apps such as Wunderlist and Todoist, and their enthusiasm was contagious. But I learned through experience that digital list-making simply isn't for me. I found myself grabbing a pen and scrap of paper every time I thought of something new, or printing out my lists so I could have the satisfaction of physically crossing off completed items. (Come on, don't you love that?)
Whether it's task management software, how you file invoices, or whether you use an online meeting scheduler or email automation, the best system for you is the one you will actually use!
The bottom line: A system only works if it works for you.
2. Just because a colleague works one way doesn't mean you have to.
You differentiate your creative work from others by your style, services, personality—and your systems may reflect that.
For example, say that your fellow photographer sends out a 3-page questionnaire to new clients. However, if you find that delayed turnaround times for that are putting a kink in your workflow, you may want to consider a different route on how to become more efficient. Perhaps you'll choose to read key questions to a client over the phone and jot down their answers instead. This might take a few minutes longer, but in addition to the satisfaction that, yes, you got the answers you need, you'll also benefit from hearing the inflection in their voice when they give some important opinions.
Can you think of other parts of your process that differ from, say, your mentor's? That's more than okay—always remember that your systems should reflect what you do.
The bottom line: Evaluate your systems based on your experience, not others' experiences.
3. It's better to record your process as you are working.
Okay, I admit that this one sucks. No one wants to interrupt their work to jot down what they just did every few moments. As a creative entrepreneur, I get this: You're in the flow, creating, letting all that right-brain mojo flow…who wants to switch to left-brain thinking to take utilitarian notes?
I speak from experience, though, when I say that it's much better to record your process while in the midst of it:
Many tasks are so automatic that you don't even think about them—you just do them. Those are the ones you'll inevitably skip when writing a task-by-task list. For example, you may always copy your finished portfolio to a backup disk, but if you don't write it down as part of your process, you will not be able to delegate tasks with confidence.
If you write out a set of tasks for a given project type before you have actually completed one such project, chances are you will miss some key actions. It might seem like you're getting ahead of things by writing it out beforehand, but honestly, it is more time-consuming to go back and make amendments than it is to do it right the first time.
Some projects might end up being one-offs. Back in my Vogue days, for instance, we occasionally produced mini magazines that were sponsored by one advertiser. It was never worth my time to create a unique workflow for these, however, because each one was different—and the differences were substantial enough that a step-by-step plan that didn't apply would have been more distracting than helpful. So make sure that you don't waste time creating a detailed workflow for a product unless it's one that will become part of your stable of offerings.
The bottom line: Recording a step-by-step workflow as you are working has myriad benefits—and, once complete, will have a big impact on your business.
4. It's worth it for your work efficiency to invest time up front when researching a new CRM/CMS.
Congratulations—your business has picked up enough that your old spreadsheet system isn't cutting it! That's a good problem to have, and one that can be easily addressed by a Client Management System.
Before you pull out your credit card to get the software your friend has, though, I recommend giving a few programs a trial run. You should definitely solicit (and give weight to) colleagues' recommendations, but remember that you may have slightly different needs, budgets, and personal preferences.
Before I subscribed to HoneyBook, I tested out two other competing small business management platforms. I was ready to pull the trigger on one based on my experience with the two-week trial and a glowing referral from a web designer. But one thing that was lacking from that CMS nagged me, so I tried out HoneyBook before making a decision. And that final trial run felt "just right," as Baby Bear might say.
The bottom line: You may be impatient (I was!) during a two-month period of putting systems to the test. In the end, though, this due diligence will help your business.
Want to learn more about work efficiency, systems, & workflow? Get our Ultimate Guide to Work Efficiency, Business Systems, and Automation here.
Plus, 5 more posts you might like: