Digital Marketing Strategist Angie Minucci uses HoneyBook Smart Files to strengthen her brand and business processes. With HoneyBook, she was able to increase her booked clients and income while saving time.


When you think about what makes a brand, what comes to mind? You're probably considering visual elements like the fonts, colors, and logo, but there's more to a brand than what meets the eye. A great brand is also deliberate about its tone of voice, client experience, and overall business processes.

For Angie Minucci, her brand goes hand in hand with her personality. Working with her means you'll feel energized and supported throughout your project. She conveys that brand with vivid visual elements as well as direct communication with her clients.

With HoneyBook Smart Files, Angie was able to combine it all and strengthen her brand through a streamlined booking process. Easily customizing her onboarding files meant Angie not only saved time, but doubled her clients and income in less than a year!
60
Hours Saved Per Project
Meet Angie Minucci
The Technically Smart Blonde
Angie Minucci is a digital marketing strategist, podcast host, and online business builder. With 10 years of experience, she helps connect the dots between business owners' talent and the online tools they need to get work done and provide their services.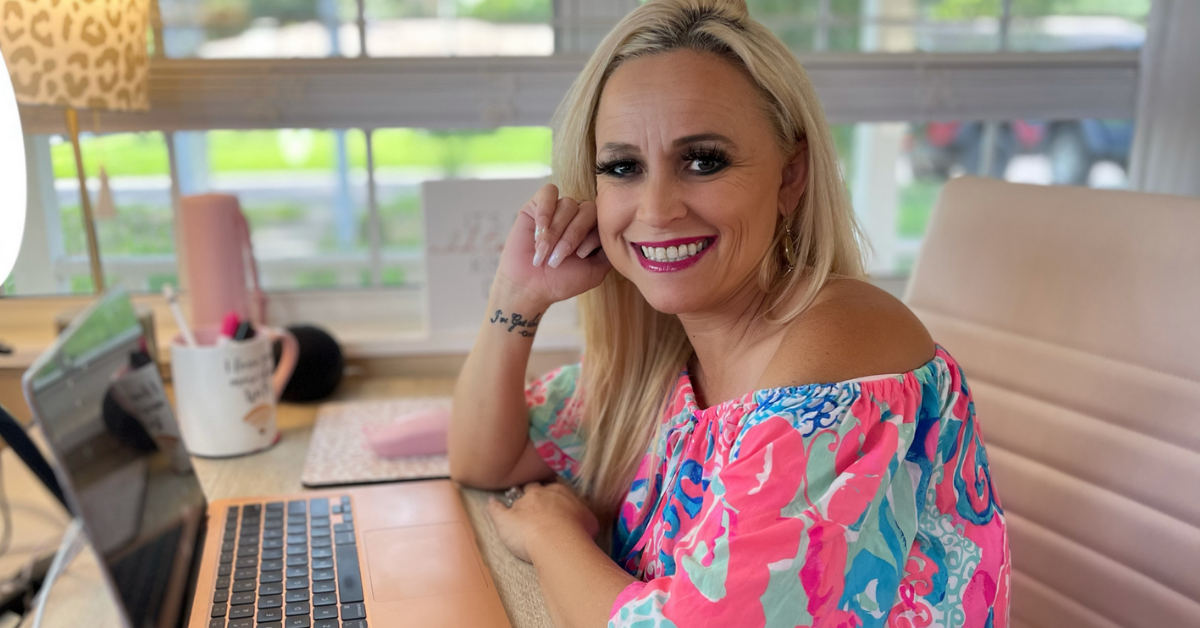 Like many Independent business owners, Angie started her business to provide for her and her daughter and have more autonomy over her work and personal life. By leveraging her background as a personal assistant, she knew she could create the work-life she envisioned– one that allowed her to be more present for her family.
She created The Technically Smart Blonde to meet the need for tech-savvy business support and has scaled it into a full-time business with a growing audience. Her shared experience as a small business owner means she naturally understands what other owners need to achieve their goals, especially those that run Independent businesses with more personalized services.
These days, Angie works with a wide variety of business coaches, speakers, strategists, and entrepreneurs. She offers services to help them set up automations, client funnels, digital products, coaching programs, memberships, and more. Her current and past clients all agree that she helps solve nearly every tech problem with custom, 1:1 support.
The Challenge:
Solidifying a Brand Known for Organization and
Attention to Detail
Angie's superpower is helping businesses stay organized, but it wasn't always easy to find the right tools to fit their needs. With every new tool comes an onboarding process, and sometimes clients just don't have the time to ramp up with a new resource.
Many of her clients have been stuck in processes where they're using multiple project management tools, digging through a web of folders, and constantly using back-and-forth emails.
On her end, Angie also needed a way to get more aligned with her clients while boosting her brand. With HoneyBook, she was able to accomplish it all and exemplify her value as a tech expert for entrepreneurs.
How HoneyBook Smart Files Helped Her Create an Unforgettable Brand
HoneyBook Smart Files were the perfect solution to streamline Angie's processes, help her clients, and deliver a more human touch with every project.
With smart files, she's able to combine multiple steps in her onboarding process into one seamless experience while incorporating her brand and personality throughout. As a result, she's able to showcase the Technically Smart Blonde brand through both her process and communications.
Inside Angie's booking process, clients have everything they need to understand the scope of the project directly before payment, which enables them to book faster and with fewer barriers. They receive:
An introduction and welcome video
Guidelines for communication throughout the project
A questionnaire to capture information about the project
Scheduling for their next call
An invoice
Instead of sending out individual files for each step in the onboarding process, smart files let you combine multiple actions into one clientflow and offer a more dynamic, interactive experience.
Just like if you were to sit down with your clients in person to meet, go over your scope of work, ask specific questions, and share your invoice, you can do it all online with a single smart file.
And because each industry and individual business has its own identity and preferred processes, each smart file is highly customizable from the design to the branding and set-up.
If combining multiple steps isn't right for your process, smart files can still enhance individual steps to save you time. With smart files, information from one file can be dynamically pulled into another. Client details are added to a contract. Client selections can auto-fill an invoice. Or, content about your services can preempt a payment. The possibilities are endless.
Angie loved this flexibility and how much control it gave her over her client experience. The simple builder made it easy to introduce her authentic self and show what makes her business unique.
Angie now uses smart files to book and onboard clients. She also introduces some clients to HoneyBook as a solution to help them stay organized and sends an introductory smart file to get them up to speed with the platform quickly.
Using Welcome Videos to Set Expectations
When clients receive a booking and onboarding welcome kit from Angie, they're getting access to all the information they need to begin working with her. In just a few pages, they're introduced to her project expectations, communication details, onboarding questions, and online invoices. The client simply needs to click through and complete the outlined steps to get started.
Angie sends out her welcome kit via a smart file to new clients right after they've had an initial call over Zoom. At the very beginning of the welcome kit, she uses a video to get started.
To save time, she records each video beforehand, and because she knows her process so well, she's able to incorporate language that accurately refers to the conversation she's had with her clients. The video allows her to capitalize on the momentum from the initial call and encourage clients to move forward in her booking process more quickly.
The casual welcome video helps to break the ice with new clients, and Angie also uses it to walk them through the information they can expect to receive. In about a minute, her clients already know how to complete tasks in the smart file, how to communicate throughout the project, and what to expect next.
The welcome kit also introduces new clients to Angie's unique branding. Instead of the same old Word doc or PDF, the smart file act more like an extension of herself and her website. Using her distinct fonts, colors, and fun photos characteristic of her brand, each element feels more human and inviting.
By incorporating her brand's visual elements and tone throughout, her clients are more excited to continue working with her. Rather than just a business transaction, the branded experience gives clients the assurance that they're not only dealing with a professional but also entering into a thoughtful and supportive relationship.
The customization of each piece and being able to brand it all to [my brand] allowed me to connect more with my clients.
Creating Processes That Can Evolve With Her Brand
Since part of Angie's brand is being able to help businesses stay organized through tech, smart files helped her provide more robust solutions for her clients. In particular, HoneyBook has become an excellent tool for many clients looking to get a better handle on their own project management.
"When you log in and see each step, you get that birds-eye view that takes all the worry out of your mind," she said. By using smart files, she can help onboard clients to HoneyBook and cover everything they need to get started.
Smart files have also helped Angie refine her onboarding process through the dynamic questions block. If you've used HoneyBook legacy files in the past, the questions block works similar to a questionnaire.
By including questions, Angie can gather the most important information up front, such as her clients' contact details, website, and platform logins, as well as anything else they'd like to include that is important to the project. Unlike a static file, she can pull the answers to these questions automatically into other smart files, like contracts and proposals.
Smart files can also be easily edited and resent to the same client or templatized and used again for new clients. If a client asks new questions about either smart files or her services, she can easily go back and update her process in minutes.
The next time she sends the smart file to a client, she's already included the new information. By continuing to evolve each template, Angie improves her efficiency when working with clients– ultimately helping her save precious hours per project.
Even better; working on all her client onboarding in one smart file lets her accomplish more without sacrificing important project details. "Smart files have allowed me to think about the job at hand and not have to worry about each step in the process," she said.
By removing unnecessary back-and-forth with individual files and multiple emails, clients connect her brand with a seamless experience (and everyone wins with fewer emails!).
It has made 100% of my client work so much easier. I'm not having to create something new for each person.
HoneyBook Smart Files have helped Angie strengthen her brand's recognition and perception. The customization options ensure she's able to incorporate her unique brand elements into essential communication.
By streamlining her processes, she also leaves a lasting impression of organization and efficiency.
As a result, she has doubled her clients and doubled her income using HoneyBook's CRM for small business in less than a year. On average, she saves four hours per client by avoiding back and forth emails and clarification about her process.
For Angie, smart files have opened her eyes to new possibilities for her business. She said, "When you look at smart file templates, they open up the question: What am I not doing that I could be?"
While she's currently using smart files for client onboarding and client organization, she's looking to create new service-selection templates as well as a process for post-project feedback.
Using HoneyBook Automations and smart files together, she plans to create a process asking clients for testimonials that sends out right after the project is complete.
While communicating with leads, she also plans to send services smart files with her package options to help clients move forward in her process even faster. All in one smart file, clients will be able to browse her services, select which ones they need, and pay immediately.
When you look at smart files templates, they open up the question: What am I not doing that I could be?
Ready to Use HoneyBook Smart Files for Your Brand?
Like Angie, you can use HoneyBook Smart Files to build a stronger brand and better client experience. Whether you've used HoneyBook in the past or you're just getting started, smart files let you combine more steps in your booking process and customize every action.
Imagine the same files you've always used in your business–contracts, invoices, brochures, and more–but with the capabilities you've always wanted. However you visualize your ideal process, smart files will let you bring that vision to life. And you don't need to be an expert in design or digital products!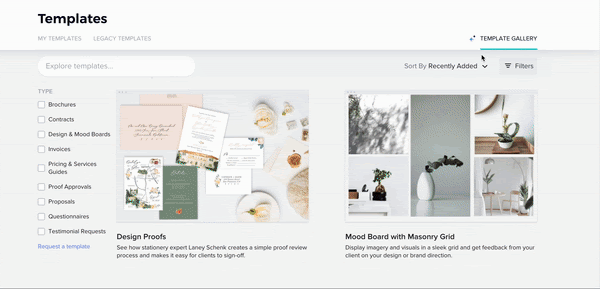 To get started, choose a template from our HoneyBook Template Gallery and personalize them to fit your brand. The templates align with nearly every stage in the booking process, so they're the perfect starting point.
If you already have a vision for your smart file, you can also dive right into a blank template and begin building from scratch. The builder gives you multiple options to drop in action blocks like an online contract and services as well as essential content blocks like questions, images, and videos. Within each block, you also have design customization tools to make sure your smart file matches exactly what you have in mind. Just sign up below to access HoneyBook's client management software for small businesses free for seven days and get started!