Use these 8 client background questions to better understand if you and your client are a good fit and how you should move forward. The information you receive from them will help you move forward through mutual qualification and on to the booking phase.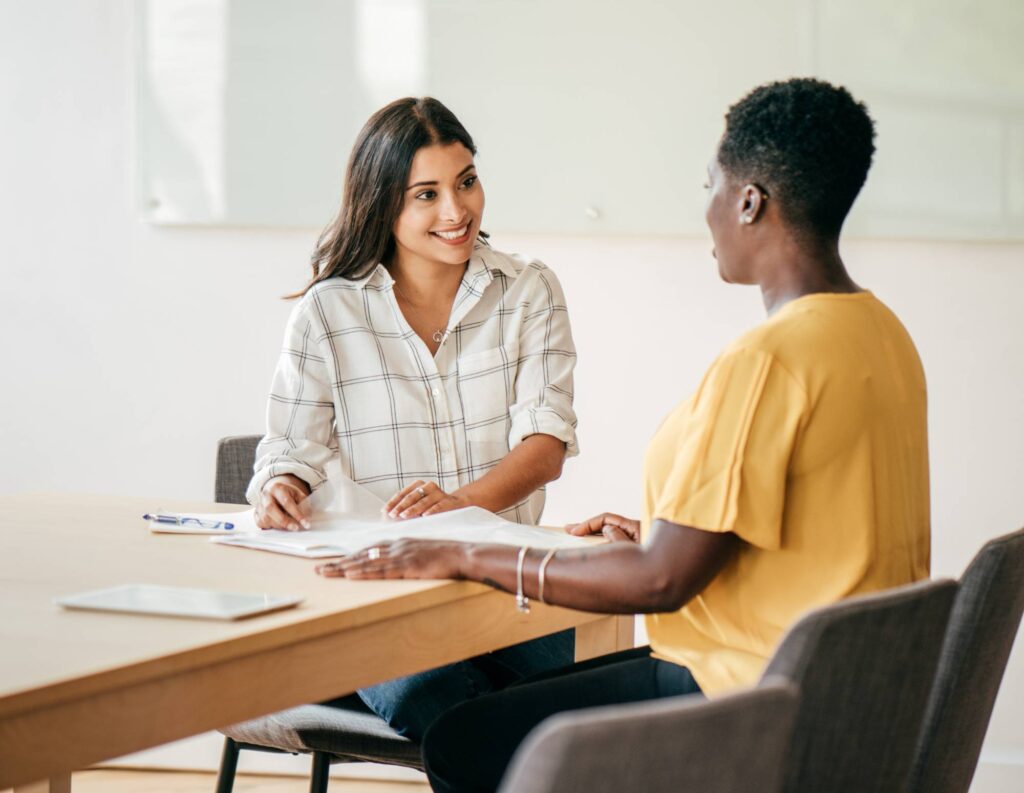 As an independent business, you know how to put your best foot forward to sell your services and attract new business. But sometimes, you may end up working with a client who makes each project more difficult than it needs to be. You may find yourself butting heads about small details, working with a client with unrealistic and unmanageable expectations, or worst of all, working with a client who disappears without paying you.
A brief interview before each project is as important as how you onboard your clients. Asking some client background questions before starting the project can help you avoid many of these challenges. Whether you choose to ask these questions while you're determining customer fit or directly after booking, they'll give you the following benefits:
Determining if you and the client are a good fit
Developing an understanding of your project scope
Setting realistic client expectations
Understanding your client's pain points and how you can help fix them
Helping to ensure that you and your client have the same understanding of the project and its scope
If you're one of the 61% of freelancers who specializes in multiple skills, these background interviews can also help you determine which should be the main focus of a particular project. Here are some questions to ask clients before a project begins.
Jump to:
1. Have you worked with an independent business before?
This is an essential question to ask clients in your questionnaires to weed out potentially difficult clients. If your prospective client states that they've already worked with independent contractors and freelancers like you, they most likely know what to expect from the process.
If this is their first time working with an independent contractor, dig deeper to find out why they are outsourcing this project. They may not have time or in-house experience. Knowing why they're bringing you onboard can help give you a better sense of their expectations.
Depending on your industry and services, you may determine that the client doesn't have enough prior experience to get the most out of a project with you.
2. What is your budget?
When you know the client's budget up front, you can tailor your scope to meet their needs while staying within their budget. This is one of the most important client background questions to ask because it helps you understand what you can and can't achieve.
If you don't know the budget, you may be tempted to provide every service you can offer, only to find out that the budget won't cover your hard work. Having a budget number to work with ahead of time helps you set priorities and scope.
While you're working through customer fit, you can see if you're able to work with a smaller client budget. Perhaps you're able to take on a smaller project or offer a digital product. If not, this question can help you eliminate clients who just aren't a good fit for your business and revenue goals.
3. What is your timeline for this project?
Ask your clients to set a timeline for each project and compare it to your typical workflow. Is their timeline realistic? Do you feel you can deliver on it? If not, you may need to work with them to see if you can come up with a new timeline before booking.
Working together to create your timeline gives you a mutual understanding of various deadlines and helps you keep the project on task. You can set up a sample timeline listing major tasks you need to do to complete the project and set deadlines for each.
You may also outline deliverables clients can expect to receive at the end of each project phase. Working through this ahead of your project helps hold your business accountable while allowing your clients to know what to expect. When both parties agree on the timeline, you can cut out a lot of back-and-forth and ensure your clients aren't kept in the dark about next steps.
4. What are your goals for this project?
When you know what your client wants to achieve with the project, you can tailor your work to their goals. A client who is trying to rebrand an existing product will have different design goals than one who wants you to work on developing something entirely new.
Once they outline their goals, you can ask some follow-up questions to understand what problems and pain points they're trying to address. Are they looking for your design expertise to rebrand their business? Are they looking for your business coaching services to create a betters sales strategy? These answers will help guide your vision and your work.
5. How would you measure this project's success?
Before you begin working with a new client on a project or service, set some metrics that will help you determine if the partnership was a success. If you're working with a client on an ad copy project, perhaps they will define success by how many new clicks they receive on each pay-per-click ad.
If you're a health and fitness coach working with a new client, they may want to see their vital stats improve at their next physical. Establishing these metrics up front lets you know what you need to achieve.
Just like budget and timeline, this question can also help you determine if the project is realistic. If your client is asking you to go above and beyond your capabilities, it's okay to say no and leave yourself available for a different client.
6. What are your priorities?
Even if you're working with a healthy budget, get a sense of your client's priorities. That way, you know how to budget your time. You can spend more of your schedule working on the parts of the project that matter most.
If you're an independent professional working with clients on personal goals instead of projects, knowing their priorities will help you create the best plan for them.
7. What is your decision-making process?
This question will give you a sense of how your potential clients will manage the project. You may be meeting with a project manager and learn that their boss has to approve all changes to the scope and budget, which could end up adding time to your process.
When you know this going in, you can manage potential delays by submitting any proofs or approvals ahead of time since you know they will be subject to multiple reviews.
You may have already introduced the client to your processes and workflow in your welcome packet. With this question, you can ask for similar information from your potential clients.
8. Do you have any examples?
When you're working with repeat clients, you probably know what they expect you to deliver. But with new clients, you may not know what to expect. For designers, it's especially important to understand the aesthetic or style they have in mind. But for other industries, project examples can also be helpful for understanding their idea of project success.
Having an example helps both you and the client set expectations.
Ask client background questions easily with HoneyBook
Make the mutual qualification and kickoff process easier by setting up an interactive questionnaire in HoneyBook. Our questionnaires are fully customizable, so you can tweak the finer details to remain consistent with how you present your brand.
Instead of going back-and-forth via email or having your client print and fill out a PDF file, HoneyBook's Smart Files let your clients answer everything at once (even if they're on the go using their phone).
You can include it as part of your welcome packet, giving potential clients a chance to think through their answers before you start working together. Alternatively, you can keep it on hand to manage your first meeting.