Photographers can now connect their Pic-Time galleries to HoneyBook and create an even more powerful workflow all in one place. Plus, take advantage of exclusive offers to streamline your clientflow.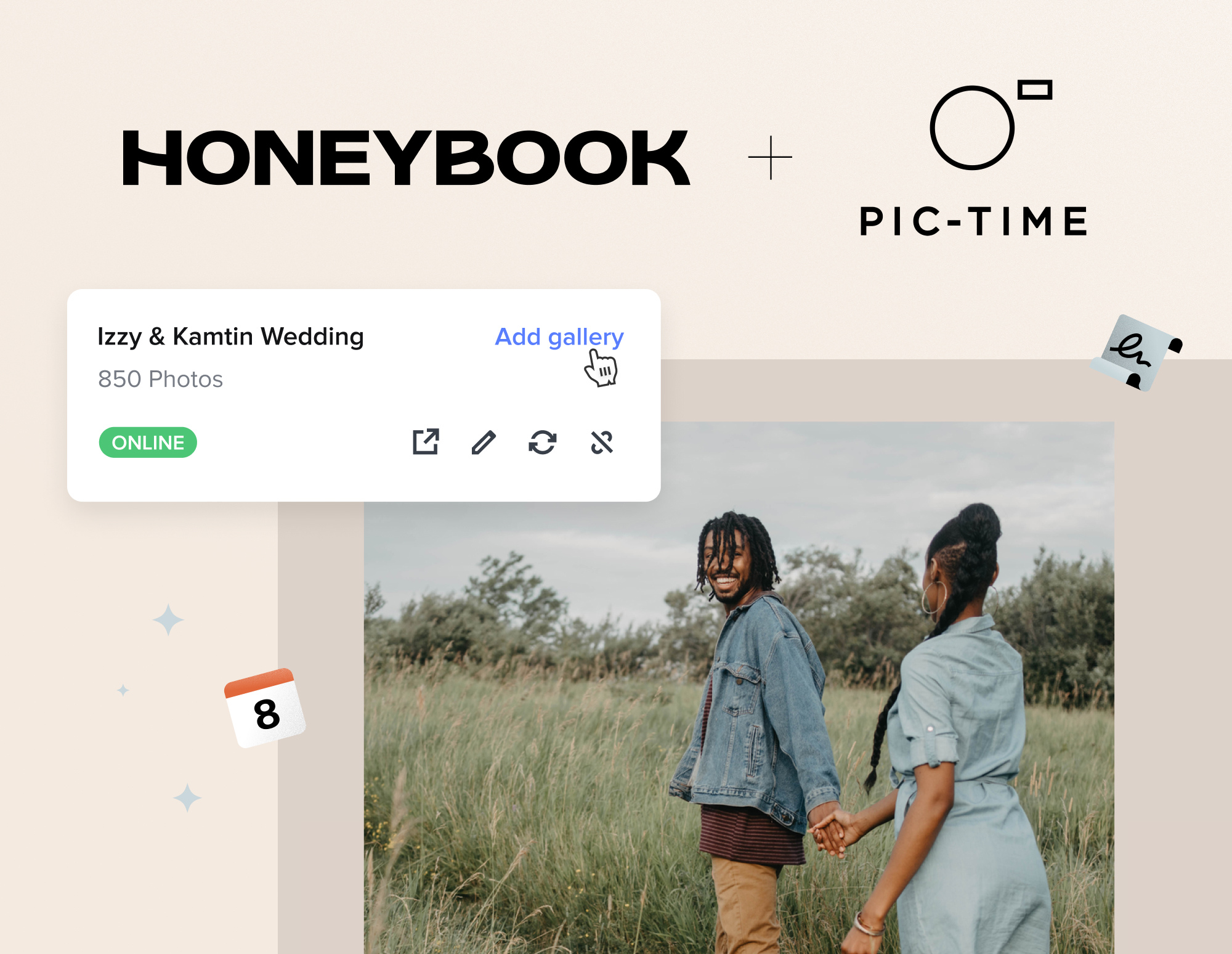 Your favorite clientflow management platform meets the finest online gallery provider. Can you say a match made in heaven?
You heard that right, HoneyBook is partnering with Pic-Time to make it easier for photographers to stay on top of their projects and services. Pic-Time is an innovative publishing platform for photographers to deliver, share, and sell their photos online. It offers a suite of creative and business tools to turn your photo sessions into the best visual experiences and elevate your business potential.
But every photographer knows there's a lot of work that comes before the part where you wow your clients with your incredible images. It involves capturing leads, scheduling, sending contracts and invoices, client communication, and more. That's why photographers rely on HoneyBook to help manage their clientflow; the complete process of selling and delivering services.
Now, with the HoneyBook + Pic-Time integration, photographers can connect these two essential platforms and run a more streamlined business.
Pro tip: Pic-Time Pro users get 1 year of HoneyBook for free
If you're already a Pic-Time user on the Complete Professional or Advanced plan, but not yet using HoneyBook, you can get your first year for free with code PICTIME. Terms and conditions apply* 📸
Already a HoneyBook member? Sign up for Pic-Time and get three months for free when subscribing to any yearly plan.
Why we love Pic-Time for photographers
HoneyBook and Pic-Time are both platforms designed to empower independent business success. Where HoneyBook enables efficient back-end processes and delivers a remarkable client experience, Pic-Time provides photographers with an online gallery, print store, and a variety of publishing tools to maximize the business potential of their photos. In other words, Pic-Time helps to grow your revenue from each photo shoot and makes your photography look amazing. Their top features include:
Online galleries: deliver, share, and sell your photography using one of their unique layouts, add video and GIFs, and elevate your brand experience.
Slideshows: create an emotional connection to your gallery with ready-made templates, over +1800 licensed music tracks, and advanced design tools.
Smart print store: every gallery comes with a built-in print store offering a huge selection of high-quality products and connected to over 30 print labs around the world.
Blog editor: easily create SEO-optimized blog posts (with help from the AI assistant if desired) directly from the gallery workspace.
These are just some of the ways Pic-Time helps professional photographers elevate their brand and deliver business value.
You asked, and we answered: Connect Pic-Time galleries to HoneyBook projects
Photographers rejoice, you can now connect Pic-Time to HoneyBook. The integration will allow photographers using Pic-Time to create new galleries, connect existing ones, and see the status of connected galleries all from your HoneyBook account.
This means, that when a project is booked in HoneyBook, you can set it so that a new gallery is automatically created in Pic-Time. Based on the details in your HoneyBook project, the new Pic-Time gallery will be ready and waiting for you to start adding images. This simple step can save you the pain of duplicating data entry and jumping between platforms.
Or, you can pull one or multiple existing Pic-Time galleries into HoneyBook directly from the project workspace. For example, if you've completed an engagement and wedding shoot for the same couple, both galleries can be added to your HoneyBook project.
From there you'll also be able to keep track of the status of those galleries so you know at a glance whether they're visible or not to your clients. Altogether these capabilities will allow photographers to keep a detailed record of their communication and delivery of services.
This is only the start of what is possible between HoneyBook and Pic-Time. Coming soon photographers will also be able to:
See Pic-Time gallery activity from your HoneyBook activity feed so that you have all the information in one place.
Share a link to your Pic-Time gallery from the HoneyBook client portal, making it easier for clients to navigate to their gallery.
Sync your gallery and photo sales to the corresponding HoneyBook project so that all income related to that client can be tracked in one place.
Manually create a new gallery in Pic-Time from HoneyBook, and more.
Impressing your clients with exceptional service will only get easier as the integration continues to evolve.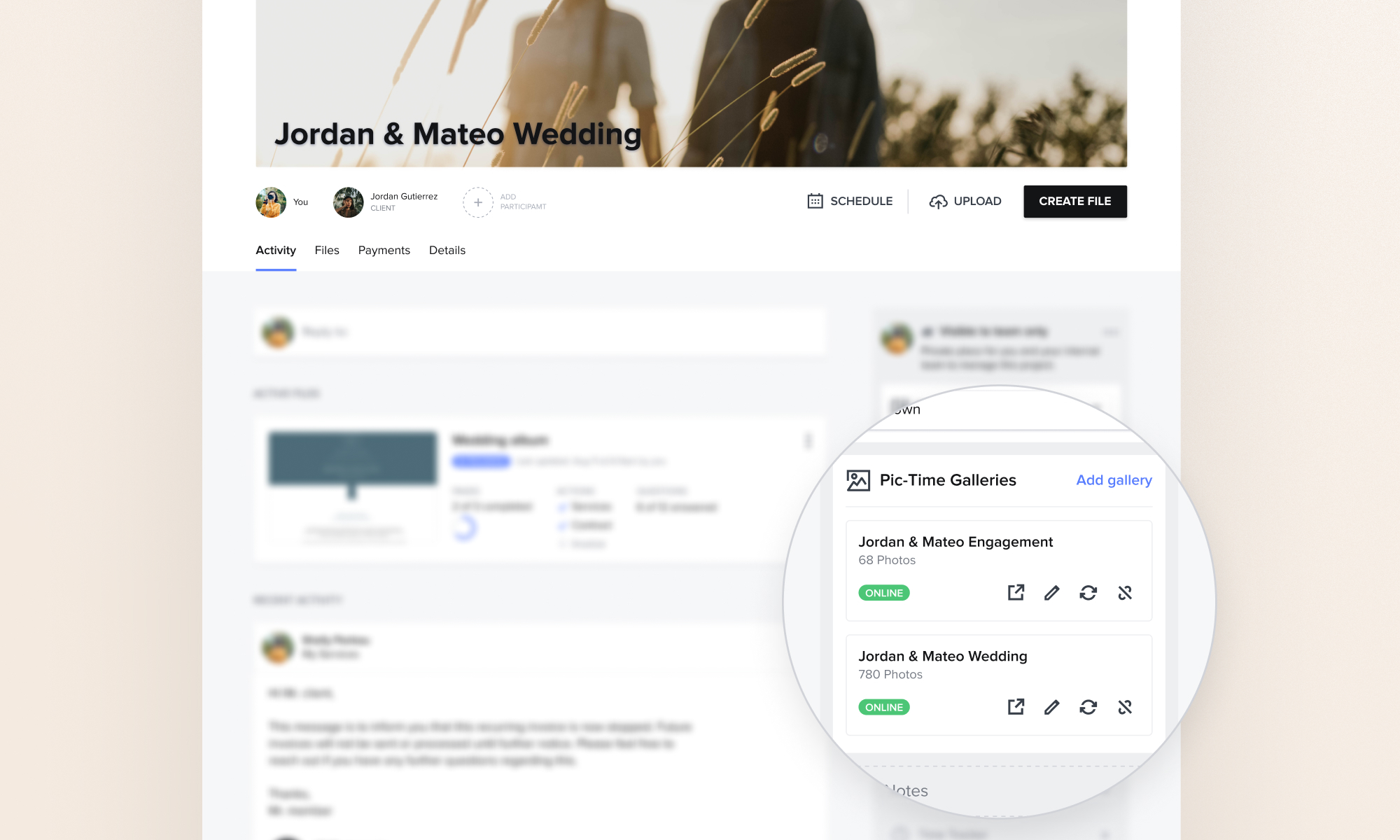 Why photographers love HoneyBook—now better than ever
HoneyBook is on a mission to make it easier to run an independent business because your time should be spent doing more of what you love and less of what you don't—admin work. That's why the platform offers tools to manage essential tasks like client communication, contracts, online invoices, payments, and more all from one place. Getting organized is the first step to saving time without compromising on your client experience.
With HoneyBook, photographers can create an efficient clientflow that seamlessly moves new clients from inquiry to booked, paid, and successful project completion. When you eliminate friction and delight clients throughout your process you can generate more than just income: you can secure glowing reviews and referrals that win new business.
Our partnership with Pic-Time is the latest update to help professional photographers improve the way they work. Here are some of our other photographer-favorite features you should be using in your business.
Capture and convert new leads
Using the HoneyBook contact form embedded on your website or shared via direct link you can easily pull new inquiries into your HoneyBook account. From there, our AI-powered tools can help you qualify which of those leads are most valuable to your photography business and provide you with a personalized message so that you can respond immediately. Never let another potential dream client pass you by.
In fact, HoneyBook's priority lead notifications can help improve response time by 20%, and according to a recent survey, a one-minute response time can lead to 391% more conversions.
Book sessions instantly
HoneyBook lead forms are the easiest way to sell photography services that don't require 1:1 qualification—think mini sessions. Simply create your desired booking experience using a lead form and share the link to instantly book clients from anywhere.
Save time with automations
You know those steps in your clientflow that you repeat for each project? Think, following up before and after a session, sending questionnaires, and even back-end task management like delivering photos on a certain date. All those repetitive duties can be a real drag on your time.
Using HoneyBook automations you can take those tasks off your plate. Trigger an automation to send a pricing guide as soon as a new inquiry comes through your contact form or set an automation to send an FAQ to your clients before an upcoming shoot. You can even use automations to remind you to complete certain business tasks on time so that nothing falls through the cracks.
On-brand, interactive templates
Photographers know how important aesthetics are to the success of their business and that goes for more than just the photos. With HoneyBook smart files it's easier than ever to create beautifully branded interactive files for every step in the clientflow: from proposals and questionnaires to contracts and invoices.
But wait, there's more. With smart files, you can combine multiple steps in your process to create a more seamless experience for your client. For example, combine service selection with a contract and invoice to expedite booking. Or combine an onboarding questionnaire with your scheduler to kick off projects more quickly. Smart files help photographers look professional and operate more efficiently. It's a win-win.
Schedule meetings faster with less back-and-forth
Having a scheduler tool is great. Having one that you can connect to other important steps in your clientflow is a game-changer. By using a scheduling block in a smart file, photographers can enable clients to complete multiple steps in the booking process at once. This is a particularly powerful capability of the smart files feature that shouldn't be understated.
Take this photographer case study as an example. Jackie creates a smart file that combines her pricing guide with a questionnaire and the option to schedule a consultation call immediately. By combining these steps she's able to fast-track the booking process and save up to eight hours a week that would have been spent in back-and-forth emails. This kind of efficiency is not only good for you, it'll also impress your clients.
Run your business on the go
As a photographer, no two work days really look the same. Sometimes you're at your desk answering emails and editing, while others you're at a photoshoot or meeting with clients. This doesn't mean, however, that you don't need to stay connected. That's where the HoneyBook mobile app comes in. Use the app to get a bird's eye view of tasks and projects, manage your schedule and calendar, and respond instantly to high-value leads, all from the palm of your hand.
Use Pic-Time to share your talent, and HoneyBook to run your business
Now that HoneyBook integrates with Pic-Time you can manage more of your photography business from the same place, helping to keep you organized and looking professional. And we're just getting started! Stay tuned for more updates coming soon.
*Offer available only to active Pic-Time Pro account users who are also first-time HoneyBook members based in the United States and Canada.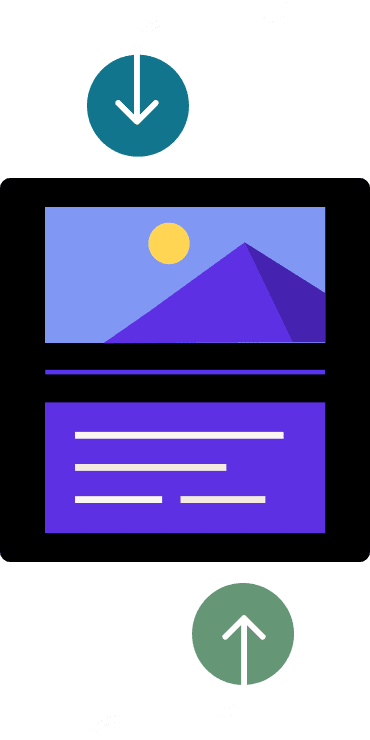 Connect your galleries to your clientflow
Photographers who are Pic-Time Pro users can get their first year of HoneyBook for free with code PICTIME.