Learn how to create a sales video that helps you book more clients. By integrating video into your sales process, you can create a better brand experience and book clients faster.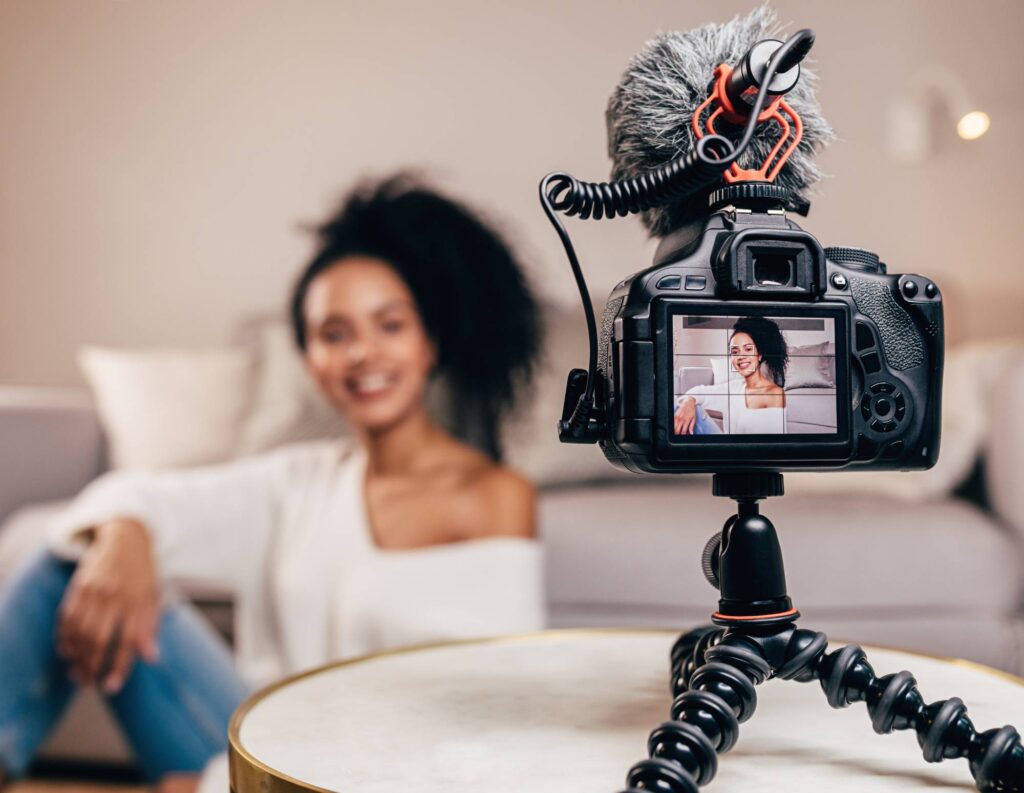 In today's business world, multimedia and video content are more important than ever in sales. The proof comes from companies who actively use video and consumers themselves.
Demand from the consumer side: 54% of respondents in a survey said they want to see more video content from businesses or brands they support
Video is already a staple of content marketing: 71% of B2B and 66% of B2C companies used video in 2019
Video is actively used to support purchase decisions: Google itself found that 55% of shoppers use videos for shopping
Sales videos have become a powerful and in-demand tool for delivering marketing messages. As an independent business owner, you can use sales videos to increase your online visibility, reach new clients, and book more projects.
Videos are excellent for promoting your services, highlighting your unique selling points, and increasing brand awareness. When used effectively in your sales process, they can also help you close more sales and grow your business.
This article will discuss the fundamentals you need to start delving into sales video creation and booking more clients.
Jump to:
Types of sales videos you can use
Before creating a sales video, you need to determine which type of video you need. While there are multiple ways to categorize the different types of sales videos, for this article, we will focus on broader umbrella categories.:
Service demonstration videos: These show potential clients how a service works as well as what its features are. This type of video is often used in online stores or social media platforms to give viewers a glimpse of what they're buying before they click the "add to cart" button. For service-based business owners like you, you could use this type of video to show the visuals associated with your portfolio. Depending on your industry, this might not be the best type of video for you, but it works great for photographers, videographers, event planners, florists, or other visual industries where you can show what clients will receive.
Client testimonial videos: These highlight satisfied clients who have used your service and were happy with the results. Testimonial videos leverage real humans and social vetting to establish trust with your brand effectively.
Explainer videos: These might be the most straightforward and simple videos for independent business owners. With an explainer video, you can provide an overview of your service in an engaging and easy-to-understand way. These sales videos are perfect for introducing complex concepts to potential clients without overwhelming them with too much written information at once.
There are various ways to expand these categories based on the approach you use and the angle you take. For example, a service demonstration could include a feature breakdown or a cost guide for your service. Your explainer videos can focus on generic FAQs, thus proving your in-domain authority in your niche, or explain that you practice what you preach by verifying your claims.
There may often be an overlap between video types as well. For example, a cost guide walking through your service could be classified as a service demonstration or an explainer video. The classification is not as important as how the video fits into your sales process.
How sales video should fit into your sales process
Sales videos are a crucial part of any sales process. They help you connect with your audience, build rapport, and explain your services in an engaging and easy-to-understand format. Sales videos can be used at every stage of the sales process, from prospecting and lead generation to closing the deal.
Here are some examples of how to use sales videos at different stages of the sales process:
Prospecting: Create an introductory video that tells prospects who you are and what you do; include calls to action so they can learn more about your company or schedule a consultation.
Lead generation: Use case studies or testimonials from satisfied clients as social proof that others have benefited from working with you; include calls to action so prospects can sign up for more information or request a quote.
Closing the deal: Urgency is critical when trying to close deals; use countdown timers or limited-time offers to produce results and thank clients for their business. Don't underestimate the simplicity of a video of yourself talking and explaining your business mission as well. By showcasing your personality, you can create a more compelling brand experience that leads to more booked clients.
Overall, you should use a sales video to introduce potential clients to yourself, your business, or your services. It should lead to a more detailed conversation between both of you, where you can further discuss specific questions or concerns.
7 Best practices for creating a sales video
Unforunately, you can't just turn the camera on and expect to get a high-quality video on your first take. Determining the type of video you need to create and how you'll be using it is key. After that, you should follow some key best practices to ensure the video is professional, effective, and accessible.
1. Identify your target audience
To create a compelling sales video, you need to know who you're trying to reach. Define your ideal client and their needs and wants. This will help you determine what kind of content to include in your video and how to appeal to them specifically. If you know their biggest pain point, you can use that as the hook of your video. Connect with them by letting them know you understand what the pain is and what you can do to solve it.
2. Keep it short and to the point
Sales videos should be concise and straight to the point — no one wants to watch a long, drawn-out commercial. With the rise of TikTok and Instagram Reels, most people have short attention spans. Get your message across clearly and quickly so that viewers understand what you offer and why they should care about it before losing interest entirely. Aim for just a few minutes.
3. Tell a story with your data points
A good sales video doesn't just rely on facts and figures. Yes, those are also important, but you should use stories, anecdotes, case studies, and your data to show viewers the impact of using your service.
4. Make use of calls to action (CTAs)
Motivate viewers to take action after watching your sales video by including CTAs at strategic points throughout the clip (typically toward the end). Whether you want them to sign up for a free trial, contact you for more information, or make a purchase, make sure it's clear what you want them to do next.
5. Personalize your videos
Personalize your video by making it highly specific to the type of audience you're speaking to or the step where they are in your sales funnel. For instance, if you're communicating with a client who's about to book with you, you can add a message that makes your message feel like it wasn't pre-recorded.
Consider saying something simple like, "Thanks for your consultation call! It was great speaking with you, and I'm so excited to move forward." Personalizing your videos this way can make your leads and clients more excited to book with you, causing them to take action faster than they would otherwise.
6. Keep your message clear
Focus on solving just one particular problem or delivering one specific message for your intended audience. If you're filming a pricing and packaging overview, don't add too much about your company history. You can save that for a separate video that you send at a different point. This helps keep your videos shorter or, at the very least, targeted in both marketing message and audience.
7. Create an emotional connection
Share stories and personal experiences to create an emotional connection with your viewers. Excellent testimonial videos that explain how your service helped solve problems can help achieve this goal. By connecting with your audience personally, they will see you as a real person — not just a business owner trying to sell them something.
Examples of using video in your sales strategy
When used correctly, video can be a powerful sales tool. You can use video at different steps of your sales strategy and funnel, from awareness to consideration to decision. Each step requires another type of video and serves a specific purpose.
Awareness: Your audience at the awareness stage are either potential clients or leads. They may have just heard about you, but they don't have enough information to book with you yet. Use sales video at this stage to introduce your services through a testimonial or short explainer video about your business. You can schedule the video within a lead nurture campaign of sales email templates.
Consideration: As potential clients become aware of your services, it's time to interest them in using it. Videos at this stage should provide information about features and benefits while also showcasing what makes your services unique. Service explainer videos and client testimonials are great for this stage of the funnel. The primary goal is to make viewers realize they need to learn more about your services. You can include videos when you create a sales brochure online to offer more context and information about what you offer.
Decision: This is where potential clients decide whether or not to use your services. Videos at this final stage should provide more detailed information about your offering while addressing any objections that might prevent someone from buying. Consider sending a brief FAQ video about what it's like to work with you and what your clients can expect.
Action: If your leads have decided to book with you, you don't want anything to cause friction in the process. Send a booking file with a video that walks them through exactly what you need from them. If you use HoneyBook, you can combine a video with your invoice and contract so the entire booking process is in one file. By including a brief thank you message in your video, you'll encourage your clients to complete the process faster and move forward.
Retention: Once your project is over, you can use video to successfully retain clients. Put together a sales video that shows what you accomplished throughout the project. Thank them for their time, and offer additional services that can supplement what you've already done. When you use a video, this step will be much more personalized than an email or a document. With HoneyBook, you can seamlessly include video in your project closure template as well.
Integrate sales videos into your clientflow with HoneyBook
Do you manage an independent business? Then you know how important it is to have a system for every step of your clientflow — from initial inquiry to booking and client retention. That's where HoneyBook can help.
HoneyBook offers a powerful, interactive clientflow management platform that lets our members customize files to their needs and include sales videos, photos, questionnaires, a customizable online invoice, contracts, and more, and get paid directly through our online payment software. Everything is fully branded to match your business, and each file can be dynamic and interactive, depending on your needs.