Use a time tracking and billing software to create more accurate invoices and free up time spent on accounting and billing. Find out how HoneyBook's time tracking works for freelancers and small business owners.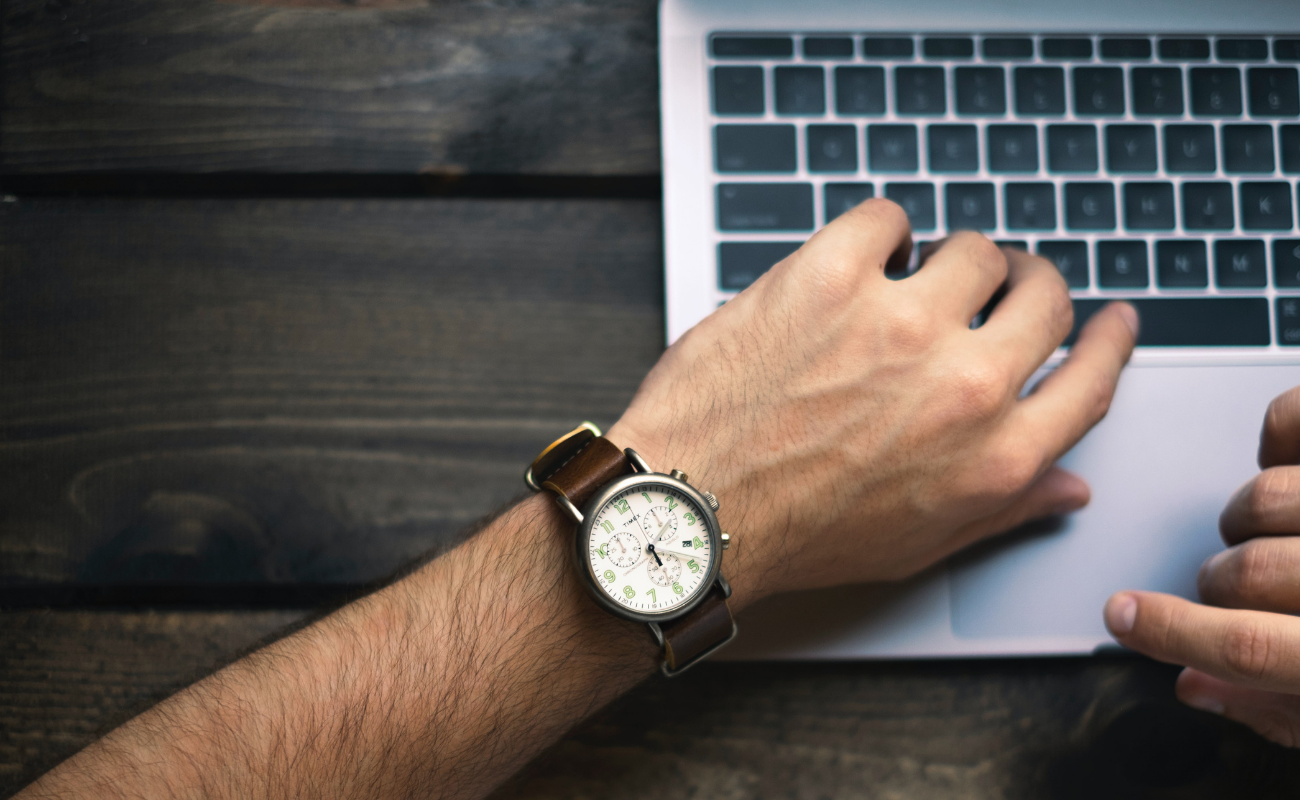 Accurately tracking time for invoices and getting those invoices paid on time is an all-too-common point of friction for small business owners. Using too many different tools to track time, calculate invoices, send invoices and track payment can also slow the payment process down. The solution to delayed invoicing (both issuing invoices and receiving payment for them) is to use time tracking and invoicing software that not only calculates your online invoices for you but also automatically sends follow-up emails when invoices have not been paid.
Combine Time Tracking and Invoicing to For Accurate, Fast Billing
When you combine time tracking and invoicing together, you speed up the process for creating invoices, saving you time and money. Additionally, combining these two processes results in more accurate billing, which reduces the chances that you either underbill and lose money, or overbill and potentially anger clients or create payment delays while clients contest the invoice.
The primary goal of time tracking and billing software is to increase the efficiency and effectiveness of your billing practices. That's going to be essential for the long-term success of your business, especially since 61% of small businesses struggle with cash flow.
One easy solution to boosting cash flow issues is to use automated time tracking and billing software. Tracking time leads to more precision in the accounting process, allowing you to capture the value of your work more effectively. And automated invoicing software that utilizes professional invoice features spurs clients or customers to pay invoices more rapidly.
How to Combine Time Tracking and Invoicing
Combining the best time tracking and invoicing together under one digital roof will quickly benefit your business. A combined time tracker and invoicing tool will allow you to:
Accurately track and invoice time on hourly and estimated contracts
Reduce time spent on accounting and invoicing
Free up hours each week for more paid work
Collect valuable data that can be leveraged for actionable business decisions
You should also extend your must-have features beyond just the option to track time and send invoices based on that data. The quality of your invoices matters, as well. Clients are more likely to pay quickly when your online invoices offer flexible digital payment methods, such as credit cards or direct bank transfers. And according to Rampton, invoices that include branding are "3x more likely to get paid", meaning that your invoicing tool should also allow you to customize the invoice with your company name and logo.
Essentially, the software you use should allow you to create professional invoices that result in faster, more reliable payments from clients.
Accurate time tracking on hourly and estimated contracts
Methods for freelance billing may vary, but if you and your client have agreed to hourly billing or have a contract estimate, you'll inspire more billing confidence with tracked time that legitimizes your invoices. Accurate time tracking through with a well-regarded tool will make it far less likely that your clients try to push back on the invoice, even if it's higher than the estimate.
Note that we're using the word "accurate" here for tracked time. It's almost impossible to track every minute. However, your invoices shouldn't be based on wild hourly estimates, either. You could either miss hours and lose money that you should have earned, or overbill clients and ruin the relationship. To that end, a good hourly time tracker will allow you to enter time manually, or have a stopwatch feature that records and tracks your time.
Reduce time spent on accounting and invoicing and free up hours for more work
In business, the time you spend on paid work is known as your "utilization time" or "billable hours". These are the hours you spend any given week on contracts that earn you money. Outside of that are your "non-billable" hours. The more hours you spend on non-billable work, the lower your utilization rate. And the lower your utilization rate, the lower your revenue will be.
The bigger your business grows, the more time you're going to have to spend on nonbillable accounting and invoicing tasks. Growing pains are definitely a good problem to have, but too much admin work will ultimately lead to you spending excessive amounts of time on unpaid activities that negatively impact your bottom line. There are solutions to this issue (such as hiring help or increasing your rates), but operationalizing time tracking and invoicing software will allow you to scale at a better pace without breaking the bank to do it.
Lowering the time you need to spend on administrative work has a (positive) consequence of giving you back more time for revenue-producing contracts. Even if you're only able to squeeze in an additional 2 hours of paid work each week, that adds up, especially if you have a strong pipeline.
For example, if you charge $100/hr for photography work, an extra 2 hours each week could boost your annual revenue by over $10,000.
Collect data for actionable business decisions
Now is a great time to begin leveraging your financial data. Your tracked time data is valuable beyond just telling you how much to bill your clients. It can also serve as the basis for understanding whether or not your projects are profitable, and help properly time your rate increases.
To understand the value of your projects, take the invoiced cost and divide it by the amount of time you invested. A $1,000 contract might sound like a winner, but if it takes you 40 hours to complete, it might not be worth the energy you put into it. Small business owners may forget to account for the overhead costs associated with being a sole proprietor, including self-employment taxes. Add on any other non-business spending you may be incurring regularly (such as child care and your hot lavender lattes) and your earnings can get reduced to unsustainable levels.
Your rate might seem amazing until you understand the impact that time has on profitability. Time tracking and billing software can help you get head around this exceptionally important data, and then empower you to make important business decisions related to the projects or services you offer and the rates you offer them.
HoneyBook Offers Professional Time Tracking and Billing Software — All in One Place
When you're ready to start improving your cash flow, take a look at HoneyBook's time tracking and invoicing software. As an all-in-one CRM, HoneyBook already streamlines the process to create contracts and track progress on those contracts. But HoneyBook also allows you to track the time you spend working on your online contracts, and once you're ready, automatically bill clients based on the billable time you've recorded in the time tracker.
HoneyBook's versatile time tracker offers manual time input when working on a desktop computer, or a stopwatch-based tracker for iOS and Android devices. In both cases, you can track time separately for each contract and avoid confusion. You can also add notes that you and your clients can use to verify the accuracy of the tracked work and to separate out unbillable admin time from billable hours.
Once you're ready, you can add your tracked time to an invoice to send to your clients. Because HoneyBook allows you to add the hourly rate for tracked time, it does the invoicing calculations for you. All you need to do is select the hours to be included on the invoice and send it off either immediately or at a scheduled time.
What's more, HoneyBook's online invoice maker helps fix many of the common invoicing mistakes we discussed earlier. Importantly, you can create invoices with a professional design that includes your company name and logo. You can also schedule HoneyBook to automatically send payment reminders to your clients so that you don't have to use your valuable time chasing unpaid invoices.
"Invoicing" is often a scary word, but it doesn't have to be. Using HoneyBook's time tracking and invoicing software can help you stabilize your cash flow and create an easier path toward reaching your revenue goals.
HoneyBook, the best crm for solopreneurs, streamlines everything you need to manage your business into one place. Manage projects, book clients, send an online invoice and get paid through our online payment software. Now peace of mind comes with just one login.