HoneyBook is the best time tracking app that offers real-time tracking from computer or mobile and automatic invoicing.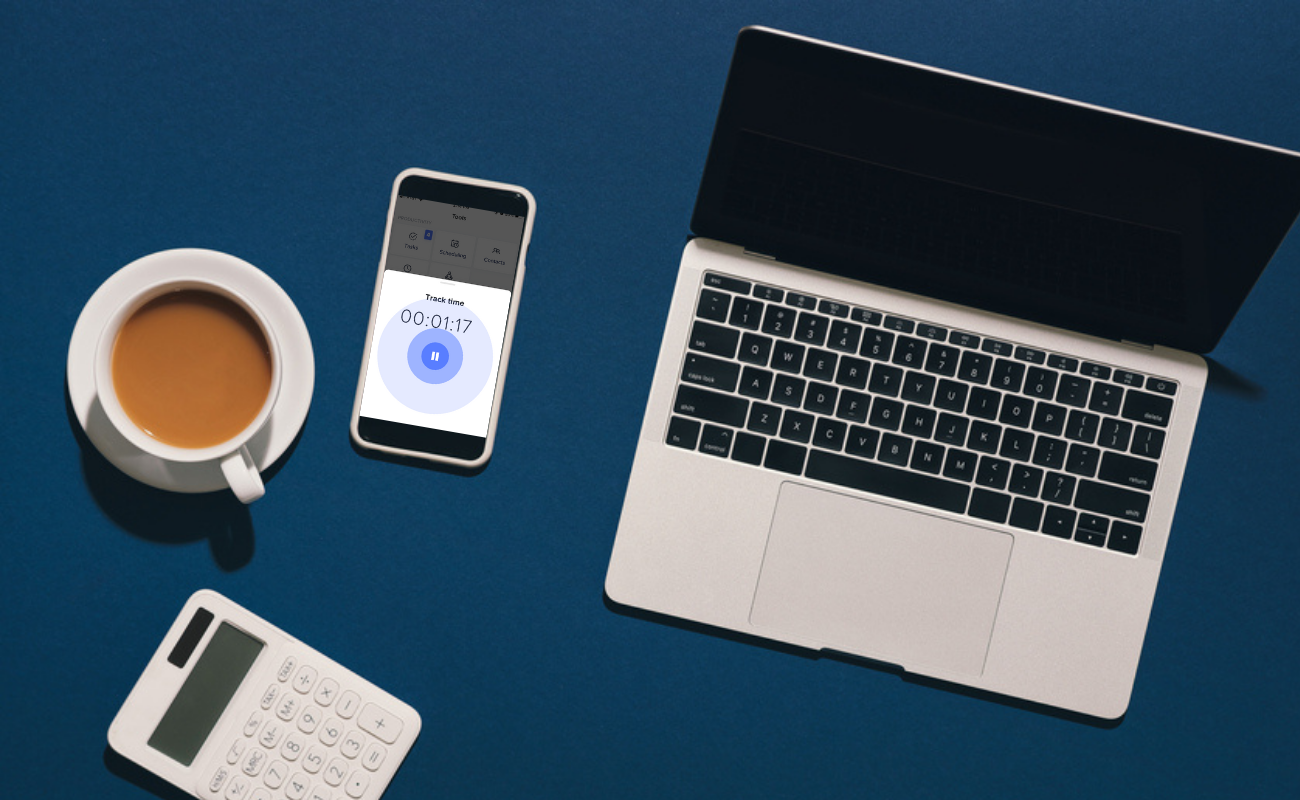 When you work for yourself, being efficient with your time can help you turn a healthy profit, whereas letting time slip by on projects can hurt your bottom line. The solution to this nagging issue is to find a way to track how much time you spend on each contract (or job). Experienced self-employed workers leverage time trackers to get the most out of their time and boost the profit margins they achieve from each project. A trial-and-error approach could certainly help you find a good time tracking tool, but we've saved you hassle. Keep reading to see what must-have features make a good time tracking too and our pick for the best time tracking app for self-employed workers like you.
Must-Have Features for Time Tracking Apps
Your search for the best time tracking software should begin with a basic level of functionality if you want to use them as business tools.
For a small business owner, time trackers should have the following features:
Offer both automatic and manual time tracking
Allow you to input detailed notes the time logs
Connect and assign tracked time to different projects and clients
Automatically calculate the project cost
Easily generate of invoices based on tracked time and cost
The minimum requirement for a time tracker is that it operates like a stopwatch. You hit the "start" button, the time starts tracking; you hit the stop button, the tracker stops, and you have the amount of time that's passed. While rudimentary, that in itself is data you can use to benefit your business.
For example, if you're working on a flat rate project, you can use that time data to calculate your hourly rate. A $300 project might sound great, but if it takes you two 8-hour days to complete, you've walked away with less than $19/hour on the project before tax. That's hardly sustainable for a small business owner, especially given your invoiced amount is collected pre-tax.
Developing a better understanding of your per-project time investment can help you strategize methods to improve your efficiency. That knowledge is actionable, as it allows you to drop projects or services that aren't profitable for your business, adjust the way you do work to improve your project value, or even restructure your schedule in a way that makes your time more productive.
It's important to note here that all of the must-have features in a time tracker app can be performed separately if you combine something as simple as the stopwatch app on your iPhone or Android device with other third-party tools, like Google Spreadsheets, Excel, and Quickbooks. However, the true benefit of a good time tracker is that it saves you time and money by combining all of these features under one platform.
As such, a good time tracker for small business owners not only tracks time but also saves you hours each month in accounting and billing.
HoneyBook's Time Tracker Is Fully-Integrated for Self-Employed Freelancers and Small Business Owners
HoneyBook is well-regarded for its extensive list of time-saving features, including customizable online contracts, client relationship automation, online invoices, online payment processing, digital scheduling, and more. But it's also got a time tracker app. Not only is the HoneyBook Time Tracker available on desktop computers, but it's also the best time tracker app for iPhone users and the best time tracker app for Android devices.
As noted above, the HoneyBook Time Tracker is integrated into the rest of HoneyBook's robust platform, so you can run your business all in one place (finally!). Let's walk through how this Time Tracker can work from the start of a client relationship to invoicing.
Step 1: Receive a new inquiry, qualify your client, and get a contract signed
Excellent! You've established a new client relationship through HoneyBook. Both you and your client sign the contract, and it's now captured in HoneyBook as a new Project. HoneyBook allows you to create projects with any type of billing method, including flat rate and hourly. If you prefer to work hourly, HoneyBook's Time Tracker has a feature for inputting your hourly rate to help you calculate the invoiced amount based on hours worked on the project.
Step 2: Begin working on the project with the Time Tracker
Now that the project has been captured, you can begin working on it. The HoneyBook Time Tracker becomes immediately useful here. If your contract with the client stipulates an hourly billing method and you're using a desktop computer, you can find the Time Tracker in the Project Workspace for each client. Just look for it in the Project Options toolbar. From there, you can select Log New and add your time manually. The Time Tracker offers space for the hourly rate, hours worked, date of completion, and notes for what you worked on.
If you don't want to manually input time, turn to the iPhone or Android version of the Time Tracker. The mobile apps have a stopwatch feature that will automatically track time. Once you hit "stop" on the stopwatch, you can then enter the other details about the tracked hours (including rate and details on what you were completing on the project).
Step 3: Automatically calculate invoice amounts
Now that you've tracked hours on your project, you may use that data to automatically generate an invoice. This is a wonderful time saver for hourly projects, as you don't need to go back and do the math yourself. As long as you put the hourly rate into the HoneyBook Time Tracker, the tool will do the math for you when you generate the invoice. Once you're ready to create the invoice, go to the Project Workspace for that client, open the Time Tracker section, and then select Create Invoice for the tracked time you want to include on the invoice.
Step 4: Send your tracked time invoice
Now that you've created your invoice, the last step is easy: click send! Your client will receive your HoneyBook invoice, with all of the digital payment options that HoneyBook offers for online invoices.
Can I Use HoneyBook Time Tracker for Flat-Rate Projects?
One reason this is the best time tracker software for small business owners is that it's features are beneficial even outside of hourly contracts. You can track time on any project, whether it's flat rate, hourly, or built on an estimate. As noted early, the Time Tracker is valuable as a tool for helping you make actionable business decisions with your tracked time data, not just for automating your billing process.
Including tracked time in an invoice is optional. You can use that data to better determine if a project or service you offer is helping or hurting your bottom line. This is especially essential for small business owners who primarily operate with flat-rate billing. When you create contracts that have no wiggle room for overage costs, you'll need to start collecting data on each project to determine its true worth (more commonly known as your "cost of doing business".) That's going to be difficult to accomplish without tracking time and evaluating it against the amount you charge your clients.
For flat-rate projects, it may be a good idea to associate it with your desired hourly rate. You can then track time for that project and include that desired hourly rate in the Time Tracker. Once you've completed the project, compare the hourly rate you wanted to the flat rate you agreed upon in the contract.
If the invoiced amount is higher than what you tracked, you're doing a great job and coming in under budget, effectively boosting your hourly rate for the project. If it's lower than the total based on the tracked time and desired hourly time, you may need to strategize ways to be time efficient. You may also need to consider raising your rates, or adjusting your project catalog to focus on projects or services that are more effective revenue drivers.
No Better Time To Start Than Now
Don't let another project go by without assessing its true value to your business. Download HoneyBook, the best small business management platform, sign up (for free), head to the time tracker tool and tap "Start". Then, begin recording those billable hours! You'll be amazed at how much time data will be worth to your business once you start analyzing project time investment and uncovering your best revenue drivers.