Learn how to start meeting with clients (in person and virtually) with preparation, scheduling, agendas, post-meeting follow-ups, and more! Make the most out of your meetings.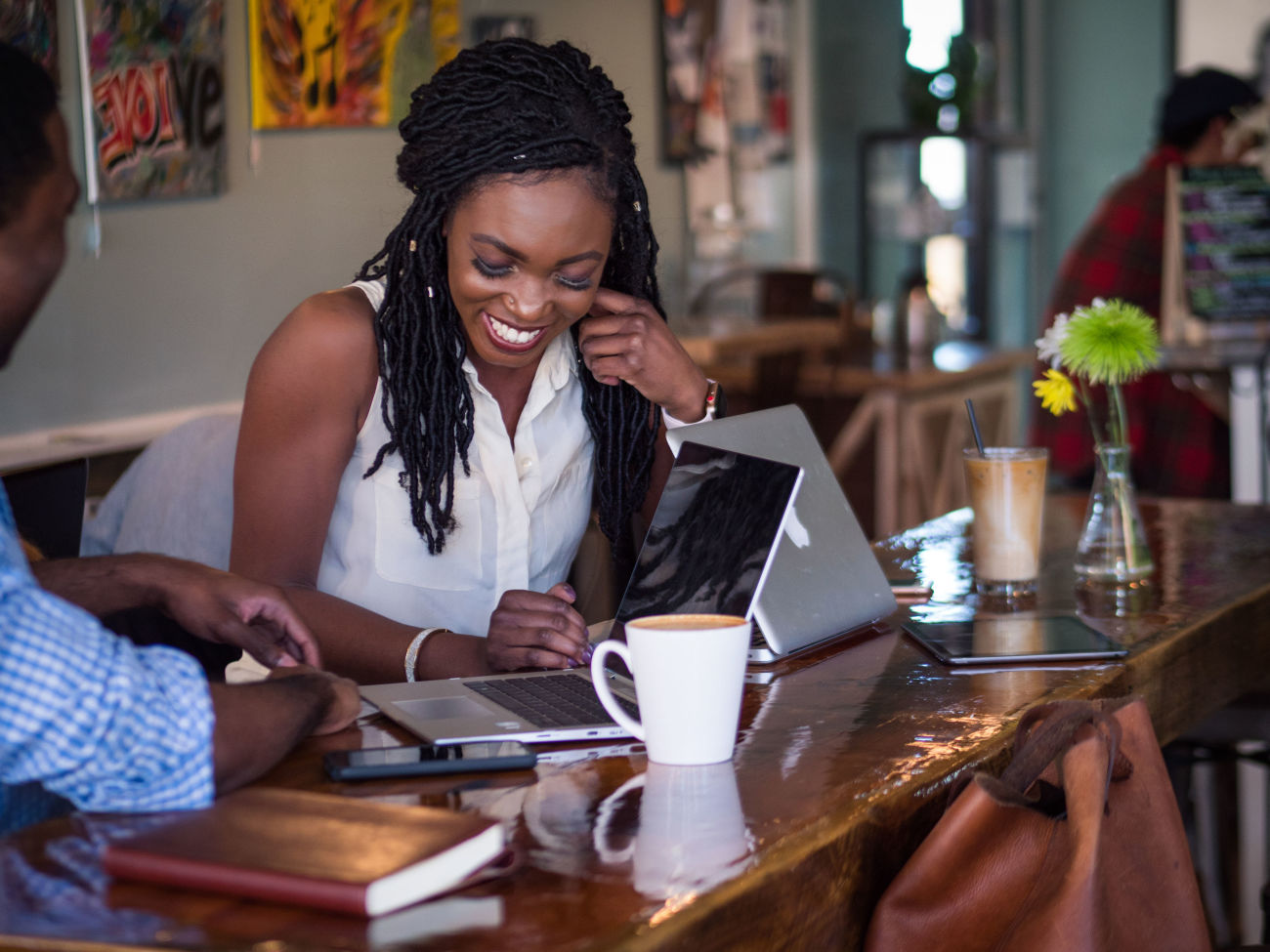 As small business owners, you know client meetings are essential to your business. They help qualify projects and clients; allow you to shine a spotlight on what you do best; and—most importantly—help you book more business.
Just how much more?
Clients are 40% more likely to book you if you meet with them.1
That's a huge factor in helping you get more business. Which is why taking the time to understand what makes client meetings effective and how to make yours better can help you turn more inquiries into actual clients.
Ready to learn how to start meeting with clients? Here are all the steps you need to take before, during and after each initial client meeting.
Meeting prep: set up for success
Before you ever pick up the phone, hop on a video call or meet a prospective client in person, there are five key things to consider to set your client meetings up for success.
1. Make scheduling client meetings a snap
The first step in crushing your client meetings? Getting a client meeting. I know it sounds obvious, but hear me out. Imagine you have a prospective client who wants to start working together. They're really excited and want to set up a meeting ASAP. Now imagine this prospective client has to email you to set up a time. You send over your availability. They reply back asking if you're free on another day because none of those times work for them. You make a mental note to check your calendar but forget to send over more time slots. By now, they might start losing interest—or worse—meet (and book) with someone else.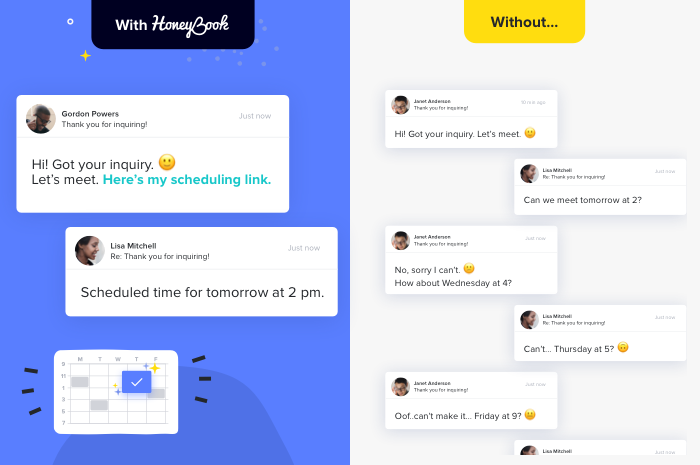 That's not fun. Or good for business. That's just email ping pong. And nobody likes that. Instead, get that precious face time with your potential clients. Use an online meeting scheduler to make it as easy as possible for them to schedule meetings with you.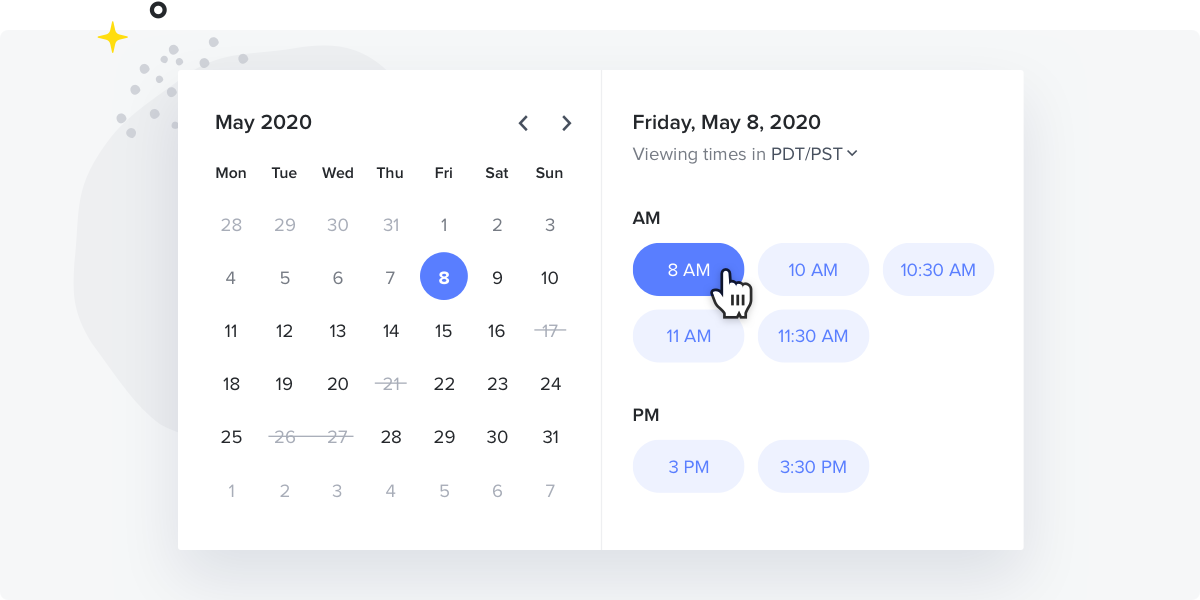 Don't want meetings scheduled during dinner or your lunch-hour power walk? No problemo. Scheduling tools allow you to set your availability, so clients can go online and find a time that works for the both of you in a few simple clicks.
2. Pick the right meeting type
The first meeting with a potential client is all about putting your best foot forward. From your body language to the examples you share, how you communicate matters. So pick the meeting type that will best convey your brand and the value of working with you. Here are the three most common meeting types and pros and cons of each.
Phone call

Pros: Whether you're at home or on the go, picking up the phone for a call is one of the easiest ways to meet. You'd be hard-pressed to find anyone who doesn't have a phone these days, so this type of meeting works for virtually everyone.
Cons: Without visual aids—like making eye contact; smiling and nodding while you're listening; or being able to see when the other person has finished talking—it can be challenging to convey warmth and trustworthiness (two critical things to building a successful new relationship) over the phone.

Video

Pros: Unlike a phone call, video meetings give you the benefit of visuals. There's something about being able to see someone you've never met before that makes them that much more real. Not to mention relatable. For instance, you can see when your client stops talking so you don't unintentionally cut them off, letting them have the floor when talking and showing them your undivided attention. Lastly, since you can't multitask when the camera's on, there's less room for distraction on both sides.
Cons: While most people these days have a video-camera-equipped smartphone, some people choose to keep it old school with a landline or non-smartphone cell phone, making it a bit more challenging to hop on a video call. Also, the occasional lag time over video may still result in talking over one another.

In-person

Pros: Like video meetings, in-person meetings allow you to build a strong relationship from the start with all your available powers of persuasion (both verbal and non-verbal). And since you don't have to worry about internet lags, you can simply wait until you see your potential client has finished a thought before moving ahead or jumping in. Also, if you have physical examples to share, doing it in-person is much easier.
Cons: A bigger ask of your potential client, in-person meetings require them to carve out time to travel and meet. It also takes up more time out of your day, which could be problematic if many of your in-person meetings don't turn into booked business. If this is the case, you may want to review how you're vetting inquiries before agreeing to meet.

Pro Tip: You can set any of these meeting types (including phone, video, in-person or other) as meeting options for your clients in the HoneyBook online meeting scheduler. Include them all to give your clients options or just pick the ones that work best for you.
3. Qualify inquiries before client meetings
As mentioned in the previous point, it's important to vet your inquiries. You don't want to waste their time, or yours, by meeting with just anyone. To help you do this, be sure to ask the right questions to see if they're a good fit. Questions like "What's your budget?" "When do you need this project completed by?" can give you a sense of how much they can spend and if you have the bandwidth for their project.
Of course, you can ask these questions after someone inquires and before you set a meeting, but some tools help you ask these questions right when they inquire. For example, with HoneyBook's small business management platform, you can use the contact form to ask custom questions that help you qualify your leads. This way, you can make better business decisions about where to spend your time and which leads to focus on.
4. Do your research
So your potential client booked time with you using your easy-peasy new scheduling link; you've vetted the inquiry and know they can afford you, and you've decided it's best to charm them in person. What's next?
Make sure to:
Research the client – There's nothing a little light Google stalking can't help you prepare for. Check out their social profiles, their LinkedIn profile if they have one, and anything else you can find. Basically, you want to get a feel for the person you're meeting with in order to customize your communication style to meet their needs. Do they write without contractions and perfect punctuation or are their Instagram captions full of emojis? What does their background say about them? Are they likely to be familiar with your craft or will you need to spend more time walking them through the details? Also, look for things you might have in common—places you've been or people you both know. These types of fun facts are a great way to break the ice.
Review the inquiry – Asking questions in your contact form about the type of project your potential client is interested in, or their goals and objectives, makes it easy to know what to expect and where to hone the conversation.
Prepare answers to their questions – Think about what skills and expertise you bring to the table; prepare examples of similar types of past work that you can show or speak to, and be ready with a response for those questions you won't be able to answer on the spot. A succinct "I'm not sure, but let me look into that and get back to you" usually works like magic.
Prepare your questions – Just as your potential client is sure to have questions for you to determine if they want to work together, you'll also have your own questions. Put together a list of questions that helps you figure out if they're an ideal client and, if so, what you need from them to keep the project moving forward. Think of client meeting questions that would help you to understand their expectations (e.g., Do they want to meet every day? Once a week?) or put together a proposal (e.g., What are the exact deliverables they want?)
5. Remind them to meet
Ensure your client meetings actually happen (and all your prep work doesn't go to waste) by reminding your clients about your upcoming meeting. This is especially important if it was booked far in advance. Scheduling tools like HoneyBook's online meeting scheduler can streamline this for you by sending automated reminders. You pick when you want them to go out (you can schedule up to two reminders), and just set it and forget it.
Client meeting agenda: what to do during your meeting
Now that you know what it takes to do meeting prep like a pro, let's move onto the do's and don'ts of the actual meeting.
1. Get comfy
You know that feeling you get when you're settling down to have a chat with a friend over a nice hot cup of coffee? Try to recreate that feel-good moment when you're about to meet your potential client for the first time. Remember when you researched the client as part of your meeting prep? Now's the time to mention some of the things you found interesting or have in common in a natural way.
According to social psychologist Amy Cuddy, "You can also establish trust by collecting information about the other person's interests—get them to share things about themselves. Just making small talk helps enormously. Research proves that five minutes of chit-chat before a negotiation increases the amount of value that's created in the negotiation."
2. Let them talk first
Next, let your client share what they're looking for help with and why they reached out to you. One of Amy Cuddy's simple techniques to convey trust in an initial interaction is to "let the other person speak first or have the floor first. You can do this by simply asking them a question."
She explains, "I think people make the mistake, especially in business settings, of thinking that everything is a negotiation. They think, 'I better speak first so that I can be in charge of what happens.' The problem with this is that you don't make the other person feel warmth toward you. Warmth is really about making the other person feel understood. They want to know that you understand them. And doing that is incredibly disarming."
3. Re-state their objective
After your potential client has explained what they're looking for, reassure them that you understand. An easy way to do this is to repeat back to them what you think you heard. This has the added benefit of ensuring alignment. By rephrasing what you think they're looking for in your own words, you're giving them the opportunity to clarify so that you're both on the same page.
4. Share your expertise and process
After you're aligned on the client's needs, explain how your unique skill set and experience are perfect to help them get the job done. If you spent time thinking through past work examples and clients who were a similar fit in your meeting prep, this part should be a breeze. After all, no one knows your business and can speak to everything you do like you can. Also explain how your process works so your client can get an idea of what it would be like to work with you.
5. Go to your list of questions
As you're getting closer to the end of the meeting, get your questions out. Remember to ask yourself: What do I need to know to move the project forward? Is this client going to be an ideal fit?
Here's a sample list of client meeting questions that might help:
What's your preferred communication method? (For example, if they say they like being able to text 24/7 and you have a strict no-screens rule after 6 p.m., this might be a red flag that this client isn't an ideal fit.)
What's your desired level of involvement?
What are the main deliverables for this project? Which deliverables are the most important to you? (This will help you put together your proposal.)
When do you want to start the project?
What's your budget?
What will success look like to you?
Is there an example you've seen that you like?
What's the next step and by when?
6. Ask if they have any questions
Before the end of the meeting, make sure to address any concerns your potential client might have. They're in a decision-making mindset, so now is the perfect time to overcome any objections and make them feel heard and understood. It's also an excellent way to see where their head is at. From the types of questions they ask, you can get a better idea if this is a client you want to work with.
And don't forget you don't need to have a perfect answer crafted at the ready for every question that comes your way. If you don't know, that's ok. Just make sure to let them know you'll get back to them on that ASAP.
7. Outline next steps
Finally, make sure you outline what you think next steps are, timing and who's doing what. Saying this back to your client also ensures you're aligned before any work begins. A next step you should always include is that you'll send a meeting recap that includes the next steps.
After client meetings: steps to seal the deal
After your initial client meetings, do a quick happy dance. You've put in the time and effort to prep and impress—but the work doesn't stop there. You're in the home stretch to put in the final touches to turn them from potential to booked client.
1. Follow up with a client meeting recap and thank you email
Try to send a thank you email along with your meeting recap notes (including what your client needs, by when, why and for how much; how you intend to help; and next steps which could include sending over an online contract and hopefully even online invoices) as soon as you can, preferably on the same day as the meeting. You want them to feel like your first priority and this sense of urgency says that loud and clear.
2. Analyze the meeting
While the meeting's fresh in your mind, take time—even if just a few minutes—to review and assess how the meeting went. The most effective client meetings are the ones that are refined over time. Try to be objective about if the meeting went well or if it could have been improved. Either way, make note of the following and keep the successful parts in your client meeting process and/or refine the areas that need help:
Meeting type – Would it have been better to be a quick phone chat or in-person?
Meeting length – Was it too short, too long or just right?
When in your process the meeting is happening – Is it too soon? Do you need to vet inquiries more carefully before meeting?
Ease of scheduling – Is it easy or a barrier for inquiries to book time with you? Remember, clients are 40% more likely to book when they meet with you, so you want to make this as easy as possible.
Content – Did you create an agenda? Did you ask the right questions to get what you needed to move forward? Are there better questions you could have asked? Or better examples you could have provided to demonstrate your expertise?
Expectations – Did you have the same expectations for the meeting and the project? If not, what can you do to clarify what you do and how you work to align better with future inquiries?
Preparing for the meeting – Was it easy? Hard? Consider putting together action items for how you prepare and all the information you gather.
3. Deliver on your outlined next steps.
Saying you can do all the things is one thing. But it's another thing to actually do them. Show your potential client that you're ready to give 100% on their project by delivering on time (if not before) the due dates you set for next steps.
4. Follow up
If at first you don't hear back, follow up, follow up again. This is a biggie and one step many people don't pay enough attention to. Forbes says it takes "seven to 10 touches with the brand before a potential buyer converts into a customer." Schedule a check in if you don't hear back from potential clients (or create a task in a system like HoneyBook to keep yourself organized).
By taking the time to do upfront meeting prep, you're setting yourself up to have a successful meeting. And when a meeting goes well, you'll be on the same page with your potential client, making it easier to get to the next steps to actually book them (40% more likely!).
Now that you know how to start meeting with clients, check out How I Booked 30% More Client Meetings with a Scheduling Tool.
Source: 1. HoneyBook Internal Reporting, 2019