Business process automation tools can be a no-brainer for your small business to help you keep organized and stay on track. Read this article to learn the three most important types of tools you need for your business, along with examples.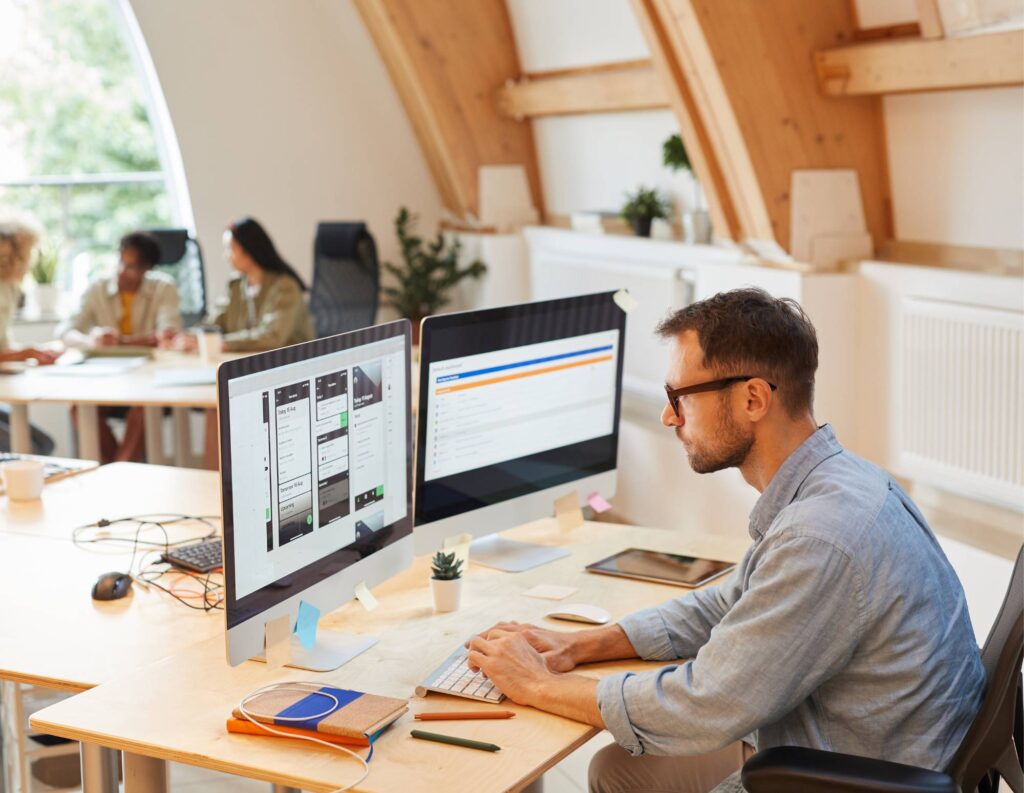 If you're an independent business owner, you'll find that at some point, taking care of everything manually isn't feasible.
As your business starts to grow, it will become increasingly challenging to stay on top of all the tasks you have to complete for each client. You'll want some sort of system that automates all the repetitive tasks that are eating away at your time, but gives you room for personalization in client interactions. That's where business process automation tools come in.
Business process automation can help you save time and get more done. Automating your business also helps you enhance your customer experience as they'll find your processes easier and more enjoyable to get through. Here are three types of business process automation tools you should consider for your business.
Jump to:
How to choose business process automation tools for your business
Choosing the right business process automation software for your business doesn't have to be complicated or overwhelming. A little bit of planning and organization can go a long way toward making the process easier.
Here's a two-step workflow we recommend to help you decide on the right automation solutions for you.
Create a process map
A process map is when you visually represent all the steps involved in the tasks you're doing together with the task owners and the timelines. The simplest way to do this is by drawing it all out on a whiteboard or on your notepad.
Making a process map can give you a good picture of the types of tasks that need automating and streamlining. These are usually mundane, repetitive tasks that take up your time, effort, and resources. Sometimes while you're creating your process map, you will find steps that you can eliminate altogether.
Evaluate budget/capabilities
Next, you want to determine how much of your budget you can realistically afford to set aside for your software. A lot of the business process automation tools in the market offer subscription plans, so you can choose to pay yearly or monthly. While there is no one-size-fits-all solution when it comes to how much to budget, it's common for small businesses to spend close to 7% of their revenue on technology.
Next, evaluate business process automation tools based on the deliverables you've identified in your process map.
We've prepared a list of the top three types of automation tools you'll need for your business to make things easy for you. As you work through your list think about the features that are most suited for your business as requirements can vary from business to business.
1. Email automation tools
Email automation tools can help you communicate seamlessly with your clients and leads. They're also a highly cost-effective marketing tool. For every $1 you spend on email marketing, you can expect to earn $38 back in revenue.
Mailchimp — Mailchimp initially started as an email marketing services provider. But since then they've upgraded to offer a whole host of marketing features making it a great resource for using email not just for connecting with your clients, but also for marketing. For example, you can use Mailchimp to design on-brand creatives for your email content, segment users who will receive them, and also time them to be sent out after a specific event or action has taken place.

Mailchimp's biggest unique selling proposition is how easy it is to use. The range of features available at affordable pricing makes it a great draw for small business owners who want the basics minus the bells and whistles. On the flip side, you may find you need to spend time learning to implement more complicated workflows.
Flodesk — Flodesk has the unique distinction of having been designed by creators. So, you have more control over the look and feel of your email content. With Flodesk, you also have the ability to build robust email automations. For example, you can set up emails to be sent out at specific times, automatically send a pre-written response if your client has opened the email, or a pre-written follow-up if the client hasn't.

If you're looking for standalone software for basic email setup, you'll find Flodesk simple and easy to use. But if you're looking for a full-featured email marketing platform, you'll find Flodesk very limited in terms of what it can do, compared to Mailchimp.
HoneyBook — HoneyBook is best known and most-loved for being an independent business-friendly client relationship management software that doubles as a great cash flow management tool (automated invoicing and payments). Use HoneyBook's automated workflows feature to respond to inquiries as they come in through your landing page. You can even set up HoneyBook to initiate communications with your clients when project milestones are reached.
HoneyBook has a devoted fan following among business owners who like how effectively it supports back-end administration while making sure the client is having a great experience, too.
2. Workflow automation tools
Workflow automation tools are a no-brainer for businesses of any size. They help you streamline processes and stay on top of all your tasks. For independent businesses, business process automation software is especially helpful for automating client management, booking, project closure, and more.
HoneyBook — Use HoneyBook to automate your most important processes like booking clients, onboarding them, and closing projects when they're finished. You can also automate internal task reminders and the emails you're sending to your clients. Also, use it to send the interactive files that move your processes forward.
Kissflow — Kissflow is a great all-in-one tool to automate all your small business processes. One of its stand-out features is the ability to collaborate and communicate with your team members or your clients on documents, content, and files. You can get through tasks a lot faster with Kissflow. Kissflow is relatively easy to use but there is a bit of a learning curve, so you may need some time to get to grips with the software.
ClickUp — ClickUp is essentially a productivity tool, but who doesn't want to be more productive as a business owner? It's also one of the best automation tools available if you work remotely with your clients. You can create documents and connect them to tasks, track the progress of your projects, set priorities on what you want to accomplish first, collaborate with your small team, and so much more. ClickUp can be a bit overwhelming at first, but with some learning and practice, you'll be able to make sense of how everything works.
3. Accounting and bookkeeping automation
Another must-have for small businesses are accounting and bookkeeping tools to help you stay organized with your finances and manage payments for your clients and vendors. With the right tools, you can automate the process of maintaining and assessing your cash flow. No, most of these tools aren't a replacement for a professional accountant or bookkeeper, but they will take hours off your plate if you're used to handling checks and managing your books via spreadsheets.
QuickBooks — QuickBooks is an accounting software package that makes it easy for you to track sales, and create and send your invoices and payment receipts. You can also use reports to keep track of how your business is doing at any time. QuickBooks has a lot of great features that make it highly appealing for small business owners. For example, you can enter the information from your vendor bills and set them up for payment when they're due. You can also add payment reminders if needed.

QuickBooks is a user-friendly software designed for people who don't speak "accountese," although it won't entirely do away with the need for an accountant. There is a bit of a learning curve but it's not as challenging as you might expect. Also, QuickBooks integrates with HoneyBook, so you can have a direct connection with HoneyBook's invoicing and payment processing features–making it easier for you to get paid and manage your books..
FreshBooks — FreshBooks is packed with features that make it a very useful automation tool for managing your finances. You can customize and create professional invoices, track billable time, automate your payments, and get a bird's eye view of your performance using their Double-Entry Accounting tools.

FreshBooks is simple to understand and easy to use. Negatives, if any, are more for larger businesses. You also have the ability to carry out project management functions inside of FreshBooks. FreshBooks is perfectly geared for solopreneurs and small business owners.
Xero — Xero is another feature-rich accounting software tool that does a lot. Over and above general accounts management, you can do things like maintaining pay records and doing pay runs for your employees, connecting to Stripe, GoCardless, etc. to receive payments faster, creating professional quotes, syncing with banking transactions, and so much more. Overall, Xero is a fantastic all-in-one accounting tool for small business owners.
HoneyBook – The best clientflow management platform for independents
Digital transformation doesn't need to be another trending buzzword meant for big businesses with deep pockets. Independents and small business owners can easily take advantage of workflow automation software to go from overwhelming manual work to efficient automation without missing a beat.
With HoneyBook, it's easy to learn how to automate your business. No matter what your process requires, you can translate it into HoneyBook and set up simple, efficient automation. You don't need to mess around with complicated tools that take months and months to onboard. HoneyBook's intuitive automation connects with interactive files that can easily replace what you're already using.
HoneyBook, the only CRM for solopreneurs, offers a powerful, interactive clientflow management platform that lets our members customize files to their needs and include sales videos, photos, questionnaires, a customizable online invoice, contracts, and more, and allows you to get paid directly through our online payment software. Everything is fully branded to match your business, and each file can be dynamic and interactive, depending on your needs. Now peace of mind comes with just one login.