Client relationships are the foundation to successful projects. Learn how to set expectations and free up time so you can focus on getting to know your clients and meeting their needs!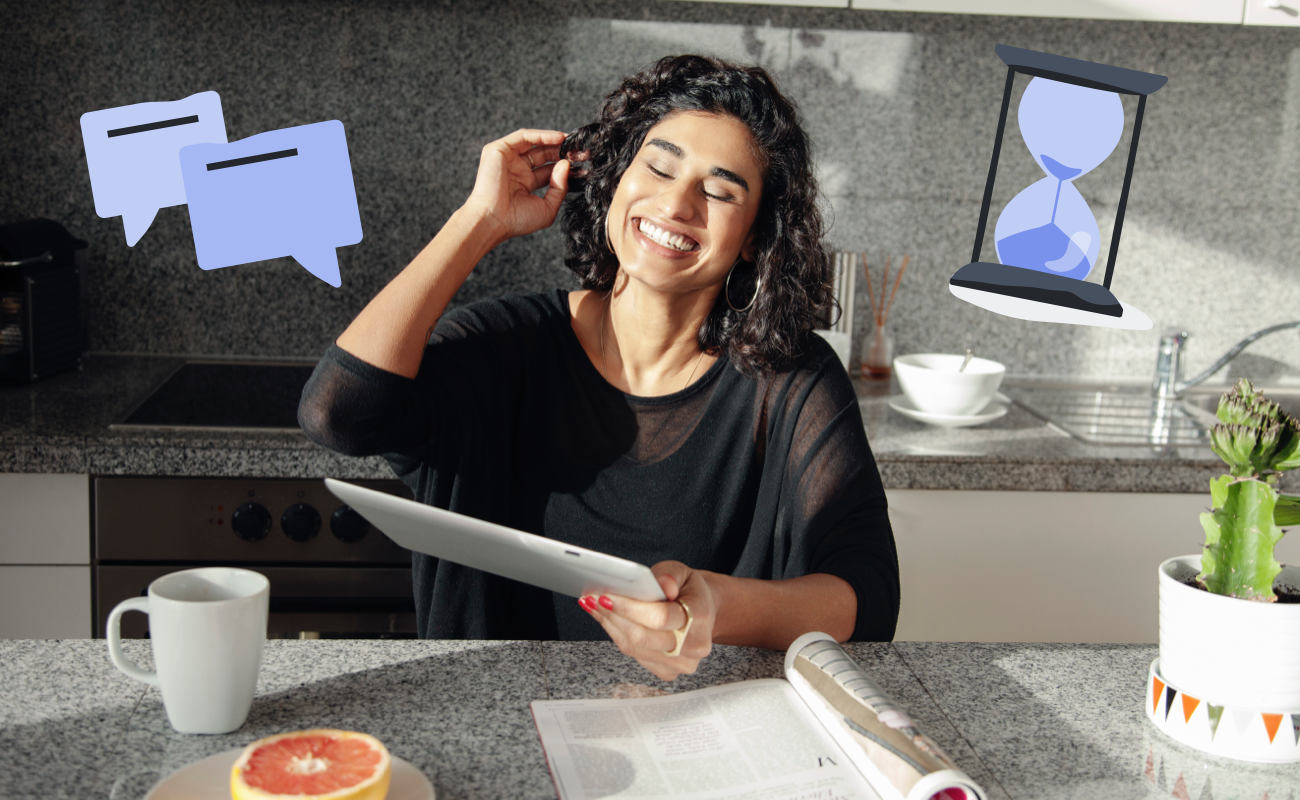 Your business value consists of the quality of the service you deliver and the experience you create for the clients that work with you. Building successful client relationships helps your projects run smoothly and allows you to cultivate long-term partners. Excellent relationships with clients can also turn them into advocates for your business, generating new referrals long after their project ends.
But building strong relationships with your clients can take just as much effort as building your business. Luckily there are ways to streamline your processes so you can focus more time on delivering the best client experience.
By automating strategic parts of your booking process and creating streamlined workflows, you'll actually be able to integrate more personal interactions.
Though it may take some set-up time upfront, don't be discouraged. Investing in automation will free up valuable time in the long run. Instead of spending hours on administrative work like emails and follow-ups, imagine what your projects will look like when you can spend most of your time getting to know your clients and their unique needs.
With our tips, you can get back to the best parts of being in business–making an impact, and being there to watch your clients' smiles grow.
Save Time Getting to Know Clients
When you start out on the right foot, it can be easier to cultivate a relationship. By getting to know your clients upfront, you can introduce yourself and your business right away while also getting to learn more about their unique needs and desires.
The time in between your clients reaching out and expecting an answer is crucial since they might be browsing other business options. To save time, sync the contact form on your website with an automated email. By responding immediately, you're already demonstrating how easy it is to work with you, and your potential clients will appreciate the quick acknowledgment.
Within your email, include a simple questionnaire to learn more about what they're looking for. Create the questionnaire as a tool you can use to vet your leads and determine whether to move forward with an initial meeting or consultation. The questionnaire will help you save time that you might otherwise spend going back and forth over phone or email.
Your questions will vary depending on your industry, but some good questions to include at this stage might be:
What is your target budget?
What is your target date or project timeline?
What is your preferred method of communication?
How did you hear about us?
Once you receive a questionnaire response, you can determine the appropriate next steps like scheduling a meeting or following up for more information.

Pro Tip: Use HoneyBook Automations to move clients forward quickly at the start of your pipeline and leave a great first impression on everyone you encounter. Even those people who don't turn into clients will have had a positive experience.
Establish Your Relationship Terms
When you've vetted your client and you're ready to move forward with a project proposal, it's time to make sure everyone's clear on the relationship terms. Just like a romantic proposal, you wouldn't want to dive into the relationship without everyone understanding wants, needs, boundaries and more. Within the proposal, you can make sure everything is clear and agreed upon in a contract. The great thing about HoneyBook's Proposal Software is that it includes a contract and invoice, so they have to agree to your terms before submitting an initial payment.
Your contract should include work boundaries that protect both you and your client. You can include everything from your work hours and turnaround times to the scope of work, payment schedule and the communication channels you'll use.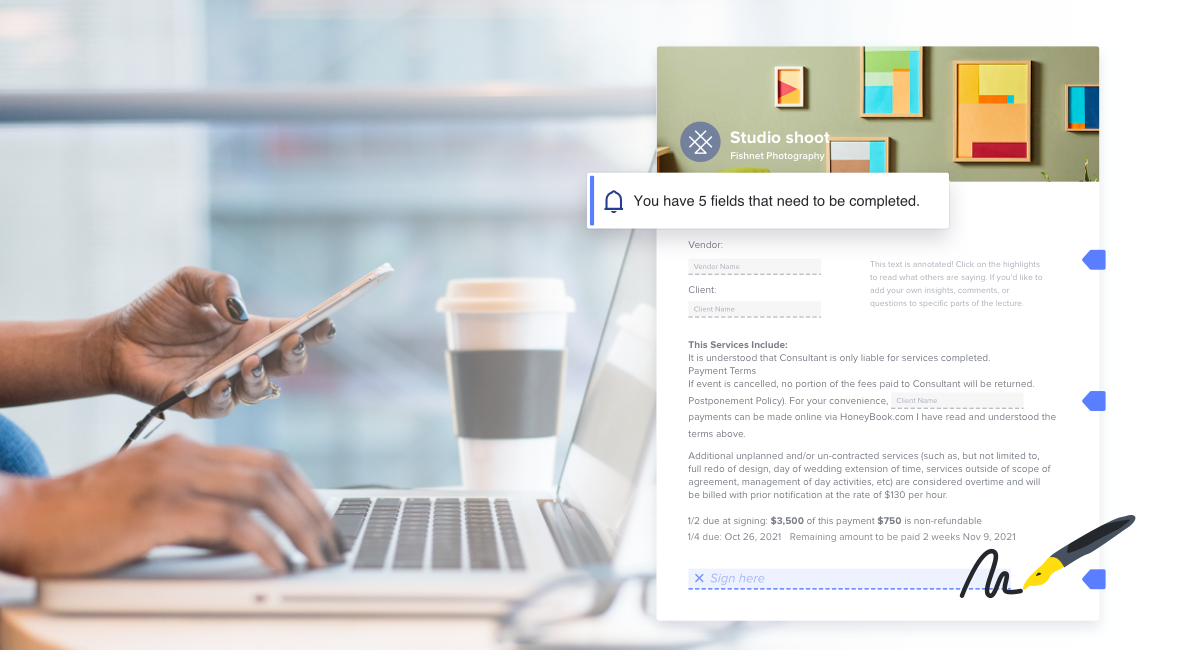 There will also be specific legal language to include about project termination, refunds, intellectual property, liability and much more. We recommend consulting with a business lawyer to create contracts that make sense for your specific industry and services.
In addition to protecting everyone, the contract can help you set expectations and hold yourself accountable for what you'll deliver. Throughout the project, reiterate your contract terms in emails and at different project milestones. Doing this can help make your client relationship stronger since your clients will know exactly what to expect from you along the way.
Automate the Administrative Work
Automation might sound like the opposite of personalization, but it actually goes hand in hand. Establishing a more efficient workflow will help you save more time, and the time you save can instead be put into more valuable interactions with your clients.
If you don't know what type of work to automate, focus on anything administrative or repetitive. Greeting your inquiries with a thank you email and sending out a new client questionnaire is one great example. As you move further into the project, you can also automate your invoicing schedule, follow-up emails and more.
Consider mapping out your current project pipeline (the steps in your process from first inquiry to final invoice) and seeing which manual steps you can instead use HoneyBook's client workflow automation software to automate.
Short on time? We know mapping out your processes probably isn't high on your to-do list. Instead, work with a HoneyBook Pro who will dive into your business to understand your current processes and how you can improve them. When you find the Pro who offers the right services for your needs, they'll create and customize the perfect automations for your business.
What Should I Automate?
Instead of going back and forth to schedule every phone call and meeting, use a calendar that anyone can use to book time with you. A calendar with custom scheduling, otherwise known as our online meeting scheduler, will let you set available times for different types of appointments, whether it's initial consultations, project meetings or workshops.
You can make sure it's easy for clients to get a hold of you by adding your calendar link to your email signature as well as sending it at key project milestones. When you're onboarding a new client, you'll be shocked at how much time it saves you to move them forward in the process.
By creating automations for your admin work and follow-ups, you can focus on preparing for more personal touchpoints like client meetings and project reviews. In short, you get to focus on the fun stuff–delighting your clients and seeing the impact of your work!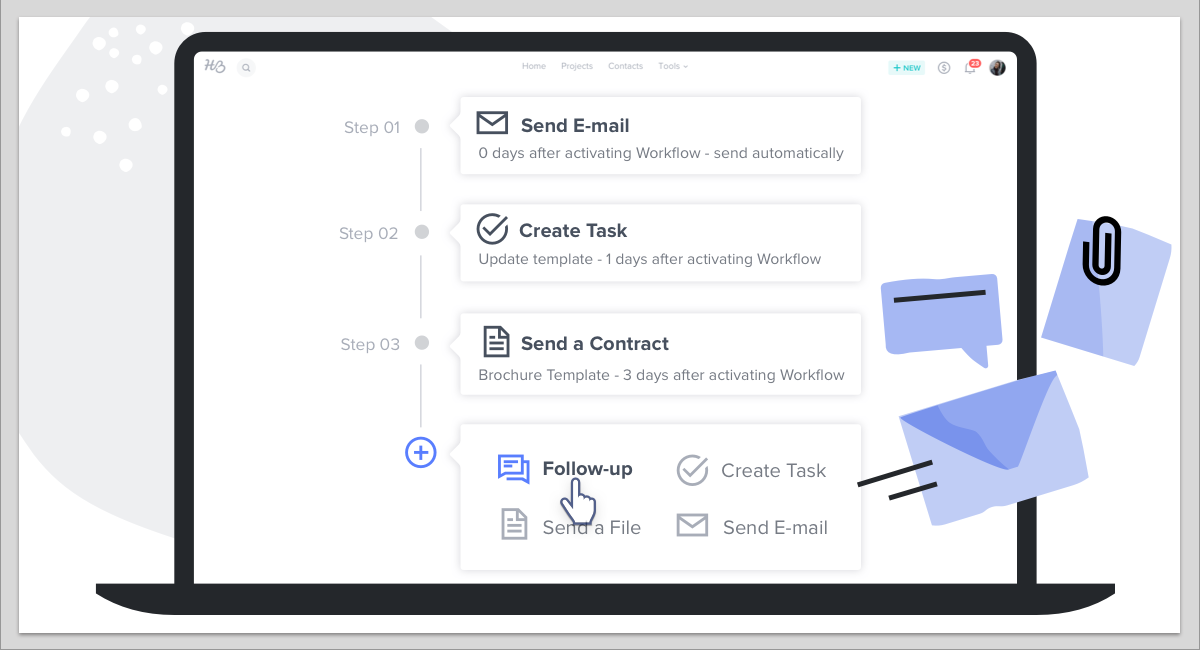 Fill Your Time With Personalized Interactions
Once you have more automated workflows in place, you can use your time to invest back into delighting your clients. The secret to building better relationships? Listening and learning – much like most of our other relationships in life.
Start taking more notes during your client interactions so you can refer back to specific mentions as you work. Even things that seem inconsequential can end up coming up later as a great way to improve their experience. Pay attention to both personal and project-related notes that may come in handy throughout the project.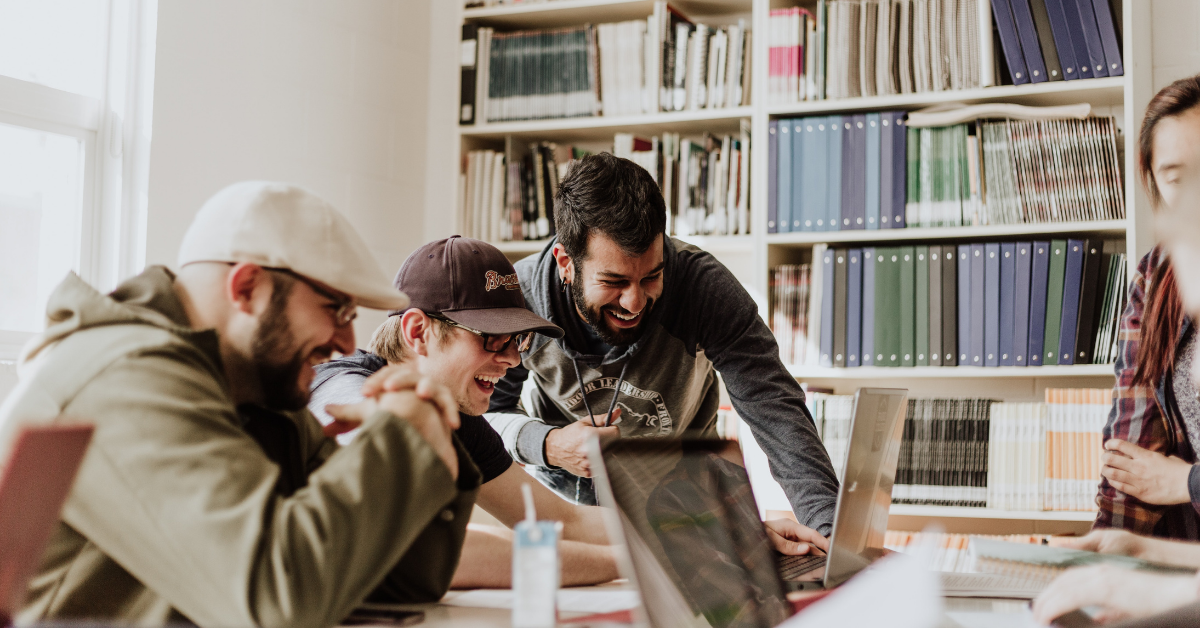 Above, we mentioned automating your initial client touchpoint with intake questionnaires. By including a question about communication preferences upfront, you can tailor your ongoing communication in a way that they'll appreciate the most. They may prefer frequent check-ins or a mix of in-person and online meetings versus video chat and phone calls. Whichever they prefer, accommodating them can help make them feel more comfortable to work with you.
If they're okay with frequent check-ins, build in touchpoints along the way even when you haven't hit a project milestone. More frequent check-ins can ensure there aren't long periods of silence while opening up more opportunities for feedback.
A check-in could be as simple as a quick question, or you can develop more interactive opportunities, like client homework. As long as it's an easy lift on their end, it can be a great way to create new conversations. The more you connect with your clients, the easier it will be to deliver on the project while also building a successful relationship.

Pro Tip: Use HoneyBook Brochures to check in with your clients and send proofs, worksheets, questionnaires and more! Customize the brochure with photos and text to make it interactive and engaging.
Make Sure the Relationship Lasts
Why are client relationships so valuable in the first place? Understanding more about your clients will make it easier to help them. On the client side, they'll feel comfortable and well taken care of. When they know and trust you, you can become the service provider in your industry that clients want to continue working with over and over again.
Great client relationships can also turn into brand partners and advocates. When you provide an excellent experience, they'll want to spread the word about your business and advocate for your services.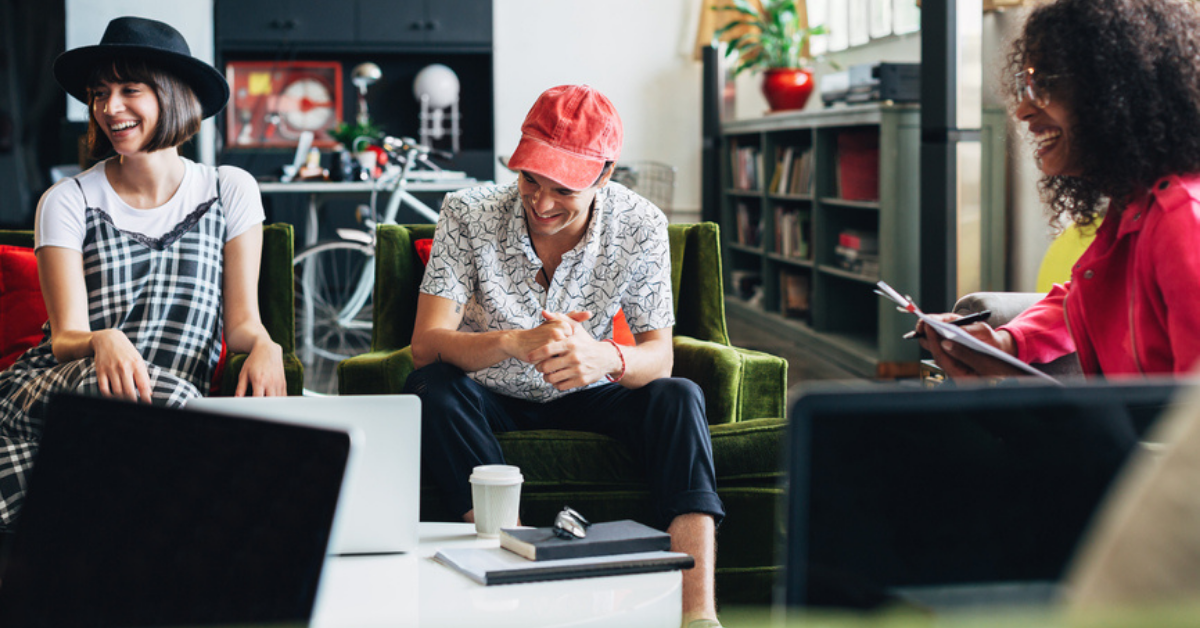 It's important to remember that the client experience doesn't have to end with the project. It's always helpful to ask for feedback once your project is over, which you can do through another automated questionnaire once everything is finalized. Find out what they enjoyed and what can be improved so you can continue improving your client experience for others. Asking for feedback is also a clear signal to your clients that you value their insight.
As long as you have their permission, you can also continue to interact with clients in the long-term. If it makes sense for your services, you can check in to see how they're doing post-project. You can also continue to show your business value by sending out ongoing resources through a newsletter or blog. To make sure your clients want to stay involved with your business, consider offering a referral program with benefits or discounts that they'll love. 
Like any relationship, you can also get creative in showing how you care. Incorporate new ways to delight your clients, such as reaching out or sending a card when it's a holiday, birthday or another special day in their life. Adding those personal moments of delight along the way will make working with your business more memorable and help set your brand apart. 
When you've taken the time to get to know your clients, it's easier to maintain a lasting positive impression. Relationships might take work, but you'll always reap the rewards in the long run.
HoneyBook, the best crm for solopreneurs, streamlines everything you need to manage your business into one place. Manage projects, book clients, send an online invoice and get paid through our online payment software. Now peace of mind comes with just one login.