The best CRM for event planners will give you tools for collaboration, client management, file sharing, booking, and more. See why HoneyBook provides features beyond a standard CRM.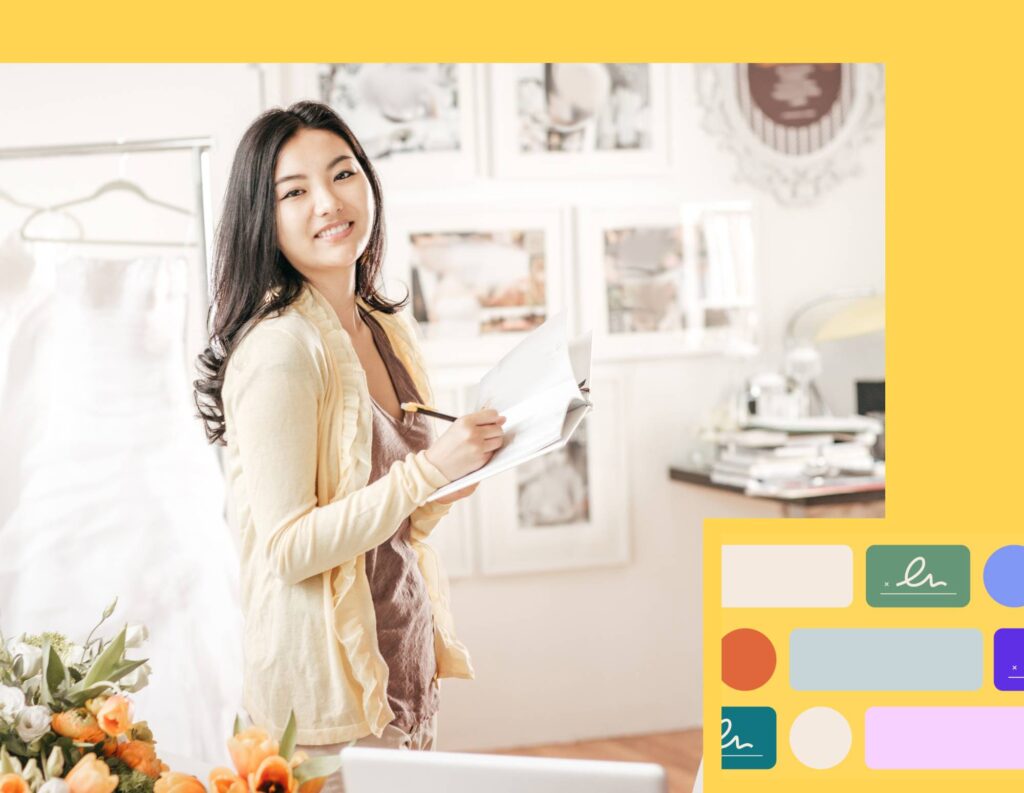 As an event planner, you live and breathe fine details. Whether you're working on the timeline for the perfect wedding, booking a venue for a bat mitzvah, or curating tasteful designs for a holiday party, organization is key. Without it, the planning process can get messy for everyone–for you, for your clients, for your events, and for your business.
Your business is likely already powered by several software solutions. But the best CRM for event planners is an all-in-one platform that can help automate client and vendor communications, invoicing, bookkeeping, scheduling, task management, client management, and document tracking — all in one place. So many event CRMs exist on the market, but HoneyBook takes it all a step further to offer clientflow management. That means your entire process from initial inquiry to planning the event day is all taken care of. The outcome? You can focus on growing your event planning business vs. all the day-to-day tasks that add up.
Jump to:
Why do planners need an event CRM?
You can look at customer relationship management in one of two ways.
The first way is through the lens of collaboration and interaction. Everything you do requires direct communication with multiple stakeholders: clients, vendors, team members, and more.
As an event planner, you're the go-to individual who ensures the event runs smoothly from start to finish. From that perspective, customer relationship management is anything you do to guarantee effective communication between yourself and each stakeholder.
But there's also all that administrative work that happens in between your different touch points. This includes:
Nurturing and evaluating leads
Selling your services
Scheduling
Sending an online invoice and collecting payments 
Contract signing
Task management
Tracking payments and expenses
Consequently, the best CRM for event planners will help cure many of your pain points at each of these steps. According to professional event planners, some of the most common event planning struggles include proper budgeting, unexpected expenses, tracking the planning process, time management, setting a timeline, and managing multiple events at once.
What tools do the best event planners use?
If lost documents, vendor miscommunication, and unpaid invoices haunt your waking dreams, HoneyBook's CRM tools will ensure you sleep well again. As noted, many event planners highlight budgeting, scheduling, timeline tracking, and managing multiple events as some of the biggest trouble spots for running an event planner business.
Let's explore some of the tools that the best event planners use, which you can find in one place through HoneyBook.
1. Collaboration tools to communicate with vendors and clients
If you regularly find yourself coordinating with nearly a dozen (or more) vendors and clients, you need a way to keep track of communications and share the right information with the right stakeholders.
HoneyBook's event management CRM helps organize everything by syncing your email inbox and allowing you to send and receive communications in one place. No more sifting through email threads–every conversation and document is readily available and searchable inside your HoneyBook project workspace.
Since your collaboration with vendors and clients is very different, you also need a way to tailor those communications. Within your HoneyBook account, you can assign different permissions for different stakeholders.
2. Timelines keep everyone on track
There's often very little give within your timeline. Every vendor needs to know where they fit into that timeline, including when and where to show up. A shared Google Calendar or spreadsheet often isn't enough to keep everyone on track.
Inside HoneyBook, it's easy to create a beautifully branded timeline file that lays out what happens when and who's involved at each moment. Start with the template gallery to use a pre-made template (built by an event professional like you!), then just drop in your branding. Whenever you're creating a new timeline, you can start with your template and adjust with the client's specific details.
3. Task and project management
HoneyBook can help you keep you and your employees on track. Planning multiple events at once can get complicated if you're attempting to handle everything on a paper calendar or a spreadsheet.
Instead of struggling to stay organized, use HoneyBook's features designed specifically for task management and productivity. These include:
Automations: Take back more of your time by automating key communications throughout your client relationship. You can fast-track your process from inquiry to booking, schedule a payment reminder, and more.
Task management: Assign different tasks to your team members and view everything that's coming up, which clients the tasks are for, when tasks are due, and who is managing them.
Time tracking: Use a simple yet effective tool to log how much time you spend on any given task, reducing the time it takes to determine billable hours
4. Seamless client booking
Client booking is a multi-step process, and it's one of the most important in your clientflow. On the client side, they want easy payment options and confidence that they're spending their money in a secure way.
On your side, you don't want to have to track down payments, and you also don't want to wait a long time for your clients to select their services and sign contracts.
HoneyBook has the ultimate solution for event planners: interactive smart files. Combine different actions, like service selection, invoicing, payment, and online contract signing–all in one digital file.
Clients will appreciate not having to download or print PDFs, and the entire booking process can move faster.
5. Branded file templates
Along with booking files, you can also build additional file templates inside HoneyBook. For your event planning business, for example, you likely use a pricing guide to showcase your different pricing tiers to potential clients. HoneyBook makes it easy with a template gallery where you can choose the files that meet your needs, then edit them to match your brand, tone, and processes.
HoneyBook also offers offline file access and access on the go through the mobile app. You may find yourself organizing an event at a venue where a data connection is limited, say a remote vineyard. In a situation like this, HoneyBook has your back. The HoneyBook app will store your client documents in the cloud so you can quickly access the information you need, even if you're offline. You'll always have access to critical client and project info anywhere, anytime with HoneyBook's iOS and Android apps.
6. Streamlined scheduling
Along with streamlined email communication, event planners need a simple way to schedule venue site visits, consultation calls, client meetings, and more. Relying on email means you'll have to deal with a lot of back and forth as you and your clients find the times that work best for each of you.
Instead, use a meeting scheduler that syncs with your calendar so anyone can easily view your availability. With HoneyBook, you can even incorporate scheduling within the files you already send to clients.
For example, you can include a scheduling block directly inside your pricing guide. When clients inquire, they'll receive the pricing guide with more information about your services, and then they can easily book a consultation call to learn more and tell you about their needs.
How does HoneyBook compare to other CRMs for event planners?
Monday.com
Monday.com is a CRM and project management tool that can help with managing event coordination for planners and marketers. It offer tools for everything from event registration, cross-team collaboration, marketing management, and real-time event monitoring.
But, for event planners who are looking for a full system to help manage their business, Monday.com doesn't offer capabilities for booking clients and getting paid.
Planning Pod
Compared to other CRMs, Planning Pod offers more in-depth features specific to planners, like floor plan design and seating arrangements. It also offers robust features for project management related to events, like budgets, checklists, itineraries and schedules, and booking calendars.
Overall, Planning Pod is a great tool for event planning, but it doesn't offer many administrative capabilities for independent event planners. It may be more suitable for corporate event planners, non-profits, and event planning firms.
Zoho CRM
Zoho CRM is particularly useful for event planners who need to manage leads and registrants from events. With the platform, you can send event invites and track attendees, collect leads and build user profiles, and set up automations to reach out to event registrants in a timely manner.
Zoho CRM's additional features are also built for more broad sales tracking and marketing automation that can be a great fit if you're a corporate event planner that manages large accounts.
Keap
Keap is a CRM that's focused on sales and marketing automation. If you're using both inbound and outbound marketing strategies for your event planning business, it can help you track your pipelines and lead statuses. When clients are ready to book, you can also utilize Keap's invoicing and payments.
Keap's software is robust, but all of its features may not be beneficial for independent event planners managing their clients on their own or with a small team.
HoneyBook
HoneyBook is more than a CRM, it's a clientflow management platform. That means it's features focus on the typical processes that independent owners need. That includes lead capture and nurturing, booking, project management, and collecting client feedback.
For independent event planners, like wedding planners or party planners, it offers just the right tools to build and grow your event business. Since you're usually working one-on-one with clients or managing a small team, you need to be able to automate a process that's highly personalized, yet easy to replicate.
Once HoneyBook is set up, it can take time consuming tasks off of your plate while allowing you to highlight your brand at every client touchpoint.
Streamline and scale your event planning business with HoneyBook
See how easy it is to grow and scale your business once you manage your process in one place. HoneyBook offers the best CRM for event planners, with all the tools necesary to manage inquiries, sell their services, get paid, and manage their tasks.
With HoneyBook, you will have much more time back on your plate–no more sifting through emails, trying to find the right files, or updating spreadsheets manually.