HoneyBook helps photographers by allowing you to manage your back-end operations and your client-facing interactions. Learn which features are essential to your business and some best practices for getting started.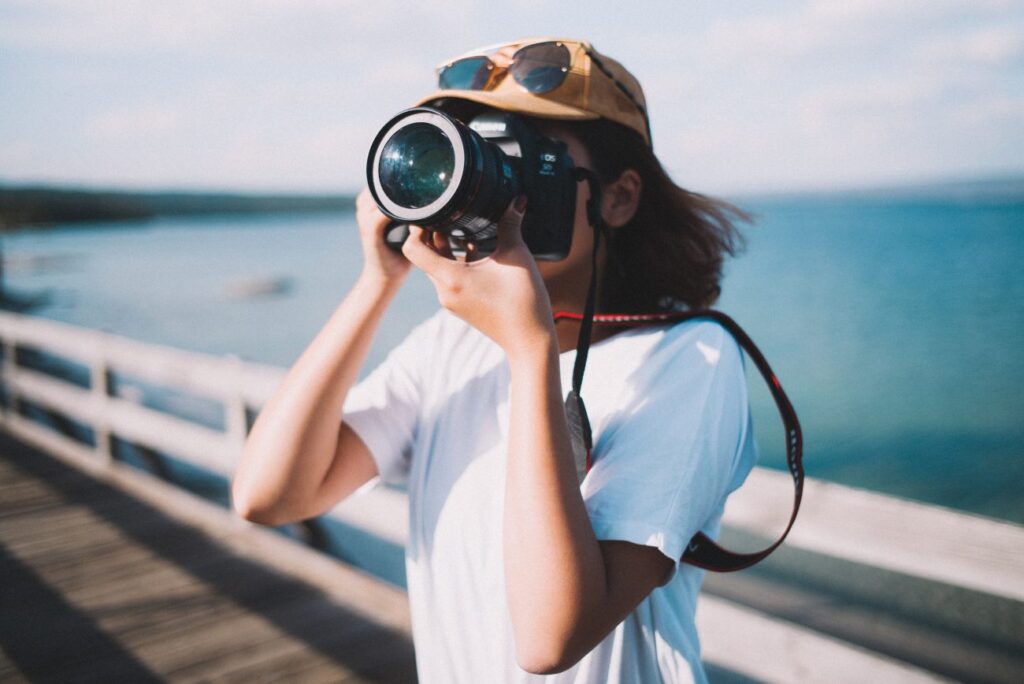 Much of your business is spent behind the lens and out in the field, or behind your computer editing. But, what about the other half? It may not be the fun part, but running your photography business does require time spent on the administrative side, setting strategy, and organizing projects.
Without a CRM for photographers or a clientflow platform like HoneyBook, your back-end work can detract from your photoshoots. You might feel scrambled, struggle to find important documents, and fail to remember information from your clients.
Understanding HoneyBook for photographers is the best way to keep your business running smoothly on the back end, so you can focus more on your passion and talent. Here's how to get started!
Capture your leads
Once you have a HoneyBook account, you need a way to capture new leads and bring them into the platform. That's where the HoneyBook contact form comes in. You can create a specific contact form for your service pages, social profiles, and more–wherever you've identified your lead sources.
Embed your contact forms or send a link to specific leads. The fields are all up to you and your process. If you have a wedding photography contact form, you can ask for their wedding date and timeline. For family portraits, on the other hand, you might want to ask how many people are in the family.
Automate the initial contact
Are you spending time answering each and every inquiry, but not getting many responses? Email automation can do the follow-up for you to save you time—and get results. Once you have your contact forms set up, HoneyBook lets you build custom automations that trigger when you get new inquiries.
You can automatically thank your new lead for their time and let them know when you'll respond. Or, send them directly to your scheduling link. It all depends on your clientflow and how you manage the initial contact with clients.
Gather client information
The results you provide rely heavily on the information you get from your clients. What style of photography do they like? How comfortable are they in front of the camera? How many edits do they need?
Once you're capturing leads, HoneyBook also makes it easier to qualify them and capture the information you need. As part of your intake automation, you can send branded questionnaires that ask about their budget, timeline, and more. Their responses will live inside HoneyBook, where you can easily find them as you're creating a scope of work, designing a shot list, and more.
Adjust your calendar to schedule sessions faster
For photographers, we know how easy it is to get stuck in the endless back-and-forth with clients trying to schedule meetings and photo sessions. With HoneyBook's scheduling tool, it's much easier to book based on your availability. You don't have to worry about double-booking or wasting time trying to find a time that works.
Just create the sessions that you need. For photographers, this might look like:
Consultations (30 minutes on Mondays, Wednesdays, and Fridays)
Mini sessions (30 minutes on Fridays and Sundays)
Portraits (1 hour on Sundays and Mondays)
Weddings (Blocked out for Saturdays)
Once your session types are set, you can also build in buffer times, add a Zoom link (if necessary), and schedule your meeting or session reminders.
Create reusable email templates
How much time do you spend typing out the same email over and over again?
For instance, you might send something like this every time you're done with a portrait session:
"Thanks for your time on Saturday, I enjoyed shooting you and your family! Please use the link below to download your photos."
Any time you find yourself repeating the same work, you can save those emails as templates in your HoneyBook account. From there, HoneyBook also makes it really easy to organize all your templates into files. You can have sales email templates, inquiry responses, thank you messages, and more ready for you to send or schedule.
*big sigh of relief* Doesn't that sound amazing?
Build your booking process
You might not be selling a product, but clients will want to book a photoshoot with you just as seamlessly as checking out on Amazon. It's what they're used to, and your process doesn't have to take any longer than shopping online.
HoneyBook gives you a better edge on booking clients and booking them faster. Once people are on their phones or on their computers at home, what they're doing is looking for the easiest way to get something booked. If you decide you want to send a PDF to the client, and they want to look at it, and then they have to print it out, scan it, sign it and send it back to you, guess what? I've beaten you to that. I got that wedding, you didn't. And that's an easiness about HoneyBook, making sure that you get those clients faster.
– Marck Dickinson
HoneyBook gives you multiple photography business tools for service selection, contract, online invoice, and payment. Better yet, it lets you combine all or some of the features into one template. If you want, you can send a sales brochure, book a consultation to walk through your services, then send your photography contract, invoice, and payment based on what you agree with your client.
Or, get it all done in one go by sending a pricing guide that lets clients choose their services on their own. From there, your template will automatically populate their choices into an online contract and photography invoice template on the next pages so they can review and make payment.

Pro Tip: Instead of a random contract downloaded off the internet, use our HoneyBook contracts for photographers to get peace of mind and save thousands of dollars. (Hiring your own lawyer can cost between $250-$1,000 per hour.)
Get a birds-eye view of all your projects
Once you're capturing a ton of leads and managing multiple projects, it helps to get a quick snapshot of how everything is going. Do you still need to countersign someone's contract? Have you created a shot list for a shoot that's coming up? You can answer these questions with HoneyBook's project management features.
Customize the steps in your HoneyBook pipeline to view which stage your projects are in. With automations, you can also schedule internal reminders to make sure you get work done at key milestones. If you send HoneyBook smart files, you can also access your clients' status and responses in one place on the responses page.
No more sifting through emails and Google Drive folders!
Tips for using HoneyBook with your photography business
If you're just getting started with HoneyBook, here are some tips for making the most out of your account.
1. Add your business bank account to accept payments
Collecting payments in one place is vital for your back-end operations and client experience. Your clients don't want to dig around for their checkbooks, just as much as you don't want to track all your payments manually in a spreadsheet.
HoneyBook's a unique tool for photographers in that it combines everything you need in one place. Other systems might offer payment processing, but don't include lead capture, scheduling, and automations. And other tools that offer automations and business management don't offer integrated payment processing.
Accepting payments in HoneyBook allows you to manage your clients' entire journey while also maintaining reports in one place. HoneyBook's online payment software is like no others.
2. Create your company theme
Another benefit of having everything in one place means that your brand can really shine. From the moment leads inquire on your website, you can make sure your brand logo, fonts, and colors are applied to additional touch points. That means your invoices, contracts, booking templates, and more will all showcase your unique identity.
3. Build custom templates
We already covered email templates, but be sure to leverage the other templates HoneyBook has to offer as well. With HoneyBook smart files, you can create almost anything you need to move clients forward.
It can be an interactive pricing guide, a welcome packet, a project closure kit, and much, much more. Having these templates on hand will make it easier for you to build automations and save time while you're communicating.
4. Integrate with Quickbooks
If you're accepting payments through HoneyBook, you can integrate with Quickbooks to make sure your income is represented in your broader financial reporting. The Quickbooks integrations will let you view payments and expenses in one place, and make it easier for you when it's tax time.
5. Sell your digital products
Our last time for using HoneyBook with your photography business is to sell your digital products through the platform. You might have Lightroom presets, photoshoot preparation worksheets, and more that you can sell to fellow photographers and clients.
Using HoneyBook's contact forms and automation, you can allow customers to purchase your content from your website, then automatically send the content along with an invoice–all through HoneyBook! It's a great way to build passive income while you're out in the field.
Manage your photography clientflow with HoneyBook
In conclusion, HoneyBook lets you manage your entire clientflow. That means you'll have everything you need to manage your business operations and client touchpoints. The tools make it easier for you to sell your services, book clients, and manage projects.
Without HoneyBook, you may be more susceptible to operational friction, like forgetting important information, not aligning with your clients, and missing out on new opportunities. Luckily, HoneyBook makes it easy to get started with a free trial and plenty of photography-specific templates that you can use as is or customize.