These are the 18 essential tools you need for your photography business, whether you're starting to build or ready to grow and scale. Use our list to make sure you're fully prepared in the back- and front-end of your business.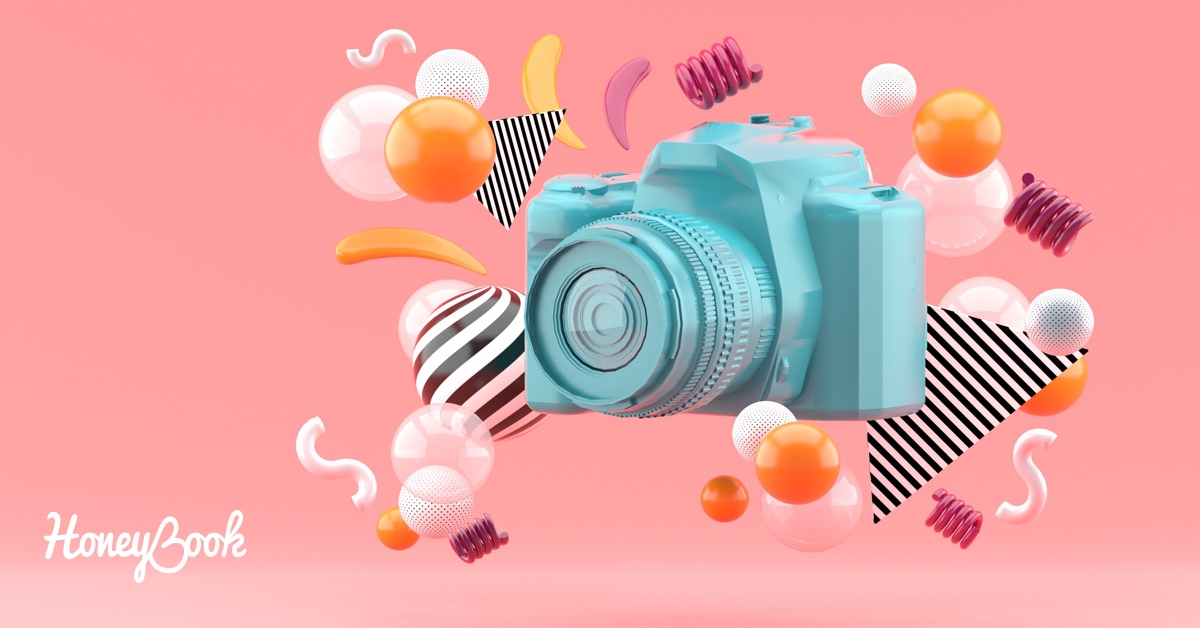 While there's no magic bullet for instantly growing your photography business, there are tools that can help. Professional photographers need both the equipment for producing your amazing work, as well as the tools that run your business day to day.
We've put together a list of the main 18 photography business tools you need to run every part of your business. If you're just starting your business, this list can help you make sure you have all your bases covered. For established photographers, it can also help you upgrade your tools and make sure you have all the right systems in place in the back end.
Tools for managing your photography business
To manage your business, you need tools for capturing leads, qualifying and nurturing them, and selling your services. Once you've hooked interested clients, you need to seamlessly move to the booking process so you can get paid and move forward. Afterward, it's time to manage and track your project, deliver your photos, and close out with your clients.
This entire process is your clientflow, and it's vital to have the right tools to manage each step.
Jump to:
Lead capture and management
1. Landing pages
When it comes to capturing leads, the first thing you need is to make sure you have optimized landing pages set up on your photography website. When potential clients are looking for photographers, they'll want to see information on your website about the services you offer, pricing (though this can come later), and how to contact you.
We recommend setting up a landing page for each of your services so you can showcase the specifics of each. With multiple landing pages, you can also capture more targeted leads for each type of photography that you offer.
2. Contact forms
Next, you need to make sure you have contact forms set up to capture your leads' information at multiple touchpoints. Potential clients may come in through your services pages, which means you should have a unique contact form for each one. They may also land on blog posts, or want to reach out after visiting your social profiles.
3. Email automation
Once you're capturing leads, you need to ensure that you're managing and nurturing them properly. To do this, use email automation to speak to your inquiries quickly and efficiently. 
With HoneyBook, you can automate an email sequence every time someone inquires through your contact form. Thank your leads for reaching out, and let them know when they can expect a response. Or, you can have next steps incorporated in your email to make the process even more hands-off on your end.
4. Questionnaires
One of the tools that you can incorporate into your email automations is questionnaires. With branded questionnaire files, you can automatically vet inquiries and get more information about their needs. Ask about their budget range, timeline, and styles of photography they're interested in to qualify them or determine if they're a good fit.
Sales tools
5. Sales brochures
A business brochure is a key piece of sales collateral that you can send to interested leads as you're nurturing them to book with you. Different from a pricing guide, your sales brochure can be more focused on your brand, business mission, and values. 
6. Pricing guide
Pricing guides can be similar to brochures, but they're typically even more conversion-focused. For many photographers, you don't always want to showcase your prices up front. You probably want to speak with your clients first or vet them with a questionnaire. Especially if you offer custom packages, it can be difficult to show pricing on your website. 
That's where pricing guides come in once you're working through the sales process with a potential client. If you have a better idea of their needs, you can send a file that gives them more personalized pricing.

Pro Tip: With an interactive pricing guide or sales brochure, you can let your clients view prices, choose their services on their own, then sign a contract and pay on the next pages. If you've already had a 1:1 consultation, this can be the best way to move forward without taking up more time.
7. Portfolio of work
A photography portfolio can fit into any of the tools above. You may want to showcase it on your website or roll it into your sales brochure. For some photographers, it's helpful to have it as a standalone file that you can send during the sales process.
Just like with your service pages on your website, we recommend creating unique portfolios for each service. If you offer wedding photography, portrait photography, and family sessions, it can be more beneficial to showcase your work separately.
8. Scheduling
Scheduling fits into multiple parts of your clientflow as a photographer, but it's especially helpful during the sales process. Instead of going back and forth with your clients to schedule consultations and sessions, you can simply send them a link to your calendar with all the slots that are available.
With the right scheduling tool, you can also build session types to block your time in the best way. For example, you may offer consultations in the morning, but block your afternoon for client meetings and photo sessions. Creating separate links for each session type makes it easier to book time and meetings. 
Booking tools
9. Contracts
Contracts are vital for all independent businesses, but especially for photographers. Your work can be easily affected by external factors (like weather), so you need to protect your business from unexpected events.
Your time is also vital to how you operate your business, so you need to protect against no-shows and cancellations. Beyond that, photography contracts let you set expectations with your clients to reiterate the services you've agreed on as well as what they can expect from you in terms of communication, timeline, deliverables, and more.
10. Invoices
Invoices are crucial to establishing a professional booking process. Sure, you can use a simple Word template for each client, but branding your photography invoices makes more of an impression than you think.
Your invoices are a record for both you and your clients, so they need to be an essential part of your booking toolkit.
11. Payment processing
Collecting payments from your clients is one of the most important steps in your clientflow. That makes payment processing one of the most important tools you need as well.
You can accept cash and check, but customers these days are used to paying online and receiving instant confirmation. An online payment processor allows you to accept card and ACH payments, record all your transactions, and offer a professional booking experience.

Pro Tip: Streamline your booking process with a system that combines all the tools you need. Inside HoneyBook, you can create smart files that include contract, invoice, and payment processing.
Project management
12. Time tracking
If you bill by the hour, time tracking is crucial to accurately invoicing your clients. It's also important for providing accurate payments to your contractors, like second shooters.
From a project management perspective, tracking your time will also help you develop more accurate service packages. If you know it takes a lot time to offer a certain level of editing, you can add it to a premium package.
13. CRM software
A good CRM software for photographers can help you manage your sales process and projects. If you have a ton of events coming up, for example, your CRM will let you view each client's status at a birds-eye view. You can see which invoices are paid, whether they've signed their contracts, and where your team is in the preparation process.
What are the top 5 business tools if I'm just getting started?
If you're just starting your business (or you've been around, but you're just starting to grow), a list of 13 essential tools can be a bit daunting. To make it a little easier, we've identified the top five for photographers. Focus on these as you're setting up your business or getting situated for growth.
Lead capture – You need a place to capture new interest, which is where HoneyBook contact forms can come into play.
Scheduling – Whether you're scheduling weddings, minisessions, consultations, and more–you need a scheduling tool that can keep you organized and let your clients book without going back and forth about availability.
Templates – As a photographer, you're constantly sending files (welcome packets, contracts, shot lists, and much more). With HoneyBook, you can save templates of all your most-used files so they're easy to grab and customize for each client.
Online contracts and esignature – Allowing your clients to sign contracts online is crucial to keeping your clientflow moving. That's why online contract templates are so important, but it's also just as vital to allow your clients to easily sign as soon as they receive the contract.
Online payments – Lastly, accepting payments is how you're able to grow your business. Forget cash and check–collecting payments online is the quickest, most secure way to get paid these days, and it's what your clients prefer as well.
Tools for producing your work
If you offer professional photography, you probably already have a list of your favorite tools. Instead of listing product examples, we want to make sure you're thinking about these categories as you set up your business, grow, and manage each project.
These tools should be your priority as you consider your expenses. As you purchase each type of equipment and upgrade them, you should factor them into your total cost of services.
14. Professional camera and lenses
Your camera and lenses are your basics, but they can also help uplevel your offerings. If you're a portrait photographer who's been using a standard lens, it could be time to upgrade to a short telephoto lens so you can capture your clients in different settings.
For wedding photographers, you might be used to using a standard or wide-angle lens, but it could also be fun to experiment with a macro lens for detail shots.
15. High-quality camera bag
Your camera bag is key for making photoshoots run smoothly. You don't want to be rummaging around for lens cleaner while your clients are holding a pose. However, you else need to find a good balance with a bag that isn't going to be difficult to carry between shoots and locations.
Consider a roller bag for your heavier equipment, like lighting, and a camera backpack for holding your camera and lenses in one place. If you use one lens at some shoots, you can also use a camera messenger bag that's lighter and easier to travel with.
16. Lighting equipment
Lighting equipment is something you'll probably be investing in continuously throughout your photography career. The time of day, weather, and location all factor into your photography lighting, so you need the right tools to manipulate what you're working with.
Portrait photographers will need some form of continuous lighting, while wedding photographers will need equipment to play with more natural lighting, such as reflectors. Lighting can also greatly impact your style. You can use full-panel lights for a more sophisticated look or experiment with portable hand-held lights to play more with shadow and highlights.
17. Photo editing software
If clients saw their raw photos, they might be a little confused. Editing is definitely half of providing beautiful photos, so it's key to use the right software. Adobe is the industry standard for photographers, and isn't going anywhere anytime soon.
Adobe Lightroom is your go-to for your main edits and organizing once you're done with a shoot. For more extensive edits, like retouching, Adobe Photoshop is where you can use more precision.
18. Photo storage
You might not be too concerned about photo storage, especially if you use external drives. But, digital storage is key to staying organized while you edit your photos. If you use something like Google drive, you'll hit a point where you're maxed out, which can interrupt your workflow.
With the right system, you can store your photos and deliver them to clients in a more professional way as well. Instead of a zip file, give them a beautiful, interactive digital gallery.
Use an all-in-one system with multiple photography business tools
There isn't a multi-tool that exists to combine all your photography equipment in one. And honestly, let's hope that's never invented! Customizing your work is key. Luckily, using an all-in-one tool to manage the back end of your business actually gives you greater flexibility and control.
With a clientflow platform like HoneyBook, you can combine multiple tools in one. No more switching back and forth between programs and struggling to find emails and files. What's even better is that managing everything in one place allows your tools to connect in smarter, more efficient ways. Your sales tools can seamlessly connect with your booking process, and project management becomes more intuitive.
Work smarter by combining your photography business tools!