As an event planner, you live and breathe fine details. Whether you're hammering out the timing for the perfect wedding, booking a venue for a bat mitzvah, or curating spooky yet tasteful designs for a Halloween bash, you probably find few things more exciting than seeing your well-laid event plans successfully executed. However, the planning process can get messy when you also have  business to run. They key? Organization —for you, for your clients, for your events, and for your business.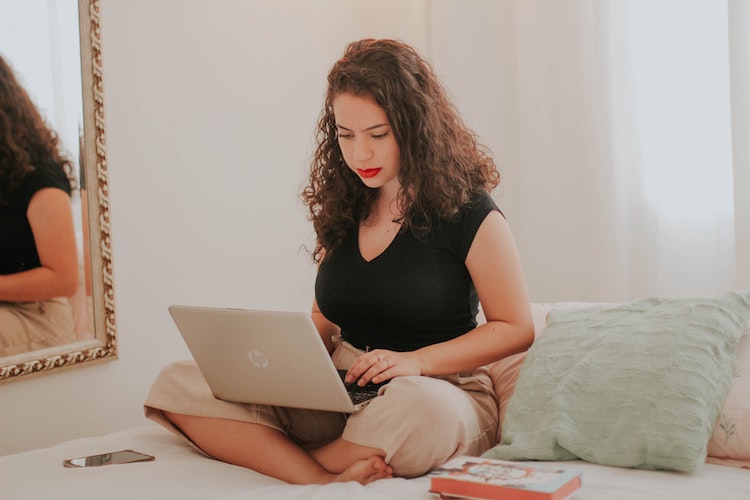 Your business is likely already powered by several software solutions. But the best CRM for event planners is an all-in-one platform that can help automate client and vendor communications, invoicing, bookkeeping, scheduling, task management, client management and document tracking — all in one place. With a customer relationship management (CRM)  like HoneyBook, you'll get all of these features and more in one user-friendly space with apps available for Android and iOS devices for on-the-go productivity.
Why Do Event Planners Need a CRM?
You can look at customer relationship management in one of two ways. 
The first way is through the lens of human interactivity. Event planning is incredibly interaction-driven. Everything you do requires direct communication with multiple stakeholders. 
As an event planner, you're the go-to individual who ensures the event runs smoothly from start to finish. From that perspective, customer relationship management is anything you do to guarantee effective communication between yourself and the many other vendors working together to create a successful event. 
But there's a technological side to CRM. From an industry perspective, CRM is any tool that you use to help facilitate many of the common types of communication you have with those key stakeholders. 
The communication needs a CRM tool may handle include:
Scheduling
Task management
Project proposals
Contract creation and finalization
Communication and document tracking
Invoicing and Payment Tracking
Consequently, the best CRM for event planners will help cure many of your headache-inducing pain points. According to professional event planners, some of the most common event planning struggles include proper budgeting, unexpected expenses, tracking the planning process, time management, setting a timeline, and managing multiple events at once.
If your event planner business experiences any of these issues, you're probably in good company. Consequently, this is why software for event planners such as HoneyBook exist. By employing thoughtfully-designed tools to help you get organized, track your events, and communicate with clients and vendors, HoneyBook reduces communication difficulties across a large number of areas that tend to cause problems for an event planner business.
Best Event Planner CRM Tools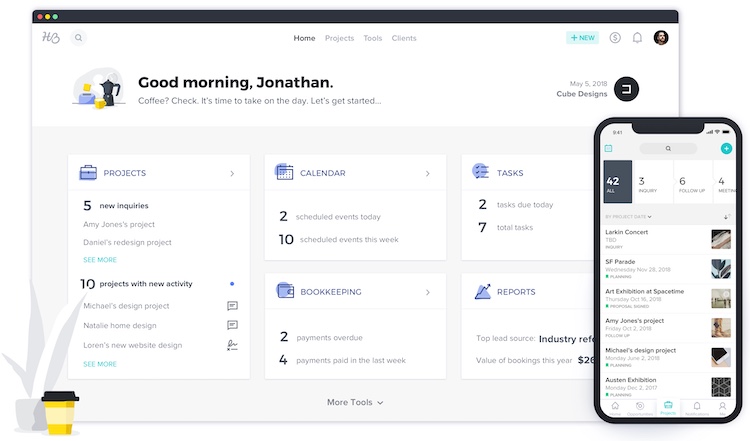 If lost documents, vendor miscommunication, and unpaid invoices haunt your waking dreams, HoneyBook's CRM tools will ensure you sleep well again. As noted, many event planners highlight budgeting, scheduling, timeline tracking, and managing multiple events as some of the biggest trouble spots for running an event planner business. 
Let's explore some of the features the HoneyBook employs that help you regain control of these areas. Any platform vying for the best CRM for event planners title, should have all of these features.
Easily collaborate with vendors and clients
If you regularly find yourself coordinating with nearly a dozen (or more) vendors, you're in good company. Coordinating tasks can be difficult and time-consuming if you're dealing with a large number of vendors who may not see the timeline or documents your share at the same time.
HoneyBook can help keep everyone on the same page with its Workspaces features. When you start a new Project in HoneyBook, it automatically creates a Workspace for that project. You can invite all of your vendors and clients to that workspace. From there, you can use HoneyBook's plethora of tools to keep everyone updated about the project details in one centralized place.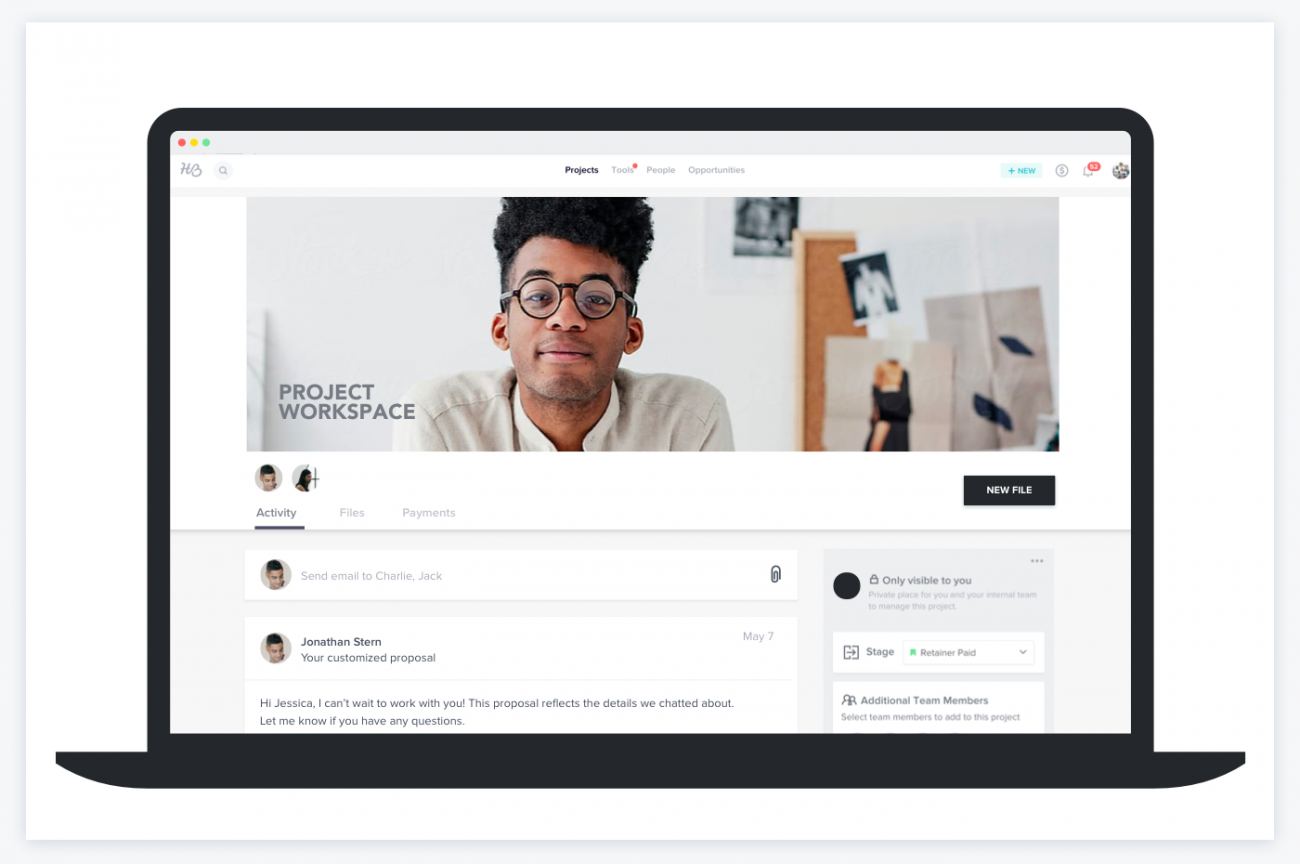 Your Workspace team members can do everything you give them permission to do within that workspace, including the ability to share and access files and invoices, review project timelines and dates, and track schedules and email communications. You can create multiple separate Workspaces underneath any Project and share private files and communications. HoneyBook always gives you full control of every Workspace.
Timelines keep everyone on track
There's often very little give within your timeline. Every vendor needs to know where they fit into that timeline, to include when and where to show up. A shared Google Calendar or spreadsheet often isn't enough to keep everyone on track.
HoneyBook's Timeline feature allows you to create a detailed event timeline that you can share with all of your vendors. Create your timeline in HoneyBook, then email it to each stakeholder. You can also create separate timelines for each vendor and email them directly to your vendors and clients from HoneyBook's platform.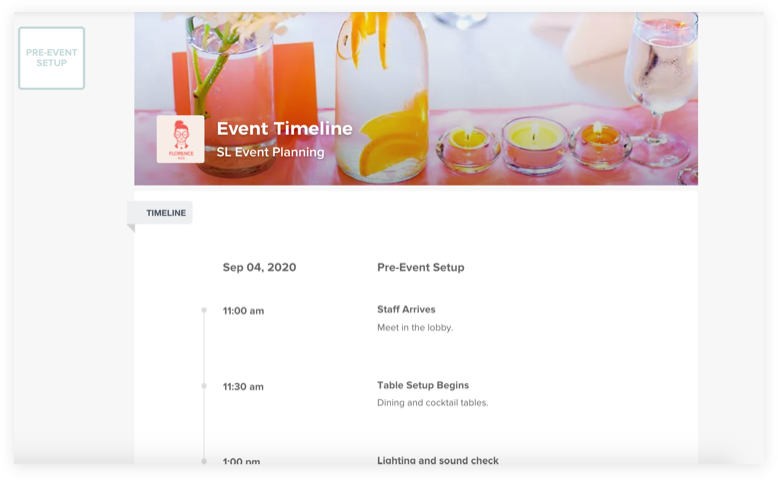 The service will automatically back up all of your files to the cloud, including your timelines. You and your vendors can access the timelines (and other documents) you've created even if you're offline, say, in a remote event location. 
Never lose track of communications
With a dozen vendors and a client to coordinate with, it's easy to get lost in a sea of emails that all end up in your inbox. HoneyBook's email syncing will help organize your email communications for you.
Simply sync your Gmail account with HoneyBook to help integrate your business emails into your HoneyBook interface. Once you've created a project and added your client and vendors to it, HoneyBook all your ccommunication will be neatly kept in an activity feed.
You can send and receive email communications through HoneyBook. Once your Gmail account is synced, any email you send to clients and vendors from your HoneyBook account will be forwarded through your Gmail address.
Manage multiple events at once with task management
HoneyBook can help you keep your clients on task with Workspaces and Timelines, but you'll also need to keep yourself on track, as well. Planning multiple events at once can get complicated if you're attempting to handle everything on a paper calendar or a spreadsheet.
Instead of struggling to stay organized, use HoneyBook's available features designed specifically task management and productivity. These include:
Automations: A tool that can help you track the progress of any project, from initial inquiry and creating online contracts, all the way through to invoicing. 
Task Management: A tool that allows you to add tasks and receive task reminders
Time Tracker: A simple yet effective tool to log how much time you spend on any given task, reducing the time it takes to determine billable hours
Scheduling with our online meeting scheduler: Allows you to set your availability on an interactive client-facing calendar so clients can pick and choose from your available hours. Block out times you aren't available, then focus on the work you have at hand to avoid scheduling confusion and double-booking. 
Offline file access
You may find yourself organizing an event at a venue where a data connection is limited, say a remote vineyard. In a situation like this, HoneyBook has your back. The HoneyBook app will store your client documents in the cloud so you can quickly access the information you need, even if you're offline. You'll always have access to critical client and project info anywhere, anytime with HoneyBook's iOS and Android apps. 
Faster booking with Proposals (invoice + contract)
Most event planners request some upfront payment, but you don't want to be in a position where you're constantly chasing down clients to pay after the event. With HoneyBook's proposal software, you can send a Proposal, which combines invoice + contract + payment, so that you can set clear expectations and book clients faster. With Proposals, your client can review the discussed services, sign your contract, and make their first payment in one super-simple experience.
Bonus: Once you get started, HoneyBook will send automatic payment reminders when your client a payment is upcoming or overdue.
Dominate Your Event Planning Schedule with HoneyBook
Even the best event planning businesses run into scheduling and communication problems. When those problems arise, they can quickly derail even the most meticulously-planned event, not to mention create unnecessary stress for you. But when you, your vendors, and your clients are all communicating quickly and efficiently, you can significantly limit the chance of chaos. 
HoneyBook's all-in-one CRM tool is the best software for event planners. Organize your communications, keep track of documents, collaborate, and keep track of multiple projects at once. Interested? You can try HoneyBook risk-free for 7 days. 
Not convinced? See what other event planners are saying…
This post was updated in August 2021 when the HoneyBook Workflow tool was renamed to Automations. The HoneyBook Automations tool maintains the same functionality with the ability to automate communications, tasks and more. For more information about the Automations update, check our August 2021 Release Notes.