Learn how Tiffany used HoneyBook gift cards to scale her business by offering a smaller service that doubled as an intro to continue working with her 1:1.
The situation
Tiffany of Career Maven Consulting is a career coach and talent development consultant who helps people get good jobs and companies retain top talent through 1:1 coaching, career branding, and workshops/keynotes. Equipped with years of professional development expertise and tailored coaching techniques, Tiffany's business was missing just one thing.
The challenge
Tiffany needed a way to scale how people connect with Career Maven Consulting and take the leap to invest in themselves. When HoneyBook released gift cards for small business, she knew she'd found her answer.
"I was trying to identify a way that people could 'gift' the resource of my services to friends, family and colleagues whom they knew would benefit from a coaching engagement with me," Tiffany said.
The solution
Once HoneyBook released gift cards for small business owners, she tested one out, offering quick resumé review services.
"I created the gift card and did a soft promotion by sharing it in a few online groups that I'm a part of and on Instagram," Tiffany said. "A few people purchased one right away! It was incredible to see people really engage with me in this way."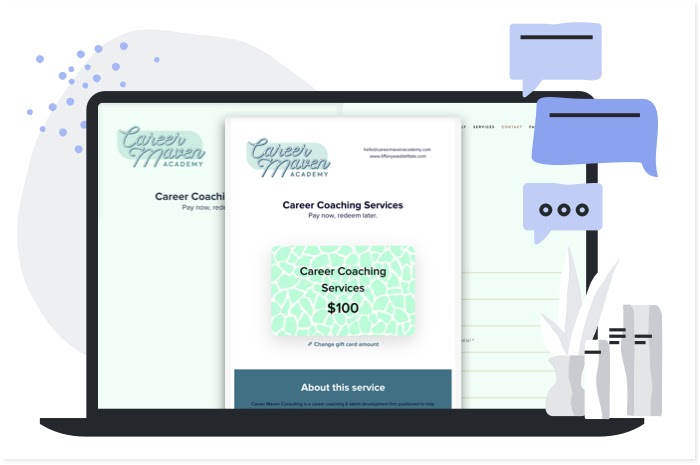 She shares how she did it below.
Step 1: I decided which service(s) and price(s) I wanted to offer as a gift card option.
Step 2: Once that was decided, I mapped out quick copy for what the gift card entails. In other words:
What can the gift card be used for?
How long until it expires?
What's the process to use the gift card once purchased?

Once the gift card is purchased, the purchaser and/or the recipient of the gift card can expect an email with details about next steps to schedule and what document(s) they should share ahead of that meeting to maximize our time together.
I made sure to include all of the key details that a user might need to know in the gift card description.
Step 3: I set up the questionnaire for the Gift Card to collect the key pieces of information I would need at the time of purchase, including:
Who are you?
Who is the gift card being purchased for?
Step 4: I found a background image to design my gift card with.
Step 5: I created a draft email template to send as a follow-up to anyone who purchased a gift card, or their gift recipient if purchased for someone else, to follow up with them directly.
Here's my gift card follow-up email template:
CLIENT NAME,
Congratulations! A friend recently purchased a Resume Audit/Review service for you as a gift. This service is a great way to secure feedback on your most recent resume, and assist you with your career branding and job search needs. As a career coach & talent development expert – I am so excited to work with you!
Here's how the process works: First, send over a Word Doc version of your most recent resume, and I'll review it and offer feedback directly on the document.
Once that step is complete, we can find time for a 20-minute phone consultation to discuss the feedback and ways you may maximize your resume / career brand for success as you activate a job search or use your resume more generally in the coming weeks and months. The easiest way to schedule that session would be to click here (include link to online meeting scheduler here) and select a time that works best for you!
Looking forward to working with you and connecting soon!
Warm regards,
Tiffany
Step 6: Once that message was sent, my workflow resumed as it normally would. I would make the gift card recipient a "client" in my HoneyBook dashboard so that once our project wrapped, they would be included on the follow-up steps I do with my other clients to request testimonials and referrals. This is a critical part of my Standard Operating Procedures (SOPs) and ensures these new gift card clients are included on my past client tracker in HoneyBook!
Results
HoneyBook gift cards provided the missing link to help Tiffany scale her business by increasing the accessibility of her services. She was able to offer something concrete that could be completed in a fixed period of time, serving as a great introduction for gift card clients to continue working with her 1:1.
Aside from gift cards, Tiffany also uses HoneyBook to stay organized. She said, "HoneyBook has helped my business grow by saving me a lot of time in terms of how I manage and keep up with my projects at various stages of engagement. It has also helped me elevate my UX for prospective clients—even on the go when I'm using the mobile app! It's definitely one of the best tools I have on boarded in my business so far. It has saved me countless hours in terms of creating invoices in a word processing platform, sending them out, fielding inquiries, etc. I have grown my bookings to 12-15 times what it was before signing up for HoneyBook."
Get ready to simplify & scale
Tiffany's best piece of HoneyBook advice?
"Don't be afraid to reach out to friends who use the tool (even in other industries)," she said. "One of my good friends really helped me walk through setting up some HoneyBook Automations through their client workflow automation software and unpacking all of the great resources that HoneyBook provides on their site for business owners. Also, don't be afraid to reach out to customer support! Sometimes I don't have time to watch all of the videos and read all of the articles when I am in the thick of things. The information and templates provided are so incredibly helpful."
HoneyBook takes the heavy lifting out of running—and growing—a services-based business off your plate. From managing inquiries to helping you get paid to streamlining your projects, HoneyBook can be customized to fit your process, whether you're a career coach like Tiffany, a web designer, an interior designer or a doula, just to name a few.
Thanks, Tiffany!
[CTA_A title="Simplify your process & scale your business
"]
With HoneyBook, you can keep everything in one place with one online tool that simplifies managing documents, payments and client communication.
START FREE TRIAL
[/CTA_A]
Learn More:
This post was updated in August 2021 when the HoneyBook Workflow tool was renamed to Automations. The HoneyBook Automations tool maintains the same functionality with the ability to automate communications, tasks and more. For more information about the Automations update, check our August 2021 Release Notes.