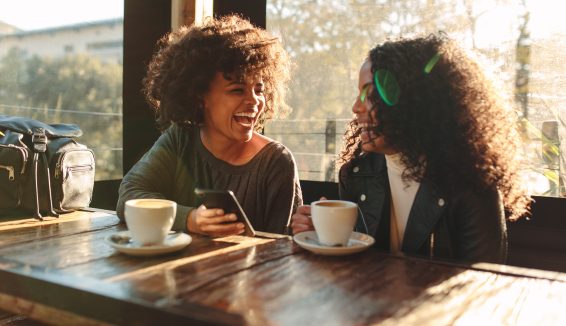 Ask and you shall receive. Well, not always. When it comes to getting paid as a creative small business owner, first you need to know how to send an invoice. But don't worry. We've worked with thousands of freelancers and small businesses to perfect the art of sending an invoice in seven simple steps to get you paid—fast.
How to send an invoice:
Determine when to send your invoice—Your first invoice for each project/client should go out before you start any work and then at regular intervals after that.
Include the right information—Make your invoices easy to understand by including all the info your client needs to pay you.
Use a template—Save time and look professional with invoice templates.
Send your online invoices with a tool like HoneyBook—Don't take your chances with snail mail. Increase your chances of getting paid on time and in full by sending your invoice online.
Accept online payments with HoneyBook's online payment software—Get paid faster by letting your clients pay online with a credit/debit card or by bank transfer for a seamless client experience.
Track your invoice—See when clients view your invoices and stay on top of upcoming and outstanding payments with business management software.
Send reminders—Ensure the date of your next payday by sending reminders before and after invoice due dates.
Step 1: Figure out when to send your invoice
The first step in sending invoices is knowing when to send them. We swear by the best practice of not starting work until you receive upfront payment in the form of a deposit. In this case, send the invoice for the deposit immediately after your client agrees to work with you. This can be after they accept your proposal or sign your online contract. Once you receive the deposit, you can get straight to work.
After this initial invoice, determine the best cadence for when you'll send future invoices.
Common invoicing schedules include:
Installments based on dates you assign (e.g., 25% due one month before the project completion, 25% due at project completion)
Installments based on project milestones you decide (e.g., 25% due after phase 1, 25% due after phase 2)
Weekly or bi-monthly (twice a month) if you're billing hourly
Step 2: Include the right information
Invoices have one job: getting you paid. So don't worry too much about making them sound clever or cute. It's more important that the information is all there and presented in a straightforward way so that your clients have everything they need to pay you.
What to include on an invoice:
Invoice title—Calling it what it is right at the top of the document makes it clear to your client that you're asking for payment.
Invoice number—Stay organized by using invoice numbers as a point of reference to make sure you and your client are talking about the same invoice. They also ensure each invoice is unique and can be associated with a specific payment. You can assign each invoice its own number (just make sure to keep track of them somewhere so you don't use the same number twice) or use invoicing software to auto-generate (and keep track of) new invoice numbers for you.
Bill from—Let your client know who the invoice is coming from by adding your details.
Bill to—Include your client's name in the "bill to" field so they know the invoice is for them.
Project details—Add which project the invoice is for and include an itemized list of goods and/or services with corresponding prices.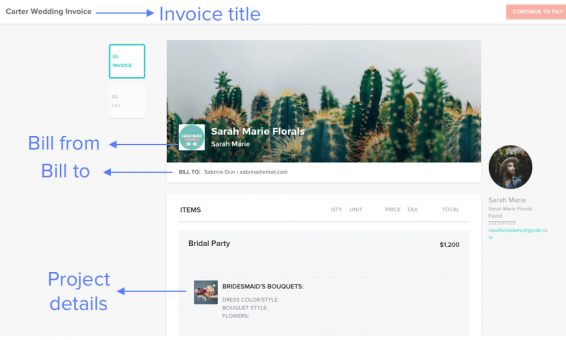 Tax—Put in a line for taxes you collect, if applicable.
Discounts—List any discounts that may apply and deduct this from the total amount due.
Total amount due—This is the total amount due after you include any taxes and subtract any discounts.
Due Date—Always include the payment due date.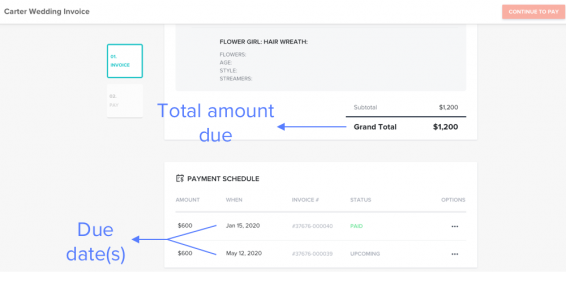 Acceptable forms of payment—Let your client know how they can pay you (more on this in step 5).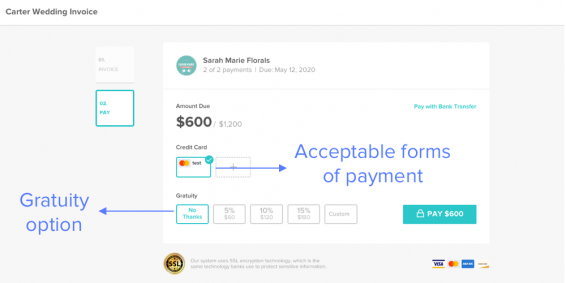 Step 3: Use a professional template
Save time and make it easy to repeat your invoicing process week after week by using business invoices templates instead of starting from scratch every time. Templates make it easy to remember all the fields you need to include and help you look professional. 
Don't know where to start? Business management platforms like HoneyBook include professionally designed invoice templates that can be customized with your branding. And HoneyBook allows you to go from template→sent→getting paid in one seamless online experience. Not just invoicing and bookkeeping software, HoneyBook helps you manage your business (including invoices and payments) all in one place, so you can be more efficient.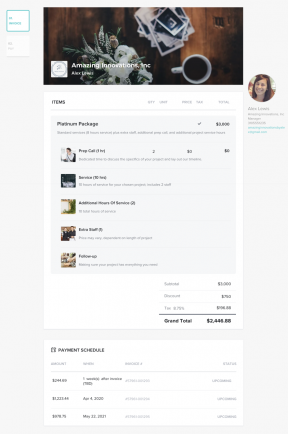 If you don't want to use invoice templates included in software, you can create your own or use one of these. Just be aware that you can't send these as seamlessly (more on that in step 4).
Step 4: Send the invoice with HoneyBook
After you've created your invoice using a professional template, the next step is to send it. And the best way to do that is through a business management platform like HoneyBook. You can create your invoice, send it and ask for payment in one step. An added bonus? Read-receipts make it easy for you to see when your clients view it.
Check out this video for how to send an invoice in HoneyBook or follow the steps below.
How to send an invoice in HoneyBook:
Create a new HoneyBook project (or start from an existing one).
Add your client and their details as a project participant.
Click New File to start creating from a blank invoice or a template. Customize the logo, background image, header title and more to match your brand's look and feel.
Add the services your client is booking you for along with their descriptions, images and prices. Adjust your tax rate and apply a discount (if applicable). Your grand total will automatically recalculate.
Edit your payment schedule to allow your client to pay in installments (you can customize the amount due and due dates for each one) or in one lump sum.
Choose how you want clients to pay, including credit card and bank transfer; bank transfer only; or credit card only. And you can allow your clients to add gratuity.
Customize the email that will go out to your client. You can use the template we provide, or edit the copy to be your own, and you can add your email signature and more images. The invoice you just created will automatically be attached. We recommend keeping your email copy nice and simple. (See the image below in step 5 for an example of what to say in an email when sending an invoice.)
Click Send and your invoice will be on its way to your client so they can review and submit payment.
[CTA_A title="Try HoneyBook Invoices "] Create invoices, send automated payment reminders and get paid—fast. START FREE TRIAL [/CTA_A]
If you don't want to send your invoice using software like HoneyBook, you can also attach a PDF of your invoice to an email or print it out and send it via snail mail. Either way, you lose the tracking ability that HoneyBook provides and you have to wait for your client to pay by check in the mail.
Step 5: Get paid online
The best way to get paid after you've sent an invoice is to make it as easy as possible for your client. With HoneyBook, your client can pay you directly from the invoice. They receive an email with a link to the invoice where they can review all the invoice details and then pay with a credit/debit card or bank transfer.
You get a notification (cha-ching!) when they've paid.
If you're still on the fence about using a business management platform like HoneyBook, you can also request payment by check sent via snail mail, but this is a common cash flow killer for small businesses.
And while other freelancers ask to be paid via PayPal, this isn't a great experience for clients either.
Why asking for payment via PayPal is a clunky client experience:
When your clients get a paper invoice in the mail or an invoice attachment in their email, that requires them to navigate over to PayPal, enter in your payment details, confirm their payment details, and hit send (all without getting distracted first)
Additional $10/mo for recurring billing (like subscriptions or monthly retainers)
Payments are received into your PayPal account; requires 3-5 business days, on average, to transfer funds to your bank account
Adds one more system to manage in your business toolkit
Payment tracking is separate from the rest of your business management platform
A quick note on fees: All online payment processors take fees in order to cover the risk of processing a payment. The industry standard is right around 3%. HoneyBook charges 1.5% for ACH bank transfers and 3% for credit/debit cards. Paypal charges 2.9% plus 30 cents for most transactions, plus an additional $10/mo for recurring billing (like subscriptions or monthly retainers).
Step 6: Track your invoices
With a business management platform like HoneyBook, a huge perk is that you can see who's viewed your invoice with read-receipts. This helps you decide if you should follow up (if they've opened the invoice) or resend the invoice (in case they never saw it).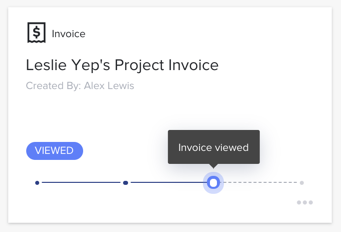 Step 7: Send reminders
Last but not least, the final step in how to send an invoice successfully? Send invoice reminders. Guarantee your next paycheck is coming when you want it by sending reminders a few days before a payment is due and when it's overdue. HoneyBook makes it easy by automating these email reminders for you with the click of a button.
Become a pro at how to send an invoice
Follow these seven steps for how to send an invoice and guarantee your payday every time. Understand when to send your invoice and what information to include. And use business management platforms like HoneyBook for:
looking professional with invoice templates
sending invoices
tracking and sending reminders
You're on your way to sending invoices like a pro.
Want to learn how to get paid as a freelancer? Check out this post on how to get paid on time and which payment methods are best for your business. Just getting started with invoicing? Check out our deep dive on how to create an invoice for beginners.